Hardware Guides
stub
Gigabyte X470 VRM Thermal Testing & Planning for Higher Core Counts
Posted on April 22, 2018
There's a new trend in the industry: Heatsinks. Hopefully, anyway.
Gigabyte has listened to our never-ending complaints about VRM heatsinks and VRM thermals, and outfitted their X470 Gaming 7 motherboard with a full, proper fin stack and heatpipe. We're happy to see it, and we hope that this trend continues, but it's also not entirely necessary on this board. That doesn't make us less excited to see an actual heatsink on a motherboard; however, we believe it does potentially point toward a future in higher core-count Ryzen CPUs. This is something that Buildzoid speculated in our recent Gaming 7 X470 VRM & PCB analysis. The amount of "overkill" power delivery capabilities on high-end X470 boards would suggest plans to support higher power consumption components from AMD.
Take the Gigabyte Gaming 7: It's a 10+2-phase VRM, with the VCore VRM using IR3553s for 40A power stages. That alone is enough to run passive, but a heatsink drags temperature so far below requirements of operating spec that there's room to spare. Cooler is always better in this instance (insofar as ambient cooling, anyway), so we can't complain, but we can speculate about why it's been done this way. ASUS' Crosshair VII Hero has the same VRM, but with 60A power stages. That board, like Gigabyte's, could run with no heatsink and be fine.
We tested with thermocouples placed on one top-side MOSFET, located adjacent to the SOC VRM MOSFETs (1.2V SOC), and one left-side MOSFET that's centrally positioned. Our testing included stock and overclocked testing (4.2GHz/1.41VCore at Extreme LLC), then further tested with the heatsink removed entirely. By design, this test had no active airflow over the VRM components. Ambient was controlled during the test and was logged every second.
Test Platform (Sponsored by Corsair)
Component
Part Name
Courtesy Of

Motherboard

Gigabyte X470 Gaming 7
ASUS C7H

GN's side channels
Also, ASUS for C6H

CPU

-

Memory

Corsair Vengeance LPX 3200 16-18-18-36
GSkill Trident Z 3600

Corsair

Cooler

NZXT Kraken X62

NZXT

Power Supply

Corsair AX1600i
EVGA G2L 750

Corsair
EVGA

Video Card

EVGA GTX 1080 Ti FTW3

EVGA

 
Gigabyte X470 Gaming 7 VCore VRM MOSFET Thermals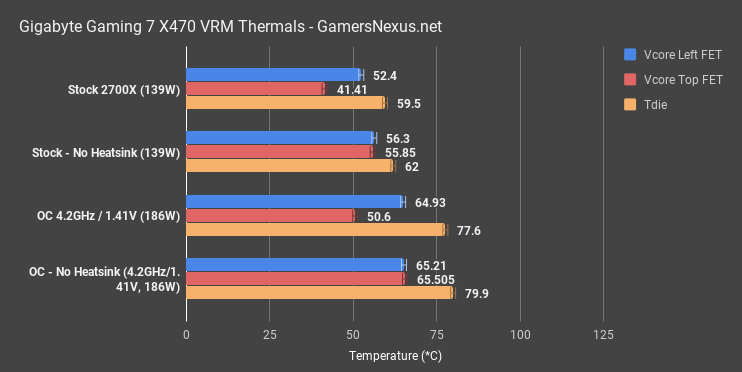 With the AMD R7 2700X left to stock and XFR2 configured to stock settings, we measured a maximum Vcore VRM MOSFET temperature of 52.4 degrees Celsius, with a 41-degree measurement for the top MOSFET. Tdie was 59.5 degrees. Note that these are not deltas over ambient, just straight temperatures. Ambient was 28 degrees Celsius.
Overclocking to 4.2GHz and 1.41V pushed our MOSFET temperatures to 65 degrees for the left Vcore MOSFET, or 51 for the top MOSFET. Note that this is also with an SOC voltage of 1.2, so our neighboring SOC VRM is also providing some heat.
At these settings, we're pushing 139W into the motherboard at the EPS12V rails when stock, or about 186W when overclocked.
Removing the heatsink entirely, the left MOSFET operated at 56 degrees Celsius – so about 4 degrees warmer than the complete stock configuration with a heatsink, which was 52 degrees. The top MOSFET operated at 56 degrees, for a 15-degree increase over the 41-degree result with the heatsink. There is clearly an actual advantage to having a heatsink, and that's primarily realized at the top part of the VRM, but it's ultimately not a make-or-break situation.
Removing the heatsink and overclocking still keeps us within reason. There's no real change for the left side, where we're within variance of the original overclocked-with-heatsink results, and there's a 16-degree increase for the top MOSFET. Even still, that FET is only hitting 65.5 degrees, which is completely reasonable. [more talk]
As for power going through these, Buildzoid has a video on our channel going over it. Ryzen 2000 series can be power hungry, but only when really pushing it to its stability limits. There is a bit of an exponential voltage curve as frequency increases, which can quickly pull power consumption up to 200W and beyond. Even at these higher overclocks, the motherboard does fine.
As for the rest of the board, we'd like to see Gigabyte advance its BIOS options. The motherboard has good overall componentry and hardware, its BIOS is OK for most users, and the VRM is well-designed. BIOS starts to feel a little anemic in comparison to the Crosshair VII Hero, but you do pay a price premium for the ASUS BIOS. ASUS also has objectively superior memory subtiming auto-tuning on its Crosshair board, something that we'd recommend manually tweaking for Gigabyte's BIOS.
The VRM design and VRM heatsink of both the C7H and Gaming 7 suggest to us that board vendors are preparing for future higher core-count Ryzen CPUs. Whether or not those will manifest, we're not sure, but the power stages could do with a bit more power than what Ryzen+ demands.
Editorial, Testing: Steve Burke
Video: Andrew Coleman