Hardware Guides
stub
The Best Gaming PC Cases of CES - 2015 Case Round-Up
Posted on January 14, 2015
Our coverage of last year's best PC enclosures has remained some of our most popular content to date, and as is CES tradition, we're updating the coverage for 2015. The previous years have gone through trends of mini-ITX / SFF boxes (the Steam Box craze, now dying down) and larger, enthusiast-priced boxes. This year's CES trends saw a lull from major case manufacturers like Corsair, Cooler Master (reeling from a lawsuit by Asetek), and NZXT, but welcomed budget-friendly enclosures and high-end works of art. Users seeking more mid-range enclosures will be left waiting a while longer, it seems.
The latest edition to our gaming case round-up highlights enclosures spanning $50 to $800, all on the market for 2015. Most of these cases were shown at CES 2015 and have separate, individual coverage on the site (from last week); a few were shown in 4Q14 and had a presence at CES '15.
Best Budget Gaming Cases of CES 2015 ($40-$100)
Budget gaming enclosures with a penchant for gaming are abundant in the market, and it wasn't until the larger players stepped in that a droplet of quality suffused the sub-$100 price-range. NZXT's S340 and Corsair's 200R are recent examples of budget cases, but they're not alone anymore.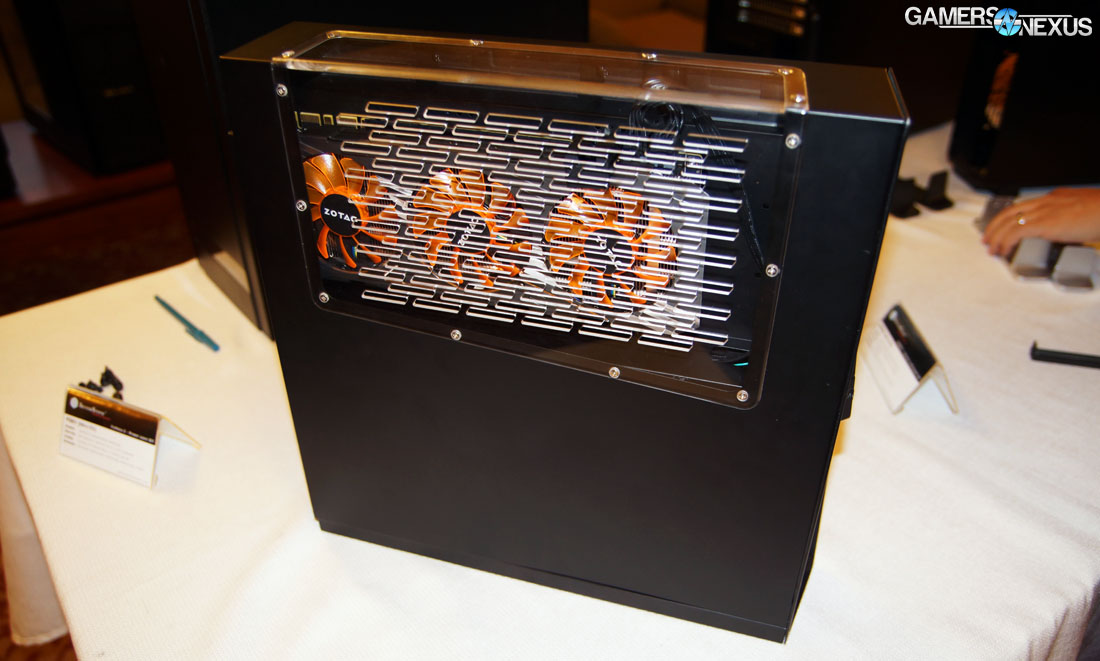 SilverStone has long held an image of expensive, high-end cases, partly thanks to their general distaste toward plastic and low-end power supplies. The company was among the first to bring 600W+ 80 Plus Gold SFX PSUs to the market, a marked success.
SilverStone Raven RVZ02 Specs
Dimensions
350 x 350 x 80mm (LHW)
Fans
0 pre-installed
0 possible
Motherboard Compatibility
Mini-ITX
CPU Cooler Height
60mm max
GPU Length
~11"
Drives
2x2.5"
1xSlim Optical
Front I/O
2xUSB3.0
3.5mm
Special Features
- Forward-facing GPU heatsink.
- Mirrored installation panels.
- Front LED.
- Sliding I/O Faceplate.
MSRP
<$85 when available
The RVZ02 enclosure caught our attention at CES, warranting such praise as "leading innovation and design." SilverStone's new Raven mini-ITX enclosure is a fan-less approach to gaming HTPCs, leveraging slotted acrylic windows near the VGA and CPU to perform all cooling. The interesting nature of the RVZ02 – and the reason it can cram a GTX 980 into similar-width case – is its use of a PCI-e riser card that allows the video card faceplate to point outward. Given the effort invested in recent GPU cooler designs, showcasing the faceplate and fans makes sense.
This orientation necessitates that the motherboard is pointed the opposite direction of the video card, hence the riser card implementation. For visualization purposes, both side panels are mirrored, so they can be installed on either side of the case (acrylic window up on one side, down on the other). Opting for a riser PCB over a cheaper ribbon cable ensures greater physical strength and reduced latency with age.
The RVZ02 only supports CPU coolers up to 60mm high (including the fan), so something like SilverStone's AR06 is required to efficiently cool the CPU. The stock cooler will be too big (and too hot) for this enclosure. Cooling is a concern, so invest in a well-designed VGA and CPU cooler.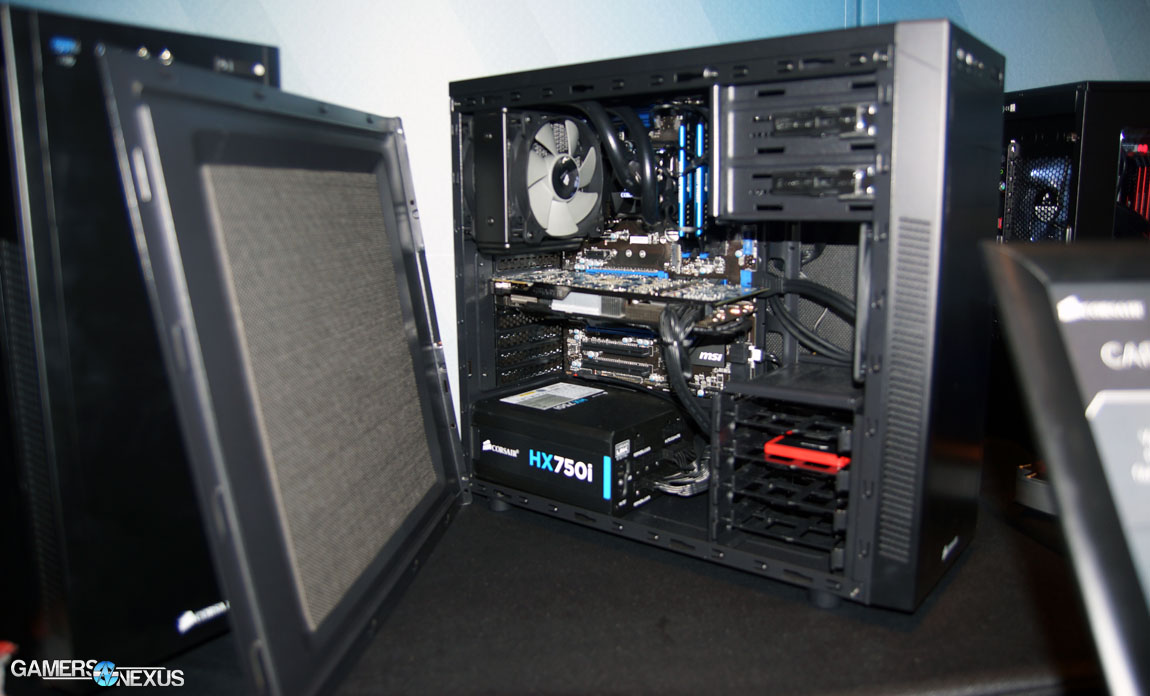 As you'll see in the case mentioned immediately below the 100R, two companies have caught on to the fact that a rare few Chinese factories are capable of stamping side panel bezels with the depth showcased here. The 100R aims to accomplish similar feats to the 200R, targeting users in need of a modern and discreet budget case.
The 100R offers dedicated SSD mounts, light cable management options, and includes a single 120mm rear exhaust fan. Support for 2x140mm front fans and 2x120mm top fans offers room to grow.
Corsair 100R Specs
Motherboard Support
ATX, mATX, mITX
Fans
1x120mm rear (incl.)
2x140/120mm front
2x120mm top
Drives
2x5.25"
4x3.5/2.5"
Expansion Slots
7
Front I/O
2xUSB3.0
Features
Silent version offers foam
Deep bezel for cable management
MSRP
$50 & $60 when available
Corsair's 100R Silent case includes a thick, surface-tense foam for vibration and noise absorption. The inclusion of this foam boosts the price an extra $10, landing it at $60 for the same case, just with better sound absorption.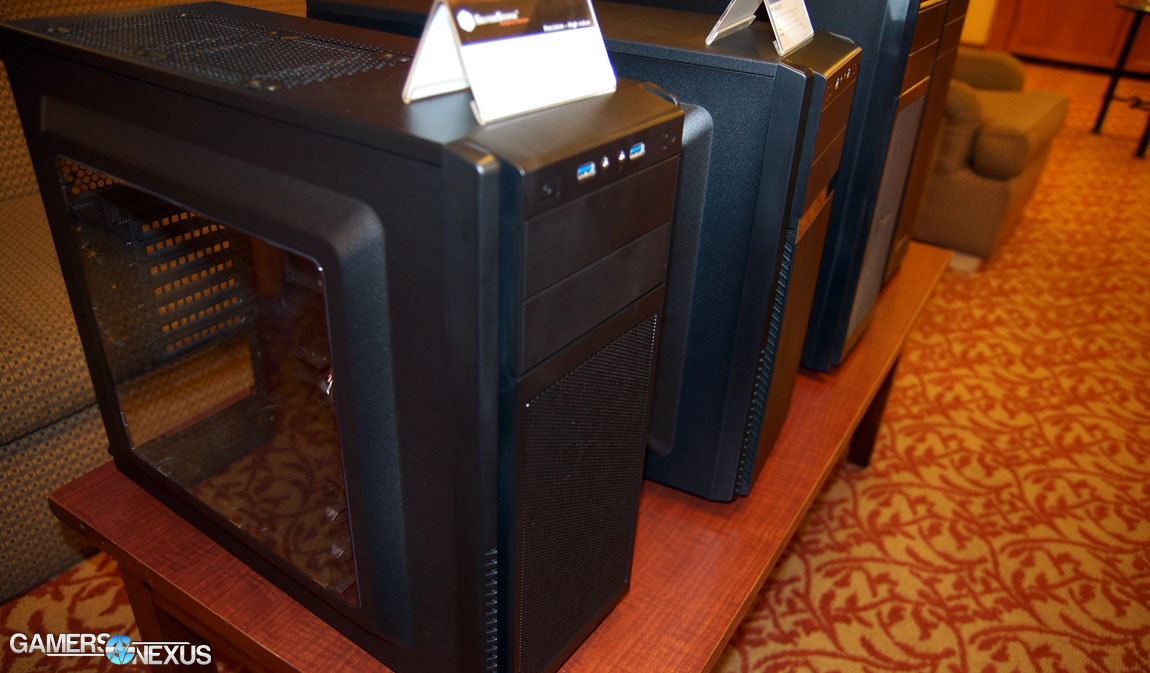 SilverStone and Corsair coincidentally showcased the same case this year, with slight variations to the foam and paneling. The PS11B and 100R are almost identical, both made in what appears to be the same factory (each uses a deep bezel in the side panels), and both offered in silent versions.
SilverStone PS11B Specs
Motherboard Support
ATX, mATX, mITX
Fans
1x120mm rear (incl.)
2x140/120mm front
2x120mm top
Drives
2x5.25"
4x3.5/2.5"
Expansion Slots
7
Front I/O
2xUSB3.0
Features
Silent version offers foam
Deep bezel for cable management
MSRP
$50 when available
The only difference here is that SilverStone's option uses a different type of sound-absorbing foam, resulting in a $50 price-point for both the silent and standard PS11B.
Best Mid-Range Gaming Cases of CES 2015 ($100-$170)
Mid-range cases were in shorter supply this year than the previous year, which featured industry-acclaimed offerings like NZXT's H440. Mid-range options offer ease-of-installation features with a fairly wide range of cooling options, but don't normally include all the bells, whistles, and aluminum that the higher-end options do. We actually prefer building with mid-range enclosures in most instances, given their general focus on practical features as opposed to useless considerations.
Given the general lack of quality mid-range enclosures at CES this year, we've summoned forth a few 4Q14 cases that deserve a bit of attention.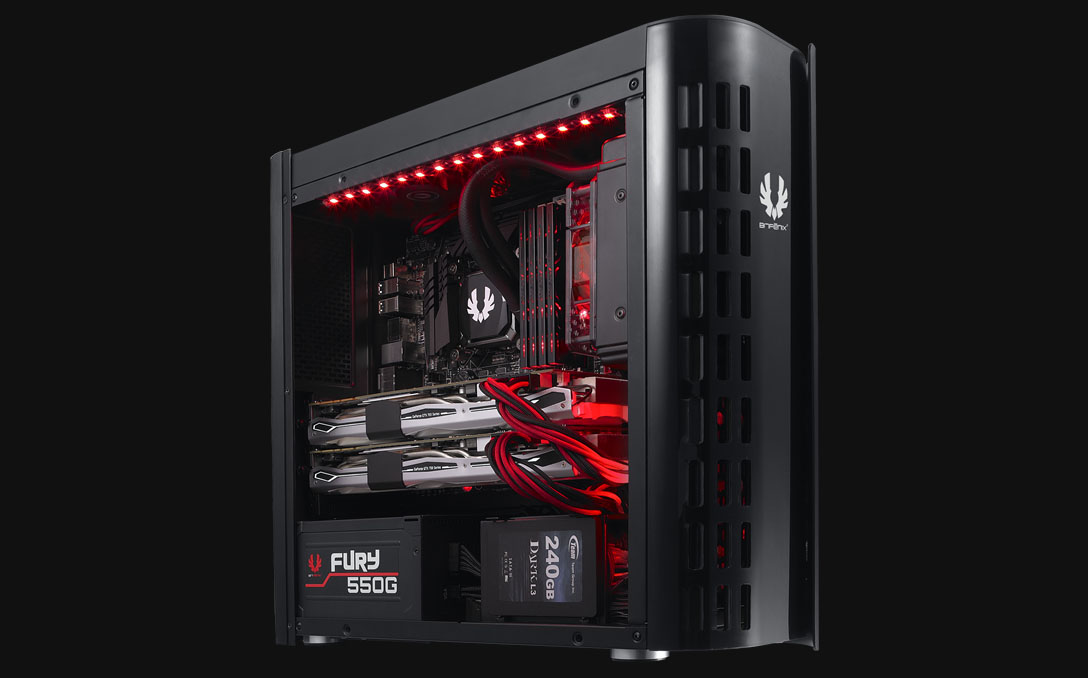 The popularity of boutique shop BitFenix grew wildly with the Prodigy, a small form-factor box that many of you already know. Sneaking into the end of 2014, the company staked its name on its ability to craft an aluminum-enclosed tower. The Pandora is effectively identical to the already-shipping Pandora Core, with the primary exception that the new unit (strictly called "Pandora" or "Pandora Window") hosts a built-in 2.4" LCD.
Uniquely, the LCD is capable of displaying user-designated designs or logos rather than BitFenix's default logo. This allows some loose customization of the exterior.
The Pandora doesn't support ATX or full form-factor motherboards, but micro-ATX support allows flexibility for most single-GPU PC builds.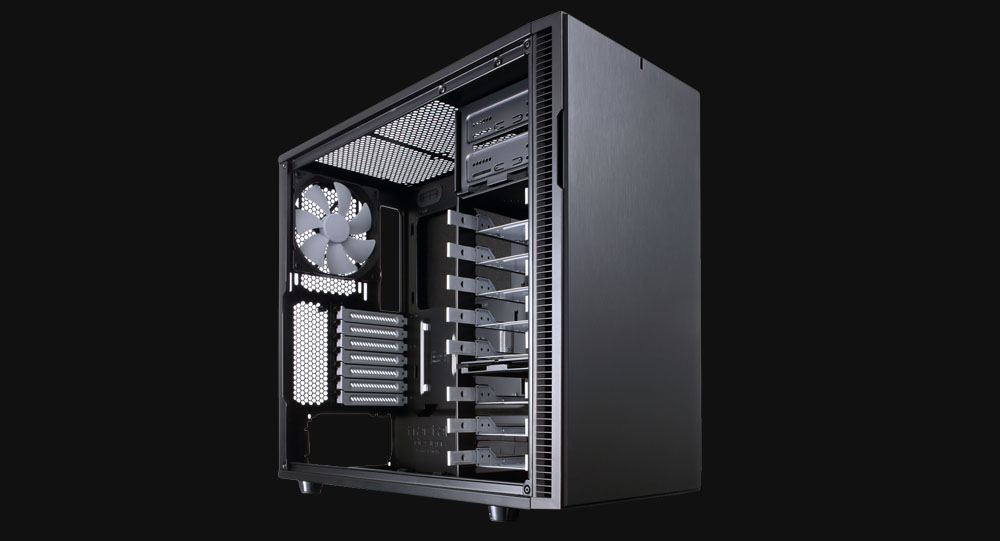 Able to mount ATX, mATX, and mini-ITX motherboards, Fractal's Define R5 continues the company's legacy of subdued visuals and noise levels. The Define R5's hard drive and optical drive cages are fully-modular, with a supporting 2x2.5" SSD mounts on the rear side of the motherboard. To this end, a system builder could remove the entirety of the cage structure and instead install two SSDs behind the board.
In the spirit of silence, the Fractal Define R5 also includes what the company calls "ModuVent" plates. The plates are foam-padded modules that attach to unused fan ports, ensuring that fan mounts that go unfilled don't allow space for noise to escape (or dust to enter).
The Define R5 is intended for users who demand silence and an absence of dust, but who also don't care for the "gamer" look or flashy LEDs. It is available in windowed and window-less versions (+$10 window).

The last of our mid-range enclosures is also the most expensive. We gave our honest criticism of Thermaltake's new Core X9 at CES, commenting that the case is interesting for its target audience – part-way modders and playful enthusiasts – but likely too oversized for the vast majority of system builders.
Thermaltake Core X9 Specs
Motherboard Support
E-ATX, ATX, mATX, mITX
Dimensions
502 x 380 x 640mm
(19.8 x 15 x 25.2")
Weight
17 kg / 37.5 lbs.
Fans
1x200mm front (incl.)
1x120mm rear (incl.)

Total Support:

2x200mm (front)
2x200mm (top)
2x140mm (rear)
3x120mm (bottom)
3x140mm (side panels)
Radiator Support

Front:

1 x 120mm or 1 x 240mm or 1 x 360mm
1 x 140mm or 1 x 280mm

Top:

2 x 120mm or 2 x 240mm or 2 x 360mm or 2 x 480mm
2 x 140mm or 2 x 280mm or 2 x 420mm

Rear:

1 x 120mm or or 1 x 140mm

Left / Right Side:

1 x 120mm or 1 x 240mm or 1 x 360mm or 1 x 480mm
1 x 140mm or 1 x 280mm or 1 x 420mm

Bottom:

1 x 120mm or 1 x 240mm or 1 x 360mm or 1 x 480mm
1 x 140mm or 1 x 280mm or 1 x 420mm

Clearance
CPU Cooler Height - 250mm
VGA Length - 400mm (590mm w/o cage)
PSU length - 220mm
Notes
Horizontally-mounted board
Highly customizable mounting hardware
MSRP
$170 when available
The X9 is a unique case. It's sort of an erector's set of trays, brackets, rails, and screws, all completely removable to allow an aquarium-like setup purely for liquid cooling (or vertically-stacked systems, if using two cases). The X9 is accompanied by Thermaltake's X2 and X1 cases, smaller in physical size and in price.
Best High-End Enthusiast Gaming Cases of CES 2015 ($170-$800)
Enthusiast-classes PC cases still got love at CES 2015, though not to the same big-name fanfare as Corsair's past 900D or similar cases.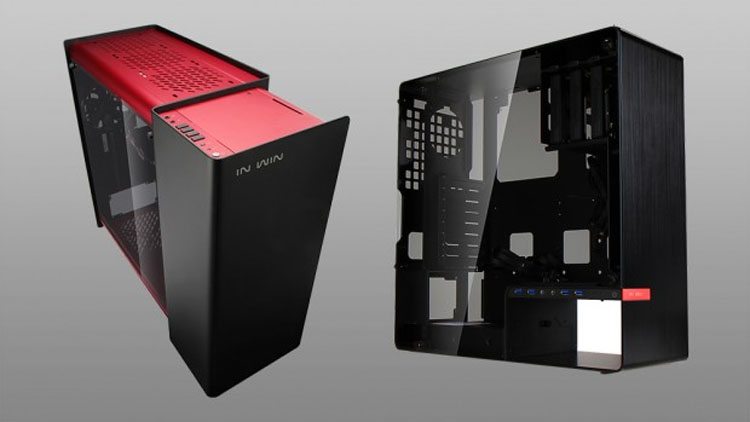 "Affordable" may be a bit of a relative term here. That is, relative to the $800 masterpiece below, $300 quickly appears "affordable." In-Win isn't really known for its finesse when it comes to budget-friendly enclosures, but if you've got money and you want art, they're the brand to look at first. The S-Box uses a single sheet of folded aluminum – similar in basic concept to the S-Frame – and a high-quality, tempered sheet of glass to cover core components.
The S-Box's hard drives are concealed in the front "bend" of the aluminum, facing the rear side of the case.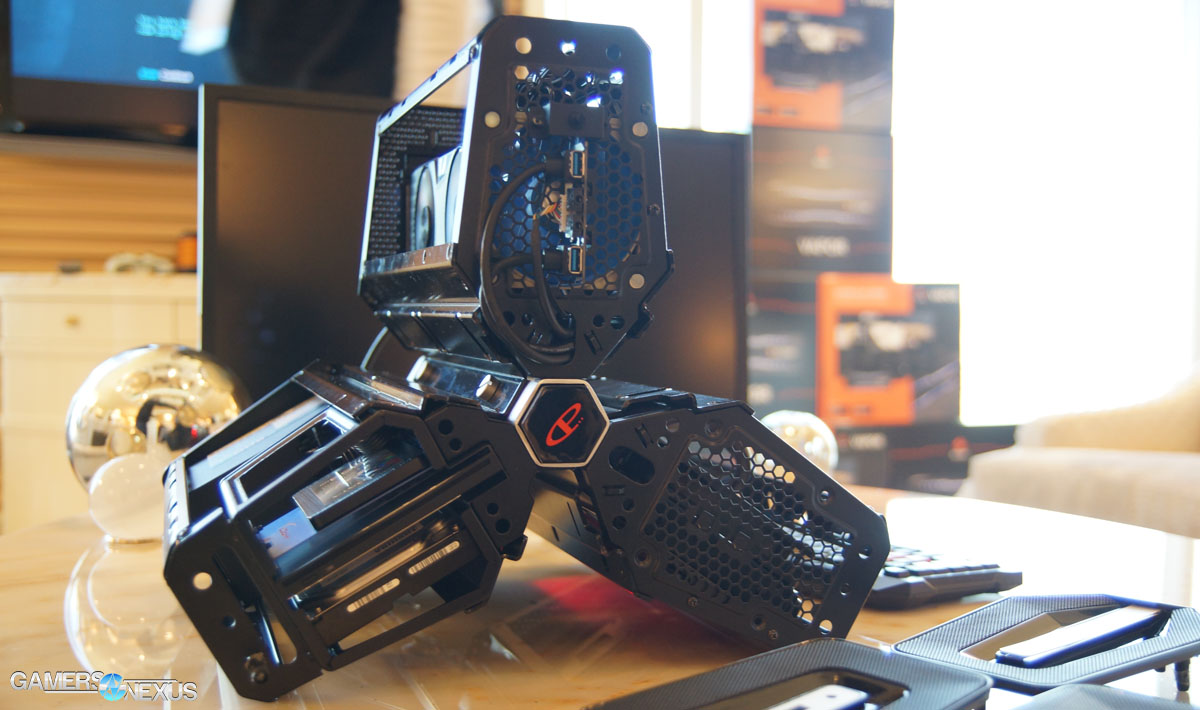 Aluminum is a lightweight, expensive material to shape and manufacture. This case, taking a sharp turn away from the design elements of the S-Box, makes use of three compartmentalized component containers, each roofed with a heavy, steel shell. The case is easier to explain in video form (done here)
The Trinity system is made by CyberPower, for which DeepCool manufactures the enclosure (separately available for $350). If you want a large, Lambda Shuttle-shaped case in your living room, this is the go-to. Rather specific, but there you have it.
In the very least, it's different and cool, and we give it props for that.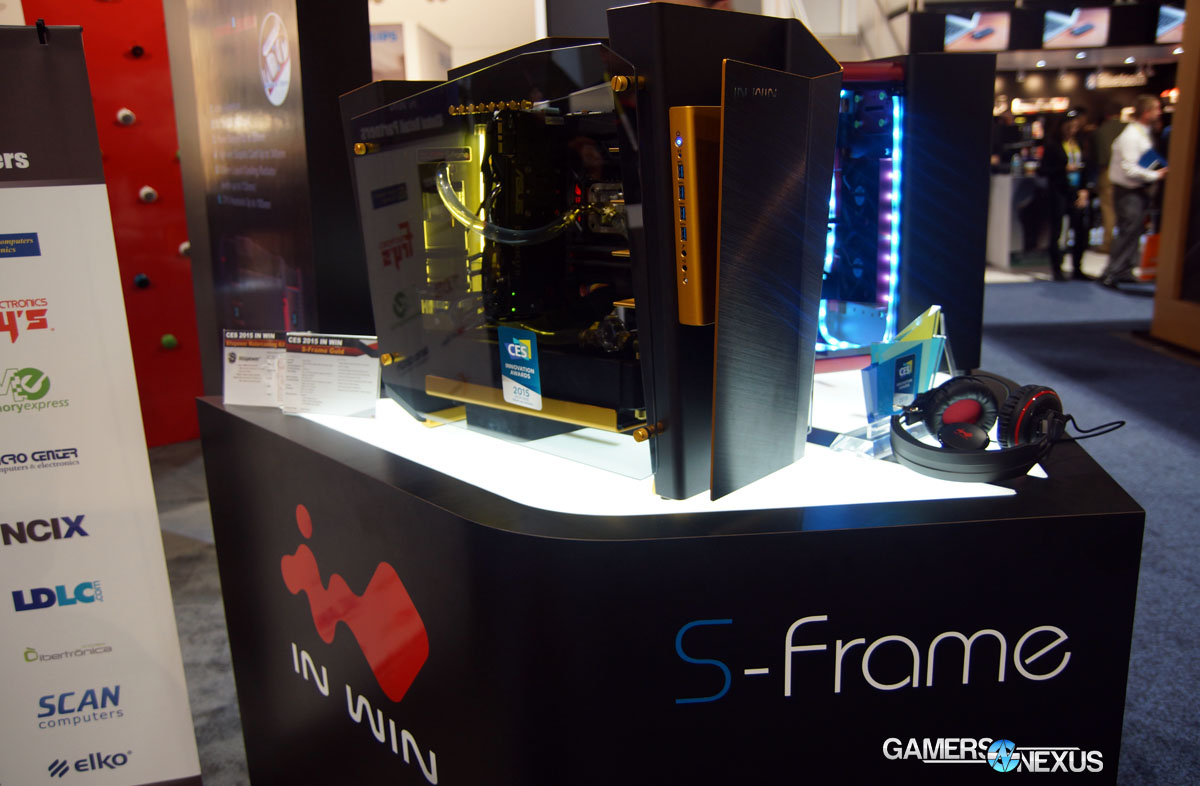 And we arrive to the S-Frame. In-Win's $800 showroom case. The company told us that they've got an internal "Vision Team," entirely dedicated to the creation of PC cases that they'd want to display in their living rooms as artwork. This results in some of the most expensive manufacturing processes and MSRPs, but shows that templates can be broken.
The In-Win S-Frame (we wrote about & videoed here) is built using a single piece of aluminum, hand-bent fifteen times with a press and two employees. This process is time-consuming and skilled, resulting in the higher market price. A high-quality, heavy, tempered sheet of glass covers the core components.
2015 Recap – Top Cases for Gaming PCs
The year has started out extraordinairily strong in the budget and high-end markets, but has room for growth among the mid-range products. We anticipate an upswing in case design as the year progresses, having spoken to all the major manufacturers at CES, but we're satisfied with the launches thus far.
- Steve "Lelldorianx" Burke.