Hardware Guides
stub
The Best Gaming PC Cases of CES - 2014 Case Round-Up
Posted on January 16, 2014
Update: See the new 2015 edition of this content over here.
Following-up with last year's PC enclosure round-up, we revisit the topic of the top gaming cases with CES 2014 in mind. Any enthusiast or mid-range system builders have some unreal options to choose from this year, with a heavier focus placed on full side windows and aesthetics than previous years.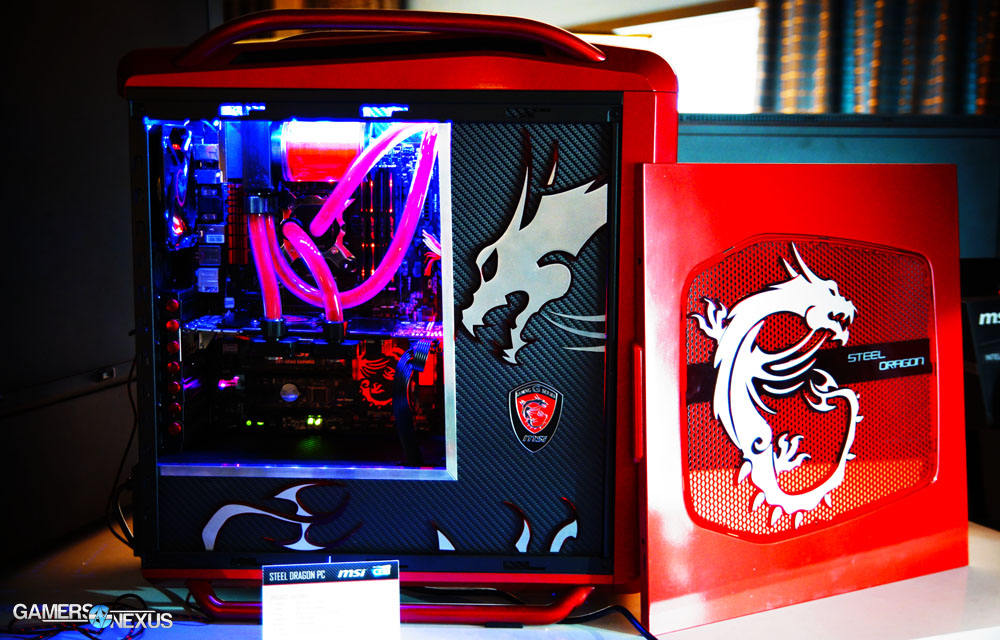 For advice on choosing a gaming enclosure, check out our previous article on picking a gaming case. In this gaming case round-up, we'll look at some of the highest-performance PC enclosures on the market for 2014; all the cases featured were unveiled at (or around) CES 2014.
Best Mid-Range Gaming Cases of CES 2014 ($100-$170) 
True mid-range cases are in a sort-of sweet spot between the ultra-budget, cheaply-made offerings and the overkill you'll find below (see: In-Win D-Frame). Unlike last year's "event of small innovations," this year saw several major overhauls and new trends within the industry of PC hardware; for gaming cases, that largely meant a redoubled effort to shrink unused space within enclosures and remove pointless features. As Thermaltake representative Shannon Robb put it, the industry is trending away from "the case is your desk" and toward "the case fits under your desk."
NZXT H440 Case -- An Innovator (~$120)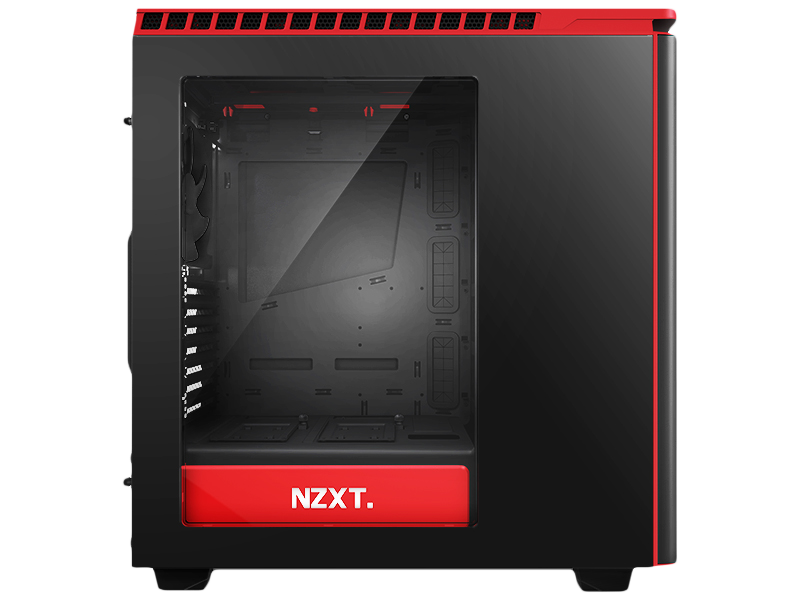 Like last year's RV-04, this year's NZXT H440 is our true innovator in the gaming case market. Our earlier preview & video showed what sets the case apart, namely the addition of a pre-installed PSU shroud (to hide the power supply and its cables) and the removal of 5.25" ODD bays. Notably, removing the 5.25" bays eliminates the possibility of front-panel controllers (and might diminish open loop options), but the case makes up for it in enough ways to 'move on.'
The lack of ODD bays means more room for breathing HDDs (read: HDDs that aren't so jammed together they suffocate the rest of the system for air) and overall improved cleanliness. The drive scaffolding has a clean sheet of metal plating concealing its inhabiting drives, continuing the theme of the PSU shroud up the side of the case.
NZXT H440 Case Specs & Features
Model Number
CA-H440W-W1 (glossy white)
CA-H440W-M1 (matte black/red)
Form Factor
ATX, mATX, mITX Mid-Tower
Cooling
3x120mm front fans (included)
1x140mm rear fan (included)
3x120mm top fans (optional)
Radiator Support
Up to 1x360mm top radiator
Up to 1x360mm front radiator
Up to 1x140mm rear radiator
Expansion Slots / Bays
7 Expansion Slots
6x3.5" Drive Bays
2x2.5" SSD Sleds
0x5.25" Optical Bays
Filters
1xFront Side
1xBottom Front
1xBottom Rear
Clearance
CPU Cooler: 180mm
VGA w/ HDD Cage: 294mm
VGA w/o HDD Cage: 406.2mm
Cable Management: 17.7 - 32.5mm
Dimensions
220 x 510 x 475.3mm
Build Material
SECC Steel, ABS Plastic
Front IO
1x3.5mm
2xUSB2.0
2xUSB3.0
Warranty
2 Years Limited Parts
MSRP
$120
NZXT's H440 has a somewhat non-linear cable management comparison to other cases. Rather than jam everything between the motherboard tray and the right side panel, we can obscure most of it within the PSU shroud without obstructing airflow significantly.
Speaking of airflow, the front and top of the case both support up to 360mm cooling radiators (or just normal fans) and the rear supports up to a 140mm radiator, in some configurations. No drive-mounted or bottom-mounted fan slots are present. The H440 ships with 3x120mm front intake fans and 1x140mm rear exhaust fan.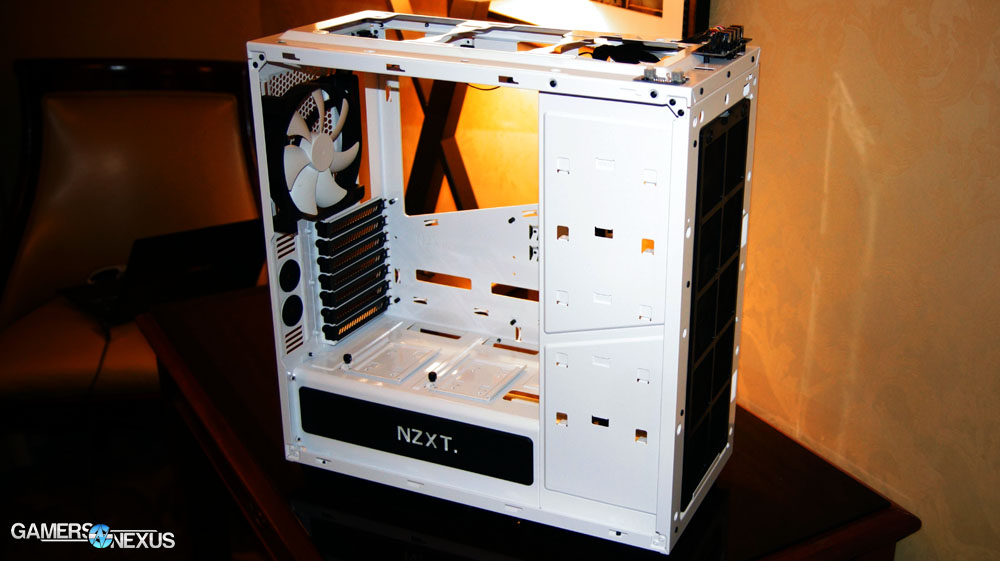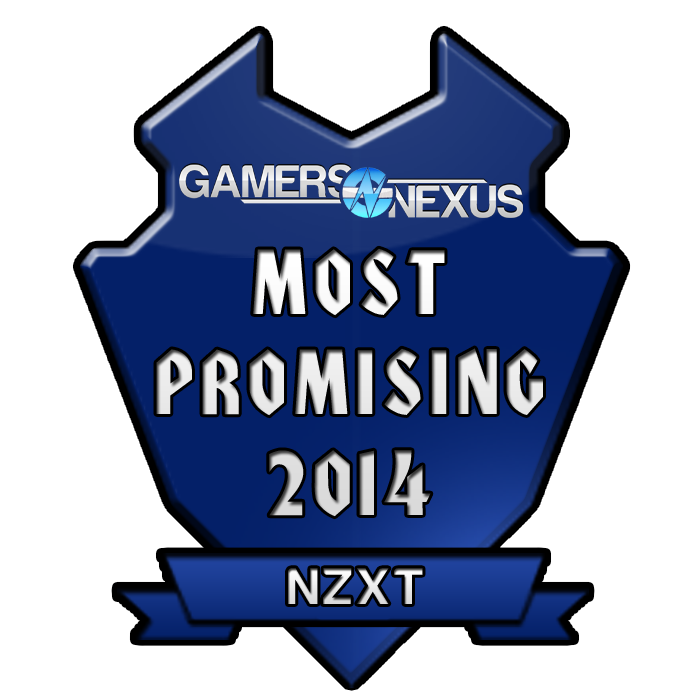 A fairly sizable side panel window gives some visibility into the case (and has discrete riveting), but doesn't show the ugly cabling/drive sections.
Hands-down, this is the case we're the most excited about from CES 2014. Going into the new year, it's going to be an easy go-to suggestion for any mid-range and enthusiast system builders -- especially those with a love of cable management.
The case is available in "black on white" and "red on black."
Although we liked the idea of Rosewill's new "Rise" case -- a similarly-priced $120 enclosure -- it just doesn't touch the engineering of the H440. The primary reason to select the Rise would be for ODD support, I suppose.
Thermaltake Core V71 (~$160)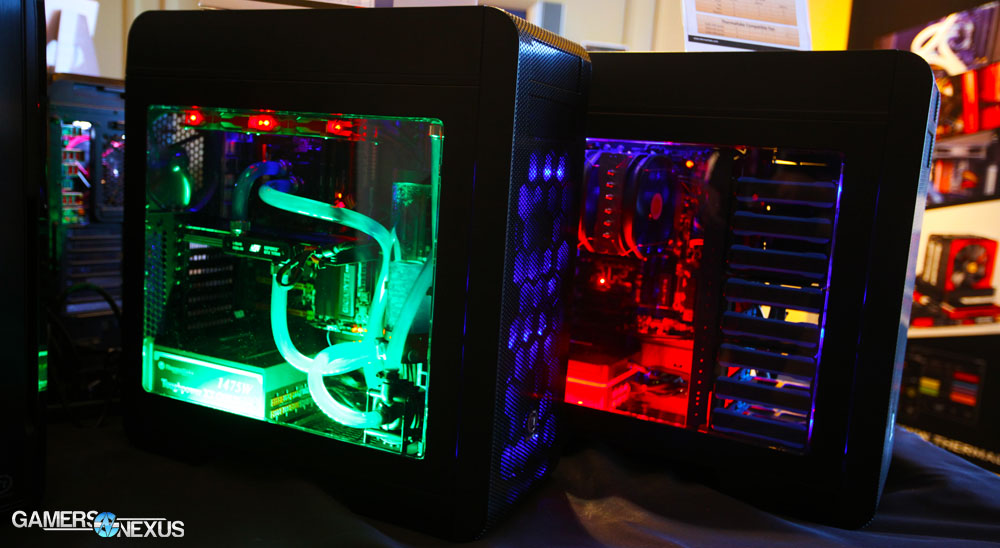 Thermaltake's Core V71 weighs in just above the H440 in terms of size and price, but bears a larger left panel window and more airflow-focused mesh paneling. With its mesh cover across all panels and massive radiator support (more on that in a moment), the Core V71 has positioned itself to be a dream enclosure for open loop liquid cooling.
Thermaltake Core V71 Specs (same as Urban T81 specs)
Form Factor
Full Tower - ATX, Extended ATX, Micro-ATX
Air Cooling
(Pre-installed)
2x200mm front intake (600~800RPM; 13~15dBA)
1x140mm rear exhaust (1000RPM, 16dBA)
1x200mm top exhaust (600~800RPM; 13~15dBA)
Fan Support

2x200mm front
2x200mm top
1x140mm rear
2x140mm bottom

Radiator Support
Up to 420mm front
Up to 420mm top
1x120mm rear
Up to 280mm bottom (watch out for PSU size)
Clearance
CPU cooler height: 180mm
VGA length: 360mm w/ HDD cage
VGA length: 400mm w/o HDD cage
Dimensions
585 x 235 x 602mm; 21.7lbs.
MSRP
$190
The Core V71 supports liquid cooling radiators up to 420mm in size -- some of the biggest on the consumer (and even enterprise) market -- and will readily mount them in both the top and front positions. If that's not enough, the full tower will also fit 1x120mm rear radiator and 1x240mm bottom-mounted radiator.
If you're more of an air cooling person, fans can obviously be mounted to each of these above-listed radiator positions. The front and top can support upwards of 2x200mm fans, the rear supports up to 140mm, and the bottom supports 2x120mm fans.
Best Enthusiast / High-End Gaming Cases of CES 2014 ($180+) 
Before getting to the budget gaming PC cases, we'll look at some of this year's most powerful jaw-droppers. Most of the major manufacturers have some sort of flagship case staking claim to the enthusiast market, and this year's coverage extends to Corsair, Antec, Cooler Master, and Thermaltake.
Corsair Graphite 760T FullTower (~$180) 
The most affordable of the least affordable, as it were, is Corsair's Graphite 760T full-tower enclosure. This unit caught our attention for its full-windowed side panel, complete with hinged door for easy accessibility and component swapping (the door removes if necessary). It competes pretty directly with the below Cooler Master HAF XC in terms of internal line-of-sight, but the use cases are largely different. The imposing stature of the 760T gives enthusiasts room to play with custom sleeving or custom liquid loops, which -- as the demo system indicated (sans bent video card) -- will look fantastic in the case.
Corsair Graphite 760T Case Specs
Form Factor
ATX
Expansions
9x Expansion slots
6x3.5"/2.5" combo bays
4x2.5" bays
3x5.25" bays
2xUSB3.0, 2xUSB2.0 front IO
Cooling
High/Low fan controller (12V & 7V)
3xAF140L included

Total Config:

3x140mm top
2x140mm front
1x140mm rear
1x120mm bottom


Radiator Support


Top: 360mm, 280mm
Front: 280mm, 240mm
Bottom: 120mm
Rear: 140mm
Features
Modular cages
Swinging side panels
Center motherboard standoff.
Cable routing space like mad.
Release Date
February, 2014
Stock, the 760T ships with 3x140mm fans (AF140L) on an included fan controller (12V & 7V settings); aftermarket air cooling options include a total of 3x140mm top fans, 2x140mm front fans, 1x140mm rear exhaust, and 1x120mm bottom-mounted fan. The 760T supports a full range of radiators in the 120 - 360mm spectrum.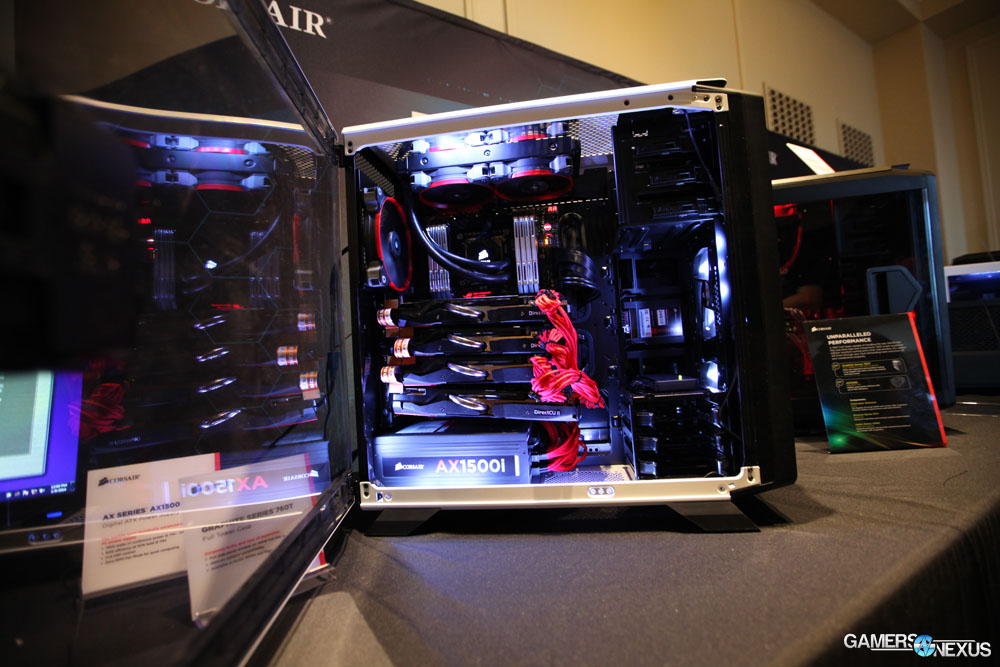 Modular cages lend further tweaking support for open loop configurations (best showcased with the large side window), which is extended more still by the extensive cable management support along the back-side.
Cooler Master HAF XC (~$TBD)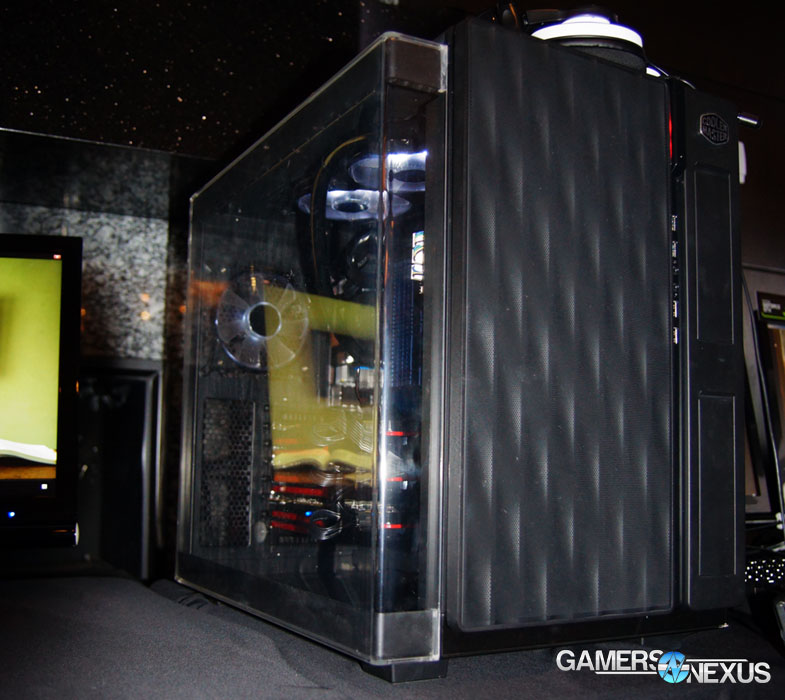 This one doesn't yet have a price announced (and might not make it to market in its current form, from what we've been told), but it is pretty damn cool. Almost partially resembling Corsair's Carbide Air 540—a case we jokingly called a 'double-wide'—Cooler Master's HAF XC features a massive, wrapping glass side panel with extra width for unique system installation.
Similar to the Air 540 (they might be from the same chassis supplier, realistically), the HAF XC (or Project N-Box) mounts its PSU and HDDs, ODDs, and SSDs on the right half of the case; the motherboard, mounted items, and cooling are retained on the left half of the case. Basic cable pass-throughs exist to bridge the two dimensions of the enclosure, but otherwise, they're largely isolated from one another. This improves cleanliness, makes the case a bit stout, and theoretically has cooling implications (should run cooler due to fewer obstacles and fewer items to generate heat in one spot).
Thermaltake Urban T81 (~$190) 
Jumping back to Thermaltake for a moment, the company's new Urban T81 enclosure ships in a few different SKUs, but the one we're interested in is shown above. The T81 has a sort-of Lambo-like 'suicide door' hinged left panel, so you've got a steel sheet covering the drive bays and a clear panel covering the rest of the system. On the outside, the T81 has a relatively smooth finish and manages to find a stature between the 900D's towering features and the Phantom 630's more manageable size.
Thermaltake's T81 is perhaps best known for its full radiator support, capable of mounting up to 2x420mm radiators (top, front), a 240mm radiator, and other miscellaneous 120/140mm radiators elsewhere.
Top I/O includes 4xUSB2.0 -- twice as many as most the other cases here -- and 2xUSB3.0; the Urban T81 specs include 3 pre-installed 200mm fans (each with removable filters) and a 2+ 8 modular drive bay design. The T81 is a bit more discrete than the above-listed V71, given its brushed external appearance and hinging front panel. The V71's primary difference is its mesh paneling and lack of hinged front door.
The rep at Thermaltake's suite marketed the case by saying: "Unlike other cases, it isn't your desk - it fits under your desk."
The specs are the same as those listed for the V71 above.
Antec Ninteen Hundred (~$205)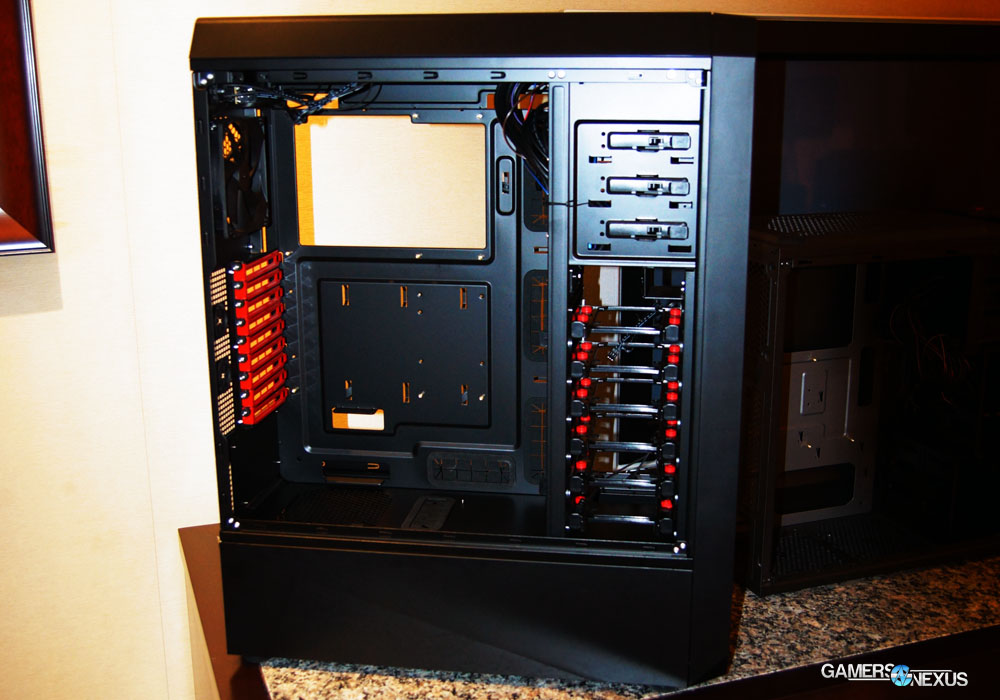 Here's the monster. We already previewed this one over here, but after reviewing all our other case adventures at CES, the Nineteen Hundred remains one of the kings of the enthusiast case market. Given its fluctuations between a $170 and $205 price-point (MSRP of ~$260-$270), the case is one of the most feature-packed for the price, which is primarily what sets it apart. It's in competition with NZXT's Phantom 820, but has a bit of a cleaner exterior and higher build quality.
Antec Nineteen Hundred Specs (& GX900, P100, ISK600)
 

GX900

P100

ISK600

1900

Motherboard

ATX, Micro-ATX, Mini-ITX

ATX, Micro-ATX, Mini-ITX

Mini-ITX

SSI CEB, E-ATX, ATX, Micro-ATX, Mini-ITX

CPU Cooler Height

170mm

170mm

170mm

175mm

Graphics Card Length

310mm

317mm

317mm

330mm

5.25" Bays

3

2

0 (slim optical drive space instead)

3

2.5" Bays

3

7 (2.5" or 3.5")

2

2

3.5" Bays

3

see above

3

12

Expansion Slots

7

7

2

9

Fans

2x120mm, front

2x120mm, rear and top

120mm FDB

All fans FDB, 3x120mm, front

2x120mm, top

1x120mm, rear

Built-in I/O

Top mounted 2xUSB3.0, 2xUSB2.0, Audio In/Out

Front mounted 2xUSB3.0, 2xUSB2.0, Audio In/Out

Front mounted 1xUSB3.0, 1xUSB2.0, Audio In/Out

Front mounted 4xUSB3.0, 2xUSB2.0, Audio In/Out

Dimensions

435mm (H) x 210mm (W) x 450mm (D)

484mm (H) x 220mm (W) x 523mm (D)

195mm (H) x 260mm (W) x 369mm (D)

696mm (H) x 223mm (W) x 555mm (D)

Weight

13.2 lbs

unlisted

unlisted

unlisted
The 900D definitely had a target on its back this year. Other than Thermaltake's T81 -- obviously gunning for a cheaper 900D market -- Antec's Nineteen Hundred ships with competitive drive support, concealing panels, basic padding for vibration and sound absorption, and plenty of space.
The Nineteen Hundred is a bit skinnier than similar full towers, but the unit still supports SSI CEB form factor motherboards, E-ATX, ATX, mATX, and mITX; CPU coolers up to 175mm in height and VGAs up to 330mm in length will also find a home within the enclosure. Somewhat shockingly, it'll fit up to 12x3.5" drives, 2x2.5" drives natively, and 3x5.25" units (total of 17 expansion bays), along with up to 9 expansion slot devices.
Antec's new beast ships with all FDB fans, including 3x120mm front, 2x120mm top, and 1x120mm rear pre-installed.
Antec's Nineteen Hundred is already available online.
Best Cheap/Budget Cases of CES 2014 (Sub-$100) 
This category is admittedly smaller this year, given the heavier focus on mid-range and enthusiast options at CES. A lot of the budget cases get silently launched (like Rosewill's Galaxy series), but there were still a few at the event last week.
Antec GX900 Budget Gaming Case (~$TBD)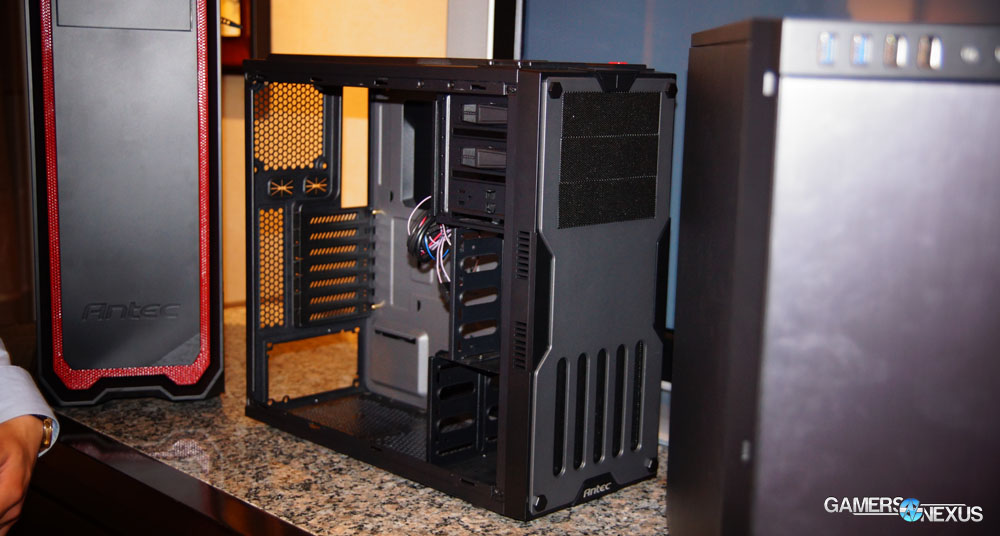 The GX900 reminded us of the GX700 we just reviewed; although its front looks sort of like the Punisher, the case has overall similar build quality (by feel) and stature to the GX700. The GX900 includes 2x120mm front intake fans, top-mounted 2xUSB3.0, 2xUSB2.0, & 3.5mm I/O, and supports all three standard form factors (ATX, mATX, mITX).
Internally, we've got support for a 170mm CPU cooler and 310mm video card, with rear expansion support for up to 7 devices.
Cable management certainly isn't a massive selling point of this case, but you will be able to hide most of your cables with some work (if modular); it'll take some zip ties, but it can be done. Standard pass-throughs and CPU backplate cut-out are also present, making installation less painful than some ultra-budget enclosures.
Overall, it's nothing special, but if you like the look well enough, it'll be a good budget option when finally priced. We anticipate a sub-$70 price-point.
A quick shout to Antec's P100, too -- it needs a bit of work on the front panel for me to fully endorse it (feels kind of flimsy right now), but the $100 price-point is a good one if you can afford it. That said, stretching up $20 for the H440 isn't a bad idea, either.
Cooler Master Silencio 452 (~$95)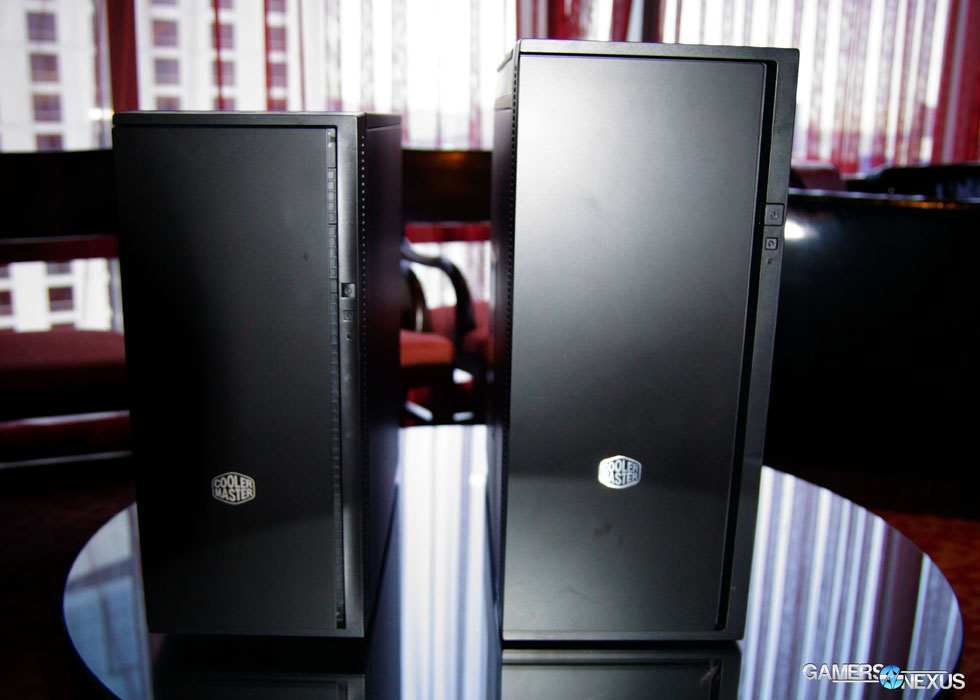 The Silencio 452 is one of Cooler Master's discrete enclosures, as accentuated by its matte paint and hinging front panel door. Similar to other silent cases (like the H630, just a bit cheaper), the Silencio 452's specs don't include any mesh paneling or gaping cut-outs, so it instead uses small slits along the sides (rather than the face) of the fans. Air is then taken in through these slits and funneled through the rest of the case. In theory, it'll cool a little worse than a more hole-covered case, but should be more silent (the noise is directed away from the user), dust-friendly, and discrete.
The unit ships with 1x120mm 800RPM fan (front) and 1x120mm 800RPM fan (rear) pre-installed. The low RPM is indicative of an attempt at silence -- again, it won't cool as well, but should be much quieter.
This case is a bit smaller than the others we've listed (adding to the discretion factor), and in being smaller only supports CPU coolers up to 158mm in height. This eliminates some of the mid-range units, so be more careful in your selection.
Honorary Mention: Rosewill's Stealth, which should ship in the $60-$70 range.
Lots of good options out there this year, and this is just sticking to the bigger stuff we saw. Let us know in the comments below (or, preferably, on our forums) if you require further assistance in case selection!
Editorial, Photography: Steve "Lelldorianx" Burke. 
Supporting Photography, Video: Jim "Neutron" Vincent; Patrick "MoCalcium" Stone.