Hardware Guides
stub
The Best Gaming PC Cases of CES - 2013 Case Round-Up
Posted on January 16, 2013
Update: See the CES 2014 edition of this article here.
Update: Our new Buyer's Guide for gaming cases was recently posted. Check out both guides for the biggest case selection range.
CES 2013 was a killer show for enthusiast and mid-range system builders, and with all of the great new content we've posted in the past week, we decided it's time to write a round-up. This post looks at all of the best gaming PC cases due for release in 2013, as revealed at CES. For those looking for advice on how to choose the best computer case for your needs, view our "How to Choose a Gaming Case" article.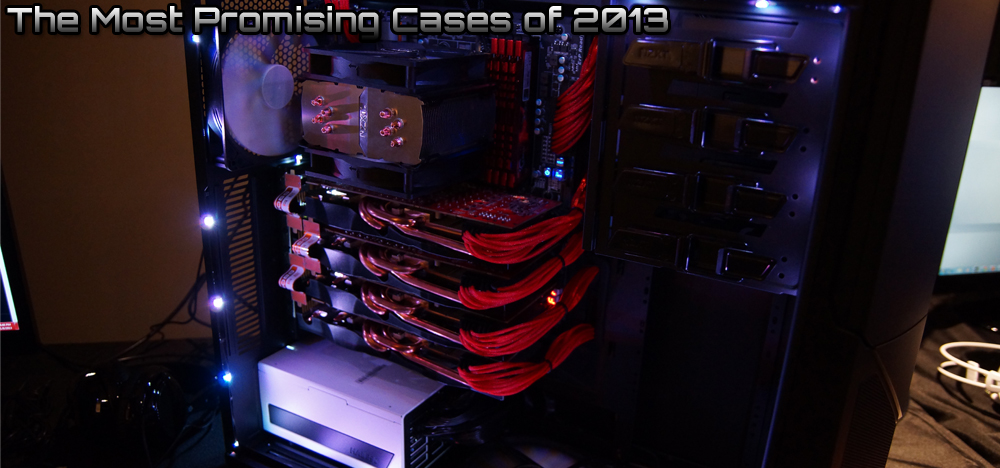 We'll specifically look at mid-tower and full-tower cases here, but a post (by popular request) covering mini-ITX and mATX HTPC-grade cases will follow. Let's get to the products and photos!
Best Mid-Range Gaming Cases of CES 2013 ($100 - $170) 
Surprisingly, quite a few companies came out with $200+ cases this CES -- Corsair had the 900D, In-Win had the D-Frame (at $400), SilverStone had their Mammoth -- but there was still a solid showing of mid-range options. It was an event of small innovations, as we were told by numerous manufacturers, and that was embodied in case designs: Everything from studio-grade sound-dampening barriers to spill/dust-proof enclosures made a presence, and as predicted, ease-of-installation has been at the top of the features list for most new cases.
SilverStone Raven RV-04 Case (~$150 roughly)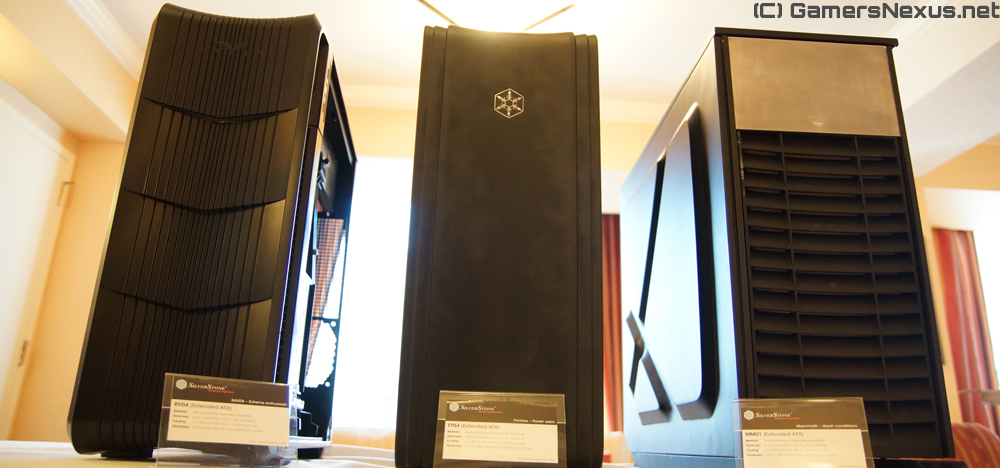 Left to right: RV-04, FT-04, MM-01.
Except for one. SilverStone was the undefeated case manufacturer this CES; aside from having sharp staff, their thermal design optimizes for low overall fan count and high-efficiency airflow channels by minimizing obstructions and eliminating potential thermal barriers. The Fortress FT-04 is perhaps the best example of this, mostly for its front-panel fin directionality that's designed to direct noise toward the back of the case, but the Raven RV-04 utilizes the same frame and fits in our "mid-range" price-point. The FT-04 is more of an enthusiast-class case, given its $200+ price-range. Tony Ou of SilverStone did a fantastic job walking us through all the Raven's features (and the other cases), which you'll find below:
Our previous article went into much depth with the three new mainstream cases made by SilverStone, but for your convenience, here are the main features again:
2x180mm intake fans with no fan mesh and 1x120mm rear exhaust. This is important – in GN's own testing of cases, we've found that fan meshes can add up to 3C to the overall system thermals, including the Phantom 820 we reviewed.
Rotated motherboard for increased thermal dissipation throughout the case, especially in the GPU region.
A CPU Cooler stand that helps support larger CPU coolers, thus reducing strain placed on the motherboard and ensuring no warping occurs when under load.
Load-bearing brackets for the GPUs in the same fashion as the CPU stand, aimed to support large cards that bend when mounted.
Specially angled fins for intake (more below).
Easily removed dust filters that can be run under water for quick cleaning.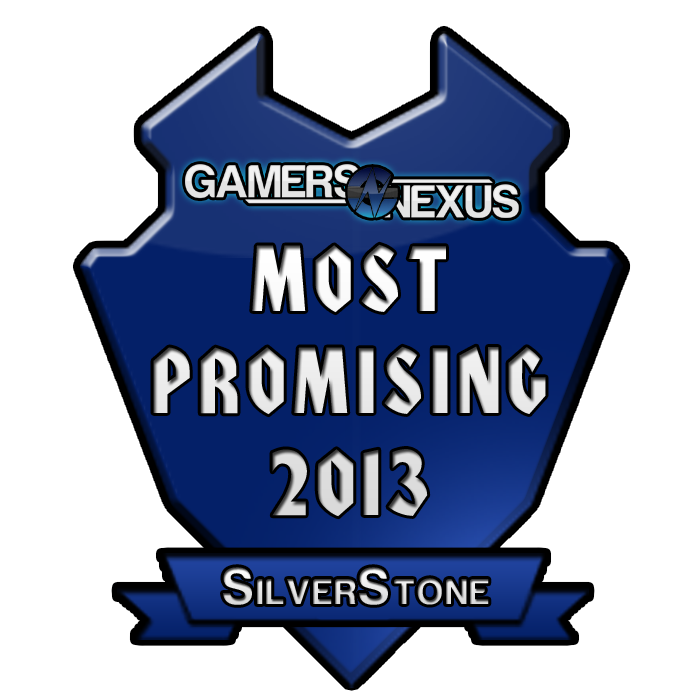 By utilizing two high-performance, 180mm front fans with only a 10% loss in front intake, the company is able to push more air than we're used to and with fewer fans. Many low-end and mid-range cases will sacrifice cooling efficiency for a 'cool' design, and if you look at the GX700, below, with its thick plastic front grill, this becomes evident. SilverStone has thinned out the front grill and removed the metal fan mesh used in many cases (like the P820) that often has significant negative impact on cooling.
The RV-04 might not look amazing from the insides alone, but with its heavy focus on performance over all else (while still looking good externally), it makes an excellent option for those looking to get the most out of their hardware.
Tony Ou put it best: "Everyone's focusing on ease-of-installation. How many times do you build your system? Once. We care about performance -- it's more constant." All this in mind, we have to give our "Most Promising" award of 2013 to SilverStone. 
Rosewill Armor Evolution Case (~$115)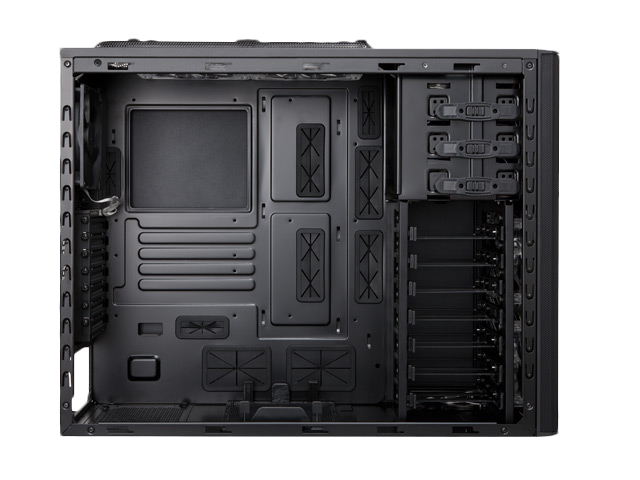 Although originally soft-launched (incomplete) at Computex, Rosewill's Armor Evolution is now officially available, and we've already begun the review process for the case. Our initial write-up of the case noted that it offers fantastic "buildability" or ease-of-installation, a solid set of four included fans (spec table below), and an elongated interior for larger GPUs and additional cable routing passthroughs. While SilverStone focuses on maximizing cooling performance over all else, Rosewill aims to offer system builders a mid-range case that's easy to work with and configure; quality oft supersedes quantity when it comes to cooling, though, as evidenced by our findings with the P820 (which had higher thermals when we added fans), so I'm looking forward to the battle between the Armor Evo and Raven for thermal performance.
Form Factor
Mid-Tower; Micro-ATX, ATX, E-ATX
Bay Support
3/2x5.25" External
0/1x3.5" External
7x3.5" Internal
I/O Panel
2xUSB3.0
2xUSB2.0
2x3.5mm (Audio)
Reset / Power 
Expansion Slots
7
Included Cooling
Top: 1x120mm (Likely exhaust)
Front: 2x120mm red LED (intake)
Rear: 1x120mm (exhaust)
Side: 1x230mm (intake) 
Optional Cooling
3xLiquid passthroughs
Top: 120/140mm fan (2x120/140mm fan max)
Front: 2x120mm HDD rack fan
Bottom: 1x120/140mm fan
Side: 230mm can be replaced with 4x120mm 
Material
SECC Steel
Dimensions
8.74" x 19" x 22.84"
Support for 14.56" (369mm) VGA 
CPU Cooler Clearance
Up to 6.5" (165mm)
MSRP
$120; hinted at sub-$100 street price.
Regardless, there's no doubt that the Armor Evolution looks solid, has plenty of room, and features all of the "it" management/installation features. It's a great case at the price and makes for a good starter build, no doubt.
We already have this one on our bench, so a review will be online in the coming week.
You can purchase the Armor Evolution here.
Best Enthusiast / High-End Gaming Cases of CES 2013 ($170+)
As I've stated a few times before, enthusiast-grade enclosures abounded this year; they were everywhere - everyone had some sort of high-end chassis to pitch us. When selecting cases for this section, we decided to stick with truly unique or interesting designs. If you're going to spend $200+ on a case, it'd better be a good one.
In-Win D-Frame (~$400)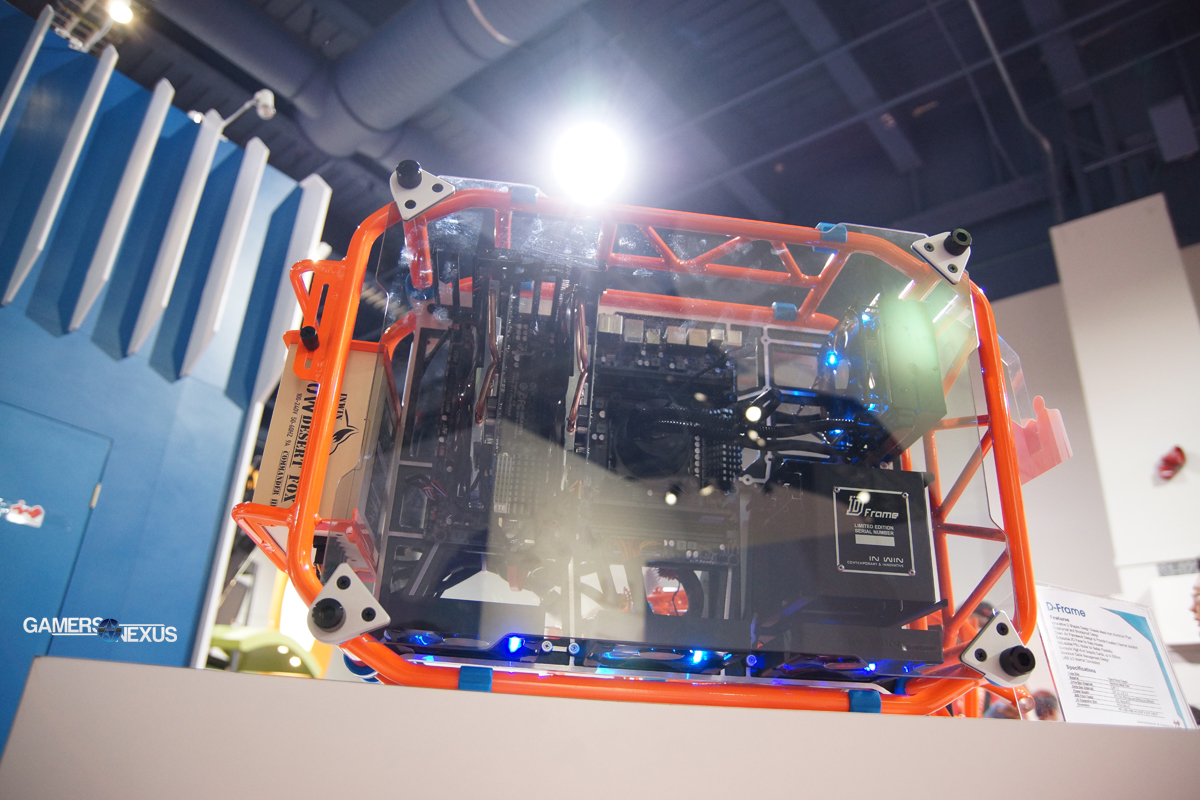 This one's just pure fun. In-Win's limited edition D-Frame open air case is a true DIY project: Not only do you install the system, you build the case. Its vague bike frame resemblance, aluminum materials, and tempered glass panels give it a striking appearance, but I'll let the video speak for the case:
It's almost more of an art piece than anything, and if you've got $400 to spend and want a limited edition, DIY case, well, I hope you've got a modern art exhibit nearby.
Make / Model
In-Win D-Frame
Case Features
DIY - Build it yourself;
Open-Air Chassis;
Red/Orange options;
90* Motherboard Rotation;
Fully aluminum. 
Materials
Aluminum.
Bays / Expansion

1x5.25" External (200mm max length)
3x3.5" Internal; 2x2.5" Internal 
8xExpansion Slots (top)

MB Form Factor
ATX, Micro-ATX
PSU Form Factor
ATX 12V, PSII, EPS (up to 220mm)
I/O Ports
2xUSB3.0, HD Audio
Dimensions
482mm x 305mm x 668mm
(19" x 12" x 26.3") 
D-Frame MSRP
$400

D-Frame available online here.
Corsair 900D Enthusiast Gaming Case (~$350)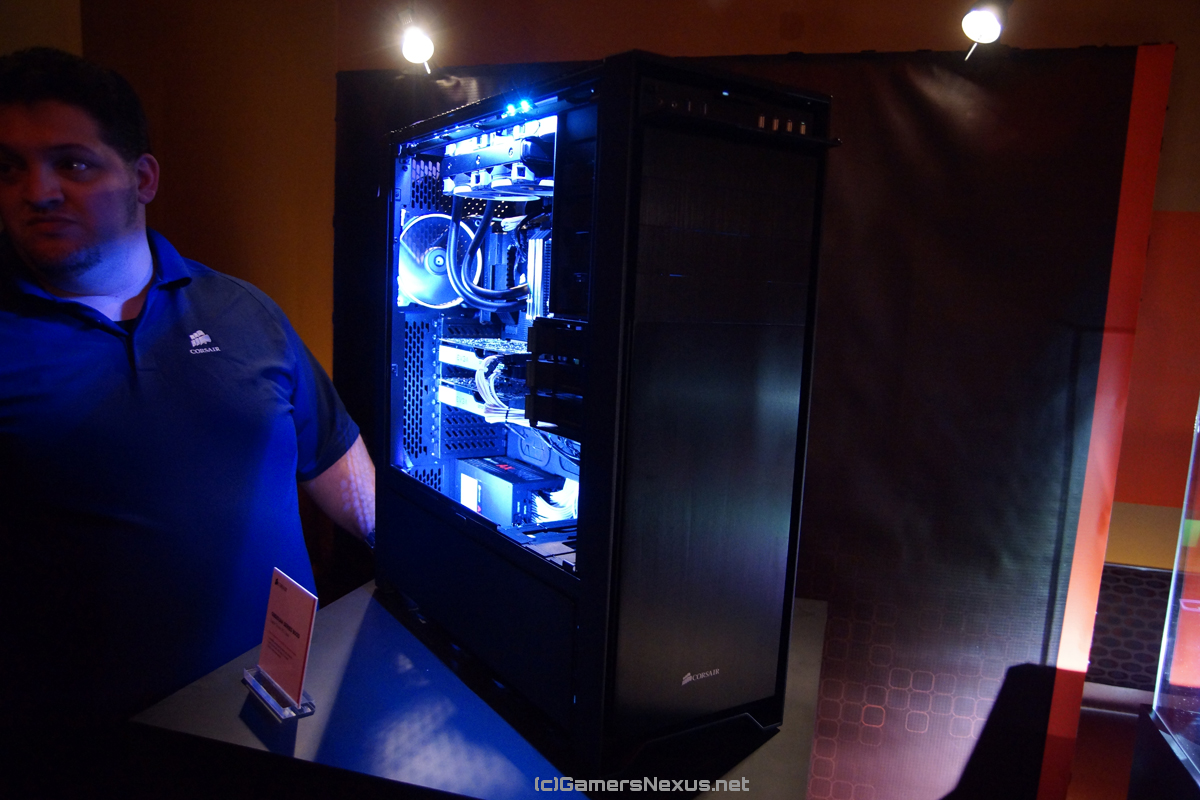 Corsair's 900D is, uh, big. Building upon the fame of their 800D Obsidian, the 900D offers a total of 15 fan mounts (in case you want a jet engine in your room), 9xHDD/SSD bays, fits 2xPSUs and can accommodate a server board with 2xCPUs, and has a larger interior than a NYC apartment. Priced in the range of $350, this case certainly isn't practical for most builders, but offers everything and anything for big systems. We find it particularly appealing for server builds and high-end workstations (especially with a need for redundancy).
Form Factor
Super Tower Case
Motherboards
HPTX, ATX, E-ATX, XL-ATX (?), Presumably mATX
Expansion Slots
10 Expansion Slots
9xHDD/SSD Bays (3 hot swap)
4x5.25" External 
Unique Features
2xPSU Accommodation
2xCPU Server Board Accommodation 
Cable Management
Elevated board panel
10 Cable Pass-throughs (8 grommeted) 
Cooling
15 total fan mount points
3x120mm front (included; gray/black)
1x140mm back (included; gray/black)
4x140mm top 
Several others that we don't yet have specifics on. 
Liquid
5 total radiator mount points
Quad-fan radiator support on the top.
Large radiator support on the bottom. 
Corsair 900D Release Date
February
It's definitely sleek. No gimmicks about the outsides of this one. Read more here. 
The Obsidian 900D is available here.
NZXT Phantom 630 Case (~$180)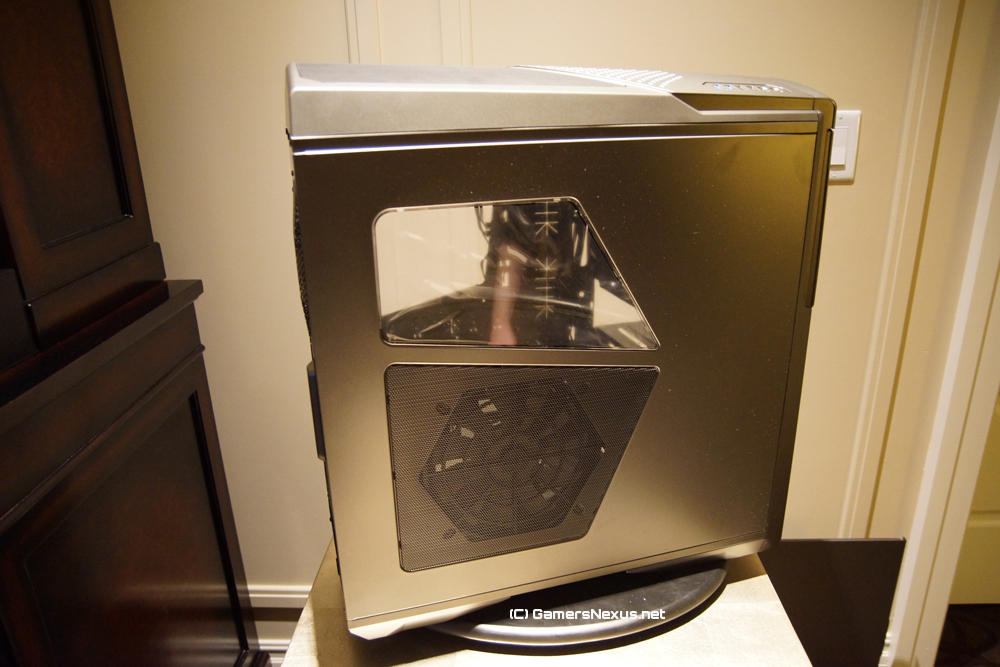 Building on the Phantom 820 we reviewed, NZXT's Phantom 630 (previewed at length here) resolves numerous small, troublesome quirks with the previous (larger) model. Not only is the 630 a more modest size, it also hopes to accommodate builders who couldn't quite afford the 820. Priced at roughly $180, it's tough not to recommend the P630 to enthusiasts who want that classic "Phantom" look.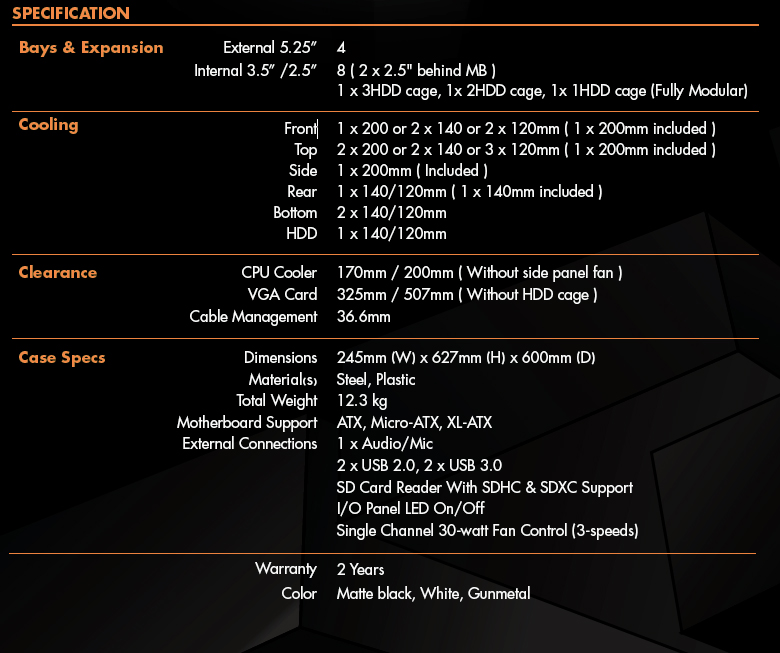 The Throne comes close, but I have trouble picking between the two without performance benchmarks; from features, size, and looks alone, the Phantom 630 has much better build-ability options than the Throne and still offers ample cooling. If you're after an easy build, the 630 is absolutely worth consideration. And $180 is very reasonable.
The Phantom 630 is available here.
Lian Li PC V-850 Aluminum Enthusiast Case ($TBD) 
The PC V-850 is easily one of the most interesting case designs I've ever encountered: on the outside, its beautiful, brushed aluminum finish corresponds with other persisting Lian Li designs; internally, builders are immediately greeted by a sort-of French Door design (swinging outward) that houses six fan mounts. Opening the double doors reveals Lian Li's oft-used odd motherboard mount, which is a series of cross-beams rather than the more traditional motherboard mounting wall. This allows for natural cable routing pathways on the business side of the case, but also gives infinite access the back side of the CPU.
Personally, I feel like it'll be tough to conceal longer cables in this case (given the lack of a mounting wall to hide them behind), but we'll be able to tell when we build/review it.
In my hands-on preview of Lian Li's PC V-850, I could tell that the construction quality, despite being a pre-production model, felt durable and up to their high standards, but I am curious as to the double door fan bays. I believe the case will be using positive pressure cooling (in which instance it will suck air in through every crack in the case), otherwise, those side fans may be useful just to help guide air toward the core components, rather than "wasting air" on the side panels. 
Best Cheap/Budget Cases of CES 2013 (Sub-$100) 
And now we're in the ultra-budget section. In terms of what we saw at CES, the three biggest budget cases to look out for this year are Antec's GX700 (despite accusations of being a C70 clone, it's still a decent amount of hardware at the price), Rosewill's Line-M on the ultra low-end (discussed in this article), and Thermaltake's Chaser A41.
Antec GX700 Budget Gaming Case (~$60) 
Originally reported on here, the GX700 case ships with an odd arrangement of 2x140mm (top exhaust) and 1x120mm (rear exhaust) fans, a 3-speed fan controller (really, 2 speeds if you don't count "off" as a speed), and some basic cable management options.
Despite my disagreement with the stock fan configuration—something that is easily changed once you receive the case—at $60, that's still a solid showing of features. I have suspicions that the Rosewill R5 will outperform the GX700 (at only $10 more), but still, the GX700 is a poor man's C70, and it really does fill-out the budget offerings for 2013 quite well.
Form Factor
ATX, mATX, mini-ITX
Cooling
2x140mm top (included)
1x120mm rear (included)
1x120mm side
2x120mm front
Optional top 240mm radiator 
Expansion / Bays
3+1 x 5.25" 
5x3.5" w/ SSD mount
7xPCI-e expo slots 
Max Cooler / GPU
Max CPU Cooler Hieght 172mm
Max GPU length 293mm 
Dimensions
500mm (H) x 200mm (W) x 450mm (D)
MSRP
$60
The Antec GX700 is available for ~$50 here.
Thermaltake Chaser A41 Gaming Case (~$100) 
This is certainly borderline for budget and mid-range builders, but someone's got to fill the gap. The Chaser A41 is Thermaltake's next foray into the blurred budget/mid-range line of computing options, primarily honing in on users who want extra features and a guiding hand in building.
The A41 ships with a solid fan array, including 1x200mm top exhaust and 2x120mm fans (front intake, rear exhaust). This should provide a fairly stable stock fan configuration for the price, but also offers a bottom intake port (120mm) that will benefit directly from the duck-like feet on the A41; air is coolest toward the bottom of the case, so we'd highly recommend installing a fan in this location. Basic cable management and dust filtration options are also present, and all the dust filters are easily accessed -- a theme for this case, seemingly with the goal of appealing to novice system builders. The A41 lays everything out in the open and doesn't beg for any previous experience or tricks to build effectively.
Model
VP200A1W2N
Form Factor
Mid-Tower; ATX / mATX
Dimensions
495mm x 252mm x 511mm
(19.5" x 9.9" x 20.1")
17.6 lbs. 
Cooling System
1x120mm Blue LED 1000RPM intake
1x120mm Rear 1000RPM exhaust
1x200mm Blue LED 600RPM exhaust
(Optional) 1x120mm bottom 
Bays / Expo Slots
4x5.25", 1x3.5"
5x3.5" HDD/SSD
7 Expansion slots 
I/O
2xUSB3.0, 1xHD Audio
Liquid Cooling Upgrade
Supports 1/2", 3/8", 1/4" water tubes
Other
Max CPU Cooler Height 175mm
Max VGA Length 315mm 
Thermaltake Chaser A41 MSRP
$100
Oh, it also includes a headset holder, so that's neat.
The Chaser A41 is available for ~$100 here. 
That's it for this round-up. What do you all think? Any cases you're particularly interested in?
- Steve "Lelldorianx" Burke.