Hardware
stub
AMD's Ongoing War With nVidia: "Never Settle" Bundle
Posted on October 23, 2012
In a recent press release, AMD announced their "Never Settle" bundle, which includes a 20% off coupon for Medal of Honor: Warfighter Deluxe Edition and free game codes for Far Cry 3, Hitman: Absolution, and Sleeping Dogs with the purchase of select video cards. In addition to this, AMD has released their "Never Settle" improvement for the AMD Catalyst suite and their drivers.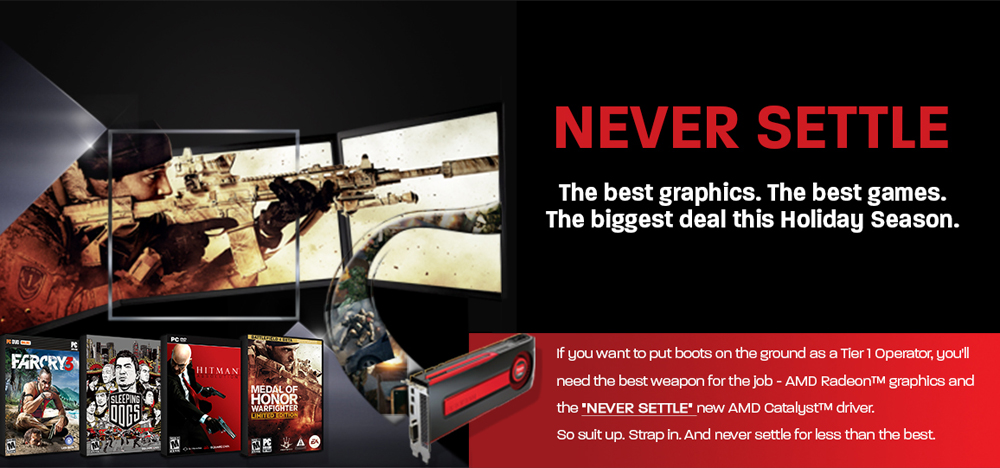 Though AMD may be going through difficult times they're starting their holiday promotions a bit early this year, making a bid to gain the upper-hand in their eternal marketing competition with nVidia; this landgrab, if nothing else, will help maintain their reputation for high performance at reasonable prices. What that means for us is a game bundle with up to a $170 value (factoring in the games), as well as an updated Catalyst Driver touted as "one of the most important drivers AMD has ever delivered."
With nVidia's release of Kepler and the GTX680 earlier this year, AMD was definitively outmatched in performance—an event they're trying to recover from with an aggressive sales campaign for their own 7000 series HD Radeon video cards. Having already exhausted the hype around continually lower prices (new 7850s can be found for $210), or maybe just searching for a more exciting way to entice customers, they've turned again to offering games with their hardware. AMD did this famously with their DiRT3 bundles with the 6000 series cards, which adds a perceived value to the card - one that could be seen as more 'valuable' to gamers than a smaller price decrease.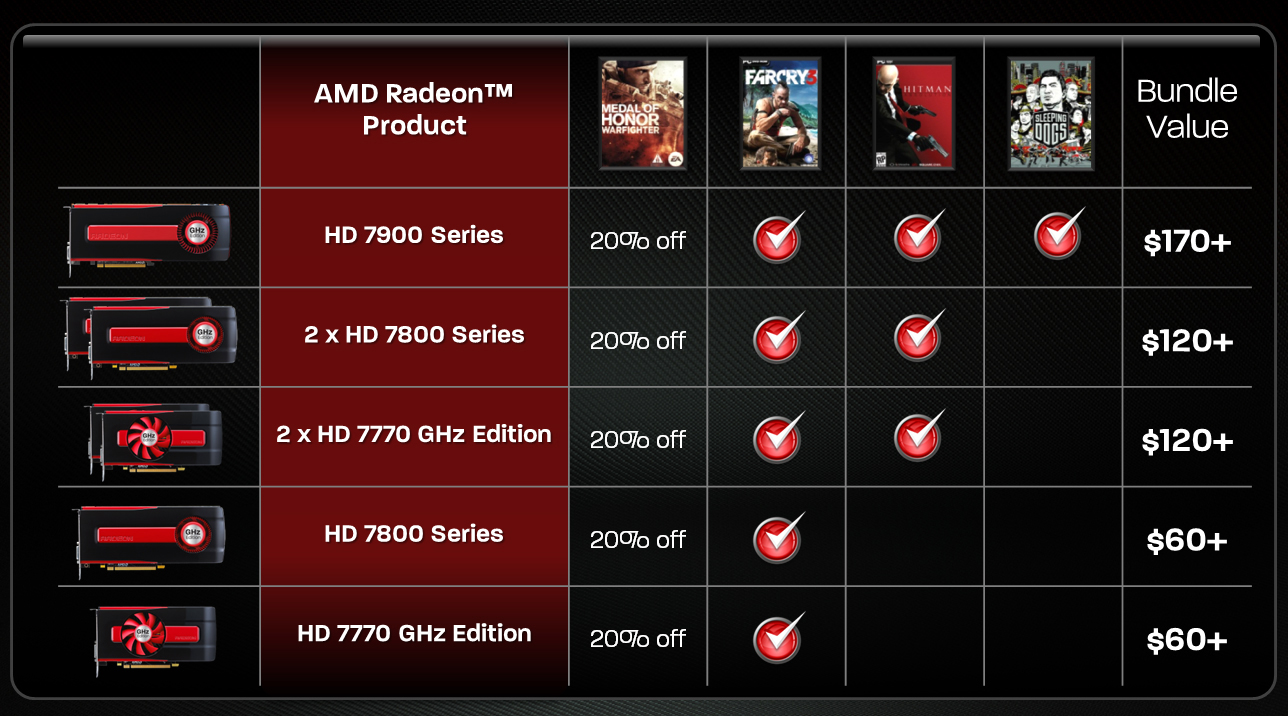 This is a perfect excuse to buy two 7770GHz edition or 7800 series and set up a CrossFire configuration—you'll be saving money... Sort of.
In addition to the games listed, beta codes for Red 5's free-to-play MMO shooter FireFall (we interviewed them previously) will be distributed with some boxes. FireFall is set to release sometime this year, but is currently still in exclusive beta.
The bundle lasts until 10/31/12 or until the suppliers run out of keys. As of the writing of this article, the merchants listed on the AMD blog as still having keys to distribute were CyberPower, iBuyPower (both of these sites sell complete systems), MemoryExpress, NCIX.com, TigerDirect, SuperBiiz.com, and Overclockers UK.
If you've been waiting for any of these games and have also been considering a new graphics card, now's the time to buy.
The new Catalyst Drivers are available for download now from AMD, found here.
- Patrick Lathan