Hardware
stub
NVIDIA GTX 560 Ti 448-Core Detailed, Launches Today
Posted on November 29, 2011
If you're ragequitting over the fact that your current system won't quite be able to run Star Wars: the Old Republic and you can afford something more powerful than our $482 budget pc build, there's good news for you: nVidia will be releasing an updated version of the mid-range 560 Ti with similar architecture to that of the GTX 570. The new card has been officially named the 560Ti 448-Core, but to prevent confusion in this news post, we'll be referring to the old variant as the "v1" and the new one as "v2."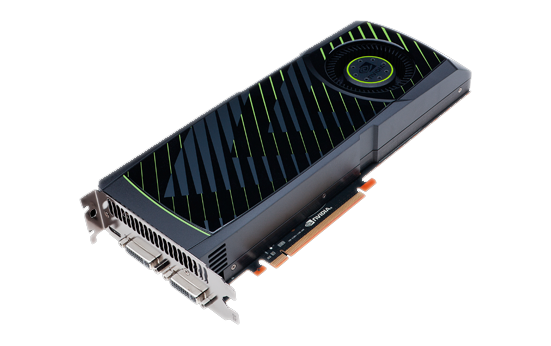 The 560Ti v2 will essentially be a "neutered" variation of the GTX 570, which is not necessarily a bad thing. It's a hybrid 560 Ti v1 / GTX 570, giving gamers an additional step in between the price ranges for added budget versatility (currently fluctuating due to holiday sales, but the 570 is traditionally in the $340+ range; the 560 Ti v1 is in the $250 range). Nvidia's new 560 Ti 448-core should be available within a matter of hours on large hardware retail sites, if not already.
How will it perform?
If we look at its specs, the 560 Ti v2 will outperform the traditional 560 Ti v1, but come in slightly under the GTX 570's high standards. Here's a more in-depth comparison of the three cards:
| | | | |
| --- | --- | --- | --- |
| Specification | GTX 560 Ti (V1) | GTX 560 Ti 448-Core V2 | GTX 570 |
| Memory Interface | 256-bit | 320-bit | 320-bit |
| Memory Bandwidth | 128GB/s | ~130GB/s to 152GB/s (approximation) | 152GB/s |
| CUDA Cores | 384 | 448 | 480 |
| Memory Configuration | 1024MB GDDR5 | 1280MB GDDR5 | 1280MB GDDR5 |
Nvidia has not yet released the full accomplishment of specifications, but from what we've gathered so far, the above is what we can confidently tell you.
The increase in CUDA cores lends itself to more capable multitasking when gaming. The real-world application of this is most visible in Battlefield 3's 64-player maps: additional cores will process data faster and be able to calculate all the little events happening globally more efficiently than a traditional 560 Ti, particularly with real-time physics (non-scripted) events, including ragdoll physics, terrain-vehicle interactions, and, you know, mortar-body interactions.
The memory increase and significant bandwidth boost will go a long way toward anti-aliasing and other memory-intensive processes, like FSAA. Post-processing effects like HDR, bloom, and shadowmapping will benefit from the presumed shader clock enhancements, though we don't currently have the numbers on those.
The improved memory-interface will facilitate faster data processing, increasing overall performance. The 560 Ti V2 will include support for three-way SLI, HDMI, and DVI ports. Aesthetically, we expect the V2 to look very similar, if not exactly the same as a reference GTX 570.
Well, let's cut to the chase and to what everyone wants to hear: what is the price on this baby? Nvidia has not made an official statement on this, so we can only speculate. We can assume that it will cost upwards of $ 280-$300, so right between the price range of the traditional 560 Ti and the GTX 570.
If you have don't quite have the money for a GTX 570 but want a better performing card than the GTX 560 Ti v1, then the 560 Ti V2 (448-core) may be right for you, and it won't disappoint in any modern games.
If you have any questions regarding this article or any other hardware, please feel free to post a comment below or head over to our hardware forums!