Hardware
stub
Official NVIDIA RTX 2080 Ti, 2080, & 2070 Specs, Price, Release Date
Posted on August 20, 2018
Update: Added a correction for SM / CUDA Core numbers, now that full details have been leaked.
NVIDIA announced its new Turing video cards for gaming today, including the RTX 2080 Ti, RTX 2080, and RTX 2070. The cards move forward with an upgraded-but-familiar Volta architecture, with some changes to the SMs and memory. The new RTX 2080 and 2080 Ti ship with reference cards first, and partner cards largely at the same time (with some more advanced models coming 1+ month later), depending on which partner it is. The board partners did not receive pricing or even card naming until around the same time as media, so expect delays in custom solutions. Note that we were originally hearing a 1-3 month latency on partner cards, but that looks to be only for advanced models that are just now entering production. Most tri-fan models should come available on the same date.
Another major point of consideration is NVIDIA's decision to use a dual-axial reference card, eliminating much of the value of partner cards at the low-end. Moving away from blower reference cards and toward dual-fan cards will most immediately impact board partners, something that could lead to a slow crawl of NVIDIA expanding its direct-to-consumer sales and bypassing partners. The RTX 2080 Ti will be priced at $1200 and will launch on September 20, with the 2080 at $800 (and September 20), and the 2070 at $600 (TBD release date).
NVIDIA RTX 2080 Ti & 2080 Specs
One of the biggest mistakes people make when comparing new GPUs is to talk about "core count." This is erroneous for a few reasons, one of which is that core-for-core performance is not identical cross-architecture. From Kepler to Pascal, there were gains upwards of 30% for overall performance-per-watt efficiency, and just drawing a linear comparison between core counts doesn't accommodate this. Also, CUDA cores aren't really cores, anyway: They are floating-point units. An SM would be more similar to a core by standard definitions, which call for a core to be capable of fetching and decoding instructions, executing them, reading and writing data to and from registers and cache, and computing results. NVIDIA's floating-point units can compute results, but can't do much of the other stuff.
The point of saying all of this is that a strict Pascal vs. Turing core comparison needs to account for architectural differences that could change how well a "core" performs to begin with. People fell into the same trap last time.
NVIDIA RTX 2080 Ti, 2080, & 2070 Founders Edition Specs
NVidia's new RTX 2080 Ti hosts 4352 floating point units, with the RTX 2080 non-Ti hosting 2944 FPUs. NVidia is sticking to 64 FPUs per streaming multiprocessor, that'd put the 2080 Ti at 68 SMs, with the 2080 at 46 SMs. NVidia has reworked the SM architecture for this GPU, so we're not positive on all of the finer details just yet.
The new GPUs also move to GDDR6, an expected shift. At present, GDDR6 runs approximately a 20% higher BOM cost than GDDR5, but that cost will drop over time. GDDR6 allows for minimally 14Gbps per pin throughput on the RTX 2080 and 2080 Ti, a noteworthy boost over the 8Gbps and 10Gbps throughput on previous generations. GDDR6 can also push up to 16Gbps per pin, but there is no immediate promise of that for the new GPUs. We are not yet sure on the memory timing impact of GDDR6. The 2080 Ti will host 11GB of GDDR6 on a 352-bit memory bus, with memory bandwidth in the neighborhood of 620GB/s. The RTX 2080 will host 8GB of GDDR6 on a 256-bit interface and therefore allow 448GB/s memory bandwidth.
 
RTX 2080 Ti
RTX 2080
RTX 2070
FP32 FPUs ("CUDA Cores")
4352
2944
2304
Streaming Multiprocessors
68
46
36
Core Clock / Boost Clock
1350/1545
FE: 1635MHz
1515/1710
FE: 1800MHz
1410/1620
FE: 1710MHz
Memory Interface
352-bit
256-bit
256-bit
Memory Capacity
11GB
8GB
8GB
GDDR6 Speed
14Gbps
14Gbps
14Gbps
Memory Bandwidth
616GB/s
448GB/s
448GB/s
SLI
NVLink 2-Way
NVLink 2-Way
TBD
TDP
~265~285W
~250-260W
175-185W
Price
$1,200
OR $1000*
$800
OR $700*
$600
OR $500*
Release Date
Sept. 20, 2018
Sept. 20, 2018
TBD
*Source for prices: NVIDIA's website. NOTE: We have also heard that the prices (perhaps for non-FE cards? Or is there just a miscommunication within NVIDIA?) could also be $500 for the 1070, $700 for the 2080, and $1000 for the 2080 Ti. We think this might be FE vs. Reference, but it could also be miscommunication by NVIDIA's teams. Not clear at the moment.
Gigabyte RTX 2080 Ti & 2080 Pricing
| | | | |
| --- | --- | --- | --- |
| Model Name | Model# | MSRP | Amazon Link |
| GeForce RTX 2080 Ti Gaming OC 11G | | $1,199.99 | |
| GeForce RTX 2080 Ti Windforce OC 11G | | $1,169.99 | |
| GeForce RTX 2080 Gaming OC 8G | | $829.99 | |
| GeForce RTX 2080 Windforce OC 8G | | $789.99 | |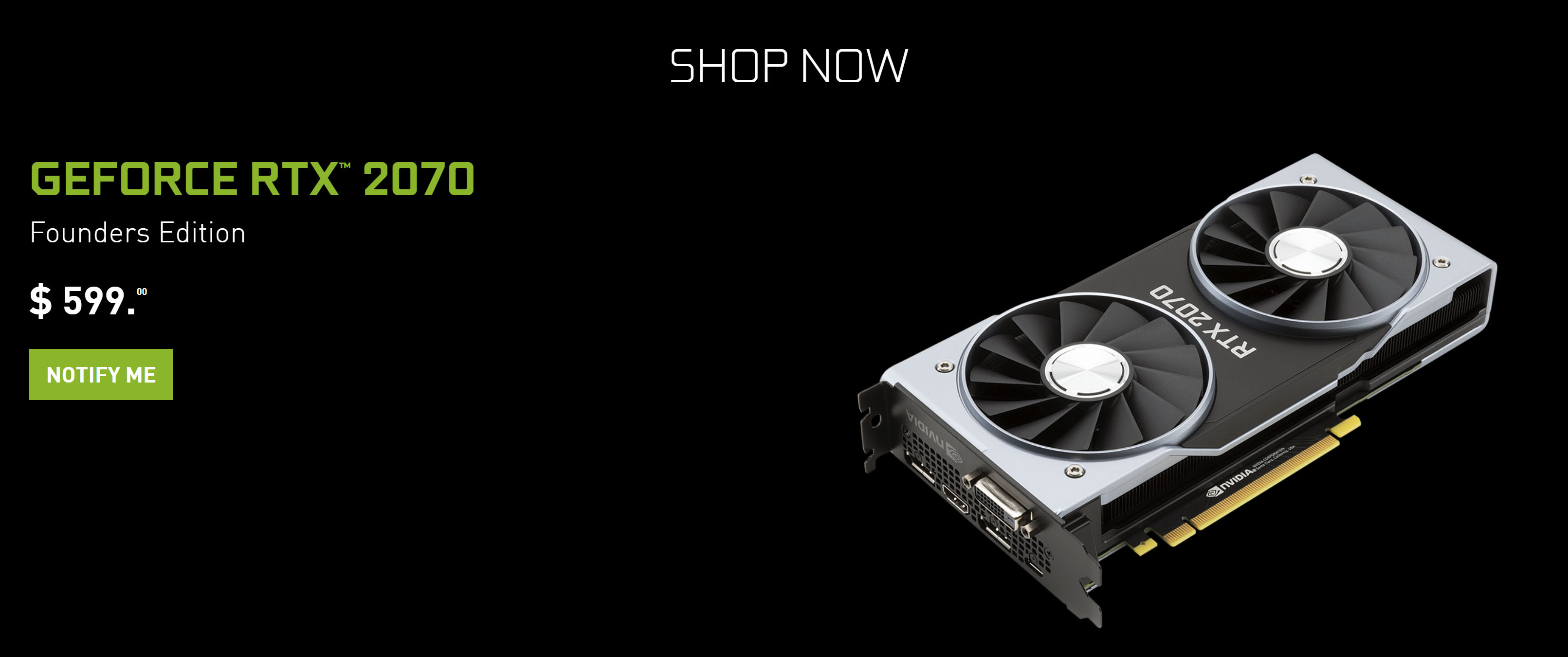 NVIDIA has moved the price forward in significant ways with this launch. The 2070 is not a linear line from the 1070 in price -- it's closer to a 1080, and the 2080 Ti has replaced a Titan X-class card in pricing. With market dominance, and with the biggest high-end competition being Pascal, this is sensible, if not what we wanted to see. We were hoping to see the 2080 Ti closer to $900.
As for the rest, a few notes:
Partners did not get pricing or naming until around the same time we did. Depending on partner, this means that non-reference cards won't ship for another 1-3 months.
Partners are going to be contending directly with NVIDIA at the low-end, which means that most will move to tri-fan designs.
Discussion of a single Tensor core equating 10x 1080 Tis in performance requires some clarification for viewers at home: In this scenario, note that a single Tensor core does not equate 10x 1080 Tis except when working specifically with machine learning, AI, and other DL tasks. If Tensor cores were good at every aspect of graphics, the entire card would be Tensor cores.
NVIDIA is doing what confused so many people at the Pascal launch in 2016: There is now a separate reference and FE spec, which wasn't the case before (FE replaced "reference" in name). Now, with two separate SKUs, there will undoubtedly be more confusion. FE is higher clocked. That is the primary change, as we understand it now.
NVLink is available for $80 for SLI
NVIDIA has been working on Turing for 10 years
It will take some time for developer adoption of the RTX SDK and of ray-tracing in general
We'll post another story later. That's it for now.
Editorial, Host: Steve Burke
Video: Keegan Gallick