Hardware
stub
Liquid Nitrogen in a Closed Loop Hybrid Cooler | EVGA Roboclocker at Computex
Posted on June 4, 2018
At EVGA's headquarters in New Taipei City, Taiwan, GamersNexus received a hands-on overview of the company's new semi-closed loop liquid nitrogen cooling setup. The setup was created by K|NGP|N and TiN, both of whom work in the Taiwan office, to increase overclocking efficiency and reduce LN2 usage to only necessary quantities. Typically, extreme overclocking involves manual pouring of liquid nitrogen (LN2) from a thermos, which the overclocker can either manually refill from the LN2 tanks or can refill from the exhaust. With this new system, K|NGP|N is able to circulate LN2 based upon software input of desired temperatures, with used LN2 getting pushed through a series of flexible steel tubing and out of an exit manifold. The result yields somewhat reusable LN2 and eliminates the hands-on thermos pouring element of XOCing, allowing overclockers to focus on the result and tuning. Theoretically, you could run off of large LN2 tanks (~180L) at conservative temperatures for weeks on end, then swap tanks and use the collected "runoff."
The configuration is simple when boiled down to the sum of its parts: Two LN2 tanks flank the system, which can either be on a bench or in a case (as shown here). One tank acts as intake LN2, the other acts as output LN2 (or gas). The input is fed down a steel pipe and into an intake manifold, where it then bumps against two valves. One valve is for the CPU, the other for the GPU, and they open and close based upon two parameters: (1) Current across the 12V rail, allowing increased responsiveness and reduced latency for feeding LN2 to the components, and (2) thermal measurements via K-type thermocouples to the GPU and CPU sockets. In the latter scenario, temperatures will not begin to rise quickly enough to feed cooling to the components, and so current detection on the 12V rails allows the system to demand LN2 immediately upon benchmark load instantiation.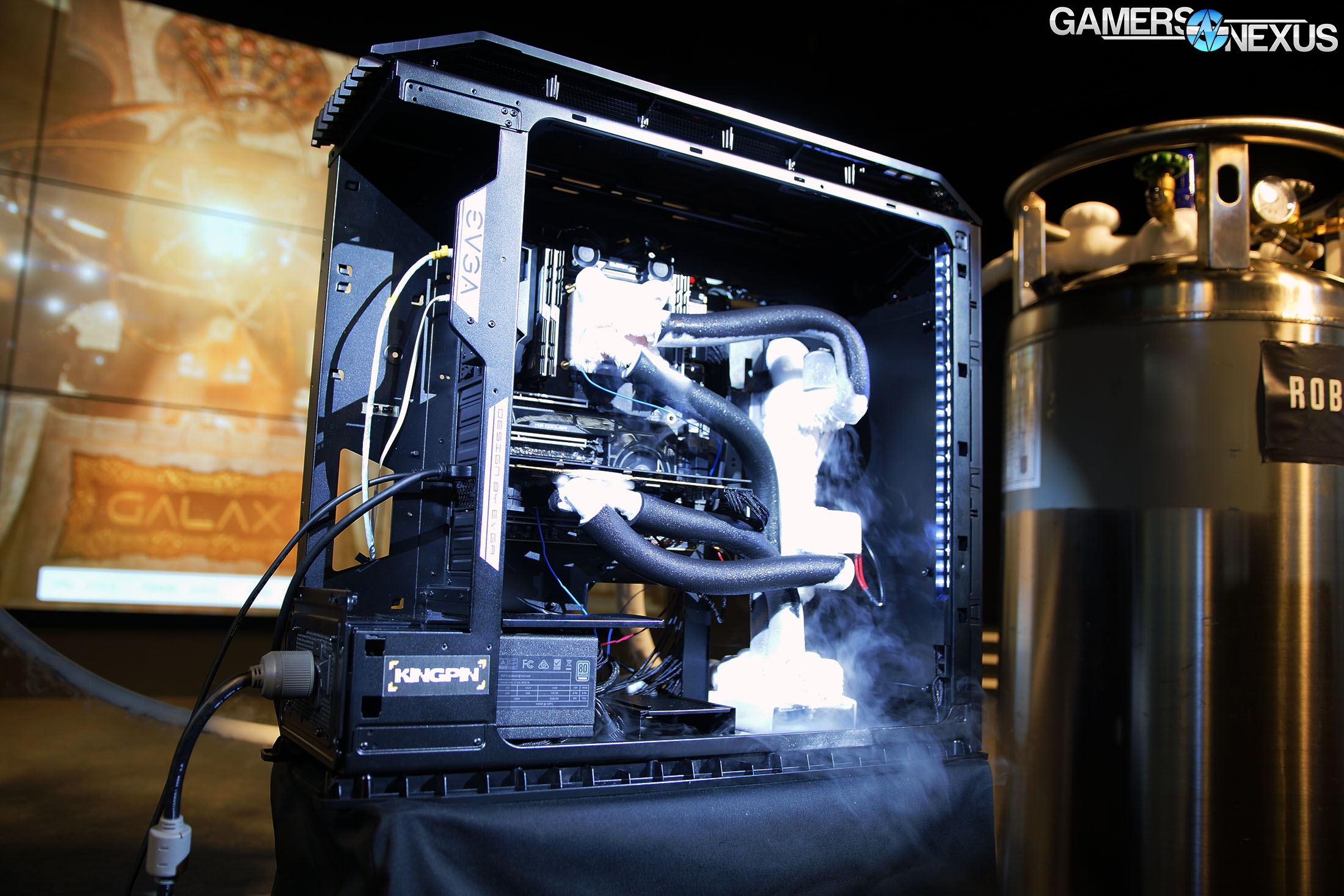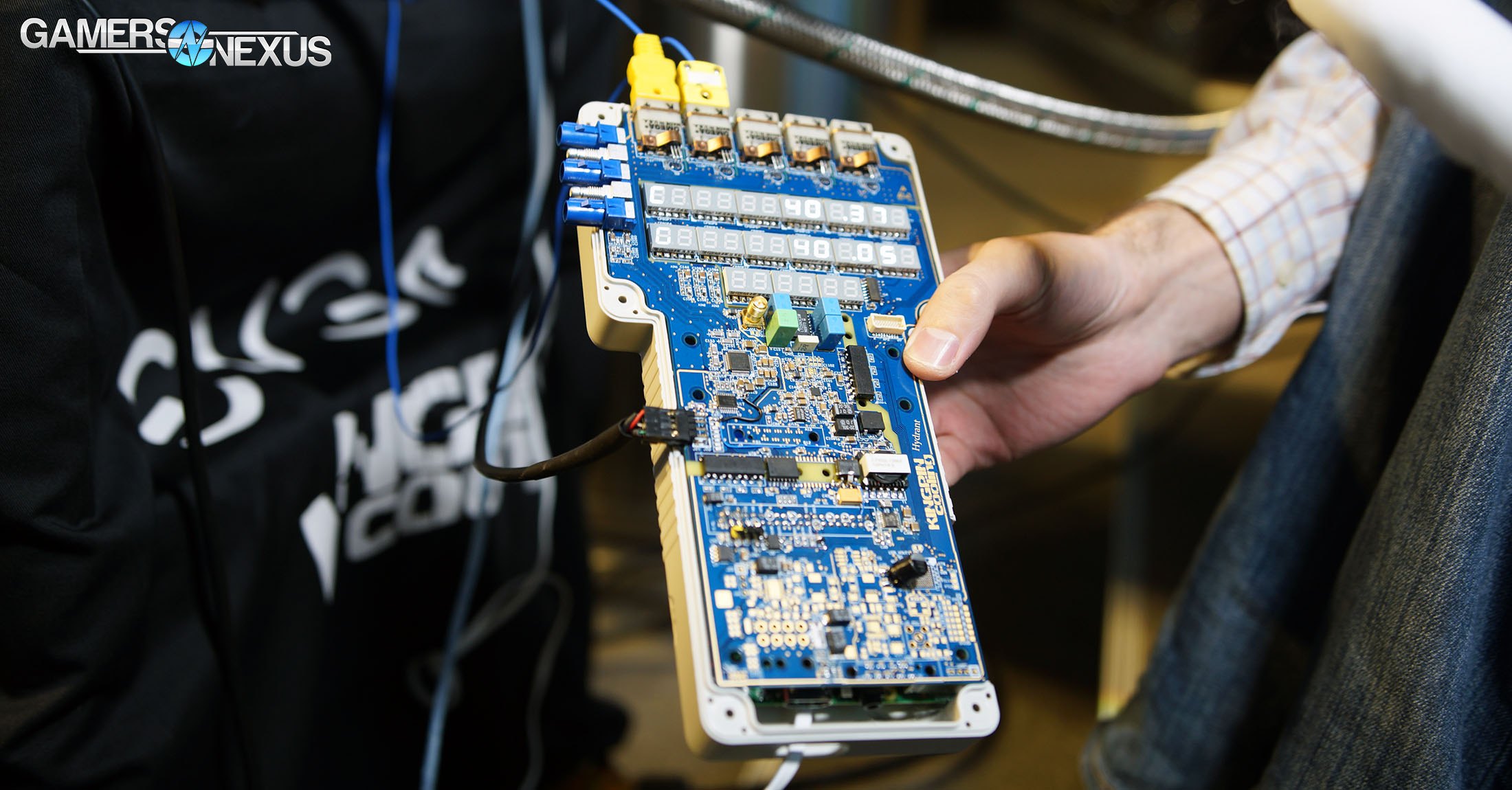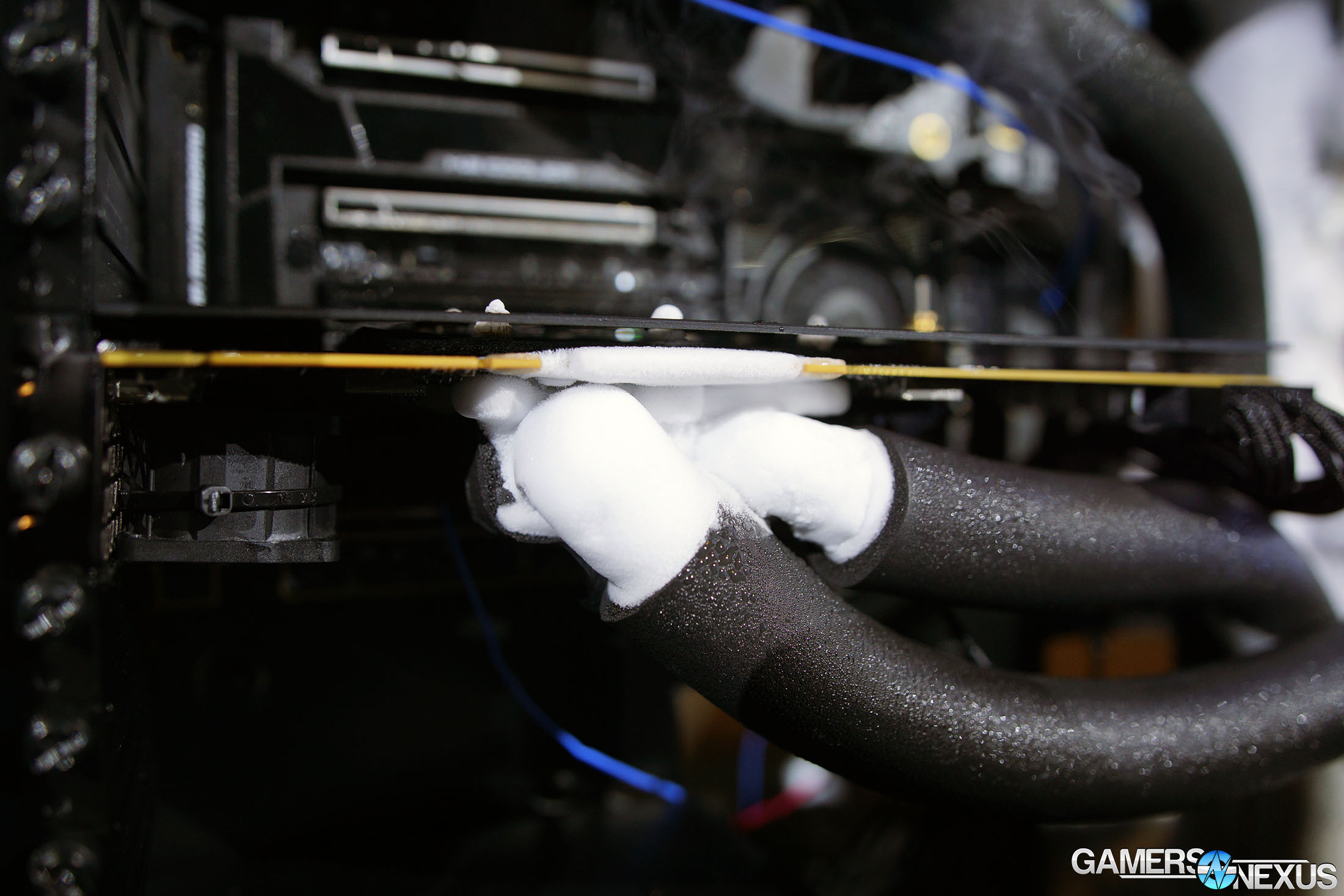 Software is on a laptop, which communicates via wireless to a hand-made controller. The controller has five K-type plugs. As the overclocker sets target temperatures – e.g. -90C – the system responds and can achieve the desired temperature often within 20 seconds. This is faster and more accurate than doing so by hand, and is basically "automated" LN2 overclocking. When asked whether this was a show piece or actually functional, K|NGP|N informed us that the "Roboclocker," as EVGA calls it, has actually been in use for months. It presently holds 4 or 5 world record overclocks, and can be connected to up to four GPUs and a CPU simultaneously. K|NGP|N expressed that this solution is significantly better than manual pouring of LN2.
For the blocks, there are hand-made CPU and GPU blocks, each of which has channels and some fins (though not full microfins – those would sort of be irrelevant with LN2, anyway). LN2 flows through the fins and exits via fittings and steel tubes, follows the exit manifold, and then enters the output tank. In the event that the system is running at temperatures low enough to freeze all the tubing, chances are that K|NGP|N is able to retrieve ~75% of his LN2 in the output tank, with the remainder lost to phase change. Considering the alternative, this retention is impressive.
It's not exactly a consumer product – EVGA did have over 300 liters of LN2 flanking a full desktop, after all – but it's an excellent showcase of engineering talent. This is an extreme version of enthusiast DIY.
Catch more in our video (uploading today) on our YouTube channel. The video will contain some additional information not presented here, primarily due to how scheduling worked out with the show.
Editorial: Steve Burke
Video: Andrew Coleman