Hardware
stub
HW News - Intel GPU in "2019," nVidia Mining Revenue
Posted on May 15, 2018
The hardware world has been busy for the past week. This week's news recap covers one rumor -- speculation that Intel "might" show a GPU in 2019 -- and then covers major news stories. One of those is Intel's Z390 chipset, whose block diagram has been detailed against existing Z370 block diagrams. We'll talk those chipset differences in the show notes (and the video) below. NVidia's earnings report also showed remarkably strong performance for the company, with mining revenue marking a new category of earnings at $289 million. What's unclear is how that's tracked -- we don't know if that's direct-to-miner sales, e.g. selling to large mining operations, or if that's also counting users who buy 10 GPUs at a time on Newegg. The latter might appear like a normal "gaming" purchase, depending on how it's all tracked and broken-down.
A handful of other news items are also present, including net neutrality discussion, Corsair's Obsidian 1000D and Spec-Omega, and a couple of other items. Learn more in the video below or, if you prefer written text, the show notes below that.
Intel "Could" Show GPU at CES 2019
Intel has been stacking their deck for a play at disrupting the current GPU market, making moves such as hiring former AMD RTG employees such as Raja Koduri and Chris Hook. Now, rumors are pointing to a potential Intel GPU unveiling at CES 2019. TweakTown reported that industry sources told them that Intel had completed their first phase, and were preparing for a launch. Additionally, TweakTown noted that their source told them to expect something late this year, with all attention on Intel at CES 2019.
Source: https://www.techpowerup.com/243994/intel-could-unveil-its-graphics-card-at-2019-ces
TweakTown -- https://www.tweaktown.com/news/61800/intel-unveil-new-graphics-card-ces-2019/index.html
Intel Z390 vs. Z370 Chipset Differences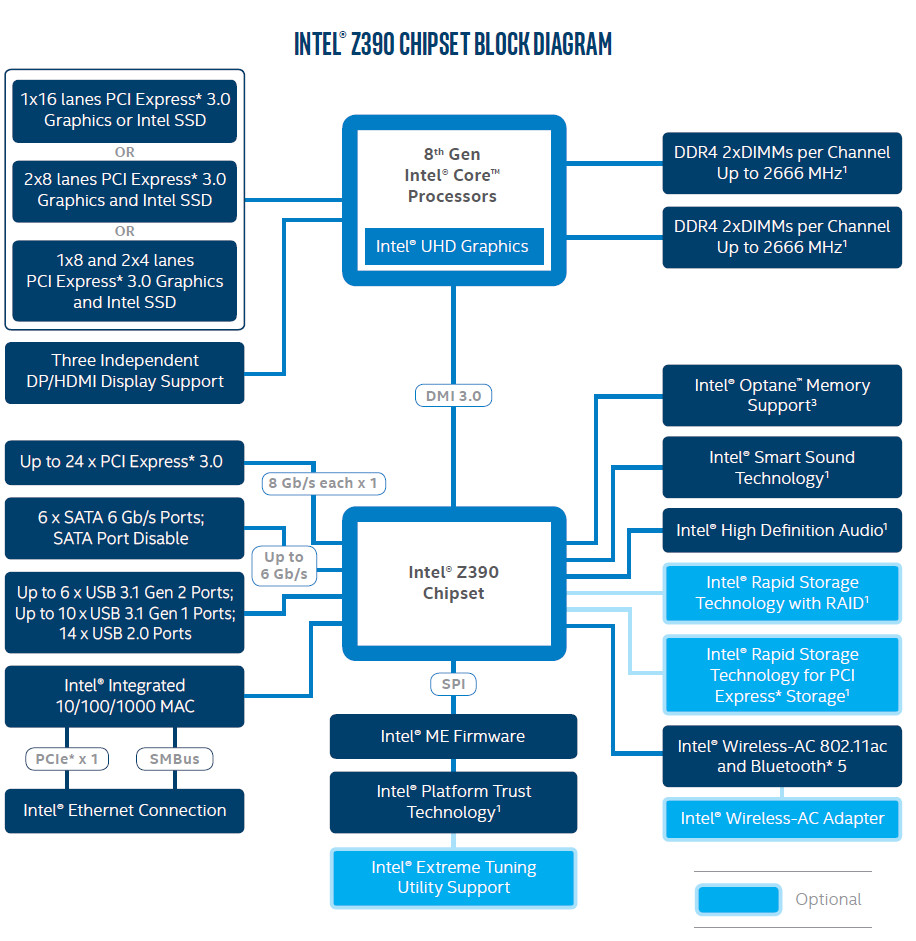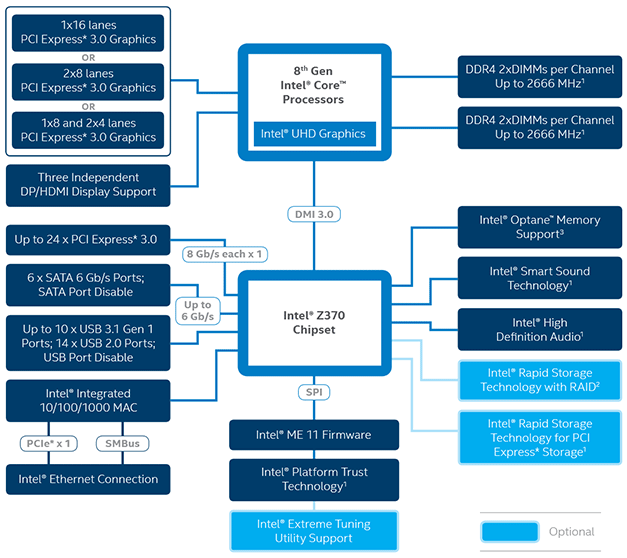 Intel Z390 vs. Z370 chipset differences are:
Adds Intel Wireless-AC 802.11AC to chipset and BT 5 to chipset
Intel Wireless AC adapter to chipset
4 more USB 3.1 ports
That's it.
NVidia Revenue Points Toward Mining Income
NVidia's latest quarterly earnings looked positive overall, with a year-over-year revenue increase of 66% for record quarterly revenue, but had one stand-out item on the listing: Cryptocurrency mining GPU sales. The company tracked $289 million in revenue from GPU cryptocurrency mining sales. It kind of goes back to the goldrush days: The people who made the most money were those selling the pickaxes, and in this case, people selling the GPUs.
Most notably, nVidia breaks-down its market platform revenues as on this table. The company has gaming revenue listed as the greatest overall, at $1.7 billion, constituting 53.7% of the total business revenue. That's impressive, considering the company's tremendous investments in professional spaces. Datacenter generated $701 billion, or 22% of revenue, with OEMs, automotive, and pro visualization filling-in the rest. Gaming is still huge here. Even though mining generated $289 million directly for nVidia, not counting whatever cards they tracked as gaming sales despite use in mining machines, it looks like gaming is still doing more volume overall.
In other news for the company, nVidia reported a gross margin increase from 59.4% to 64.5% year-over-year, saw operating expenses increase by about 200 million dollars, and saw operating income increase by about 740 million dollars, resulting in a net income of $1.2 billion for the quarter, or gross revenue of $3.2 billion for the quarter.
Source: http://s22.q4cdn.com/364334381/files/doc_financials/quarterly_reports/2019/Q1FY19-CFO-Commentary.pdf
NVidia Stock Prices Drop Concerning Mining Bust
Also in nVidia stock news, analysts are projecting that future downtrends in cryptocurrency mining could affect the company's price targets. As Reuters cutely tries to explain the situation, quote, "Gamers use GPUs to play high-quality video games, but Nvidia's graphic cards are also used by cryptocurrency miners to build machines to solve the complex math puzzles that earn digital currencies such as Ethereum and bitcoin." Analysts project price targets between $274 and $316, noting that datacenter sales were down and that crypto picked-up for the slump, but highlighting concern about the volatility of crypto. NVidia CFO Colette M. Kress critically noted that a downtrend in crypto should be compensated for by greater availability of GPUs to gamers, stating,"Channel prices for our GPUs are beginning to normalize, allowing gamers who had been priced out of the market last quarter to get their hands on the new GeForce at a reasonable price."
Source: https://www.reuters.com/article/us-nvidia-results-research/crypto-concerns-push-nvidia-shares-lower-idUSKBN1IC1ET
Ryzen Pro APUs
AMD this week announced its Ryzen Pro processors in the 2000 series, including APUs for Ryzen Pro. Most notably, we wanted to immediately point-out that AMD told press partners its Pro series would be binned better than even enthusiast parts. Technically speaking, the Ryzen Pro processors should overclock better than desktop enthusiast.
AMD's Ryzen 5 Pro 2400G processors will still run 4C/8T configurations at 3.9GHz, and is not really any different on paper than the normal 2400G. The same is true for most the other Pro chips, other than guarantees for 18 months of software stability, 2 years of guaranteed product availability, and a 3-year warranty. AMD's mostly pushing the angle of trying to establish that its CPUs are no harder to deploy than Intel's in business environments. Other primary differences include security features.
Source: https://techgage.com/article/amd-launches-second-gen-ryzen-pro-desktop-mobile-cpus-talks-future-plans/
Net Neutrality Gains Support
"The push to restore the net neutrality rules put in place under the Obama administration has gained more traction today, with Democrats in the Senate filing a petition to force a vote on the repeal of the FCC's new rules enacted by Ajit Pai, current FCC chairman.
The Congressional Review Act is the exact tool Congress and Ajit Pai's FCC used to reverse Obama-era regulations—that is, the 2015 Open Internet Order that banned blocking content, throttling, paid prioritization by ISPs, and placed ISPs under Title II classification. However, Democratic Senators have used the CRA to force a vote and potentially remove the recent FCC rules voted for in December. However, the measure is something of a longshot, as it would have to pass both the House and be signed by the President."
Read more at our original article: https://www.gamersnexus.net/industry/3303-push-to-restore-net-neutrality-rules
Antec High Current Gamer Bronze PSU Line
Antec returned to PSUs recently with their High Current Gamer Gold PSUs. Now, they've added two new 80-Plus Bronze certified models to the line-up. The HCG850 (850 watt) and HCG750 (750 watt) are both fully modular, use Japanese capacitors, and offer a dual ball-bearing fan. The new PSUs are $90 and $100, respectively, with a 5-year warranty.
Source: https://www.tomshardware.com/news/antec-high-current-gamer-bronze-psus,37034.html
Corsair Spec-Omega and 1000D
Corsair announced two new cases this past week, the Spec-Omega RGB and the Obsidian 1000D. The former is mostly unnoteworthy, with the latter being more interesting. The Spec-Omega RGB builds on Corsair's previous asymmetrical inspired Spec-Omega, but this time they sprinkled in some RGB LEDs--because it's 2018 and RGB. The new Spec-Omega also ships with a Lighting Node Pro and a pair of RGB 120mm fans.
The Obsidian 1000D case was rumored awhile back, but is now official. The 1000D is a super tower, aimed at anyone wanting tandem systems under one roof, ala the gaming and streaming setup. The 1000D offers 18x fan mounts, support for up to 4x 480mm radiators, telescoping radiator trays, integrated Commander Pro controller, and hinged tempered glass doors on both sides of the chassis. The 1000D will sell for $500, but retailers currently show it out of stock.         
Source: https://www.corsair.com/us/en/obsidian-1000d-case
Intel Requests Extension for Spectre NG Flaws Patch
It was recently revealed that Intel chips are vulnerable to eight more Spectre variants, dubbed "Spectre Next-Generation". Intel had initially planned a patch roll out for May 7th, but has requested an extension.
Intel is planning on patching the new flaws in two patches; the first patch is aimed at "medium-risk" flaws, and will roll out on July 10. The patch for high-risk flaws isn't due until August 14th. Microsoft is purportedly working on OS level patches, as well. Unlike the CTS Labs chaos, the german computer magazine Heise.de and their researchers appear to be working with Intel according to normal and responsible procedure--that is, not disclosing the flaws to the public until vendors have been given a reasonable amount of time to develop patches and mitigations.  
Source: https://www.tomshardware.com/news/intel-spectre-ng-cpu-flaws,37018.html
EKWB Releases Hard Tubing Water Cooling Kits
EK has put together some new kits, this time offering hard tubing, over the soft tubing normally seen in their kits. The kits will include the EK Supremacy MX universal CPU block, a EK-CoolStream SE radiator (240mm or 360mm, depending on kit option), EK-Vardar F3 120 fans, an EK-XRES 100 SPC MS PWM pump/reservoir combo, EK-Cryofuel Clear Concentrate, 6x EK-HDC 12mm G/14 hard tubing compression fittings, and 4x 500mm long 10/12mm (ID/OD) hard tubes.
Prices are $280 for EK-KIT HT240, and $310 for the EK-KIT HT360.
Source: https://www.ekwb.com/news/ek-is-releasing-new-hard-tubing-series-kits/
Gigabyte Enters SSD Market
Gigabyte has decided to jump into the SSD market, making them one of few non-memory makers to offer a memory based product. Gigabyte plans to offer an assortment of products, including NVMe drives under the Aurous branding, but for the time being is offering two SATA-based drives, targeting entry level gaming machines. The UD Pro series will see their first two models come in the form of 256 and 512GB configurations, with Phison and Toshiba handling the controller and 3D TLC NAND, respectively. There is nothing especially remarkable about the drives; Gigabyte will likely lean on competitive pricing and bundling options. To that effect, diversifying their portfolio with storage products could give Gigabyte options for bundling with motherboards and graphics cards.
Gigabyte's new drives will cost $69 for the 256GB model, while the 512GB model will run $120.  
Source: https://www.anandtech.com/show/12745/gigabyte-launches-its-first-ssds
HW Sales - GTX 1070 Ti for $500
We spotted a few hardware sales of note this week -- one of which is less of a sale and more of an "at least it's near MSRP" notice. You can find the GTX 1070 Tis coming back down toward MSRP these days -- here's one on Amazon. We also spotted the Threadripper 1950X back down below MSRP; it's not the cheapest it's been, but it's a good pickup for the right high-end use cases.
Editorial: Eric Hamilton, Steve Burke
Video: Andrew Coleman