Hardware
stub
First X470 Motherboard in the Wild: Gigabyte Gaming 7 WiFi X470 | CES 2018
Posted on January 8, 2018
GamersNexus secured an early exclusive with the new Gigabyte Gaming 7 motherboard at CES 2018, equipped with what one could confidently assume is an AMD X470 chipset. Given information from AMD on launch timelines, it would also be reasonable to assume that the new motherboards can be expected for roughly April of this year, alongside AMD's Ryzen CPU refresh. This is all information learned from AMD's public data. As for the Gigabyte Gaming 7 motherboard, the first thing we noticed is that it has real heatsinks on the VRMs, and that it's actually running what appears to be a higher-end configuration for what we would assume is the new Ryzen launch.
Starting with the heatsink, Gigabyte has taken pride in listening to media and community concerns about VRM heatsinks, and has now added an actual finstack atop its 10-phase Vcore VRM. To give an idea, we saw significant performance improvement on the EVGA X299 DARK motherboard with just the finned heatsinks, not even using the built-in fans. It's upwards of 20 degrees Celsius improvement over the fat blocks, in some cases, since the blocks don't provide any surface area.
The VRM is a doubled 5-phase, using International Rectifier 3599 Vcore drivers, with 3553 MOSFETs. An IR 35201 is used for the PWM, and the board is comprised of a 6-layer PCB. A doubling scheme is used to create an effective 10-phase. An additional 2 phases are allocated to memory. These MOSFETs are cooled with a direct-touch copper heatpipe of 6mm in diameter, which contacts via thin thermal pad for maximum heat transfer potential. The aluminum finstack takes up the rest of the heatspreading process, and Gigabyte still managed to get some visual elements in there.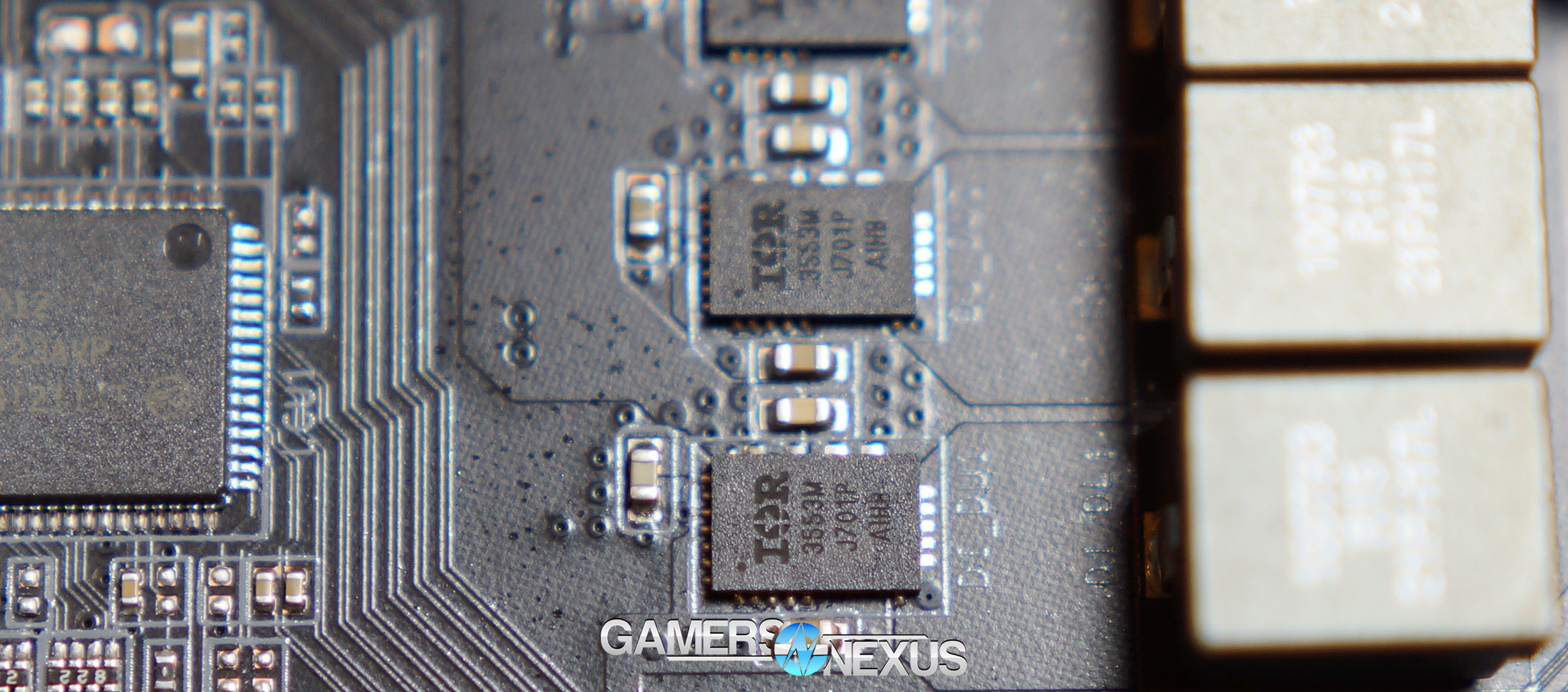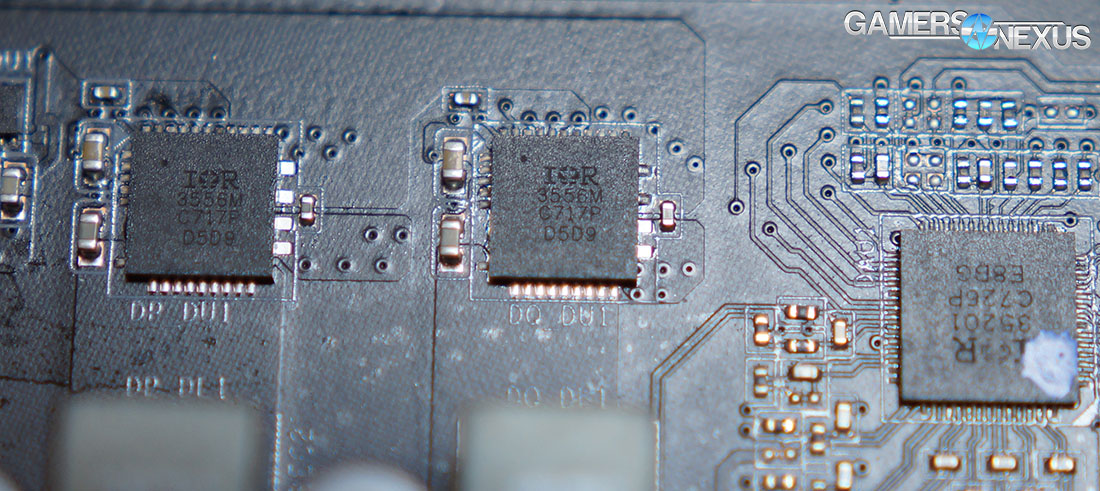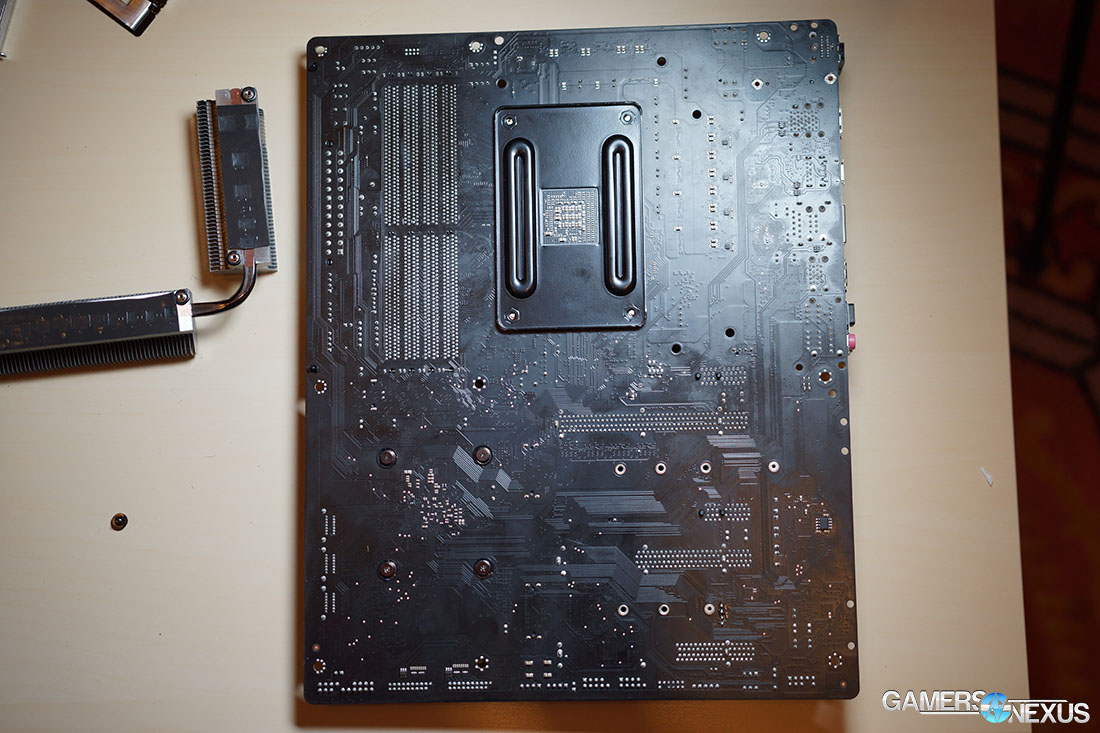 Other key board components include an external clock gen, which is really useful for dialing-in overclocks to smaller intervals than whole 1x jumps. Additional overclocking features include a dual-BIOS, useful for recovery, and targeted support for up to 4000MHz memory, from what GN has found about AMD's new CPUs. It's unclear on how well that target will work out, but that's what we're expecting now. The board has two BIOS dipswitches present for dual-BIOS and single- or dual-BIOS mode.
For PCIe slots, the board has three PCIe x16-length slots, which are wired for x16 and x8 for the first two, with the third wired for x4, based on the back-side of the PCB. A couple of PCIe x1 slots are also present. Ancillary features include fan headers present all over the board perimeter, which is welcomed, and an integrated IO shield. The rear IO panel includes a CMOS clear switch and power button, both of which are further welcomed, and some digital RGB LEDs.
Ancillary features include an integrated rear IO shield, a rear IO CMOS clear and power button, and digital RGB LEDs in the IO shroud. A 2x2 Wireless card is also included. Given the presence of the AM4 socket and AMD's event at CES for Ryzen's refresh, we can assume this is X470. Release is targeted at roughly April, based on AMD's schedule. We think this board will be in the $250 range, +/- a couple bucks.
Gigabyte also had a new mining motherboard present, fitted with the B250 chipset and LGA1151 socket. The mining motherboard, as expected, has 12 total PCIe slots (1 x16, 11 x1) with two MOLEX 4-pin power headers. Gigabyte also intends to include a 3-way power splitter for up to three PSUs powering the system.
Editorial: Steve Burke
Video: Andrew Coleman