Hardware
stub
Official nVidia GTX 1080 Ti Specs: 3584 Cores, 11GB GDDR5X
Posted on March 1, 2017
NVidia just opened the floodgate on its GTX 1080 Ti video card, the Pascal-based mid-step between the GTX 1080 and GTX Titan X. The 1080 Ti opens up SMs over the GTX 1080, now totaling 28 SMs over the 1080's 20 SMs, resulting in 3584 total FP32 CUDA cores on the GTX 1080 Ti. Simultaneous multiprocessor architecture remains the same – Pascal hasn't changed, here – leaving us with primary changes in the memory subsystem.
The GTX 1080 Ti will host 11GB of GDDR5X memory – not HBM2 – with a speed of 11Gbps. This is boosted over the GTX 1080's 10Gbps GDDR5X memory speeds, resultant of work done by memory supplier Micron to clean the signal. The heavy transition cluttering of early G5X iterations have been reduced, allowing a cleaner signal in the GDDR5X cells without data corruption concerns. We'll have some news below on how this also relates to existing Pascal cards.
NVIDIA GeForce GTX 1080 Ti Official Specs vs. GTX 1080
NVIDIA Pascal Specs Comparison
 
Tesla P100
GTX 1080 Ti
GTX 1080
GTX 1070
GPU
GP100 Cut-Down Pascal
GP102 Pascal
GP104-400 Pascal
GP104-200 Pascal
Transistor Count
15.3B
12B
7.2B
7.2B
Fab Process
16nm FinFET
16nm FinFET
16nm FinFET
16nm FinFET
CUDA Cores
3584
3584
2560
1920
GPCs
6
6
4
3
SMs
56
28
20
15
TPCs
28 TPCs
 
20 TPCs
15
TMUs
224
224
160
120
ROPs
96 (?)
88
64
64
Core Clock
1328MHz
-
1607MHz
1506MHz
Boost Clock
1480MHz
1600MHz
1733MHz
1683MHz
FP32 TFLOPs
10.6TFLOPs
~11.4TFLOPs
9TFLOPs
6.5TFLOPs
Memory Type
HBM2
GDDR5X
GDDR5X
GDDR5
Memory Capacity
16GB
11GB
8GB
8GB
Memory Clock
?
11Gbps
10Gbps GDDR5X
4006MHz
Memory Interface
4096-bit
352-bit
256-bit
256-bit
Memory Bandwidth
?
~484GBs
320.32GB/s
256GB/s
Total Power Budget ("TDP")
300W
250W
180W
150W
Power Connectors
?
1x 8-pin
1x 6-pin
1x 8-pin
1x 8-pin
Release Date
4Q16-1Q17
TBD
5/27/2016
6/10/2016
Release Price
-
$700
Reference: $700
MSRP: $600
Now: $500
Reference: $450
MSRP: $380
Price update: GTX 1080 Ti MSRP is $700. Availability starts next week (second week of March).
Our video is live here (can't embed as we are reporting on-site): https://www.youtube.com/watch?v=Pk4qwHiG7f4
The GTX 1080 Ti GP102 GPU is comprised of 12B transistors, capable of operating jointly at 1600MHz (boost) or near 2000MHz overclocked. GP102 is built of 6 graphics processing clusters, containing 28 SMs (3584 CUDA cores, at 128*28), 88 ROPs, and 224 TMUs. The memory interface is 352-bit.
NVidia stuck with GDDR5X on the 1080 Ti for many reasons, cost surely one of them, but also noted that today's GDDR5X options are capable of greater bandwidths than today's HBM2 options. NVidia ships memory packages of each type (HBM2 on Tesla P100 accelerators) and has experience with HBM2, but believe GDDR5X to be the better solution for gaming and production workloads today. GDDR5X is presently faster, offers more bandwidth, and can be had in greater capacities than HBM2 alternatives (particularly when considering price deltas). G5X, for instance, is shipped at 11GB on the GTX 1080 Ti, whereas HBM2 would have limited the nVidia team to 8GB with its current design.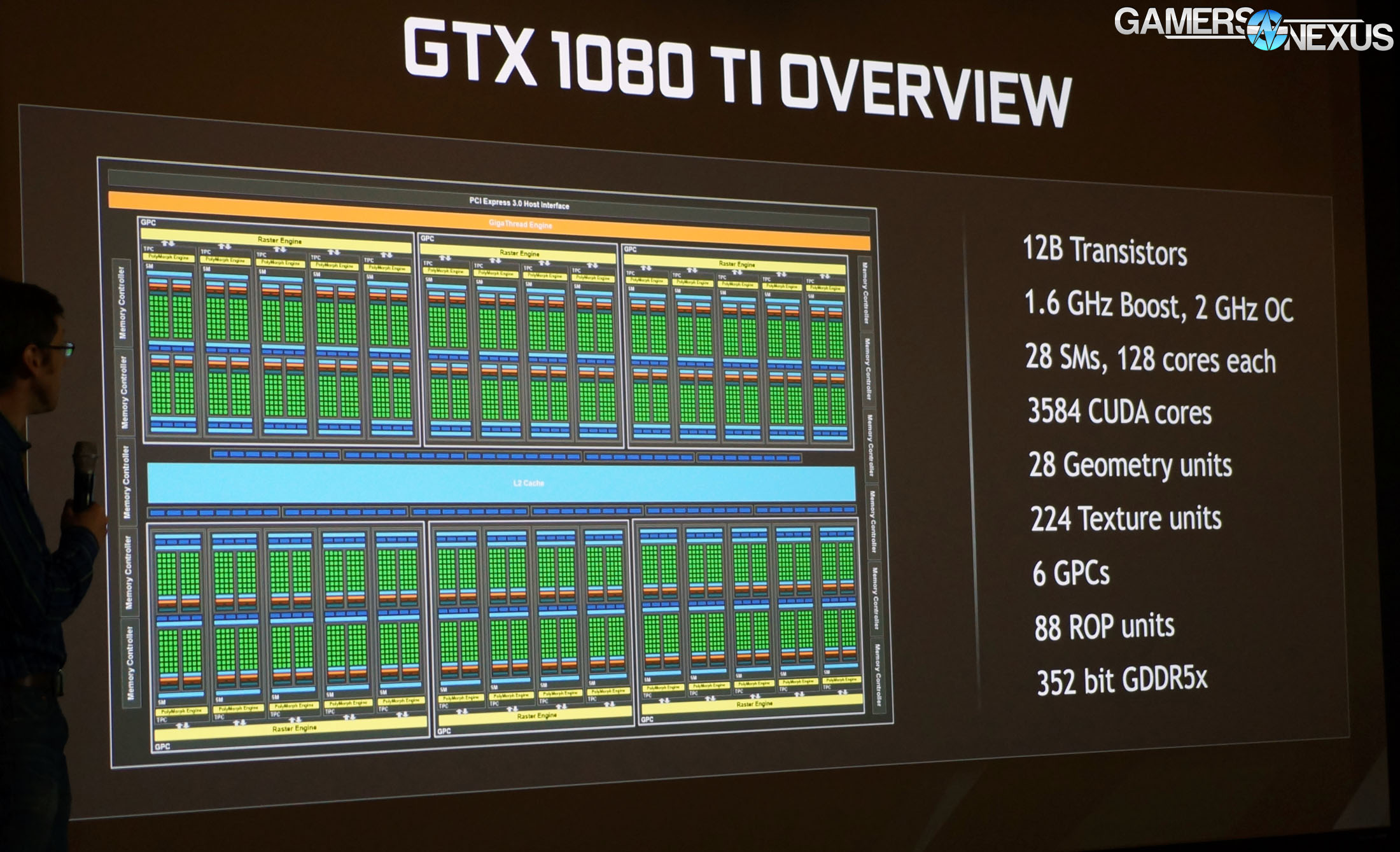 The GTX 1080 Ti will ship in a Founders Edition variant ahead of AIB partner cards, which will exist only "virtually" until a later date. Price and release date, as of this writing, are TBD – but we will update this promptly with the information. The GTX 1080 Ti will utilize a 7-phase dual-FET power design, with two FETs per phase to effectively halve current going through the individual components, and spread heat over a larger area. The cooler has also been updated, with DVI removed from the I/O to open up cooling channels at the back-end of the card, with the heatsink remaining a vapor chamber design. NVidia advertises its cooling pathway optimizations (and modified baseplate to accommodate the new power design) improve thermals of ~5C at an equal noise output (35dBA). We'll validate independently.
Speaking of heat, as we understand it, total power budget is 250W (250A at ~1v) with 1x 8-pin + 1x 6-pin headers. We should expect the temperature threshold for clock limitations to likely still exist around ~83C, but the cooling path optimizations and new baseplate configuration should help with this.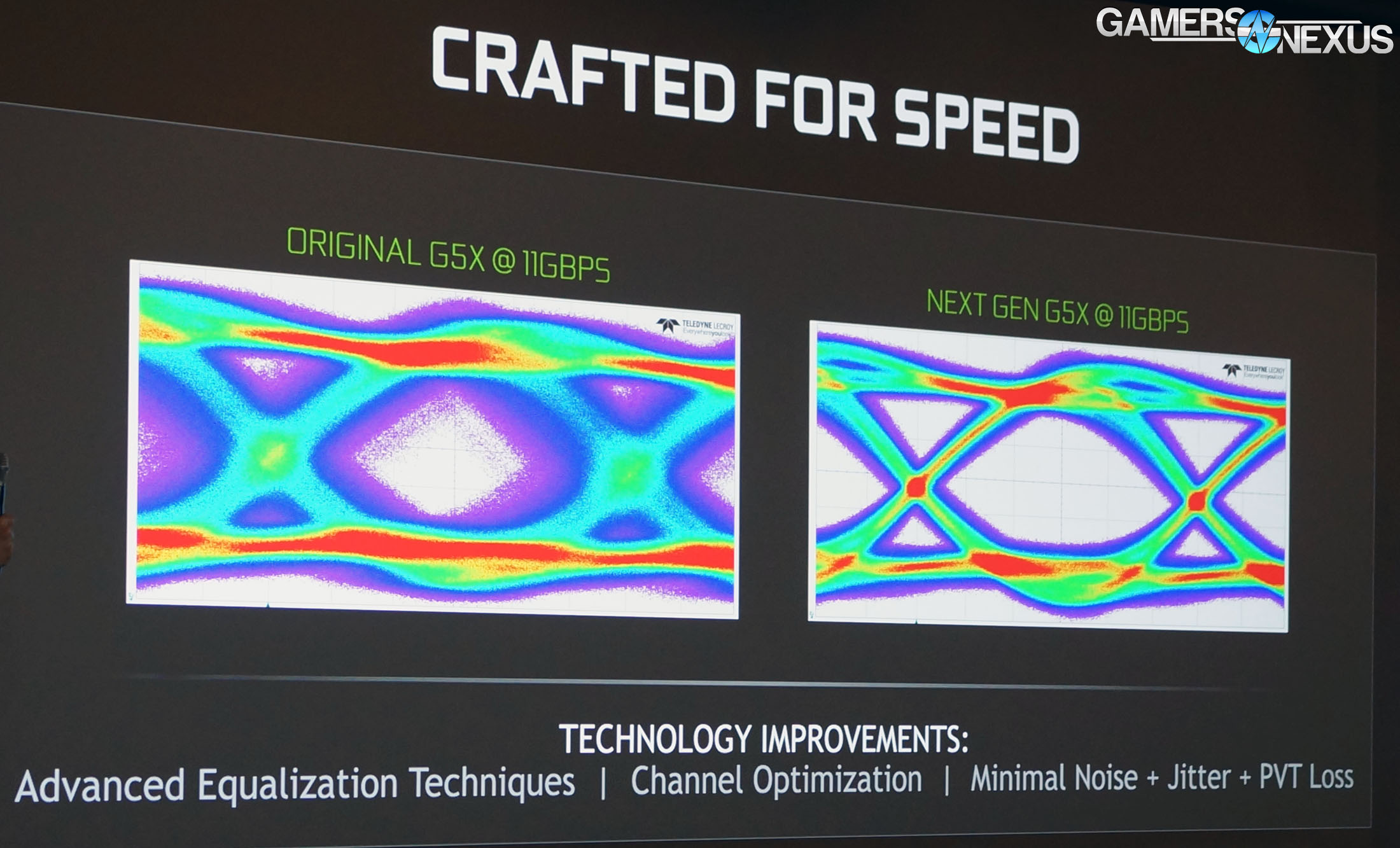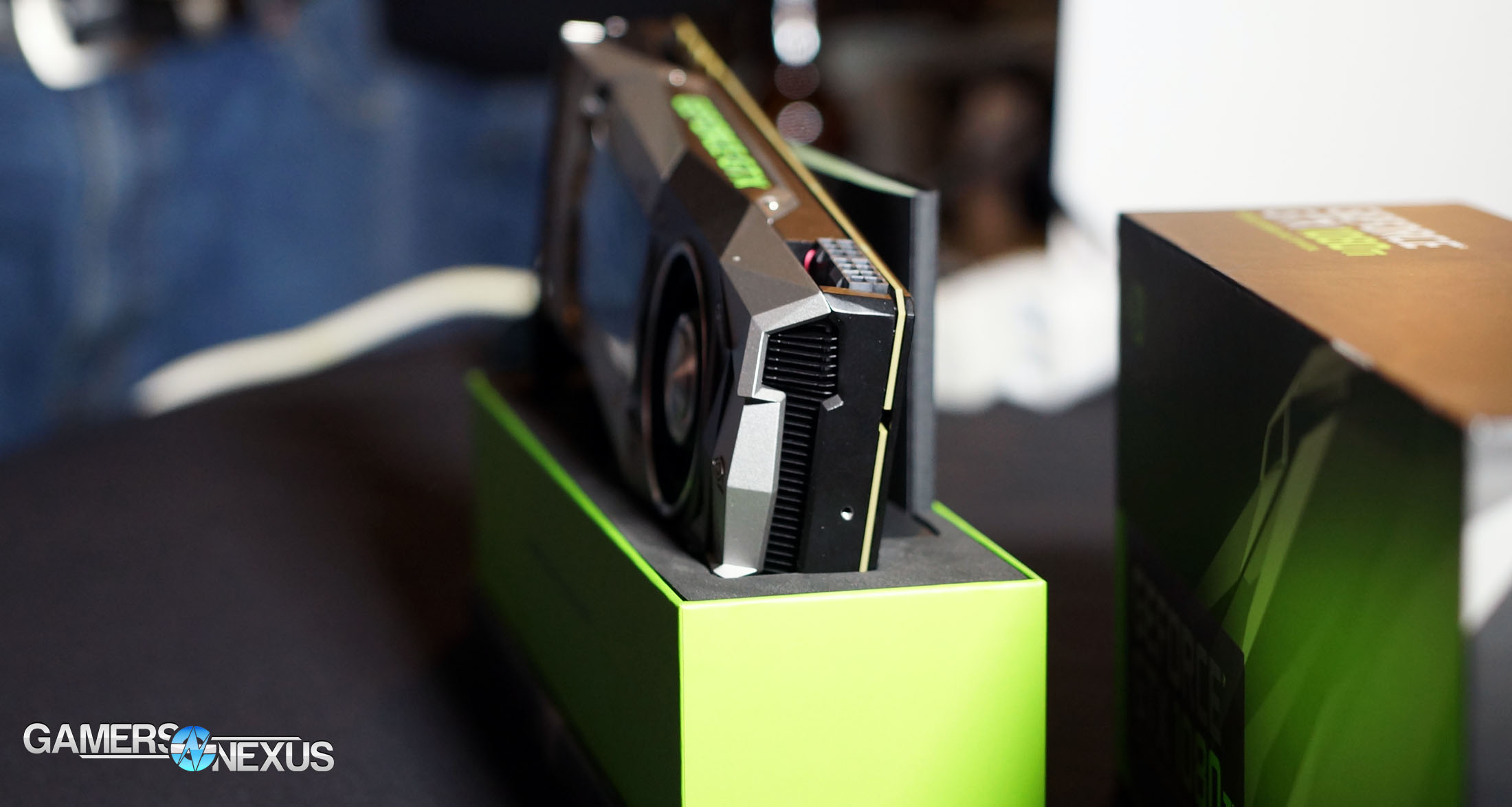 NVidia plants the 1080 Ti approximately 35% ahead of the GTX 1080, but we'll validate that independently. Price and TBD will go live tonight, and we will likely update this article within 15 minutes of its posting for that information. As always, we recommend waiting for our review prior to any orders.
Other News: MemOC SKU GTX 1060 6GB & GTX 1080 Cards
In other, brief news for the evening, nVidia announced new support of memory overclocked SKUs of the GTX 1060 6GB and GTX 1080 video cards. These cards will be available at 9Gbps for the GTX 1060 6GB and 11Gbps for the GTX 1080, a full 1Gbps faster on the memory for each option. As we understand it, AIB partners will carry these independently, with no expected reference models.
Follow closely for several more news and review items this week – there'll be many.
Update: GTX 1080 (non-Ti) price updated to $500 MSRP.
Update: For future validation, nVidia claims the high-end render demo during the event operated the Ti at ~66C with 2038MHz GPU clock, with memory at 5603MHz (*2).
Editorial: Steve Burke
Video: Keegan Gallick