Hardware
stub
Thermaltake Sandia-Style Cooler, P1 TG Wall-Mounted mITX, & Rainbow AIO
Posted on January 8, 2017
At the tail-end of our CES 2017 coverage, our visit to the Thermaltake showroom provided a look at upcoming cooling products – as the name might suggest – alongside some spin-offs of existing product lines. The more playful side of the room was outfitted with an original Donkey Kong arcade cabinet look-alike, a case mod by "Thermal Mike" for which we'll post a separate video, while the rest of the room featured liquid and air cooling products.
Today's focus is on the Thermaltake P1 TG mini-ITX wall-mount enclosure, the Rainbow AIO CLC, and the Engine 27 Sandia-style ($50) cooler.
Thermaltake Rainbow AIO Cooler
Our coverage starts with the Rainbow AIO liquid cooler, notable for its direct competition with NZXT's brand new (and still difficult to find) X42, X52, and X62 coolers. For reference, we reviewed those extensively here, and tore one apart here. The "Rainbow" cooler illuminates its pump plate with an RGB backlight, theoretically fully addressable through software control (via USB2.0 header, likely). In our photos and video, the pump plate is of a prototype quality and was likely 3D printed or one-off manufactured, so we're told that final quality would improve if the unit comes to market. It's in direct competition with NZXT and, as we've just learned, now EVGA. Price is TBD, as is existence; the cooler will almost certainly fall under Asetek's realm of patent control, which means TT and Asetek would have to work out a deal for production. The two have built coolers together in the past (like the Big Water series), so this isn't an unlikely ask.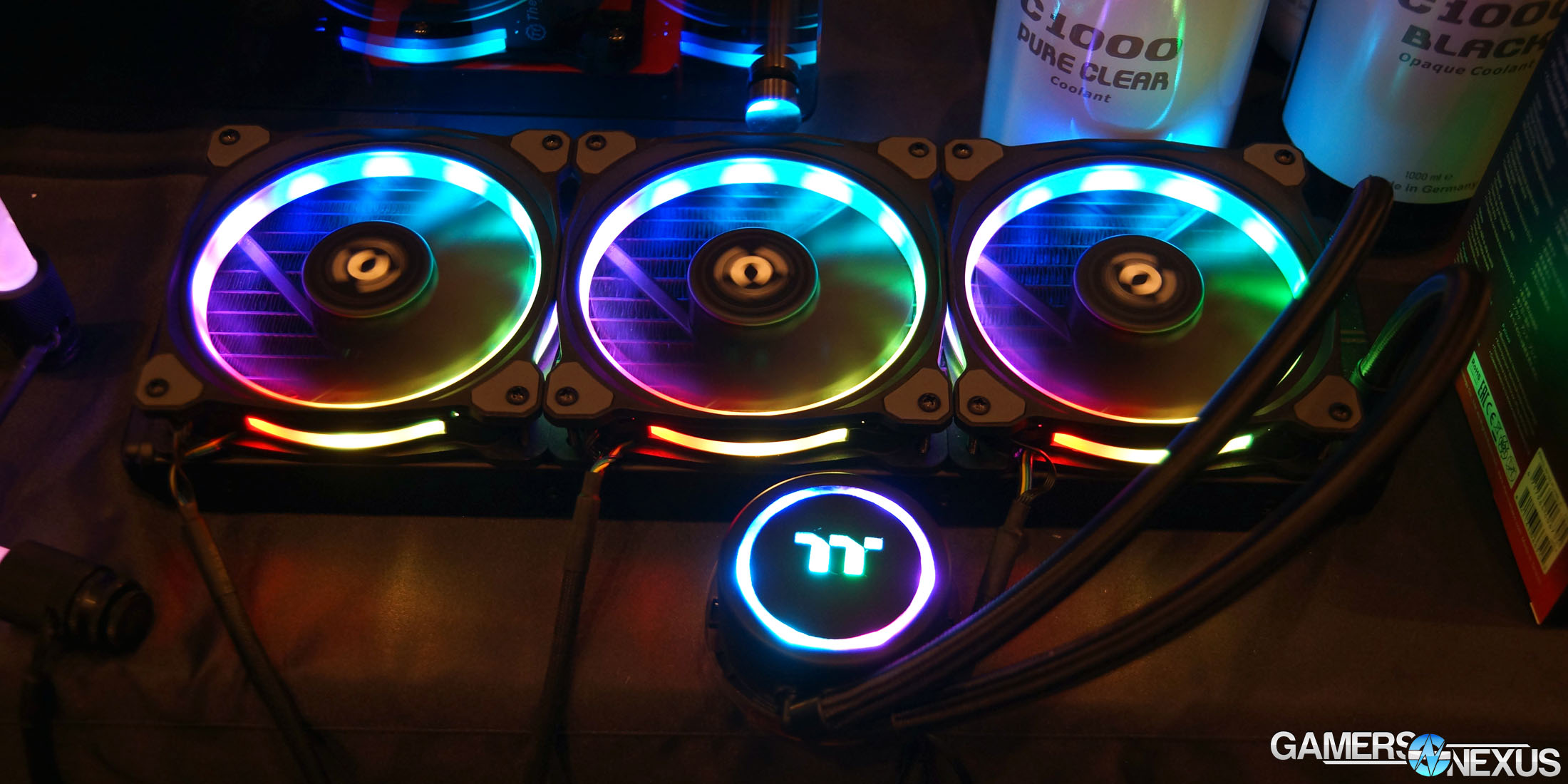 The demo unit was 2x 120mm fans, but other sizes would roll-out once a green light is given. The cold plate is a usual copper coldplate with pre-applied thermal compound, and the tubes are standard Asetek rubber tubing. Thermaltake is planning on using its Riing v2 fans that we previously detailed from an office tour.
Thermaltake P1 TG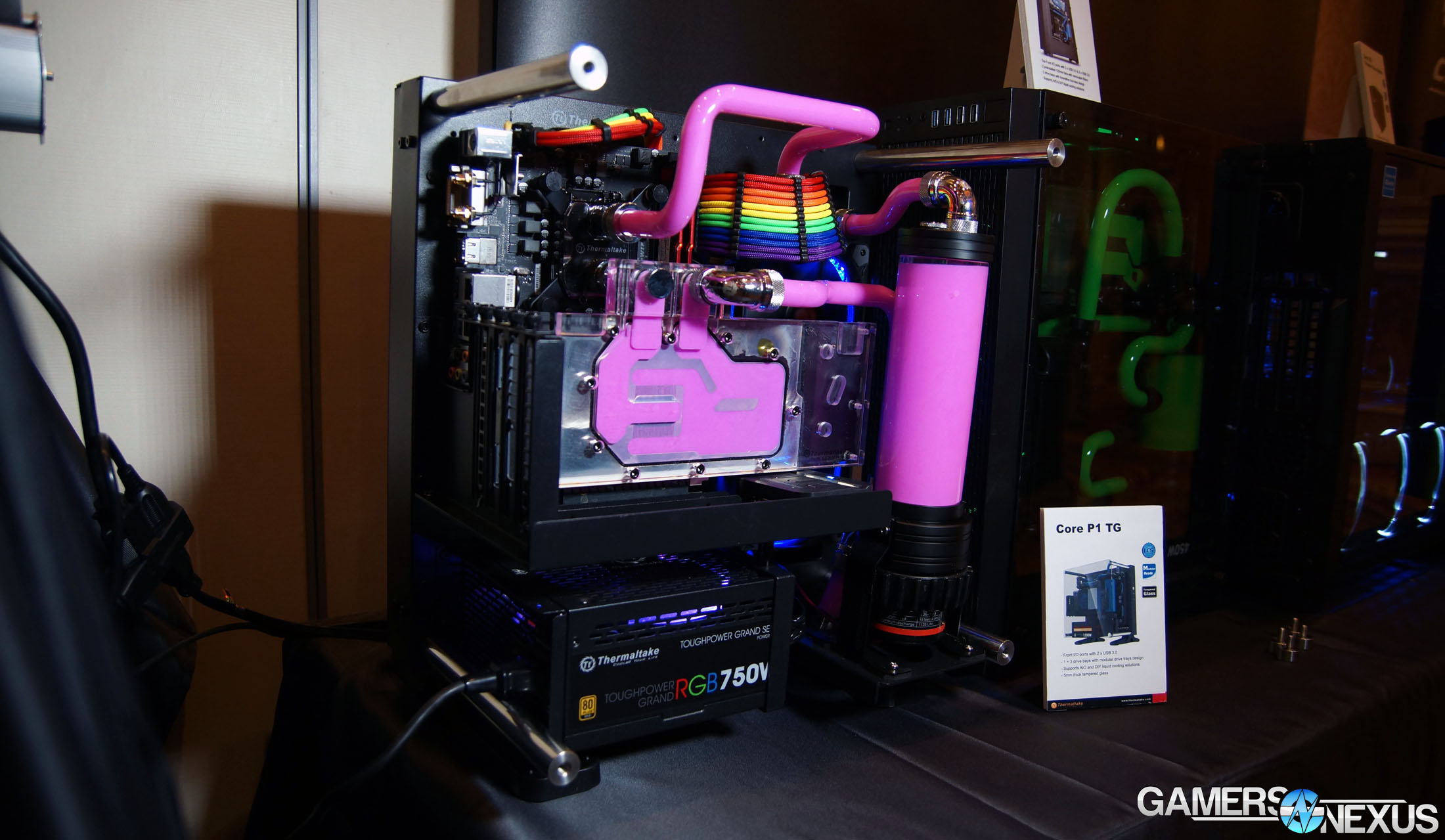 The Thermaltake P1 TG enclosure is a shrunken-down version of the Core P3, which is a shrunken P5. The P1 TG contains most the usual features of the P3, but now in mITX form factor (though with full ATX PSU support) and in a tighter package.
The P1 TG is fitted with a tempered glass side window ("TG" in Thermaltake Land stands for "Tempered Glass"), with both the left and right sides remaining open to air. This makes the enclosure an interesting option for test benches, given the generally expensive nature of test benches (as we'd know), further expanded by wall-mount readiness. Wall mounting a test bed helps get it further out of the way, and the vertical video card installation support (the same on the P3/P5) grants high accessibility. That vertical mount could be removed, if preferred, with AIBs mounted into the PCIe slot normally.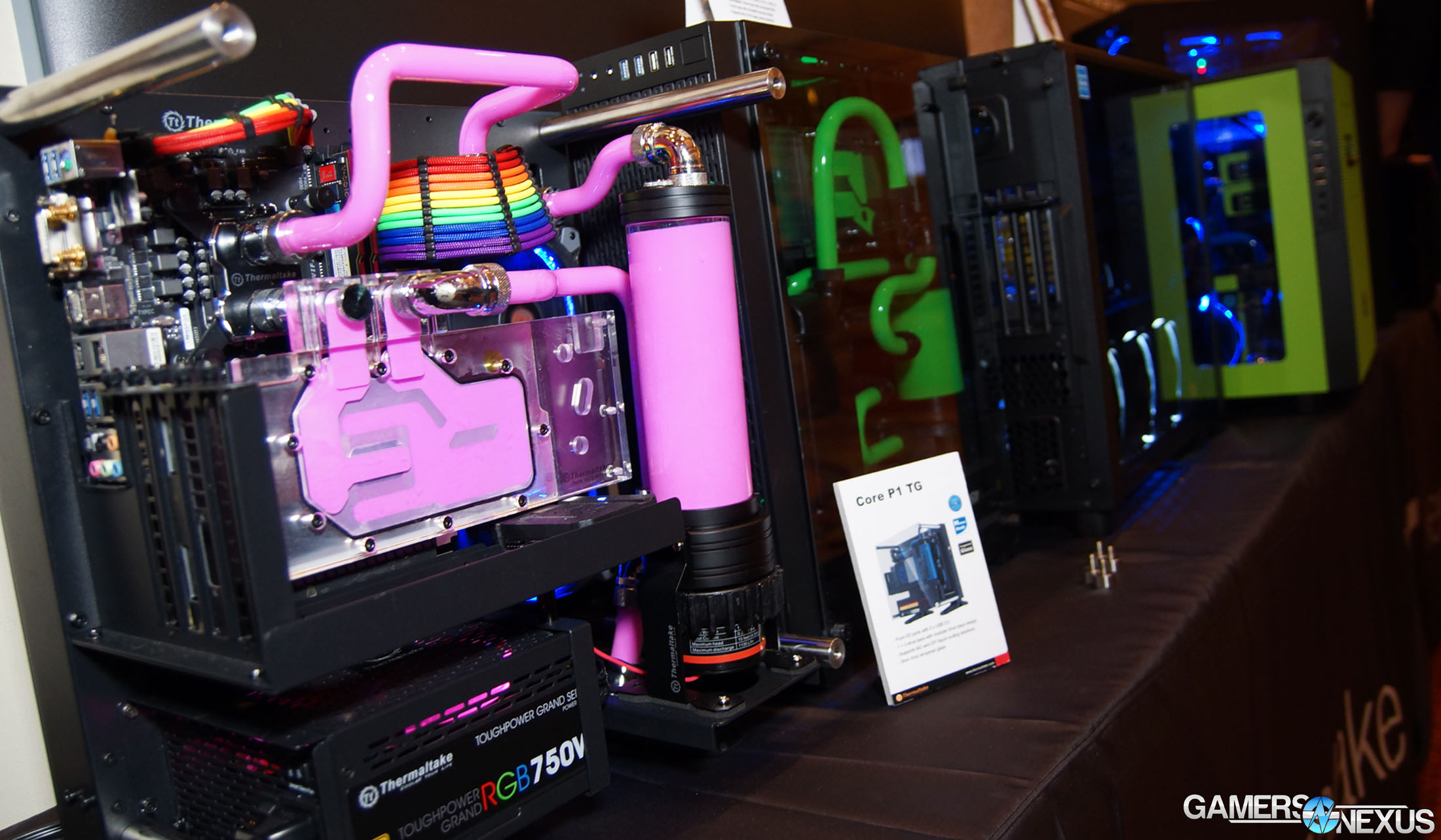 A 240mm radiator compartment is tucked away into the foundation of the enclosure, behind which cables can be routed and managed out of sight.
Pricing is TBD, as with most products at CES.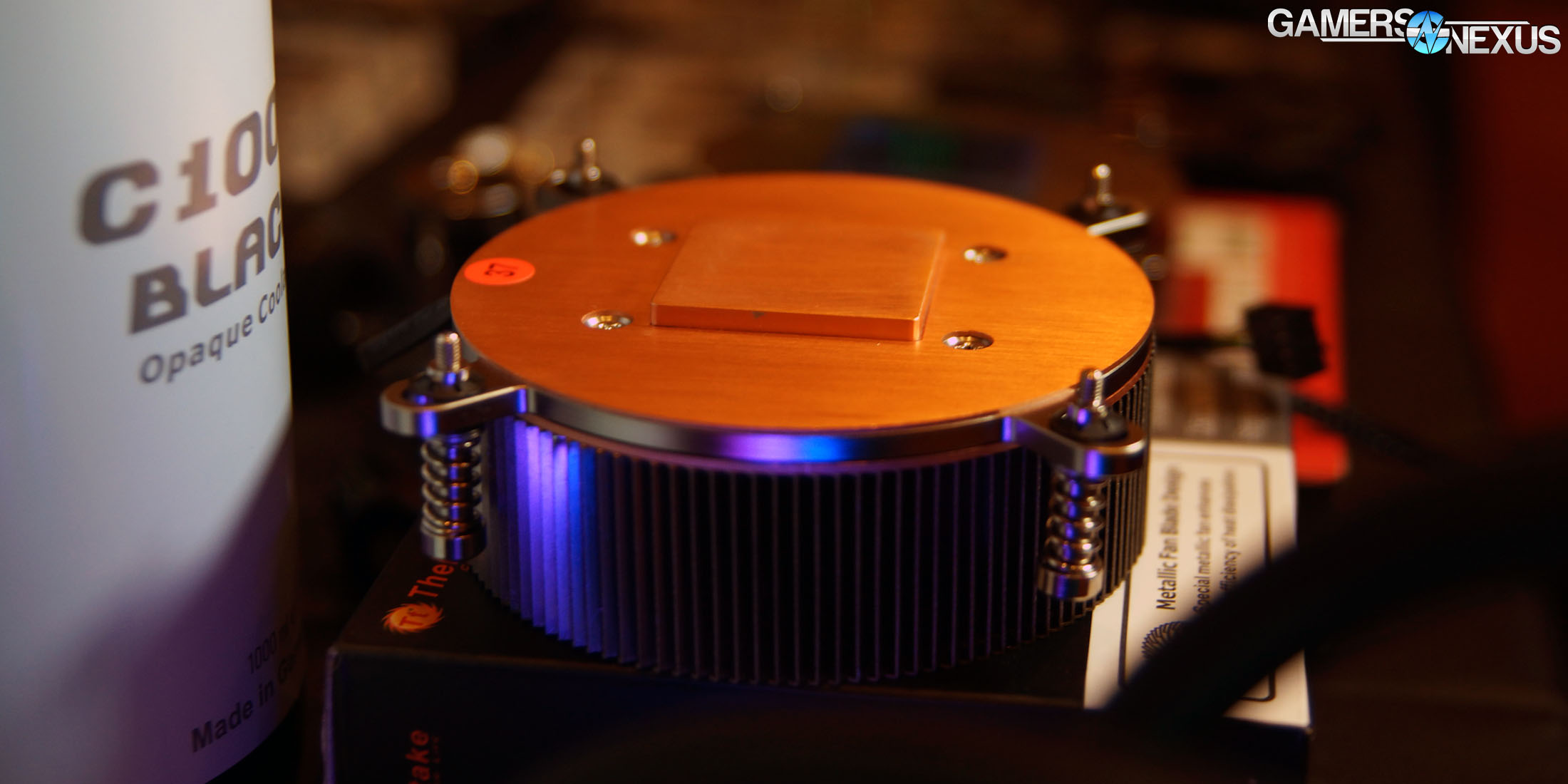 The Thermaltake Sandia-style cooler, the Engine 27, is discussed in more depth in the video above.
Editorial: Steve "Lelldorianx" Burke
Video: Keegan "HornetSting" Gallick