Hardware
stub
Thermaltake Releases RGB PSU: the Toughpower DPS G RGB
Posted on July 29, 2016
Almost every PC component comes decorated with RGB lights nowadays – it was only a matter of time before PSU manufacturers started incorporating RGB lights into their products. Thermaltake's doing that, following the success of the Riing RGB fans, and has recently announced the Toughpower DPS G RGB 650W PSU.
The new, colorful PSU is a modular 650W (and 850W) unit with an LED ring around its 140mm fan. The circular LED ring can output 256 different colors and can be changed with Thermaltake's DPS G PC App.
The power supply comes with a 10-year warranty and an 80 Plus Gold efficiency rating. The long warranty challenges most PSUs, which usually only offer 3- to 5-year warranties. Thermaltake says the PSU is rated to be "91% efficient under real-world conditions."
Based on a study Corsair did on PSU efficiency ratings, an 80 Plus Gold PSU pulls 278W AC to output 250W DC. In contrast, a low cost 70% efficient PSU pulls 357W AC to output 250W DC. The higher your 80 Plus rating, the less wattage the system will pull from the wall to power a system. Below is a chart showing efficiency ratings for each possible 80 Plus PSU rating.
| | | | | |
| --- | --- | --- | --- | --- |
|   | DC Output | AC Input | Efficiency | Watts Lost |
| PSU that meets minimum ATX efficiency requirements | 250W | 416W | 60% | 166W |
| Typical low cost PSU | 250W | 357W | 70% | 107W |
| 80 PLUS PSU | 250W | 312.5W | 80% | 62.5W |
| 80 PLUS Bronze PSU | 250W | 294W | 85% | 44W |
| 80 PLUS Silver PSU | 250W | 284W | 88% | 34W |
| 80 PLUS Gold PSU | 250W | 278W | 90% | 28W |
| 80 PLUS Platinum | 250W | 272W | 92% | 22W |
Table Credit: Corsair
Aside from being 80 Plus Gold rated, the Toughpower DPS G RGB is also compatible with Thermaltake's DPS G Mobile App. The mobile app is supported on Android and iOS, and allows users to remotely turn off their PC if the power supply detects a run-away heat situation. The user will get a notification that will ask them if they want to turn off their PC to avoid it from overheating. The app can also read PSU power usage activity. Unfortunately, the mobile app does not allow changing of the RGB lighting of the PSU; that's only done through the desktop application.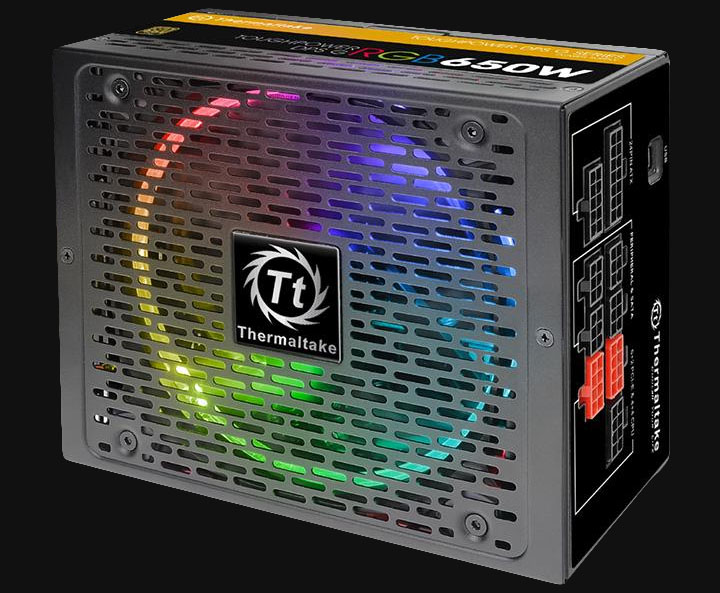 We don't have word on price yet for the new Toughpower DPS G power supply, but we would expect that it won't be cheap. Typically, 650W modular power supplies without RGB lighting cost around $80 (with this 80 Plus rating). We have to wait and see if Thermaltake will charge a premium for their new RGB offering.
- Chris Z.