Hardware
stub
MSI Z170A Krait Gaming R6 Siege Motherboard Announced in Ubisoft Rainbow Six Bundle
Posted on December 1, 2015
MSI is launching its new Z170A Krait Gaming R6 Siege motherboard, heretofore "mouthful," in collaboration with Ubisoft. The Krait Gaming R6 Siege is essentially a new version of the existing Z170A Krait Edition. The Krait R6 Siege motherboard will come bundled with Ubisoft's new Tom Clancy game, Rainbow Six Siege (standard edition), a continuation of the tactical squad shooter series. This promotion starts on December 1st and runs through March 1st, 2016.
Like MSI's other Krait motherboards, the Krait R6 Siege features a white-and-black aesthetic, but this time with Rainbow Six Siege-themed packaging and accessories. Both the Krait Gaming R6 Siege and Gaming M5 feature Audio Boost 3, meant to help make sound more vivid and immersive, and USB 3.1 Gen2 Type-A and Type-C ports. The MSI Krait Gaming R6 Siege looks to use an 8-phase CPU VRM, which should help provide the capability for relatively high overclocks. While the only close photos we have of the Krait R6 Siege are renders, they are detailed renders that seem to reveal 2xPCIe x16 slots that are wired for x16/x8.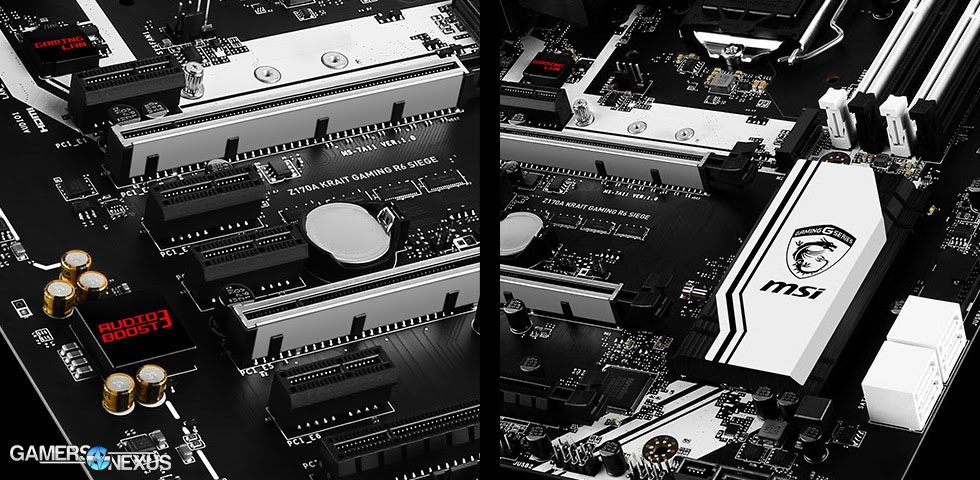 MSI hasn't announced a price yet, so it's hard to judge the value of the R6 Siege combo. That being said, it appears that MSI's new Z170A Krait Gaming R6 Siege motherboard is basically the normal Z170 Krait with a game bundle and themed accessories. If priced within less than $60 more than the Z170 Krait (the cost of the game), it would be a reasonable deal for will-be buyers of R6 Siege.
- Michael "The Bear" Kerns.