Hardware
stub
Hard Drive Reliability Update: Seagate vs. WD vs. Hitachi Failure Rates
Posted on September 24, 2014
Online backup solution BackBlaze has been publishing its data on hard drive reliability since January now, with its last update shedding some light on HDD endurance. The company uses thousands of hard drives for online backups of consumer and corporate clients and has elected to publish its performance data. DOAs are fairly common across the industry, but those are more survivable – a failed hard drive means lost data.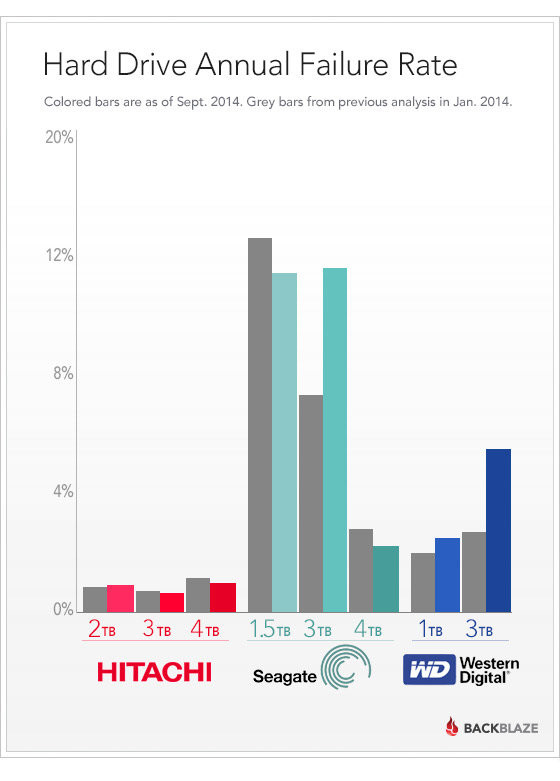 BackBlaze just reported its annual failure rate for 34,881 drives that house 100 petabytes of data (that's 100,000,000 gigabytes). The latest report reinforces earlier data that Seagate has some of the poorest longterm endurance of all tested devices, with 3TB drives climbing to a 15% annual failure rate (from 9% at the time of last reporting). WD 3TB drives aren't immune to worsened lifespan, though, and have also jumped from 4% to 7% in annual failures.
Smaller drives – like 1TB WD devices – have proven more stable.
Here's the table generated by BackBlaze:
Number of Hard Drives by Model at Backblaze
Model
Size
Number
of Drives
Average Age
in years
Annual Failure Rate
Seagate Desktop HDD.15
(ST4000DM000)
4.0TB
9619
0.6
3.0%
Hitachi Deskstar 7K2000
(Hitachi HDS722020ALA330)
2.0TB
4706
3.4
1.1%
Hitachi Deskstar 5K3000
(Hitachi HDS5C3030ALA630)
3.0TB
4593
2.1
0.7%
Seagate Barracuda 7200.14
(ST3000DM001)
3.0TB
3846
1.9
15.7%
HGST Megascale 4000.B
(HGST HMS5C4040BLE640)
4.0TB
2884
0.2
n/a
Hitachi Deskstar 5K4000
(Hitachi HDS5C4040ALE630)
4.0TB
2627
1.2
1.2%
Seagate Barracuda LP
(ST31500541AS)
1.5TB
1699
4.3
9.6%
HGST Megascale 4000
(HGST HMS5C4040ALE640)
4.0TB
1305
0.1
n/a
Hitachi Deskstar 7K3000
(Hitachi HDS723030ALA640)
3.0TB
1022
2.6
1.4%
Western Digital Red
(WDC WD30EFRX)
3.0TB
776
0.5
8.8%
Western Digital Caviar Green
(WDC WD10EADS)
1.0TB
476
4.6
3.8%
Seagate Barracuda 7200.11
(ST31500341AS)
1.5TB
365
4.3
24.9%
Seagate Barracuda XT
(ST33000651AS)
3.0TB
318
2.2
6.7%
For personal use, I tend to stick to 2TB WD Black HDDs and have not yet gone over 2TB in capacity. I can deal with losing 2TB of data (and it's easier to back up), but losing 4TB is just too much. As a consumer – forget the reviewer bit – I just don't yet trust drives larger than 2TB for mainstream or production use.
- Steve "Lelldorianx" Burke.