Hardware
stub
NVIDIA GeForce GTX 760 Specs, Release Date, Price, & Benchmark
Posted on June 25, 2013
Since we spoiled the official GTX 780 and GTX 770 specs just about a month ago, the biggest recurring question on the forums has been "should I wait for the GTX 760 / 760 Ti for a build?" It's for good reason, and was actually nVidia's focal point for the recent press conference: The X60 series of GTX cards hits a "sweet spot" for gaming system builders, often ranked firmly in between enthusiast-class cards and budget-class cards.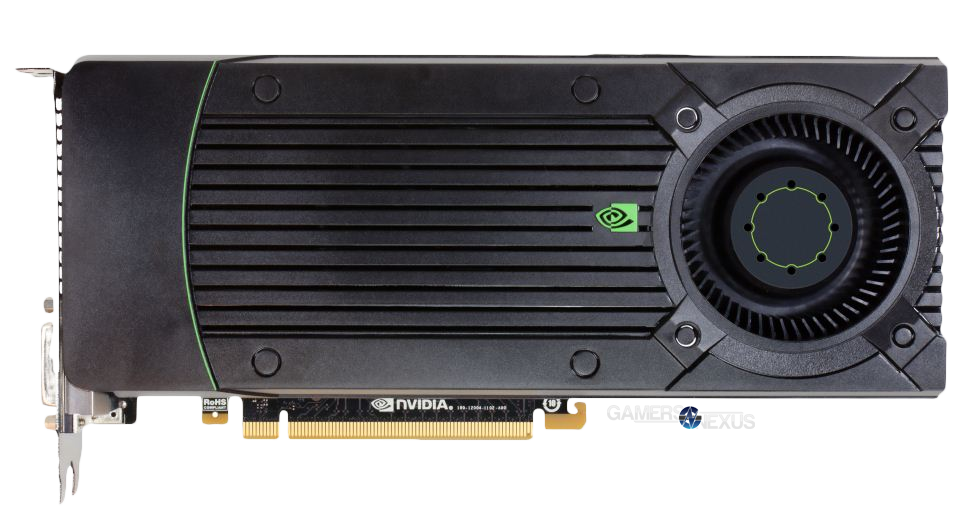 "[According to the] Steam Hardware Survey, the 60-Series is one of the most popular weapons of choice for gamers," we were told by nVidia representative Chris Daniels. "We're going beyond the standard performance-tuning and eye candy in games and really looking at the entire experience and optimizing around PC gaming," he noted, referencing GFE, ShadowPlay, and nVidia's Shield project.
X60 is nVidia's true mid-range, offering both a relatively high processing output and affordable price-point; it's not quite what you'd get out of a GTX X70 card, but for mainstream gamers, there's really not much immediate need for more than current gen X60 cards. Ever. That's been true for several generations now, and it looks like it'll continue to be that way.
In this quick write-up, we'll cover nVidia's GTX 760 specs, MSRP, release date, and some preliminary benchmarks vs. the 7950 & GTX 560. A bit lower down, I'll debunk some of the jumping-the-gun myths around the web that there "won't be any more GTX cards this year."
Let's hit the official 760 specs first.
Official nVidia GTX 760 Specs & Price
| | | | | | |
| --- | --- | --- | --- | --- | --- |
| GPU Spec | Titan | GTX 780 | GTX 770 | GTX 760 | GTX 680 |
| GPU Core | GK110-400 | GK110-300 | GK104-425 | GK104-225 | GK104 |
| Transistor Count | 7.1B | 7.1B | 3.5B | 3.5B | 3.5B |
| Fab Process | 28nm | 28nm | 28nm | 28nm | 28nm |
| CUDA Cores | 2668 | 2304 | 1536 | 1152 | 1536 |
| Core Clock | 837MHz | 863MHz | 1146MHz | 980MHz | 1006MHz |
| Boost Clock | 876MHz | 902MHz | 1085MHz | 1033MHz | 1058MHz |
| Memory Clock | 1502MHz | 1502MHz | 1753MHz | 1502MHz | 1502MHz |
| Memory Bandwidth | 288.4GB/s | 288.4GB/s | 224.4GB/s | 192GB/s | 192GB/s |
| Memory Configuration | 6GB | 3GB | 2/4GB | 2/4GB | 2/4GB |
| Memory Interface | 384-bit | 384-bit | 256-bit | 256-bit | 256-bit |
| TDP | 250W | 250W | 230W | 170W | 195W |
| ROPs | 48 | 48 | 32 | 32 | 32 |
| TMUs | 224 | 192 | 128 | 96 | 128 |
| MSRP | ~$1300 | ~$650 | ~$400 | $250 | ~$500 |
| Release Date | Available | Available | Available | June 25, 13 | Available |
The take-home message for the GTX 760 is its -- as nVidia calls it -- "attractive price-point." The GTX 760 will launch at just under $250 MSRP, providing the same memory bandwidth and configuration as the GTX 680 at nearly half its initial launch price.
"[The 760] is going to be replacing the 660 Ti in our lineup. We'll continue shipping the 660, so it's not going to replace the 660 [that's at] at $199 today."
Using some basic calculations, I extrapolated that the memory clock of the GTX 760 should hover around 1500MHz stock, placing the memory bandwidth at a calculated 192GB/s (just below the GTX 770's 224GB/s, equal to the GTX 680). If you're curious, this is calculated by: (Memory bus width  / 8 [convert to bytes] * memory clock * 2 [DDR] * 2 [GDDR5]), or (256/8 * 1500 * 2 * 2).
Single-precision computation capacity isn't far behind the 760's immediate upgrade option, sitting at 2.3TFLOPs of raw COMPUTE power. The GTX 760's TDP sits at 170W and requires 2x6-pin power connectors, offering 2xDL-DVI, 1xHDMI, and 1xDisplayPort 1.2 output options.
The GTX 760 is available as of 9AM EST June 25th, so... right now, and most of nVidia's board partners should already have options on the market. We tend to recommend aftermarket options over nVidia's in-house card.
NVidia GTX 760 Benchmark vs. AMD 7950, GTX 560 
As always, nVidia was keen to provide us with their own internal benchmarks against AMD's similarly-priced card (the 7950 and clock-boosted 7950). They do tend to keep the bench settings mostly fair between the products, but for obvious reasons, games tested generally do favor nVidia's products - so keep that in mind. Grain of salt, et al. Here's that initial benchmark: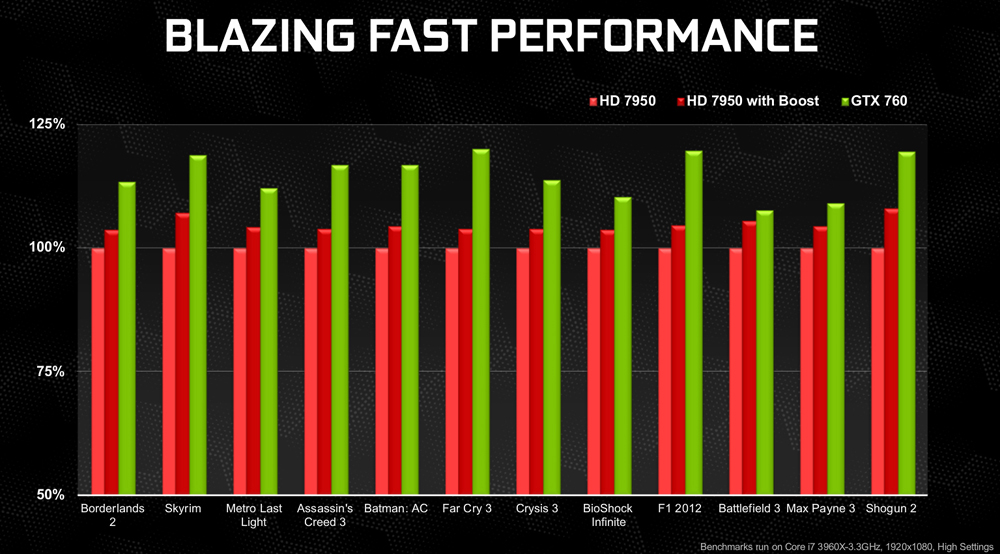 Internally, nVidia also claims the GTX 760 will provide a "3x improvement over the GTX 275" and 1.5x improvement over the GTX 560; nVidia's R&D noted that most gamers tend to upgrade in 2-4 year increments, making these two cards the closest equivalents to the 760 in the last few upgrade cycles. If you're on a GTX 660 or better, there's really no reason to upgrade other than for fun. Personally -- and I can only speak for myself -- I wouldn't upgrade from a GTX 560 to a 760, either, but that's just me.
Regardless, at $250 for the memory spec of and performance not far from a 680, the deal looks sound.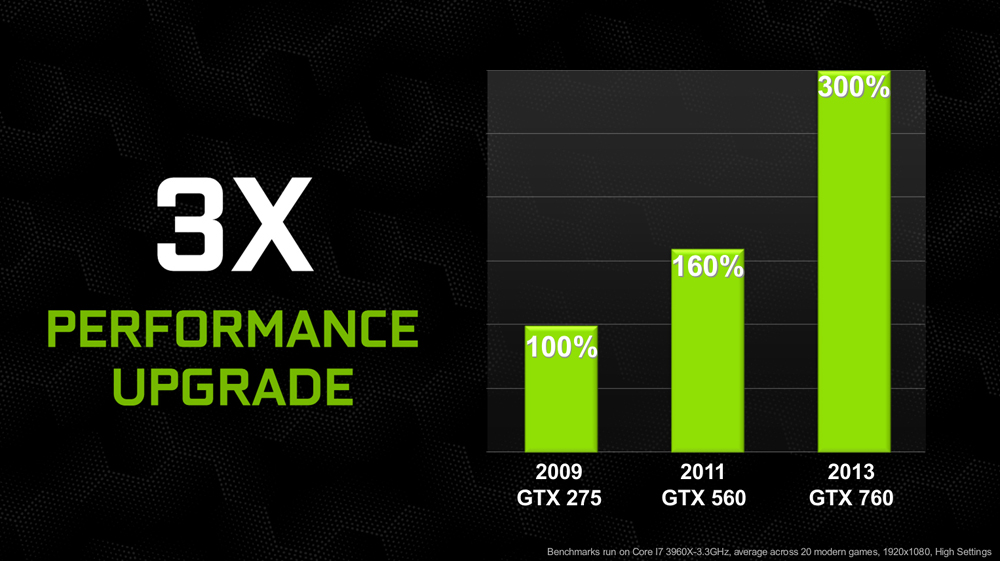 If you're curious as to what level of graphics output the GTX 760 is capable of, nVidia demoed a slide that placed the new card on "Very High" quality settings, "Very High" tessellation,  AF16x, and 1080 resolution for Metro: Last Light, which is one of the most demanding games on the market. SSAA was disabled, other, more advanced settings were not discussed.
The card was shown to produce an average of 43FPS on Metro: Last Light, against the 25FPS output from a GTX 560. A GTX 275 in DX10 mode output ~17FPS on the same settings (sans DX11, due to compatibility). Planetside 2 saw 51FPS for the GTX 760 and 28FPS for the 560, then 18FPS for the 275.
But I heard there won't be a GTX 760 Ti release date this year?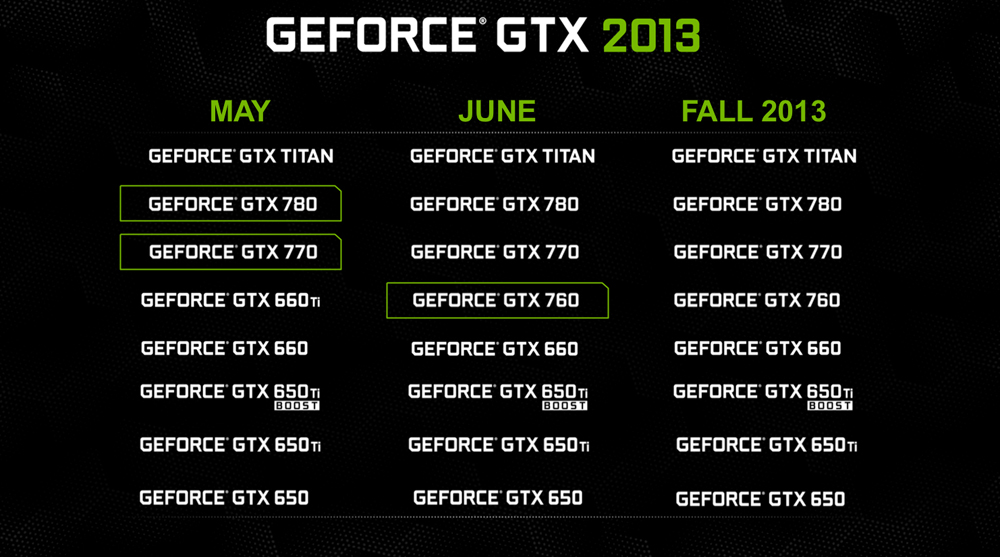 During the press conference with nVidia, which was embargoed until this morning, a slide was revealed that showed the company's complete roadmap for the year's GPU releases. Some outlets broke embargo and posted that slide as hard evidence that -- because no 760 Ti was present -- there'd be no further releases for the year.
Having played back my recording of the call with Chris Daniel, nVidia's Product Manager on the GeForce GPU Desktop Team, the company very clearly said that there "won't be any cards below" the GTX 760 released this year. The 760 is the bottom-of-the-barrel for nVidia launches in 2013, meaning no 750 or 750 Ti should be expected as of now, and if they do launch, it'll be early next year. This isn't that abnormal, when considering nVidia's trend toward pushing lower-end cards into the following year. The 650 Ti Boost, for instance, wasn't released until just a few months ago - and that was well into the fabrication cycle of 700-series silicon.
NVidia isn't the type of company to play with marketing doublespeak, so my inclination is to say that a 760 Ti should be expected this year; the X60 Ti line of cards is decidedly "above" the GTX X60 line, so if the words were chosen carefully by nVidia, a 760 Ti would fit around the "nothing below the 760" statement. The same may hold true for more powerful cards, like a future Titan release, though I can't speculate on that at this time.
I could be wrong about the 760 Ti. If I am, feel free to come tell me how wrong I was. But I don't think it's the end of nVidia's annual releases. They generally put something out in the July/August timeframe in time for holidays, so I'd expect the same.
Overall Thoughts: Is a GTX 760 "Worth It?" 
We haven't internally benchmarked the GTX 760 yet, but initial results are promising. At $250 for what's effectively a crossbreed between a GTX 680 and GTX 660 Ti, except with Boost 2.0, it seems like a damn good price. The GTX 650 Ti Boost still holds the trophy for best value of nVidia's line-up (they eat more into margins to compete directly with the 7850), but the 760 is an easy choice for mid-range builds. AMD's immediate competition is fierce, though, and we can't really judge the performance between the two cards until more third-party benchmarks are released.
Let us know if you have any questions.
- Steve "Lelldorianx" Burke.