Hardware
stub
NZXT Sentry Mix 2 Fan Controller Specs Detailed
Posted on May 8, 2013
In suit of its H630 silent case announcement and website redesign, NZXT has announced today that it intends to revitalize its Sentry series of fan controllers. NZXT's Sentry Mix 2 fan controller specs have been detailed in the announcement, and having tested previous models, we have a couple of thoughts on the unit. A review is pending.

NZXT Sentry Mix 2 Specs 
| | |
| --- | --- |
| Model Number | AC-SEN-MIX2-M1 |
| Material | Acrylic, Plastic |
| Fan Connector | 4-Pin |
| Finish | Matte black bezel with glossy black sliders |
| Included Accessories | 4x M3 Screws |
| Form Factor | Single 5.25" |
| UPC | 815671011527 |
| EAN | 5060301690770 |
| Connections | 2x Molex |
| Cable Finish | Black Rubber |
| Cable Finish | RGB Color Changing |
| Maximum Combined Wattage | 300 Watts |
| Control Method | Sliders |
| Fan Channel Quantity | 6 |
| Fan Channel Wattage | 50 Watts |
| Minimum Power To Fans | 40% |
| Warranty | 2 Years |
The Sentry Mix 2 is an externally-mounted, 5.25" power modulation device that regulates voltage delivered to up to 6 different channels. Aesthetically, the Mix 2 somewhat resembles an audio control panel with its slider-controlled power delivery; the unit has a matte black finish with a textured faceplate and LED-backlit channel identifiers. The LED colors can be customized, though we're presently unsure if they can be configured for each individual channel.
Power is delivered to the Mix 2 via 2x4-pin Molex connectors and the unit offers a maximum power tolerance of 300W (combined total) for its 6 channels -- easily enough for any reasonable fan configuration I can think of. There is a continuous maximum of 30W per fan, which shouldn't really be exceeded unless you're plugging in high-RPM server fans, and even then it'd be tough.
Everything's pretty straight-forward. We've asked NZXT if the fan speed control is linear or incremental (i.e.: When the slider is moved, are there certain fan-speed thresholds, or does it adjust on-the-fly?), but won't hear back for a couple of hours. This space will be updated once we know the answer. We've also asked if the sliders are notched or free-moving.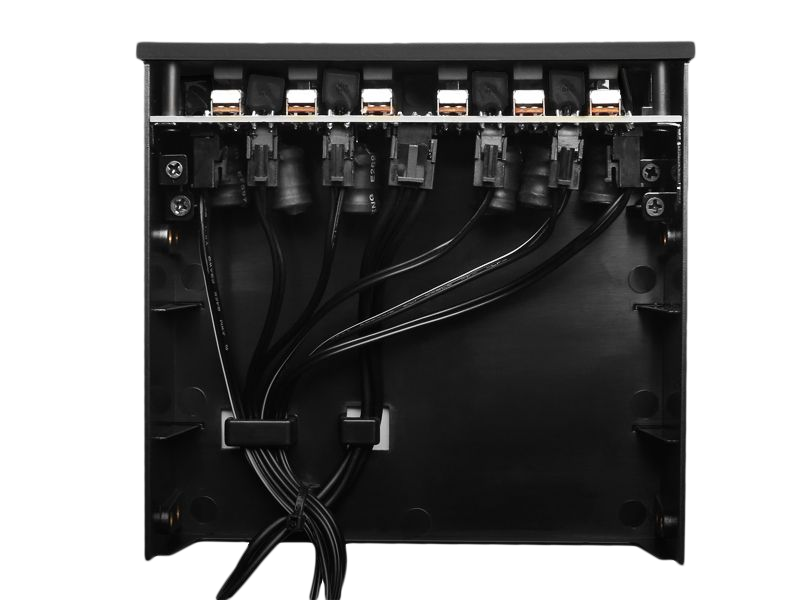 As far as what I'm looking out for, well, as much as I liked the idea of the Sentry MX 2 touchscreen fan-speed controller, it had too many cables for me to allow in my system. Nearly a dozen extra cables that are tough to manage -- it just wasn't worth it. Not surprisingly, none of the current photos of the Sentry Mix 2 show the cables in their full glory, so it's tough to say whether we'll see the same problem in this new unit. We'll have answers to that shortly, though.
The practical applications of such a device are also straight-forward: You'd basically use this to help control the noise produced by your fans. If you've got some larger, quiet-spec fans that can run unnoticeably at full RPM, they can be mapped to specific channels that are constantly set to max. If you have some smaller (120/140mm) fans that are higher-dBA output, those can be mapped to their own channel and then power can be throttled, which reduces RPM and controls the noise levels.
More info here: http://www.nzxt.com/product/detail/129-sentry-mix-2-fan-control.html
- Steve "Lelldorianx" Burke.