Hardware
stub
TechRAID Episode 1: AMD Spec Leaks, H.265, & Cooling Tech
Posted on January 30, 2013
I'm proud to announce the initiation of a new video series from the GN team: TechRAID! We've been kicking this idea around for quite a few months now, but finally got around to working out the logistics and concept: This new video series aims to bring you all the latest in tech & gaming hardware news in a few-minute span, meaning you'll be able to keep up with all the latest in gaming hardware without having to read every single news article on a daily basis. The plan is to post these videos twice a month (~fortnightly), but if you'd like to see them more frequently, please request it in the comments section and we'll work to record more!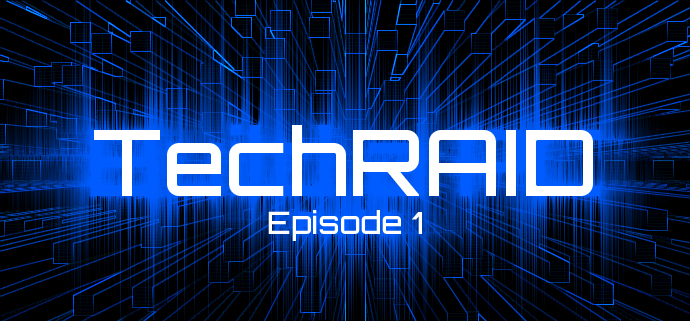 This is very much a "trial run" or pilot episode of the video series, so we value your input more than ever! It is incredibly helpful to receive reader insight and guidance early in the development of a new recurring segment, as it'll help us shape the content going forward. Remember, GN answers to no one except our readers; we have no corporate overlords, so this site is built to accommodate your needs.
Blah, blah, blah. Here's the video:
My biggest question at the moment is: Do you like the length of the video? Do you think there should be fewer topics with more content on each? More topics and more length? What do you think about a sort-of videocast brought to you by two GN members? Let me know!
Want to read more about any of these items? Check these links (some are external).
TechRAID Episode 1 Contents: 
As always, I've pasted my script for the video below in case I spoke too quickly or if you're at work.
Let us know what you think!
- Steve.
Video Transcript 
Hey everyone, this is Steve from GamersNexus.net! And today I'm introducing our gaming and hardware news series: TechRAID! Every other week we'll be putting a news round-up video online that covers all the most relevant gaming hardware and, on occasion, gaming software news. The goal is to keep these short and fast-paced, with a link in the description below if you'd like more depth on any of the topics. Please comment below with any feedback at all so I can continue to improve these videos!
For this episode, we have 7 topics to cover, including leaked specs on the next Trinity product and some very interesting cooling advancements.
With that, let's start with episode one!
Richland: In a recent leak, it was revealed that AMD's successor to Trinity's 5800K, officially Richland's A10-6800K, will operate natively at 4.1GHz, an increase of .3GHz, and will utilize a modified HD 6000-series chip, officially rebranded as the 8670D, as its GPU component. The unit will operate at 100W TDP and 844MHz, making it an impressive follow-up to Trinity, but perhaps not as impressive as AMD's upcoming Kaveri project, which also launches later this year. Kaveri will feature a fab drop to 28nm process and should have better overall specs, so with two excellent APUs shipping in one year, it looks like there's a serious shift toward the integrated market.
New nVidia Drivers: In graphics news, nVidia has announced the release of new beta drivers, claiming massive gains in SLI performance for the Crysis 3 beta and large performance jumps across the board for games launched around Q4 2012. Single-card performance was also improved by these drivers. You'll find a link to more news and the driver downloads in the description below.
SilverStone: A world away from semiconductors, we have news from SilverStone of a unique, new case fan design that aims to minimize the turbulence-induced, high-frequency acoustics produced by throttled air between the fan's blade and the case's metal mesh or dust filters. Most cases with 120mm fans will exhibit some variation of this quiet-but-annoying noise, which tends to resemble a whining sound; SilverStone aims to eliminate the noise by using three different fan blade designs within the same unit, which they've demonstrated to reduce turbulent air caught between the fins and the mesh. We'll be looking at this new fan relatively soon, along with Antec's new TrueQuiet fans.
Cooler Master: In more cooling news, renowned case and cooler manufacturer Cooler Master has officially launched of its Seidon 240mm and 120mm closed loop liquid coolers. These coolers aren't your standard Asetek rebadge, from what I can tell, as it looks like the Seidon coolers use a different cold plate and mounting system from the Asetek-supplied coolers. The Seidon units are available in 240mm, 120mm, and 120mm XL, and are all fitted with the nice mounting mechanism that we're used to from the Hyper 212. It looks pretty damn good, too. As an aside, Cooler Master also has its new Storm line of peripherals available, but you can get more info on that in the article linked below.
H.265: In a completely unrelated sector of the industry, the H.265 encoding standard was approved by the ITU just recently, meaning the new standard should start rolling out relatively soon. H.265 is the successor to the popular High Efficiency Video Coding H.264 standard, but the new iteration aims to halve bandwidth requirement for video, meaning you'll be able to render out videos at a higher datarate for higher quality, but utilize the same bandwidth; this is ideal for mobile devices streaming video over slower networks.
Armor Evo: Back to cooling and cases for a moment, we recently reviewed Rosewill's Armor Evolution mid-tower gaming case. We've previously been impressed by the quality of some of the company's cases, but were unfortunately left scarred by the poor build quality and design of this newer option; despite the case destroying one of my SSDs, we did find that it had some of the best cooling performance we've ever benchmarked. Check the YouTube channel for that video review.
Fractal: Finally, for our last topic, we look to Fractal Design for their new case launch -- the Arc Midi R2. I know many of you are fans of Fractal, who have become famous recently for their high-quality materials, optimization for quiet cooling, and sleek looks, but this case aims to further all of those points: The Arc Midi R2 ships with three Silent Series fans, a fan controller, a swivel-able set of drive cages—if I can make up some words—and heavily leans toward ease-of-installation features. The case is targeted at $110 MSRP and should be available in March of this year.
That's it for this tech round-up! Please leave a comment below and let me know how you think I did, what I can improve for next time, and how often you'd like to see these videos. The current plan is about twice a month.
And with that, I'll see you all next time! Peace!