Hardware
stub
In-Win's Open-Air D-Frame DIY Gaming PC Case - Build It Yourself
Posted on January 14, 2013
The last day of CES was a magical time: Filled with indelible back pain, a vocal hoarseness unachievable through usual means, and (for the first time all show) a free hour to walk around, we were able to spot some truly innovative designs on the show floor. We first encountered In-Win on the Monday before CES 2013 (when we inadvertently snuck in -- oops), but were not allowed to share their unique new chassis with you until later.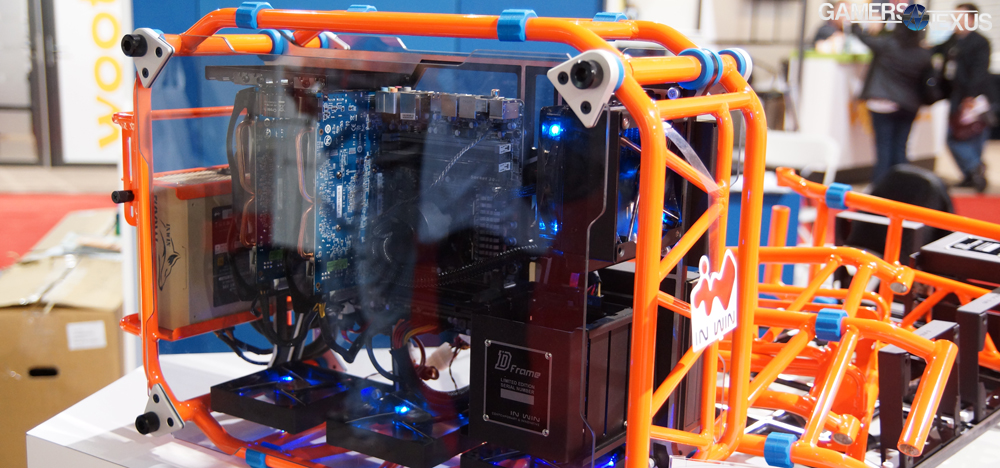 In-Win's new DIY case, dubbed the D-Frame (a successor to their X-Frame), aims to suit the DIY system builder in every way possible. We've got a video walkthrough below, but let's start with a quick visualization: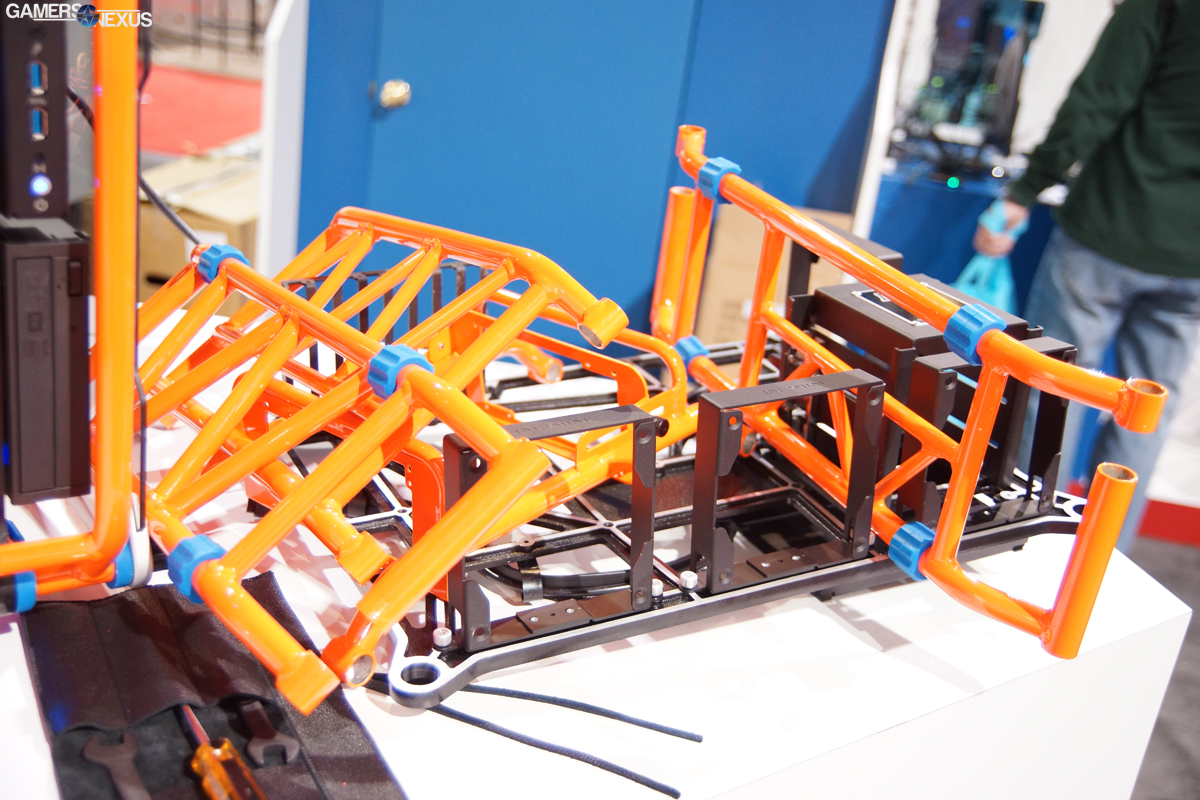 This. This is what you receive when you buy their case. Roughly resembling a bike frame, the aluminum piping, aluminum motherboard tray, HDD cages, and mounting brackets are all ready to assemble. As In-Win's rep said in our video below, "you don't just install the computer, you install the case." Everything is built by the user, so it's a true DIY enthusiast/gaming computer case.
In-Win D-Frame Computer Case Specs - DIY PC Case
Make / Model
In-Win D-Frame
Case Features
DIY - Build it yourself;
Open-Air Chassis;
Red/Orange options;
90* Motherboard Rotation;
Fully aluminum. 
Materials
Aluminum.
Bays / Expansion

1x5.25" External (200mm max length)
3x3.5" Internal; 2x2.5" Internal 
8xExpansion Slots (top)

MB Form Factor
ATX, Micro-ATX
PSU Form Factor
ATX 12V, PSII, EPS (up to 220mm)
I/O Ports
2xUSB3.0, HD Audio
Dimensions
482mm x 305mm x 668mm
(19" x 12" x 26.3") 
D-Frame MSRP
$400
In terms of what you get, the case is fairly barebones, yet accommodating. No fans are included, but a total of four (from what we were told) fan mounts are present: 3 bottom (best as intake) and one top-front, which is suitable for small radiators. The case fits ATX/mATX motherboards and uses an aluminum mounting tray, aluminum tubing (similar to a bike's top/steer tubes), and has an adjustable PSU mount to fit larger PSUs. Despite all the aluminum, the case is not anything light; we were unable to obtain a total weight from the on-site interview, but I can tell you that it won't be going anywhere without you deeming it so. The entire build measures 482mm x 305mm x 668mm (19" x 12" x 26.3") and uses tempered glass on the left and right sides (rather than the cheap plastic found in most cases); the tempered glass is thick, sturdy, and won't scratch easily, so it's certainly of a higher quality.
The case is limited edition, shipping only 150 units of each design (orange, seen here, and red) in theUS, for a total of 300 pieces. Included with all the components for the case is a set of tools to assemble it -- you'll get two standard wrenches and a screwdriver, so it's nothing to die for, but exactly what you need to build the case. We were assured that the assembly process is quick and painless (this was evident in our hands-on as well, only a few pieces make up the entire case); so while it gives the feeling of a modular PC case, it's not truly "modular" in terms of dropping/adding parts.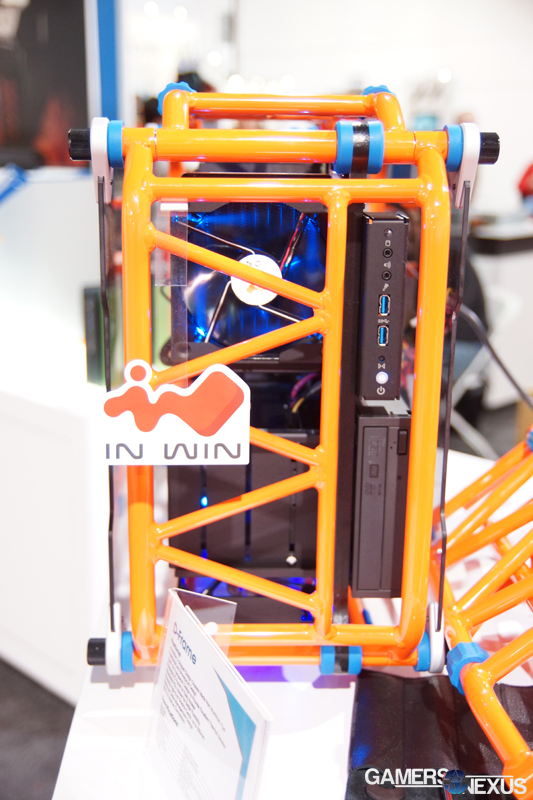 In-Win's D-Frame's MSRP is marked at $399, we were told, placing it slightly above the Corsair 900D we covered. You'll need to factor in the fan purchases as well, of course. It's an open-air case and should have fairly good thermals, especially given the 90-degree rotation of the motherboard (facing GPU exhaust outward); theoretically, using bottom intake fans in fusion with the rotated board should allow better air channel passthroughs between SLI/CrossFire GPU arrays. If you're one of the 300 who buy this case, be sure you rotate the CPU cooler (if air) to exhaust upward.
Pretty cool stuff. In-Win had a ton of other excellent products at their booth, even structuring their outpost in the style of one of last year's cases. This is definitely a company to keep a close eye on for future system builds, methinks.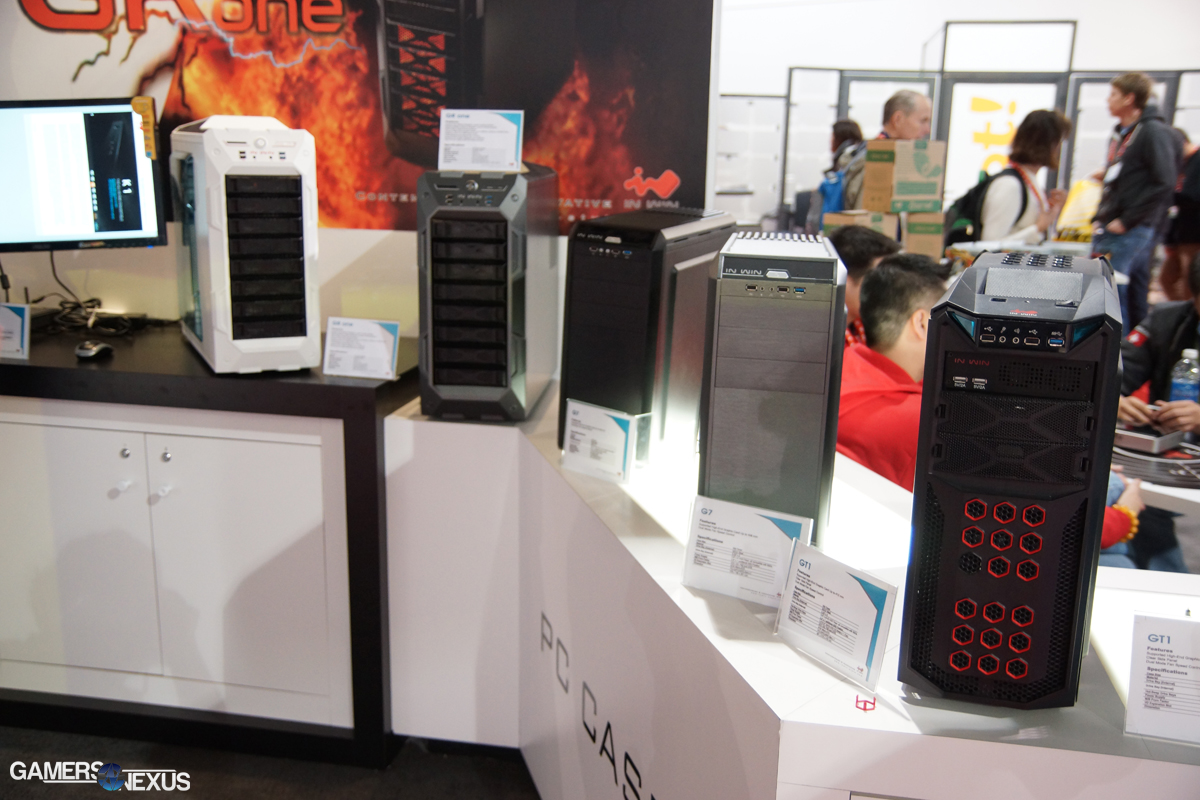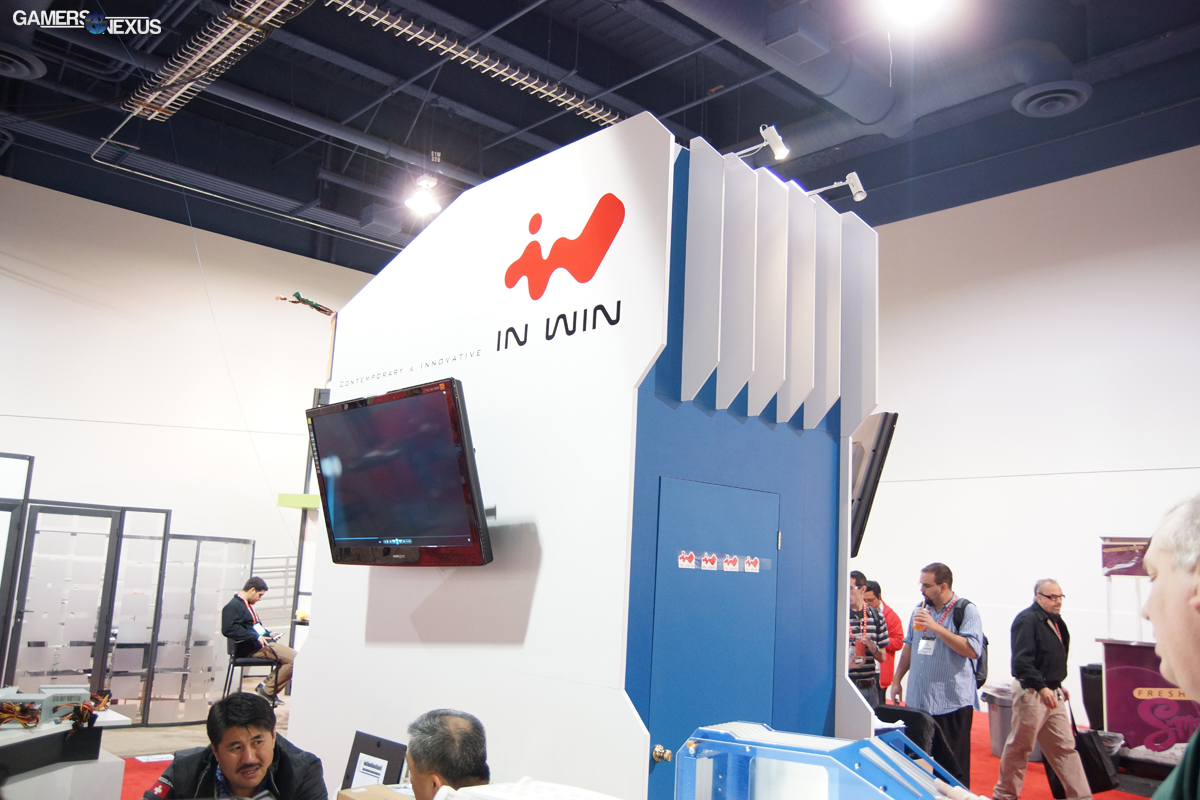 View our full CES 2013 system/case gallery here. Let us know if you have any questions.
The D-Frame product page can be found here: http://www.inwin-style.com/pd_info.php?id=292
- Steve "Lelldorianx" Burke.