Hardware
stub
Rosewill's Gaming Product Releases at CES 2013
Posted on January 5, 2013
Rosewill's back in action with their gaming peripherals and enclosures; with their upcoming Thor V2 successor (the Throne full tower case), impressive Armor Evolution, Line Glow budget mid-tower case, 1600W PSU, backlit mechanical keyboards, and other devices, the company has a big showing for this week's show. Rosewill will be showing off all this new gaming hardware at CES 2013, originally unveiled at Computex 2012, but we've got a preview of the Throne and Helios, both due for a CES release:
Rosewill THRONE Full Tower Gaming Case - CES 2013 
An obvious successor to the Thor V2 we reviewed, the Throne is a full-tower case with m-ATX, ATX, and E-ATX compatibility; it ships with 10 expansion slots, for starters, 13 cable pass-throughs (9 grommeted), dust filters, and everything found in the table below.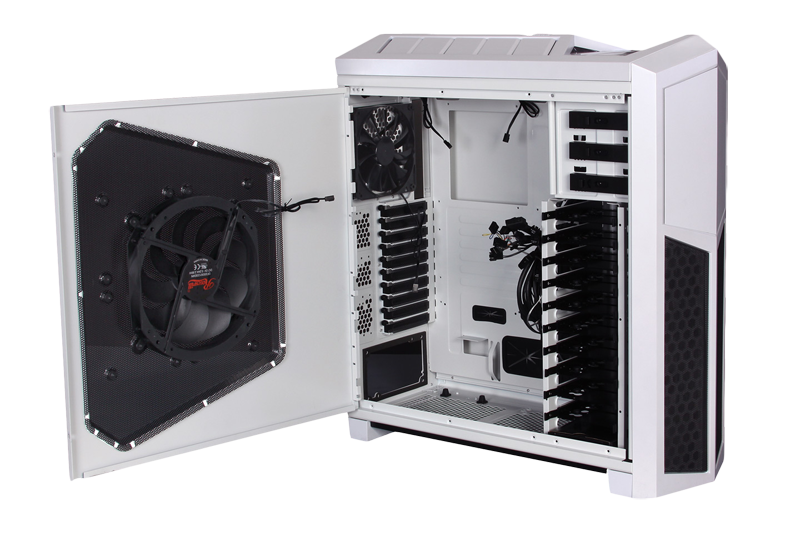 Model
Throne Black & White
Case Type
Full Tower
Form Factor
m-ATX, ATX, E-ATX
Drive Bays
3/2 5.25" external
0/1 3.5" external
9 3.5" internal (SSD compatible) 
Expansion Slots
10
Front Ports
4 USB
In terms of cooling, the stock configuration includes—if we're reading this right—5x140mm fans and 1x230mm fans; there are two layers of fan intake for the front (a front line and rear line), so there's also room for an additional 2x140mm front fans and additional 1x140mm bottom fan.
As with the Thor V2, the Throne includes chevron-shaped top fins for two primary reasons: Looks and dust management. With the blades closed (ideally something you'd do when idling at night), less dust can get into the system as it'll land on the fins instead. Popped open, there's a bit better airflow. That's really all there is to it.
I'm interested in testing the thermals on this one.
Rosewill Helios RK-9200 Dual LED Gaming Mechanical Keyboard - CES 2013
Mechanical keyboards have exploded in popularity recently; with the old IBM keyboards being some of the first (and hated for their noise), the concept was re-imagined when gamers demanded more responsiveness (that pop feeling) and durability for gaming keyboards. Rosewill's been pushing their Cherry MX red/black/brown/blue switches for a while now, but this new keyboard includes a (much-desired) multi-color backlight and full numpad.
The keyboard uses a gold-plated connector to theoretically improve electrical continuity as the keyboard's plug ages and contains both red and green LEDs. Custom colors can be coded to the keys.
That's it for now. More CES 2013 news will be posted as we all fly out to Vegas.
- Steve.