Hardware
stub
NZXT Switch 810 Special Edition Case Review
Posted on July 25, 2012
Following up with our guide to picking the best gaming case for your PC, we went on a quest to review more cases and research the facets of system builder personalities. We recently introduced you to the affordable mid-tower Rosewill R5; today, we switch gears and take a look at a high-end gaming case, NZXT's Switch 810 full tower.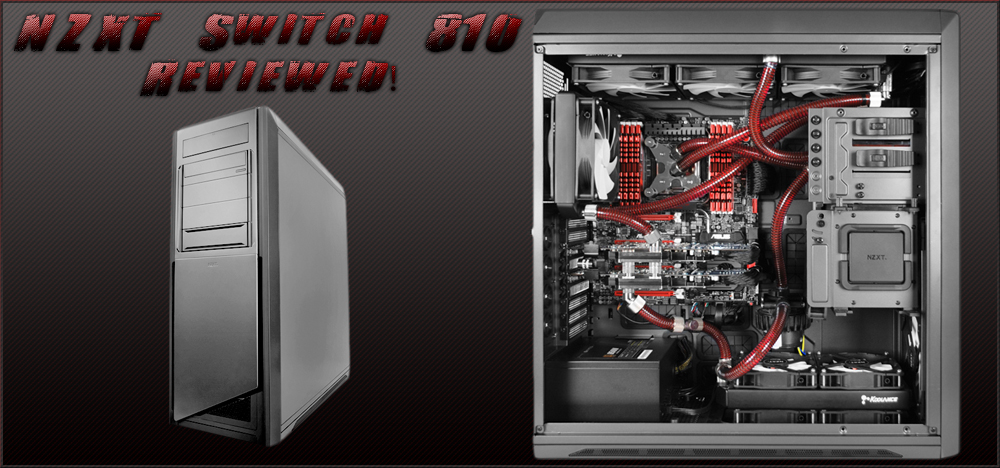 As one of the rapidly-growing companies in the market, NZXT has come out with several high-profile gaming chassis, including the Tempest and expansive Phantom 410 series. NZXT's product lineup spans high-end cases, case fans & accessories, power supplies, and CPU coolers, among other products. This is the first NZXT product we've reviewed and we're always excited to explore the offerings of the various hardware companies out there, so let's see if the Switch 810 holds up to its enthusiast-grade equipment.
NZXT Switch 810 Specs
The Switch 810 is a full tower, so it easily accommodates some of the most high-end systems currently buildable. Whether you're building a server with seven hard drives or looking to pamper your 3-way SLI setup, the Switch 810 generally has room for all applications.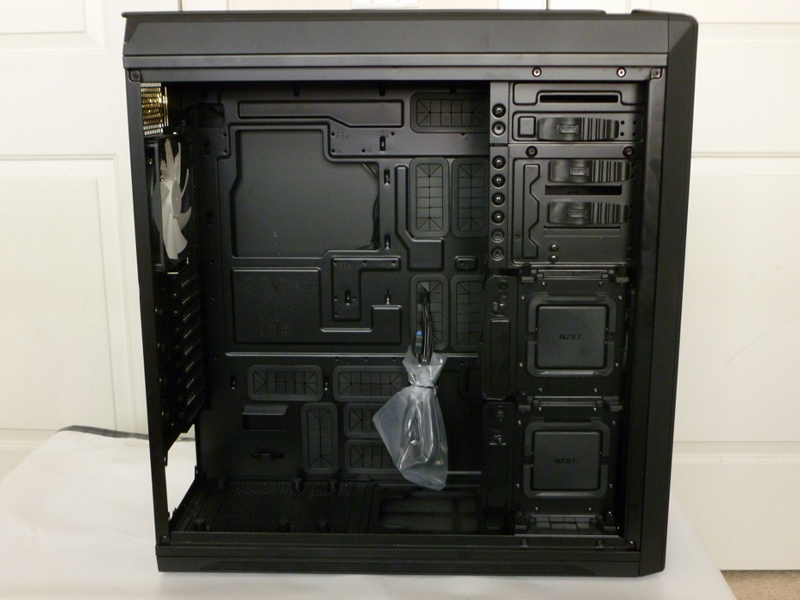 Upon first look, the Switch 810 comes with a few features that, at its price point, distinguish it as a case that high-performance gamers and mid-level enthusiasts will admire. Three large filters, ten fan slots, and ten grommeted cable management holes are only a starting point for the plethora of customization options. Let's break it down further in the specs.

Model
Switch 810
Type
ATX Full Tower
Color
Matte Black, White, Gunmetal, Glossy Black
Case Material
Steel / Plastic
With Power Supply
No
Power Supply Mounted
Bottom
Motherboard Compatibility
E-ATX, XL-ATX, ATX, MicroATX, Mini-ITX
With Side Panel Window
Yes
External 5.25" Drive Bays
4
External 3.5" Drive Bays
No
Internal 3.5" Drive Bays
6 (with 2.5" SSD support)
Expansion Slots
9
Front Ports
2xUSB 2.0
2xUSB 3.0
Audio in / out
SD Card Reader
140mm Fans
2x140mm Front Fan (1x pre-installed)
1x140mm Rear Fan (pre-installed)
3x140mm Top Fan (1x pre-installed)
2x140mm Interior Fan (1x pre-installed)
2x140mm Bottom Fan


Side Air duct
No
Liquid-cooling Ready
Dimensions (W x L x H)
9.25" x 23.43" x 23.03"
Weight
31.79 lbs.
Warranty
2 years limited
As always with our hardware analyses, here's a brief video review with a hands-on overview of NZXT's Switch 810.
With a high-end case, it's important to emphasize some of the features designed for high-end components (makes sense, right?). Proper airflow for multiple graphics cards, enough space for a large CPU cooler, and convenience for upgrading/swapping hardware are a few of the factors you'll want to consider. For more relevant tips, be sure to check out our previously-linked Picking the Best PC Gaming Case article.
With steeper price levels come diversified and advanced features that vary from manufacturer-to-manufacturer. What NZXT offers here is a product that emphasizes keeping your components performing at their best at all times; we discussed it in the Rosewill Thor V2 review and we'll say it again: Proper cable management and dust management can prevent dead fans (which, in turn, prevents dead components), so utilize any grommeted holes and filters that your case manufacturer gives to you.
Here are the features worthy of note:
Full liquid cooling support, including custom loop support.
Support for a 360 / 420mm top radiator, 140 / 240mm bottom radiator, and 90mm internal top space.
CPU cutout for mounting aftermarket coolers without motherboard removal.
"Hybrid fin design" on the top that allows quieter cooling or dust prevention; similar to Thor V2's chevrons.
Rear-facing HDD pull-out cages for easier cable management.
2x140mm pivoting fan slots for directional airflow.
23mm (~.9in) of behind-the-board clearance for cable routing.
Ten grommeted cut-outs.
Two bottom dust filters and one front dust filter.
Large acrylic sidepanel.
Performance and Cable Management
Since a case review means nothing without proper application, and because we love building systems, we has put the Switch 810 to the test and built a gaming rig within the case.
Cable management did not present any challenge due to the case's 10 grommeted cable routing holes. You'll also see vacancies for your 8-pin cable and smaller connectors, making for easy pass-throughs and ensuring that most cables can go behind the board, rather than over it and under video cards (as we complained about in the R5 review). 23mm of cable management space is good if you're not installing a lot of hard drives and fans, but even with more hardware, you'll find the Switch 810's cable management space as workable.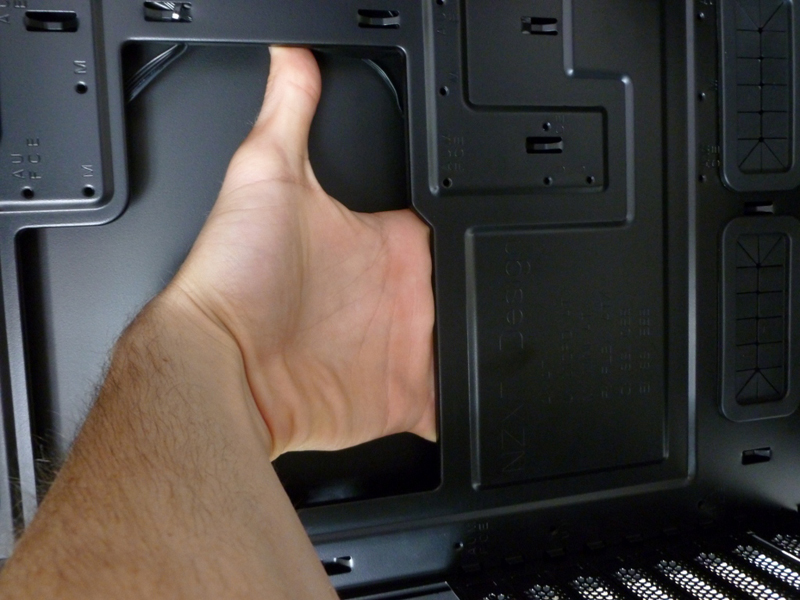 See? Plenty of room! Now... uhh... help?
Inside the chassis and behind the motherboard tray are two power hubs. The interior hub is for a hard drive -- perhaps one you install into the hot-swap bay -- and the hub behind the motherboard allows you to install 3x3-pin connectors. These powered hubs make cable management easier and will facilitate your upgrading process in the future.
Although built for an audience likely to run games and benchmarking programs, the Switch 810 unfortunately does not offer multi-speed fans. This causes the case to, even during low-stress periods, make its presence known audibly. Still, the case's noise levels are manageable and should not discourage the majority of gamers from investigating a purchase. You may want to look into our quieter cooling guide if aftermarket upgrades are a consideration.
Intermediate-level builders will likely be content with the default fan setup of one front, one internal, one top, and one rear fan.
The image below illustrates how you can make a build look with a moderate investment in cable management. Though in this photo I'm using a microATX board and have bare-bones hardware, the point is still illustrated: it's easy to make most system builds look good in this case.
And to take a look at a more monstrous build, here's a liquid-cooled setup: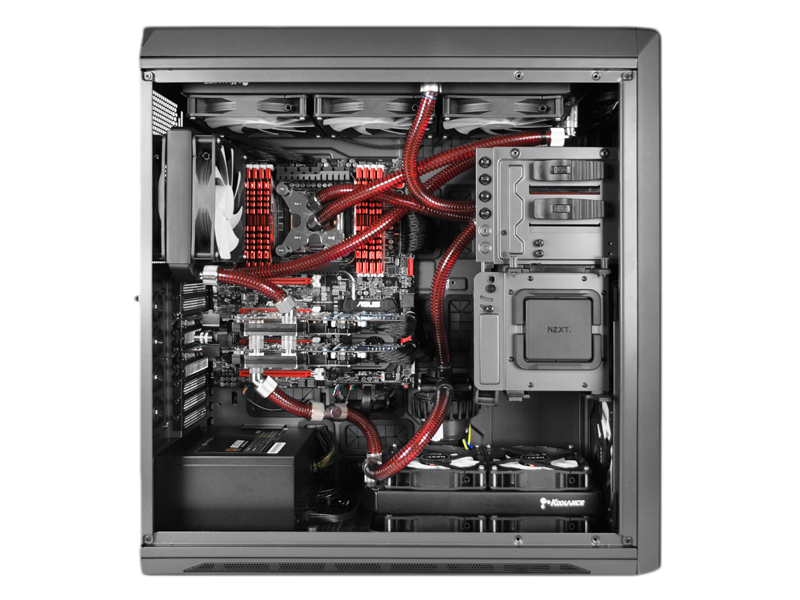 Build Quality and Appearance
NZXT has done an excellent job of creating cases gamers can appreciate from the inside-out. NZXT brings to the table a uniform aesthetic that is neither gaudy nor generic, and they often make their cases available in other colors -- even beyond the popular white or gunmetal. With front & rear white LEDs, a flush acrylic side window, and an angular-yet-polished motif, the Switch 810 comes off as the sexiest a full tower can get.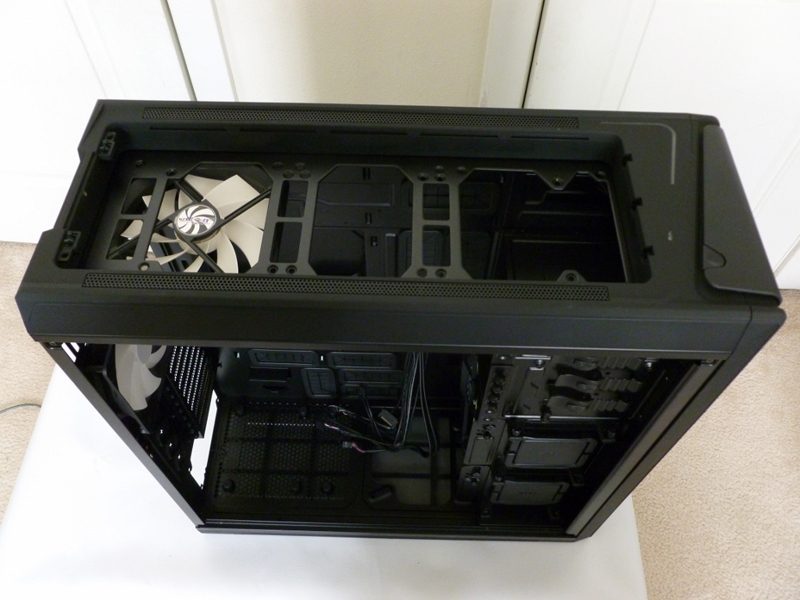 Since you'll likely upgrade your components here and there, you'll want to work with a chassis that holds up well. In our time with the 810, it proved to be very sturdy, particularly the motherboard tray, filters (as far as filter quality goes), and the removable plastic-based parts such as the front bezel and top panel. Its 30.2 lb weight is daunting for the LAN-goer but familiar territory for those who know full tower cases like the Raven and HAF-X.
A couple items to approach cautiously are the hard drive trays and the pins that secure your drive into place, as well as the fragile fan power hub behind the motherboard.
Value and Conclusion
At $170-180, NZXT's full tower offering maximizes value very well. It comes with four fans, an excellent dust management system, and plenty of cable management so that your rig will look and perform at its best at all times. Aesthetically, the Switch 810 is sleek with its angular accents but does not come across as juvenile.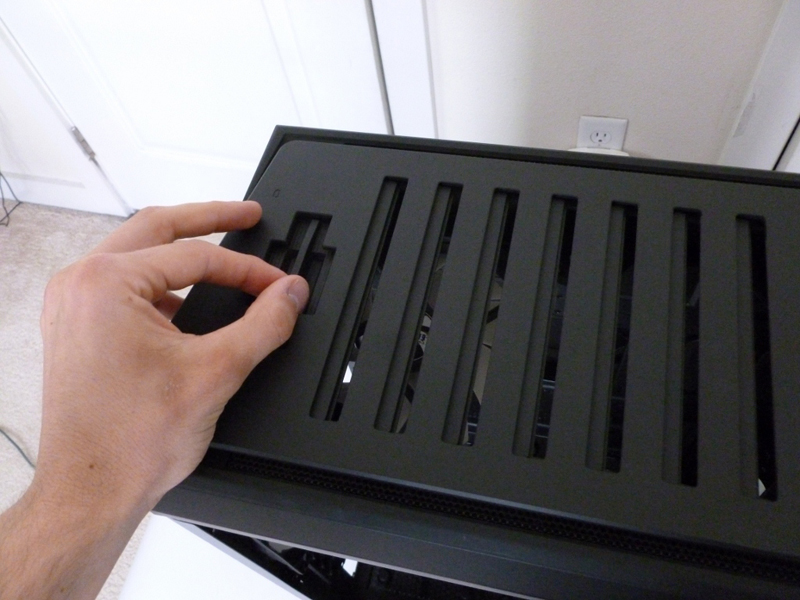 These toggled slots provide dust prevention and a sound barrier.
There are dozens of cases out there that are available for cheaper, and although the Switch 810 does make a good showing for the cost, we always encourage researching all the options: the aforementioned Thor V2 is similarly-equipped (though not to the level of the 810) and easy to work with and slightly cheaper; Corsair's 600T and Thermaltake's Chaser MK-I are also in the running. In terms of similarly-priced cases with a lot to offer, Corsair's Obsidian 650D is one of the most competitive and our hands-on time at PAX East 2012 really demonstrated its build quality and functionality.
There are a couple pitfalls with the Switch 810 that, given your demands in a case, may or may not play a factor in your purchase decision. The least of these pitfalls is the screwdriver requirement, though it's worth mention: You'll need your screwdriver for your system build the first time around. From the side panels, to the expansion slots, to the drive cages, the Switch 810's screws come across as thumbscrews but require some elbow grease. Not a big deal, though.
Second, while dust management is top of its class, I have a couple gripes about the filters. The bottom-front filter must be removed if you want to take off the bezel, and the filter on the bezel itself can only come apart by using a screwdriver; the R5 - which is in a significantly lower class of cases - has far more accessible dust management that can be utilized without tools, so the bar's been raised a bit.
Third, with only single-speed fans and no pre-install fan controllers, the case operates a little noisy under low-stress operation (as mentioned earlier, the airflow is great). Those looking for a more stealth or discrete option may need to consider quieter aftermarket cooling or look elsewhere.
In short, your best bet with the Switch 810 is to make it part of your stay-at-home rig. Go ahead and run multiple video cards and a custom water cooling loop! Once you've got your system all set up inside the Switch 810, you're going to enjoy your fragfest or benchmarking immensely.
~ Nick "stuBEEF" Pinkerton.