Hardware
stub
Rosewill R5 Gaming Case Review
Posted on July 5, 2012
Building budget gaming PCs has become a bit of a hobby of ours -- our latest Guild Wars 2 PC build utilized Zalman's Z11 Plus, we've previously used the HAF 22 and 12 cases, Antec's renowned 300, and many more; when we first spotted the Rosewill R5 at PAX East 2012, we were blown away by its promised features and targeted price-point of $70. Things changed, though, and that prototype version had a few more features added to it (and the red LEDs removed) -- as such, the case is now an $80 mid-entry level gaming enclosure.
We previously reviewed Rosewill's Thor V2 white edition case (which we've just announced we're giving away), so if you're looking to find a gaming case for around $120, go check out that review.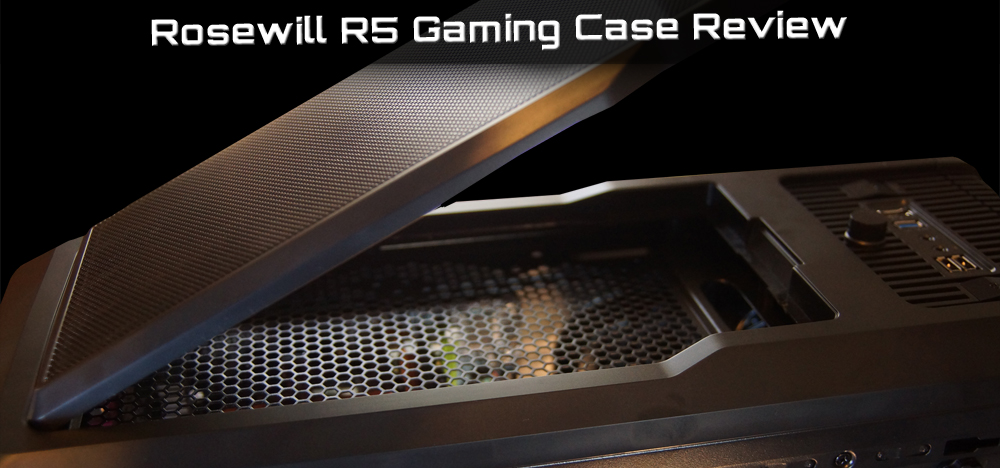 The case has plenty of useful features that had previously been unavailable at this price-range; as case design techniques are becoming more standardized (like dust filters, which used to be only present in the best-of-the-best cases), we now see case manufacturers putting out chassis with increasingly more impressive feature-sets each year. The Rosewill R5 has many peers in the $80 range, but it still competes fairly well and has acceptable build quality. Here's a full spec list for Rosewill's R5 gaming case:
Rosewill R5 Gaming Case Specs
Model
Rosewill R5
Type
ATX Mid Tower
Color
Black
Case Material
SGCC Steel
With Power Supply
No
Power Supply Mounted
Bottom
Motherboard Compatibility
Micro ATX / ATX
With Side Panel Window
No
External 5.25" Drive Bays
3 / 4
External 3.5" Drive Bays
1 / 0 (includes one adapter bracket)
Internal 3.5" Drive Bays
6 (with 2.5" SSD support)
Expansion Slots
7
Front Ports
1 x USB 3.0 (internal 20-pin connector to MB)
1 x e-SATA 
2 x USB 2.0
Audio In/Out(AC97, HD)
1 x Fan speed control knob
140mm Fans

2 x 140mm Side
1 x 140mm Rear
1 x 140mm Top
1 x 140mm Bottom

120mm Fans
2 x 120mm Front (pre-installed)
1 x 120mm Rear (pre-installed)
2 x 120mm Top
2 x 120mm HDD
Side Air duct
Yes
Liquid-cooling Ready
Dimensions(L x W x H)
8.1" x 19.5" x 21.5" (W x H x D) (bezel included)
Weight
19 lbs.
Warranty
1 year limited
Accompanying this written review is our brief video review with a hands-on look at the case itself. Here's the Rosewill R5 video review, for those who'd like to see more of what the case looks like in use:
Features Overview
The R5 tries to win back some territory from its most immediate competitors (like Zalman's Z11 Plus, Cooler Master's Storm Scout, and NZXT's LEXA S) in the form of additional features that aren't necessarily "hard specs" (like fans and cooling options). Primarily boasting effective budget cable management and dust filtration, the R5 does a good job to hold its own in its offerings -- we'll first detail the list that they advertise and then run through each one and how it performs in the real world:
Front-panel fan controller.
USB 3.0 header cable.
Top-mounted I/O with 1xUSB3.0, 2xUSB2.0, eSATA, audio out, and mic in.
GPU clearance for up to 320mm of video card greatness.
4 cable pass-throughs with rubber grommets.
Easily removable top, front, and bottom (4 total - 2 on the bottom) dust filters.
Removable top compartment with room for a 240mm radiator (like the H100).
Tool-less drive bay management.
Support for up to 10 fans.
Just like the Thor V2, there are a lot of features to be had.
The front-panel fan controller is actually fairly usable; it successfully controls fan speeds (though the pre-installed fans are already reasonably quiet, so you might not notice too much of a difference with those) by using a powered chain of 3-pin fan connectors to control by turning the knob. The wiring leading to the fan controller itself is sadly short, and isn't able to stretch behind the case to control the rear fans; this means that connecting to all three of the pre-installed stock fans (the problematic one being the rear exhaust fan), the cable will need to run through the center of the case and, as a result, looks quite sloppy. For this reason, I opted only to control the front two fans (since I could hide those cables within the drive bays) and plugged the rear fan directly into the motherboard.
Top-mounted I/O has been a nice move away from the "kick-your-USB-device-while-walking-by" front-mounted panels that had been so heavily used in previous years. The R5 has (rather strangely) opted to provide a single USB 3.0 front-paneled port, two USB 2.0 ports, the standard audio ports, and eSATA; overall, the front-panel is fairly standard (aside from its use of one USB 3.0 port rather than two) and has nice, responsive buttons that kick-back after being pressed.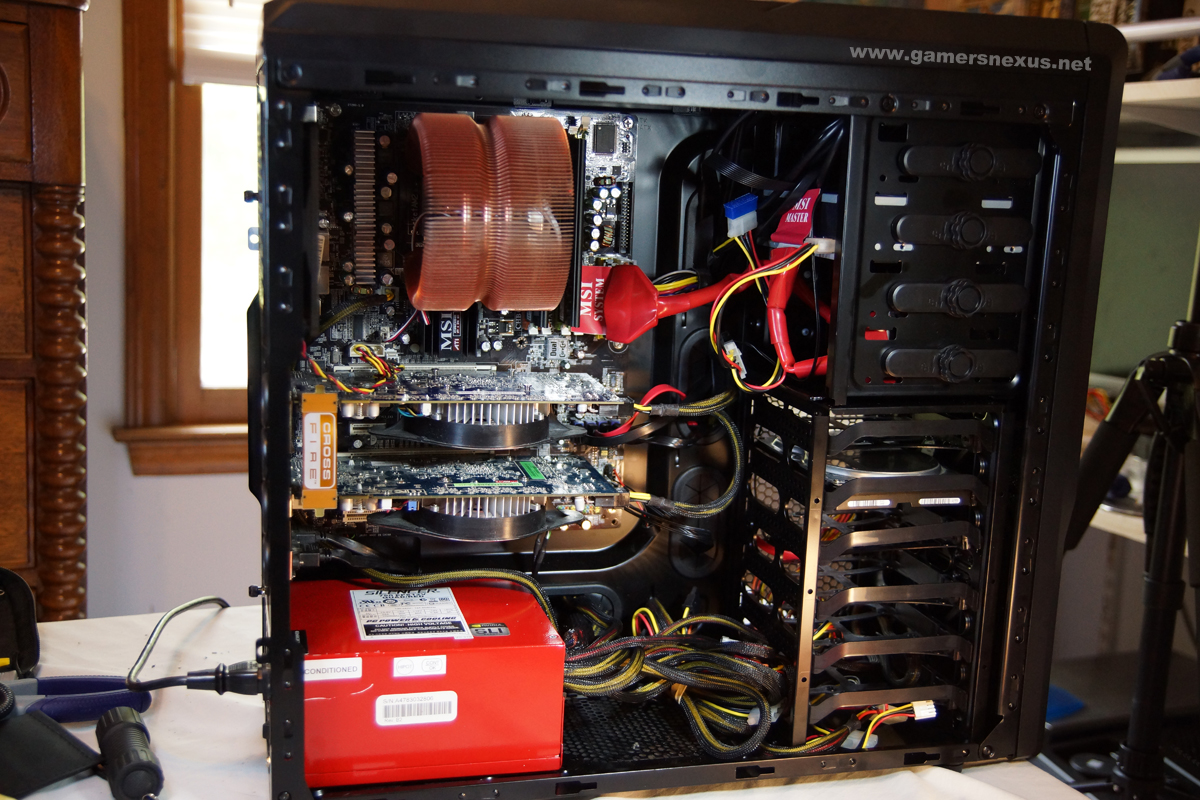 Not the prettiest job, but for a non-modular PSU, not bad.
The cable passthroughs and other cable management features will be more heavily discussed in the next section, but in terms of usability, they're well-placed and generally useful.
Rosewill's focus on dust filters for this case has been a game-changer for us; many high-end cases (the HAF X included) take a good deal of dismantling to easily access all of the pre-installed dust filters, but the R5 has them all externally-removable with latches and slotting, making cleaning a task that takes a matter of seconds. The PSU filters are a little flimsy, but are otherwise what you'd expect in such skinny, bottom-mounted dust managers. The top filter (which is also removable for direct access to a 240mm radiator) is sturdy and quick to clean, as is the front-mounted filter (which can be removed even without taking the front faceplate off). I was impressed with the dust management overall and hope to see more cases make use of these options, even if there's a tiny price hike for it.
Tool-less designs are fairly expected in just about any level of case these days, and for the most part, they're all pretty poor build quality and tend to break easily. The R5 uses turn-to-lock drive mounts, which tend to be a bit better at staying in-tact, and has rear-facing hard drive bays that are pre-mounted with screws and vibration dampers; the drive bay mounts themselves are flexible plastic that feels quite cheap and flimsy, but the optical mounts are acceptable, sturdy, and easy-to-use.
I did want to note that the external drive bay covers require dismounting the front shield from the case, meaning that any future external expansions will necessitate that the builder pop off the front panel to access the face plates. Luckily, this is easily done -- simply pulling lightly on the front shield will reveal that it pops off quite effortlessly and can be re-mounted with equal ease, so this isn't as much of a problem, just something to keep in mind.
Performance & Cable Management
The R5's cable routing is all reasonable, given its price and relative competition, but there's a lot of room for growth. My first disappointment of the nightly build was encountering the lack of support for a 4pin/8pin cable passthrough for the 12v cable -- there's definitely room to cut a hole in the top of the case for such a cable to route through (and I'm tempted to do it myself, actually), but there's not one there by default; at least, not one that'll fit any 4pin cable I've ever seen. Further, there are no gaps to be found between the drive bays and motherboard mounting wall, so anything that's going to go behind the case must be channeled through the dedicated rubber grommets -- there's no room for cabling tricks and wizardry in this case, it's all limited to the features you see.
I also found the top external drive bay to be conflicting with the top I/O panel's cables, and had trouble using the top external slot due to collisions between the drive and the cabling. The second bay worked perfectly fine, though, and allowed room in the top compartment for shoving unused wires.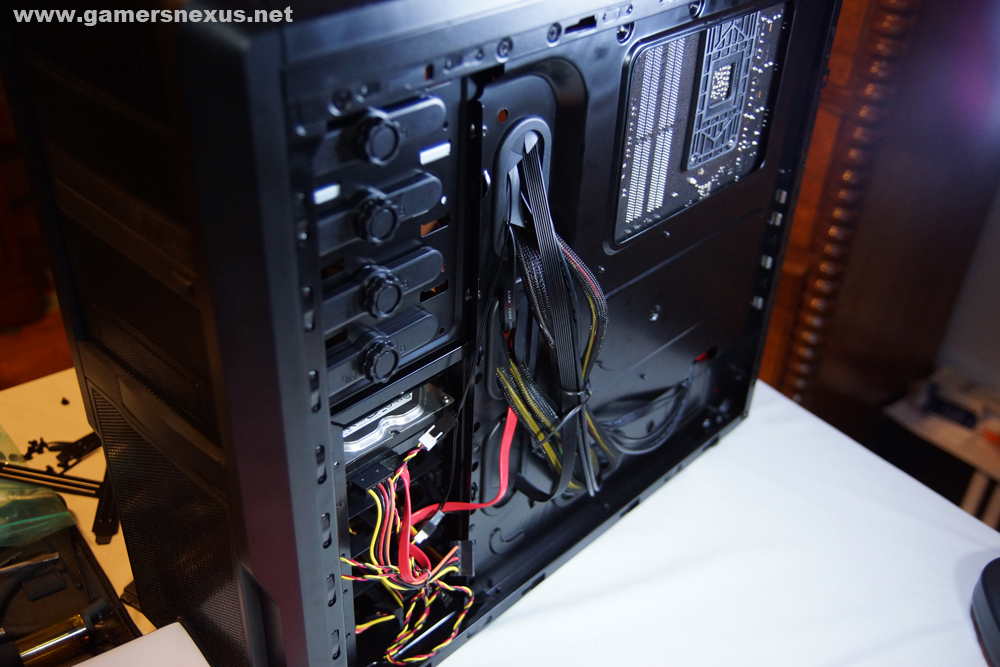 With those complaints out of the way, the rest of the cabling was easy to contend with and naturally fell into place. The back has plenty of tie-off stands for zip ties and twist ties, has channeled passages for cable routing, and has just enough room to fit the ever-thick 24-pin cable behind the motherboard. Everything you see here fit snugly -- it did require a tiny bit of dexterity to get the side panel into place, but it fit nonetheless. There's not a ton of room - maybe enough to overlay a few SATA cables on top of a 24-pin cable, but that's still plenty if proper cable management techniques are implemented.
The whole case is actually very clean. I'm pleased with the results (and used a non-modular PSU, since most builders using this case will likely be limited to one). For anyone looking for mid-range cable managing options in the sub-$100 range, this case should be on your shortlist of possibilities, despite its few flaws.
Thermals weren't anything special in the R5 - of the two systems I fitted in the case, both maintained the thermals that they exhibited in other similarly-priced cases. The stock fans are good enough to keep temperatures under control (assuming a non-overclocked, realistic PC for this case), but not enough to keep it ultra cool. I found the case fans to be quieter than the PSU fans and aftermarket CPU heatsink, which is how it should be.
Build Quality & Appearance
External build quality is important, as is appearance. You're going to be looking at this thing for years - might as well be sure you like it (and be sure it doesn't fall apart). The R5 has a more discrete look to it than most cases, and would blend in easily with most "workstation" desktops found in offices; it doesn't scream gamer, but that's neither good nor bad. It's all personal preference, as we've discussed before. The case holds up well to being lugged around and has a sturdy chassis and solid walls (and is made primarily of steel); the quality of the buttons is nice and springy, but the hard drive bays are a bit flimsy and feel incredibly cheap. This shouldn't be a deciding factor, though, since they're not flimsy to the point of breaking (unless something careless happens), but for anyone sticking a 15000 RPM SCSI/SAS drive in here, there may be some vibration problems. Not that anyone with such a drive would be limited to an $80 case...
It held up well to the two builds I added and removed, and not a single part was broken in the installation or removal processes. I did fear I'd break one of the bottom-mounted dust filters from careless removal or would snap plastic in the front shield when taking it off, but that didn't happen in my time with the case.
Value
And now the deciding point - value. "Value" is our relative measurement of quality-to-price, so keep in mind that the value of a high-priced case can actually be quite low if its equally-priced peers are more promising, similarly, the value of the R5 will fluctuate based more upon its peers and cost-to-gain.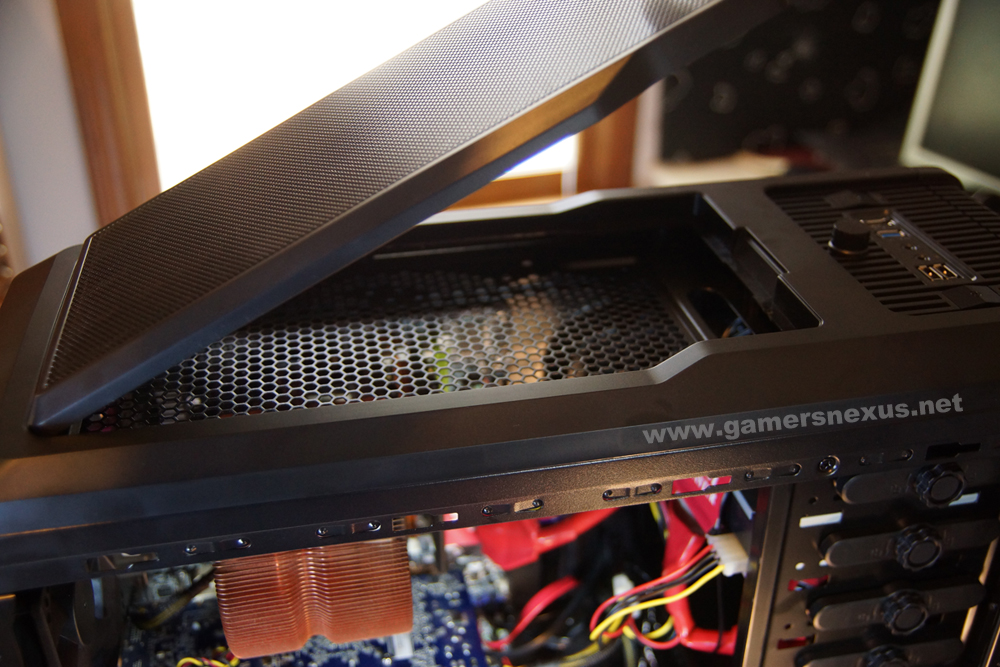 Quite simply, it's a good case. The point of decision to be made between the R5, the Z11 Plus, the Storm Scout, and the dozens of other similarly-priced cases will be the external appearance. They're all fairly good in their own ways, but if you want something discrete and office-like, this is probably the way to go. A more traditional "Transformer-esque" case can be found in the Z11 Plus, while raw quality can be found in the Storm Scout's rigid backbone.
The R5's creation of a "cable management lite" option in gaming cases, along with its huge support of dirt / dust management, makes it an awesome option for any neat freak who's limited to $80. It'd be a bit better with a few extra holes drilled in some key locations, but it's still respectable for what it is.
I can see this getting use in a future PC build that we do, for sure.
-Steve "Lelldorianx" Burke.