Hardware
stub
Phanteks Evolv X Case Review: Dual-System, Thermals, & Quality
Posted on October 21, 2018
The Phanteks Evolv X has gotten a lot of praise lately. We had to wait for one of our readers/viewers to spare a unit (thanks, Kris!) so that we could run the Evolv X through our full suite of tests. The Evolv X is primarily interesting for its dual-system expansion capabilities, wherein the Revolt X PSU can be used to power two systems jointly. Phanteks is selling its Evolv X for $200 base, $465 for the combo with the Revolt X and ITX mounting plate, and is also selling several accessories for added cost (like SSD sleds, for instance). Phanteks has been unable to accommodate a meeting with us the past four times that we've tried, so we figured we'd source the case separately and review it. We're not sure if it's a lack of confidence in its products, but we wanted to find out.
Today, we're reviewing the Phanteks Evolv X case for build quality, thermals, cable management, dual-system assembly, and more.
Phanteks Evolv X Specs
Dimensions (WxHxD)

240mm x 520mm x 510mm

Form Factor

Mid-Tower

Materials

Anodized aluminum panels

Powder coated steel chassis

Tempered glass side panels

MB Support

E-ATX, ATX, Micro-ATX, Mini ITX

Front I/O

1x USB 3.1 Gen 2 Type-C, 2x USB 3.0, Power button, Microphone, Headphone, D-RGB Mode button, D-RGB Color button

Side Window

Yes, Tempered glass (tinted) both sides

PCI Slots

7

Internal 3.5"

10x (4 included)

Internal 2.5"

9x (6 included)

Fan Support

Front: 3x 120mm or 3x 130mm (2 installed)

Top: 3x 120mm or 2x 140mm

Rear: 1x 120mm or 1x 140mm (1 installed)

Radiator Support

Front: up to 120mm x 360mm or 140mm x 420mm

Top: up to 120mm x 360mm or 140mm x 280mm

Rear: 120mm or 140mm

Clearance

CPU Cooler: 190mm

GPU length: 435mm

Front Radiator + Fan Thickness: 95mm

Top Radiator + Fan Thickness: 65mm (no limit if mobo and components are 50mm or lower)

Net Weight

15KG
Phanteks Evolv X Build & Dual-System Build
Getting into the case is easy enough. The side panels hinge outwards from the front, but they clip shut behind the front panel. Four thumbscrews can be put through the panels to hold them more securely, but we'd recommend leaving them out unless the system is being moved--otherwise the front panel must first be removed in order to take the screws out. The hinges work well, the doors swing a full 180 degrees, and lifting the doors off of their pins is easy. We would like to see more hinges like the View 71's, where the pins are of unequal height so that they can be lined up and inserted one at a time. Like the C700M, the Evolv X has a very easily removable front panel with spring-loaded pins connecting the built in LED strips.
The default LED patterns are smooth and un-obnoxious enough to be usable, but they also accept D-RGB control (3 pin, 5 volt). The cables are tucked away and clutter isn't bad. In fact, the factory cable management was a little overzealous, as the power button cable had been stretched too tight and unplugged when we received the case. Cable management in general is good thanks to built-in velcro straps and hinged metal cable covers. There are also sliding plastic shields that can cover unoccupied cable cutouts, but these aren't especially useful.
The SSD mounts could use some rethinking. There are six places to mount 2.5" drives on the inside of the metal cable covers, but they're oriented so that the power and SATA cables point inwards, towards the hinge. That means that when the hinge is closed, the cables are crushed into a corner, putting strain on the plugs. There are also some more conventional SSD bracket mounts on the back of the motherboard tray, but the SSD brackets are sold separately. We opted to just use one of the four included 3.5" bays to house our boot drive, which worked just fine.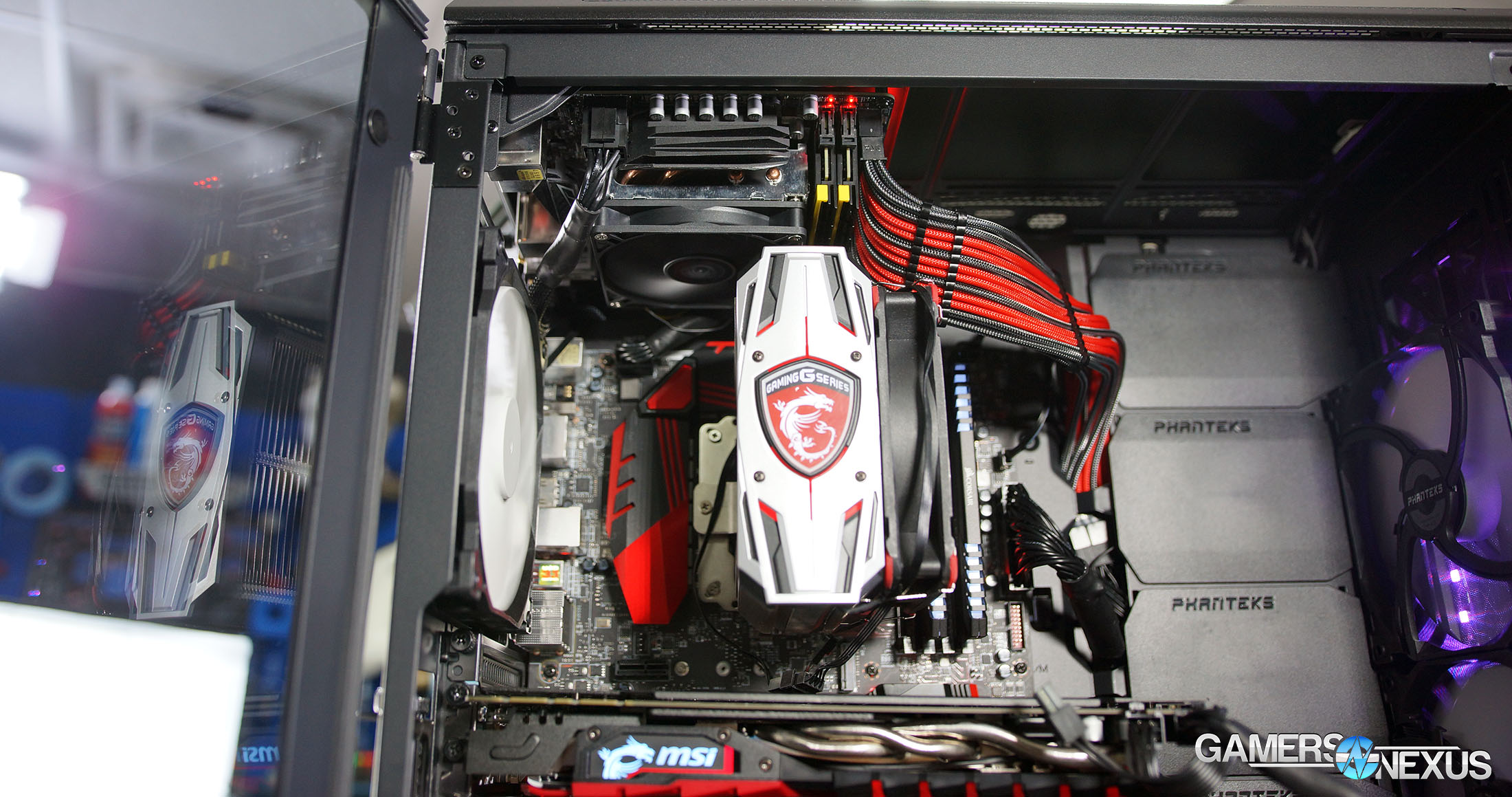 Phanteks is big on extras and features, some more useful than others. One pleasant surprise was the plastic box with various screws already sorted out in it. There's also an "airflow cover" that we didn't get a chance to test, but which is designed to block air from recirculating through unoccupied fan mounts, something we experimented with in the Bitfenix Enso. The vertical GPU mount isn't anything new, but it's three slots wide in the Evolv rather than the usual two. That means either GPUs that take up more than two slots can be mounted vertically (bad idea), or GPUs that take up two or less slots can be mounted vertically with decent clearance from the side panel (better idea). The top radiator/fan mount is removable, which is always a good feature, but we'd like to see a similar removable mount in the front as well.
There was only one major fit-and-finish problem. The case fans have a raised rim at the end of each blade, and one was wedged tightly into the front fan mount when it first arrived. Fixing it required slightly loosening the fan screws, or else it was impossible for the fan to rotate. Part of the problem is that the front fan mount is made of thin, flexible pieces of metal that can buckle inwards towards the fans.
The fans are plugged into a hub by default. The hub can either run the fans at full speed or accept PWM control, but there are no other buttons or sliders to control speed. AIDA reported the top fan speed as roughly 1200RPM regardless of whether they were attached to the hub or directly to the motherboard.
DUAL SYSTEMS
The specific case we tested was actually preordered and loaned to us by a viewer, who chose the 1200W dual system combo in black. That's a $465 package that includes the case, a 1200W 80+ Platinum PSU capable of powering two systems, and a small bracket for an ITX motherboard. It does not include a riser cable, but it does include all the mounting hardware for one. The ITX bracket is available for purchase separately for $15 alone or combined with a x1 or x16 PCIe riser cable. Both cables are currently sold out, so we can't check prices, but a Thermaltake x16 cable of equivalent length is more than $60.
We didn't appreciate the "DLC" approach to cases with the P400, but it's much more appropriate for a luxury feature like dual system support, since the vast majority of users have no need for it. We still wanted to test it, though, so we tried to think of the most logical reason to run two separate systems in a single case. The list is limited because a GPU can't be installed in the secondary system without running a 600mm riser cable (again, not included in this bundle) down to the vertical GPU mount, and doing so could conflict with the GPU in the primary system. Similarly, a PCIe capture card can't be installed in the secondary system without running at least a x1 riser cable down to the vertical mount, or x4 for a higher-bandwidth card like the 4K60 Pro.
The most practical use case is to capture footage from the larger system using an external capture card and a CPU with an IGP, which isn't really the luxurious full-fat approach that someone willing to spend $465 on a case and PSU might want to take. For example, it'd help to have additional CPU cores in the system encoding the stream, but the R7s or i7s that fit the bill don't have integrated graphics.
The ITX bracket was easier to work with than most of the small form factor cases we've reviewed: it's just a metal frame with a power button that screws onto the motherboard. This in turn can be inserted into the upper rear of the main case and attached to the top fan/radiator mount. Unfortunately, the mini ITX frame clamps the radiator mount to the chassis. It'd be more convenient if it was possible to just screw the ITX system on like a radiator and then pop it in or out of the case.
This isn't a power supply review, but the Seasonic 1200W Revolt X powered both systems without a hitch during testing, and it deserves some credit for being the only PSU we're aware of that's designed to do so.
Case Testing Methodology
GN Case Testing Bench (Sponsored by CableMod)
The video card is configured to run at 55% fan speed at all times.
Prior to load testing, we collect idle temperature results for ten minutes to determine the unloaded cooling performance of a case's fans and air channels. Thermal benchmarking is conducted for 1400 seconds (23 minutes), a period we've determined sufficient for achieving equilibrium. The over-time data is aggregated and will occasionally be compiled into charts, if interesting or relevant. The equilibrium performance is averaged to create the below charts.
Load testing is conducted using Prime95 LFFTs and Kombustor "FurMark" stress testing simultaneously. Testing is completely automated using in-house scripting, and executes with perfect accuracy on every run.
We recently validated our test methodology using a thermal chamber, finding our approach to be nearly perfectly accurate. Learn more here.
THERMALS & NOISE
We did two torture passes rather than one to verify our baseline results, but for simplicity's sake we're only listing the first run. The runs were within margin of error of each other. We also tested with a vertical GPU (in the two slots closest to the motherboard), without the front panel, and with neither the front panel or filter. We also did some dual-system testing by running Firestrike on the main system and streaming it with the secondary one. It isn't directly comparable to other cases, but it is comparable to the regular Firestrike results for this case.
For dual-system testing, our OBS settings are 12Mbps at Faster, using the Ripsaw externally.
CPU Torture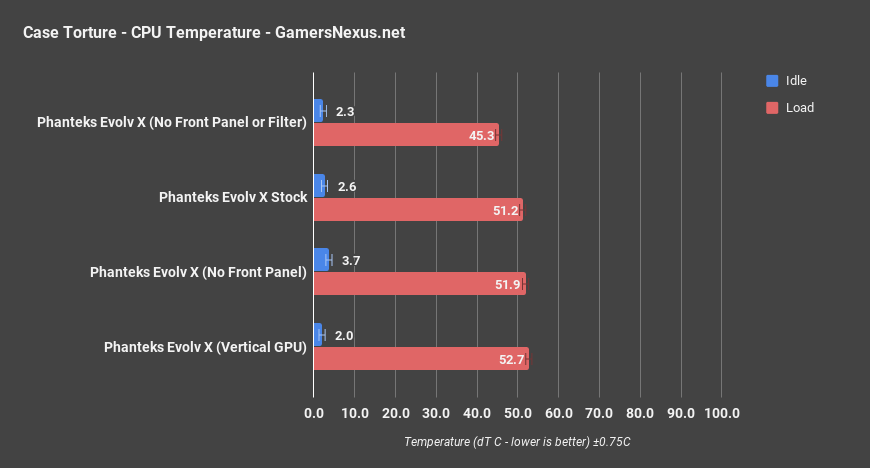 As usual, we're starting with CPU torture testing. We'll start with just the Phanteks results, then move to the comparative data. CPU temperature averaged 51.2 degrees Celsius delta T over ambient in torture testing for baseline. Taking the front panel off had no significant impact on the delta, and landed us at 51.9 degrees over ambient. That's within margin of error of the baseline, and so is functionally the same. For its relatively low pressure fans, Phanteks is getting sufficient air around that front panel. This would likely become more of an issue with higher pressure fans. Despite appearances of a choked front, Phanteks has done a good job of spacing the front panel away from the intake fans and leaving wide gaps for airflow. Removing the filter as well as the front panel did lower CPU temperature down to 45.3 degrees, though, revealing the real bottleneck. That dust filter heavily impedes airflow, which is a mixture of stock fans with low static pressure performance and the filter itself. Mounting the GPU vertically raised the CPU temperature slightly, up to 52.7C dT, but that could be a good sign since we sometimes see CPU temperatures drop when the GPU is being suffocated in a vertical mount. We'll show the other half of this result in a moment.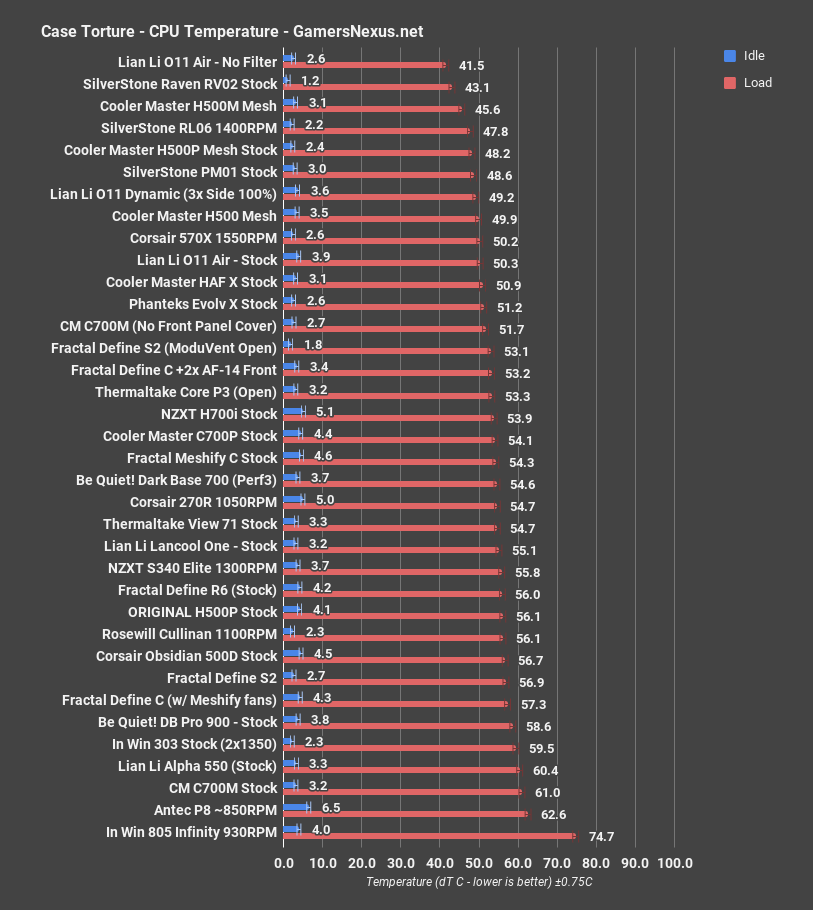 Comparatively, 51.2 degrees over ambient puts the Evolv X in the CPU temperature range of the stock HAF X or the C700M with its front cover removed. That's respectable company to be in and is a bit better than the center of the pack. The straight front-to-back airflow pattern between the upper intake fan and the rear exhaust fan benefits our CPU cooler, which sits exactly in between them. Other nearby cases that did well include the H500 non-P Mesh case at $100, operating at 49.9 degrees. We previously praised this one as a good value and performance mixture. For clarity, that's the H500 Mesh. Not the H500P Mesh, and not the H500M. Also not the NZXT H500. Hopefully the editors figure out which one we're talking about. The H700i is similarly priced -- or cheaper, if you go for the H700 -- and ends up a couple degrees warmer than the Evolv X. The H500P Mesh operates at an advantaged 48 degrees over ambient, and is also similarly priced.
GPU Torture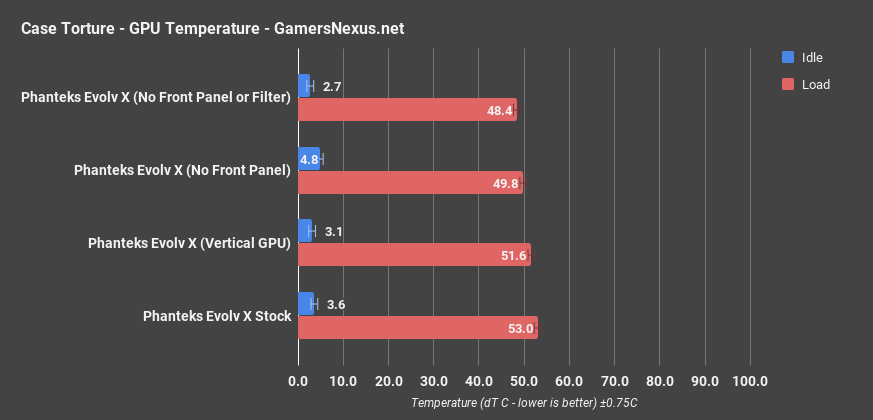 GPU torture temperatures for just the Evolv X are next. Stock GPU temperature was 53 degrees Celsius delta T over ambient on average. It was more responsive than the CPU to removing the front panel and dropped down to 49.8 degrees over ambient, and dropped further with the filter removed, down to 48.4 degrees dT. The vertical GPU test was also a bit cooler than the baseline test, which is truly impressive given how many times we've seen the GPU break 60C dT when mounted vertically. Phanteks has provided enough clearance with the side panel and the CPU cooler that, for once, it may not be a terrible idea to use the vertical mount with an air-cooled card, as long as it's in the slots closest to the motherboard. If you were to mount in the slot closer to the panel, it would obviously be a problem.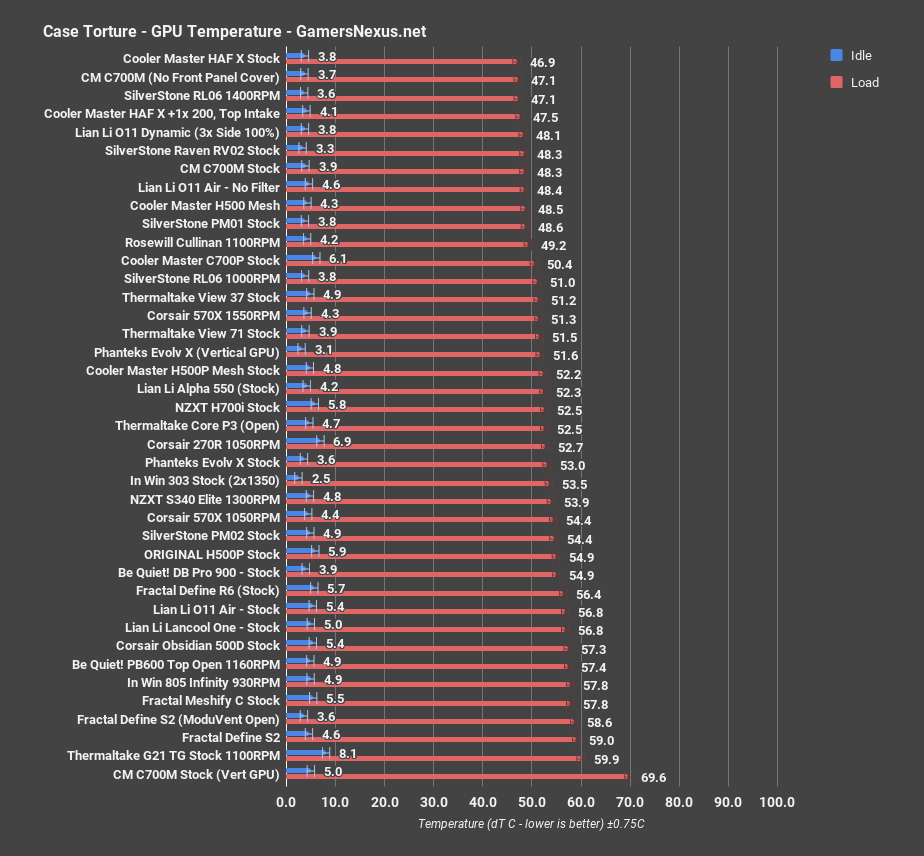 Here's the comparative chart. The Corsair 270R and Thermaltake Core P3 are comparable in terms of GPU cooling. The P3 is open but has no fans, and the 270R only comes with two 120mm fans, but they're both average performers. As for cases priced similarly to the non-combo Evolv X, the H500P Mesh operates a GPU temperature of 52.2 degrees over ambient, and the H700i ends up at around 52.5 degrees. These are similar in performance to the Evolv X's 53 degree stock temperature. There's a steady supply of air along the bottom of the case from the lower intake fan, but it's not quite as direct as with the CPU.
3DMark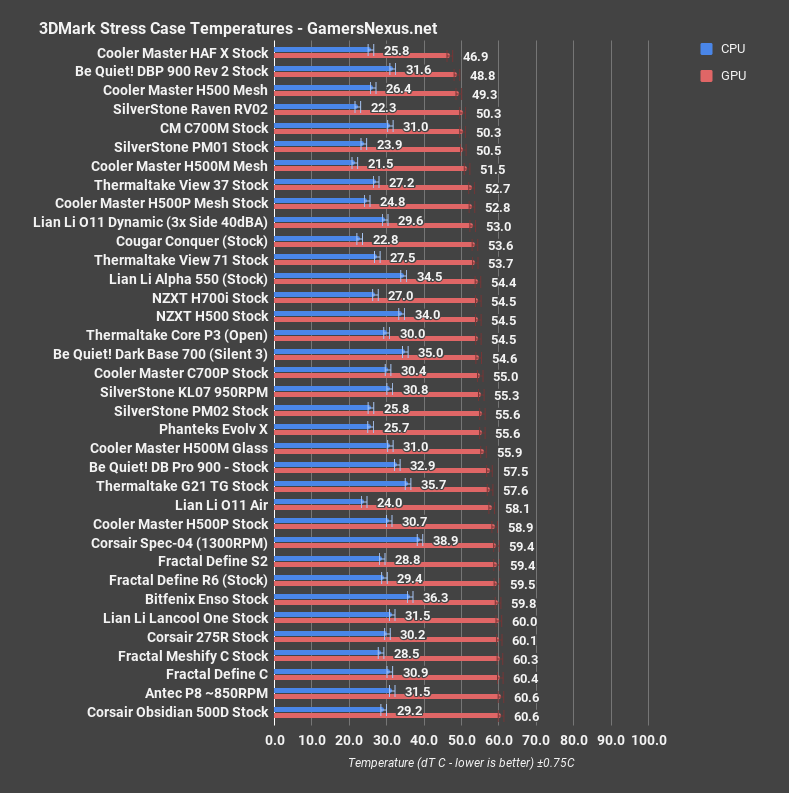 3DMark GPU dT was 55.6C dT on average, with an accompanying CPU dT of 25.7C. That's the same as the PM02, an okay case that suffers heavily in comparison to the PM01. Both CPU and GPU results are important to note this time since they're the baseline temperatures for our dual system test.
Dual System Test

Here's the test everyone has been waiting for: A dual-system build in the same box, testing thermals in a real-world use case. As a reminder, we used an i5-8400 as a stream capture CPU. Realistically, we'd recommend an R5 1600 or 2600 for an actual build, but that'd require some sort of display out as well. The i5-8400 is still perfectly capable for encoding a livestream and also has an IGP. Anyway, this isn't a build guide, it's just a CPU to generate some heat. For our lower system, we used Firestrike Extreme on loop, then captured its output with the top system.
The stream test with two systems resulted in a lower GPU temperature than the ATX-only test. The new result is 53.6 degrees over ambient for the system running Firestrike with capture, actually slightly lower than the stock 55.6-degree Firestrike test. There's good reason for this: With a new gap in the rear of the case and an additional CPU cooler exhausting some air out of it, more GPU exhaust was drawn upwards. This helps reduce radiative heat trappage near the back-side of the GPU, which causes our 2-degree delta. This is reflected in the 33.3 degree CPU temperature of the Firestrike system, which is much higher than the original CPU temperature of 25.7 degrees in the single-system Firestrike test. All that extra heat has to go somewhere -- it's not going to just be cooler all-around -- and the extra heat is getting pulled through the primary CPU socket area. The mini ITX system was responsible only for streaming the output from the ATX system using an external capture card. An internal capture card or secondary GPU for video-out would increase temperature accordingly.
We recorded thermal data for both systems, but the hard numbers here are of limited use without anything to compare them to. The take-away is that it's not as much of a thermal hotbox we might have expected, which is partly thanks to modern CPUs drawing lower power, like the i5-8400. We used a low-profile cooler on our mini ITX streaming system because the CPU cooler of the main system was in the way, and that's likely the approach that most users will take. That ended up around 53 degrees over ambient, which is getting warm. It worked fine using the smaller system exclusively for streaming, but any additional load or overclocking would push the limits of such a small cooler. Regardless of how good or bad the results are, it's hard not to think about how much better the thermals would get just by taking the secondary system out of the case and running it on the desk beside it, if space permits and if you don't want to spend $465 on a case and power supply combo.
Blender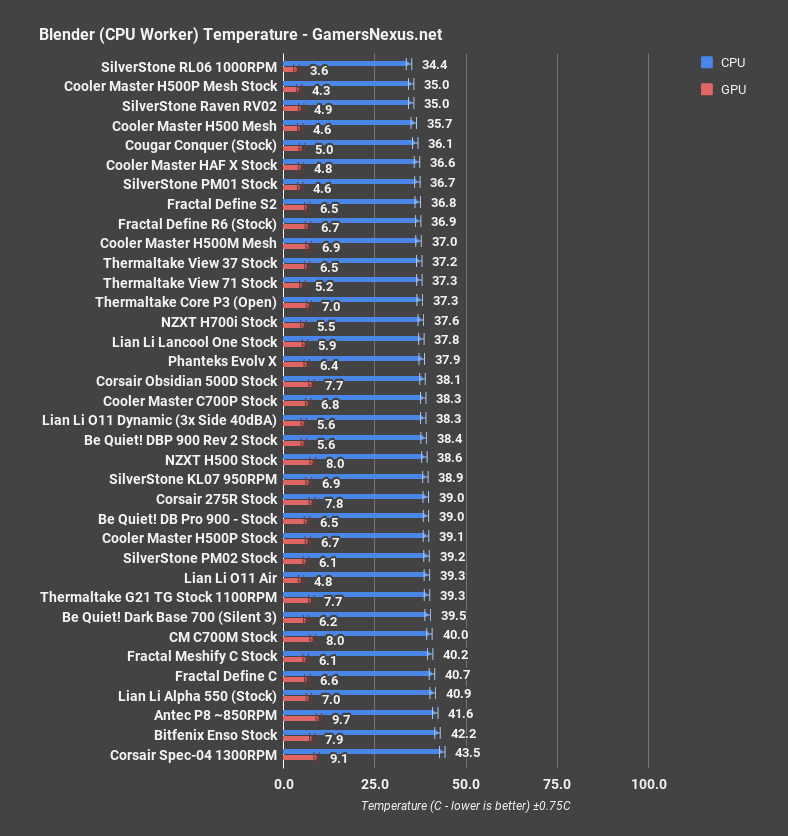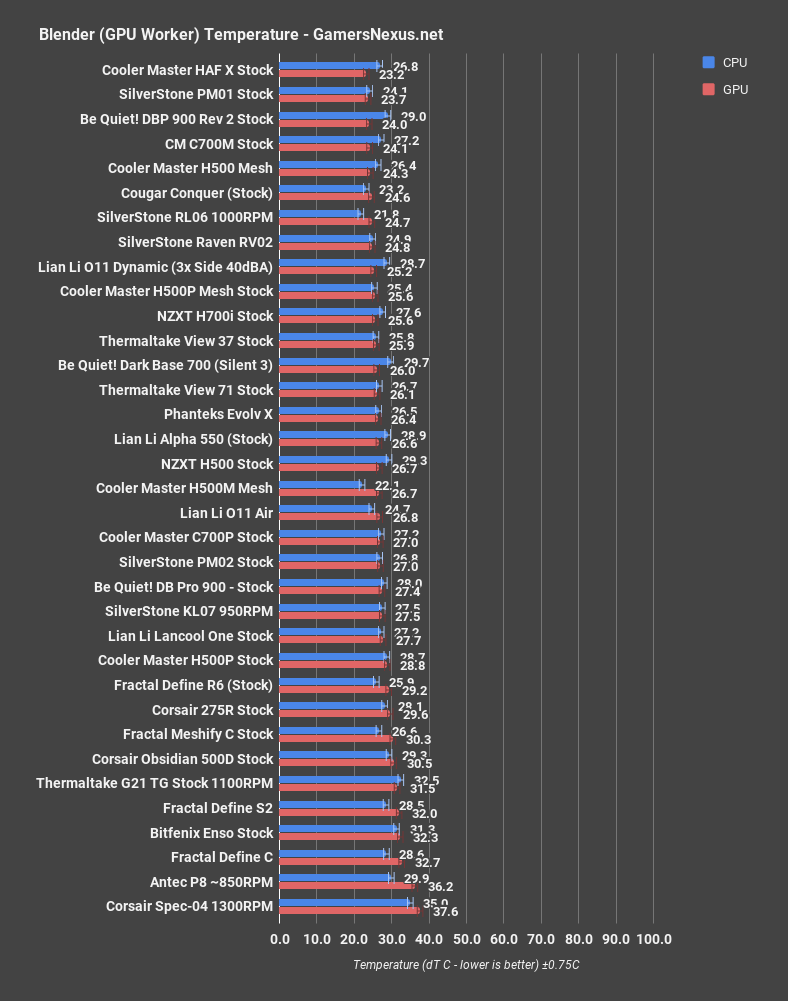 Rendering on the CPU brought the Evolv X's CPU dT to 37.9C, between the Lancool One and the 500D and still almost exactly in the middle of the chart. Rendering on the GPU brought GPU dT to 26.4. That's about the same in terms of chart positioning, but between two all-glass cases this time, the View 71 and the Alpha 550.
Noise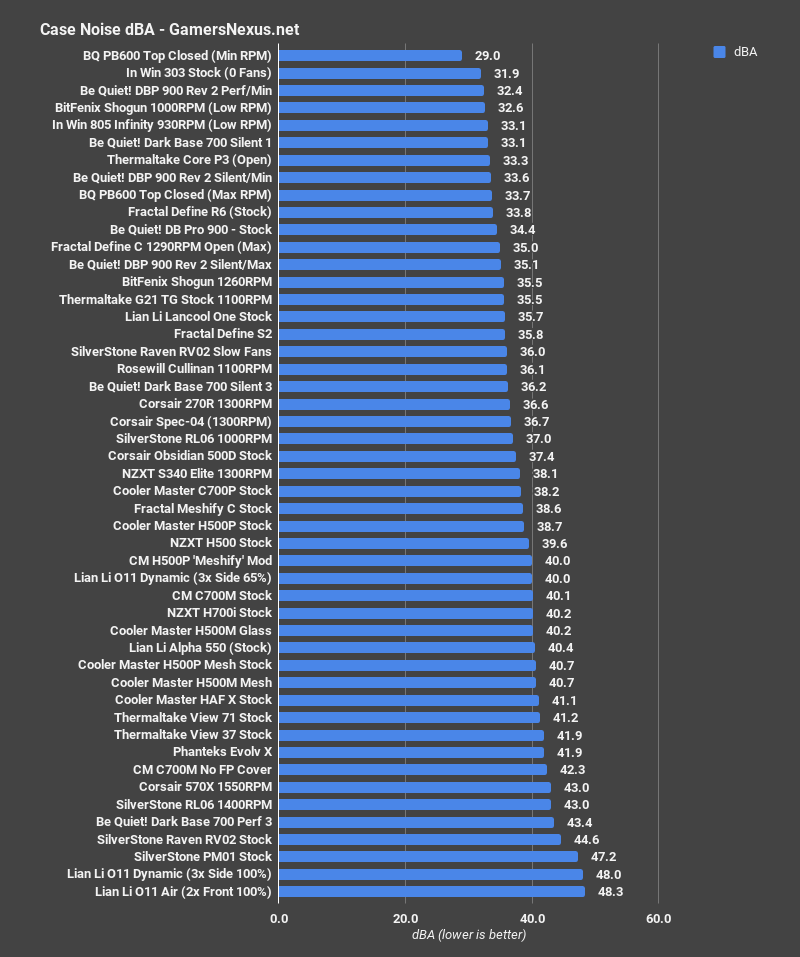 We measured the noise level to be 41.9dBA at max fan speed, which is relatively loud. Although the glass side panels have rubber seals along the edges, there's not much obstructing noise coming from the front case fans. The case fans don't need to run at maximum RPM all the time, but keep in mind that they will unless the fan hub is connected to a motherboard header.
Conclusion
This isn't a bad case. We're aware that people have very strong opinions about Phanteks, and if the design of this specific case is appealing, $200 isn't an astronomical price to pay for it. The thermal performance is adequate, better than the front panel might suggest. The base model includes three fans and most of the accessories that it should, although for the price we'd like to see a riser cable and a couple SSD bays included. With all that said, $200 could also buy an H500M, another dual-glass-panelled case we liked and that performed better in our thermal testing. We even finished that review by suggesting that the H500P Mesh was a better bargain. MSRP on the View 71 RGB was also $200, although it can be found for less now. NZXT's H700 is also a direct competitor, as is be quiet!'s Dark Base Pro 900.
Dual system compatibility is the one (non-aesthetic) feature that really sets the Evolv X apart from other cases in or below its price range. There aren't many reasons it would make sense to build two systems in the Evolv X instead of just using two cases and two PSUs. It's more flexible, it's better for thermals, and it would be cheaper. Space is the primary benefit of the two-in-one approach.
Editorial, Testing: Patrick Lathan
Editorial, Test Lead: Steve Burke
Video: Keegan Gallick, Andrew Coleman, Josh Svoboda