Hardware
stub
Cooler Master Cosmos C700P Review: Thermals, Noise, & Build
Posted on October 4, 2017
We first went hands-on with the C700P and H500P at Computex this year, and since then Cooler Master has been building excitement for their releases in a way that's rare for enclosures. The C700P is one of the newest in the Cosmos line, which also recently added the Cosmos II 25th Anniversary Edition. Our initial review of the Cosmos C700P was conducted at PAX -- later renamed to "preview," because some struggling publications lamented the use of the words "initial review" -- and covered the case inversion process and other installation features. This is a follow-up to that, finalizing the thermal and acoustics analysis.
Cooler Master has revised their website since we mentioned the C700P in our Thermaltake View 71 TG review, correcting the its weight: it's actually 49 pounds, not 58. The CM website had initially suggested the case would weigh 26.2kg but, after double-checking, we can say that the 22.2kg weight is accurate. Not that it's a big difference, at that point.
For Steve's take on the case, check the video below. The team's written review of the case will continue after the specs listing.
Cooler Master Cosmos C700P Specs
Form Factor

Full Tower

Motherboard Support

Mini-ITX, Micro-ATX, ATX, E-ATX (Support 12" x 11")

Dimensions

639 x 306 x 651mm (L x W x H)

Weight

22.2 kg / 48.9 lb (incorrectly listed originally as 26.2 kg / 57.8 lb)

I/O

USB 3.1 Gen 2 Type C x 1,
USB 3.0 x 4,
Fan Speed & RGB control buttons,
Audio In / Out (supports HD Audio)

Expansion/Bays

8 x expansion slots




Drive bays:

1 x 5.25"

2 x 2.5"/3.5" HDD

2 x 2.5" SSD

2 x 5.25"




Drive Bays support:

2 x 5.25"
8 x 2.5"/3.5" HDD or 9 with ODD bay removed
2 x 2.5" SSD

Cooling

Fans:
Top: 120/140mm fan x 3
Bottom (w/additional bracket): 120/140mm fan x 2
Front: 120/140mm fan x 3 (2 x 140mm preinstalled)
Rear: 120/140mm fan x 1 (1 x 140mm preinstalled)




Radiators:

Top: 120mm, 140mm, 240mm, 280mm, 360mm (requires removal of ODD cage)
Bottom (w/additional bracket): 120mm, 140mm, 240mm
Front: 120mm, 140mm 240mm, 280mm, 360mm, 420mm (requires removal of ODD cage)
Rear: 120mm, 140mm

MSRP

$170 ($200 for the RGB Edition)
Installation & Cable Management of C700P
Cooler Master has created a case that's definitely new, but still fits the Cosmos lineage. The C700P has the familiar height, angled side panels, and prominent handles of other Cosmos cases, but with more parallel lines and front-to-back symmetry. The RGB LEDs integrated into the top and bottom panels look like subtle strips of white plastic trim at first, but when they're lit, they illuminate the whole case, reflecting off the bottom of the aluminum handles in a way that's impressive.
Although the C700P does have a large glass side panel, the default layout obscures much of the interior, making the external LEDs the focus. The PSU shroud and a large plate of metal hiding the HDD and ODD bays can be removed to make internal components fully visible, but the case won't fully benefit from flashy LED fans--even the top panel has a double layer of mesh that would obscure them. The fans Cooler Master ships with the case are plain and functional.
The panel includes some basic controls for case lighting (which can optionally be synced with the motherboard) and fan speed, with labeled LEDs to indicate the current settings. Fan speed can either be high or low, which means 12v or 7v DC. I/O consists of a single USB 3.1 port sandwiched between four 3.0 ports and standard 3.5mm mic and headphone jacks beneath. We expect to see more high-end cases following suit and not bothering with 2.0 as time goes on.
One of the strong points of the massive full towers we've reviewed recently--the Dark Base 900 (review here) and View 71 TG (review here), for example--is that they dwarf the ATX board we use for testing and leave plenty of room for coolers and cable management. The PSU is held above the floor of the case and has ample clearance on all sides, even with the shroud installed. There's tons of room for cables, and there's a steel plate that screws on under the side panel to keep things secure without relying on the side panel to mash everything down.
The size goes hand-in-hand with one of the weak points, though, which is that they're practically impossible to maneuver. The C700P wasn't quite as heavy as we initially thought (based on an incorrect listing), but 50 pounds is still far too much to be casually flipping around during the build process. We left the case completely stationary and installed the motherboard and GPU without laying it on its side, which is quite a feat, especially with particularly difficult-to-access PCIe screws. The metal handles on Cosmos cases are typically more aesthetic than functional, but in this instance they were quite useful for hauling the case between rooms. Each is made of solid aluminum and held in place with four screws.
Taking the side panels off is simply a matter of hinging them out and then lifting them up without undoing any screws; in a way, it's like a fancier version of the In Win 303's toolless side panel. All the panels are easy to remove: the back is attached magnetically, the front hinges and then lifts out, and the top and bottom filters are easily accessible. Fully disassembling the case to change the layout may be time-consuming, but daily maintenance is a breeze.
There were a couple odd aspects of the case, most of which are probably due to the invertibility, as in our Dark Base Pro 900 review. The magnetic rear part of the case mentioned above is a plastic frame to cover the side panel hinges and complete a ring of silver trim. Ours doesn't quite line up at the bottom, and it's the only piece of the case that feels cheap. The shroud hangs over the PSU but doesn't fully reach the motherboard tray, which leaves much more room for cable routing but makes it feel unsturdy. Neither of these affected the case's functionality.
Case Testing Methodology
We tested using our new Skylake case test bench, detailed in the table below. This particular configuration is brand new with the launch of the 570X & 270R. Results on this test platform cannot be compared to previous case benchmark results, as the platform has completely changed.
Conducting thermal tests requires careful measurement of temperatures in the surrounding environment. We control for ambient by constantly measuring temperatures with thermocouples and laser readers. We then produce charts using a Delta T(emperature) over Ambient value. This value subtracts the thermo-logged ambient value from the measured diode temperatures, producing a delta report of thermals. AIDA64 is used for logging thermals of silicon components, including the GPU diode.
All case fans are manually configured to their maximum throughput using BIOS, then we configure to an RPM closer to 1050 for a universal "quiet" testing. If a fan controller is present, we opt-in and test on multiple settings. This forces testing of case fan performance in addition to the case's air channeling and airstream design. This also ensures minimal variance when testing, as automatically controlled fan speeds can reduce reliability of benchmarking. The CPU fan is set to 1100RPM (constant) for consistency, and the CPU is overclocked to 4.4GHz with a vCore of 1.272V (constant). C-States and power saving states are disabled.
The video card is configured to run at 55% fan speed at all times.
Prior to load testing, we collect idle temperature results for ten minutes to determine the unloaded cooling performance of a case's fans and air channels. Thermal benchmarking is conducted for 1400 seconds (23 minutes), a period we've determined sufficient for achieving equilibrium. The over-time data is aggregated and will occasionally be compiled into charts, if interesting or relevant. The equilibrium performance is averaged to create the below charts.
Load testing is conducted using Prime95 LFFTs and Kombustor "FurMark" stress testing simultaneously. Testing is completely automated using in-house scripting, and executes with perfect accuracy on every run.
We recently validated our test methodology using a thermal chamber, finding our approach to be nearly perfectly accurate. Learn more here.
Thermal Testing
The front panel has hardly any room for ventilation at all, something we were worried about as soon as we saw the case. There's a thin plastic panel covering a mesh filter underneath, which is backed with an even finer mesh. The top and bottom filters are constructed in the same sturdy but potentially restrictive manner. There are three 140mm fans included with the case, listed as 1200RPM, shipped in the lower two front slots and the rear exhaust slot.
For additional testing this time, we chose to remove the front panel, then the front panel and filter, and finally to test the case normally but with the front fans shifted up one slot to direct more air over the PSU shroud. For once, removing the front panel is actually a viable option for users: the only indication that something has been removed is two small slots. Users with optical drives may wish to remove this panel regardless of cooling performance to avoid swinging it outwards every time the disc tray opens.
Torture Test (CPU)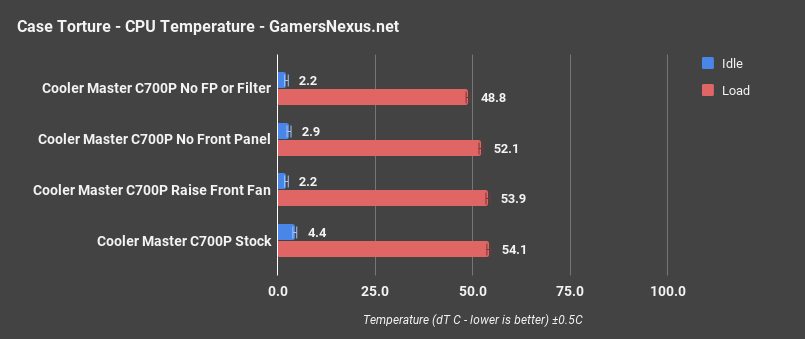 Starting with thermals specific to the C700P case, where we reconfigured the enclosure a few different ways, we see a stock configuration CPU load temperature of 54.1C over ambient, with idle at 4.4C over ambient. This is with the CPU mainly cooled by the exhaust fan and tower cooler. The two intake fans are installed in the bottom of the case by default, and neither is on the vertical level of our CPU cooler.
Surprisingly, moving the front fan up didn't have a significant effect on CPU dT. We expected more air to be moved above the GPU, but it seems like Cooler Master did their research and chose their stock fan layout well. Relocating the bottom fan to the top intake position produced effectively identical thermal results as stock, with our configuration. Removing the front panel did reduce the temperature by about 2C, and removing the filter lowered it by a further 3.3C to 48.8C dT over ambient: it seems like the double-thick mesh filter blocks at least as much air as the solid plastic panel. If you wanted to improve cooling by a few degrees for an intensive render project, it'd be easy to just remove the front panel and leave the filter in place.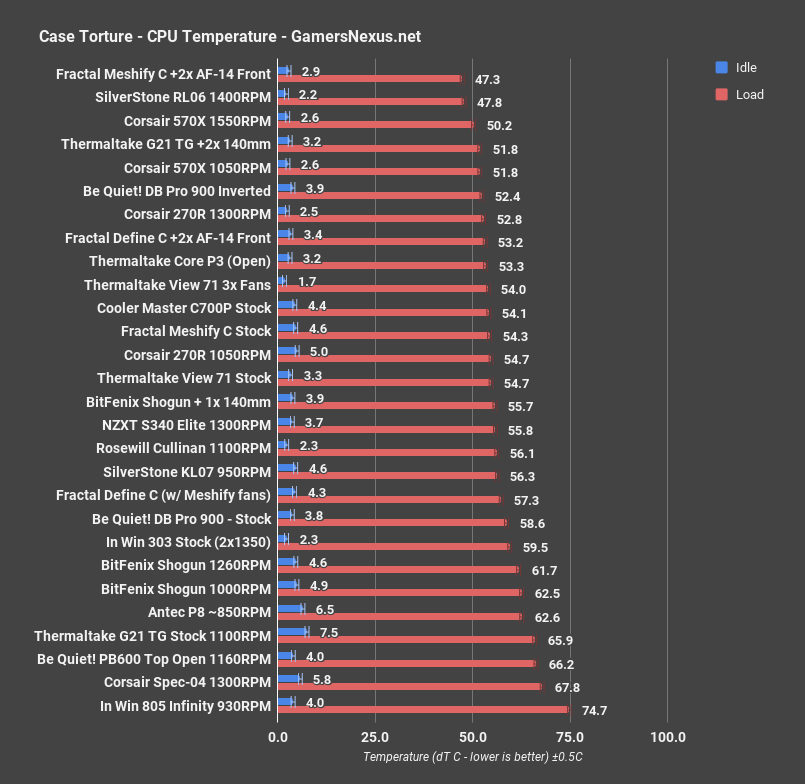 Here's a chart with comparative numbers for the C700P and other cases. We've seen stock temperature deltas around 54C in both the View 71 with an extra fan and the stock Meshify C lately. It's not exceptional, but it's a very reasonable range. Cooler Master's 52.1C dT (without the front panel) is competitive with the Corsair 270R, and pushes the C700P into the range of cases we consider well-cooled. The case ends up between the Meshify C and View 71, and only starts getting seriously outmatched once we venture into more cooling-oriented configurations.
Torture Test (GPU)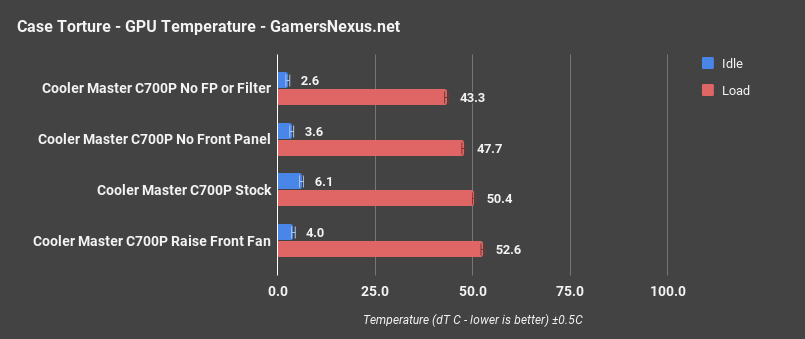 Looking at Cosmos-only GPU thermals for a torture workload, GPU dT was 50.4C with two intake fans pushing air along the bottom of the case. The lowest fan is mostly encompassed by the PSU shroud in stock configuration, but Cooler Master's shroud isn't fully sealed and the additional airflow still benefits components outside of it. Moving the front fan up didn't do the GPU any favors, and the dT was raised by about 2.2C with the decrease in air directed towards it. Removing the front panel was much more helpful, lowering dT by 2.7C and a further 4.4C with the filter removed as well.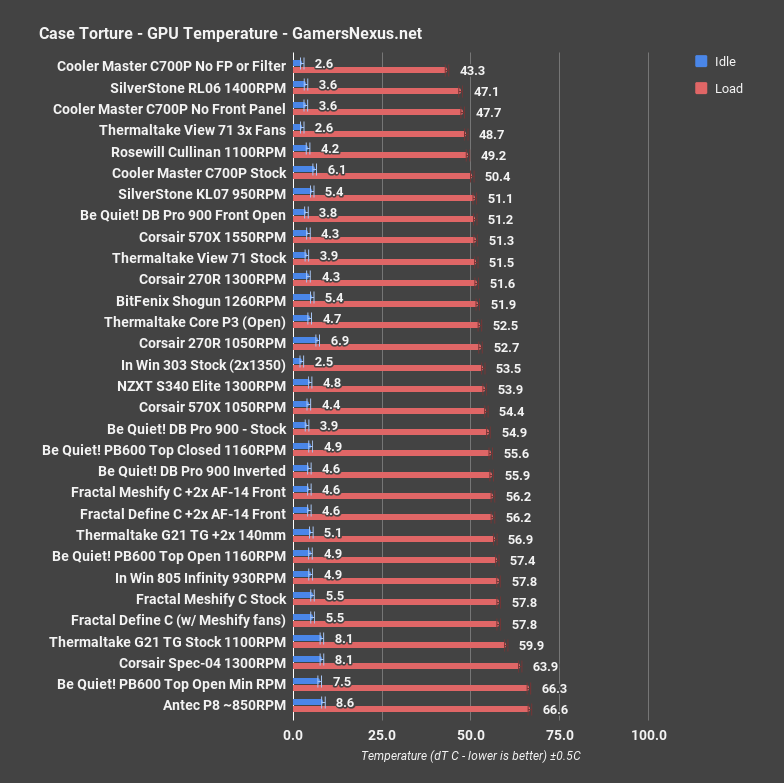 Comparatively, 50.4C was already an impressively low delta for our tests, near the performance of the Rosewill Cullinan, but taking the front panel off lowered dT below anything on our chart except the RL06. Again, removing the filter isn't as realistic a scenario, but it does show how much room there still is for improvement--if there was only one layer of mesh, this could easily have beaten SilverStone's case. Cooler Master's C700P stock fan configuration permits the case to perform exceptionally well with GPU thermals, considering the closed-off, low-noise front panel. The case marginally outperforms its fellow behemoths, the Be Quiet! Dark Base Pro 900 and Thermaltake View 71.
3DMark Thermals in C700P
Moving on to 3DMark testing for some realistic scenarios, the stock C700P kept the GPU delta down to 55C during a Firestrike Extreme stress test, just a bit higher than Thermaltake's Core P3. Removing the front panel would undoubtedly lower this further, but the stock GPU cooling performance already looks pretty good compared to other cases on our charts.
Blender Thermals in C700P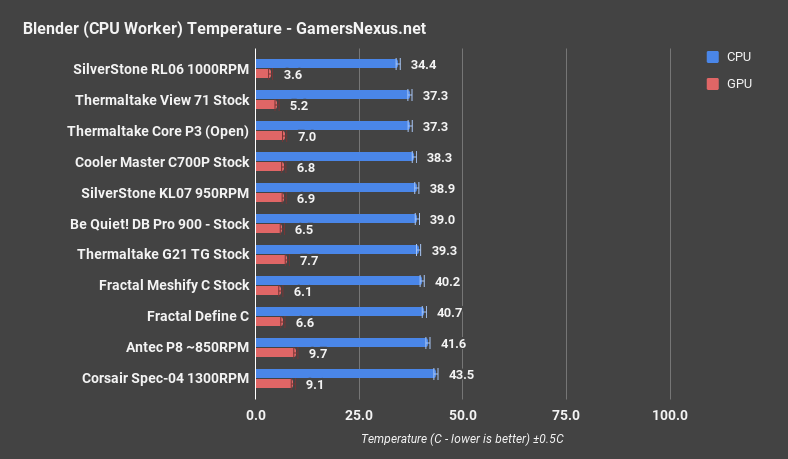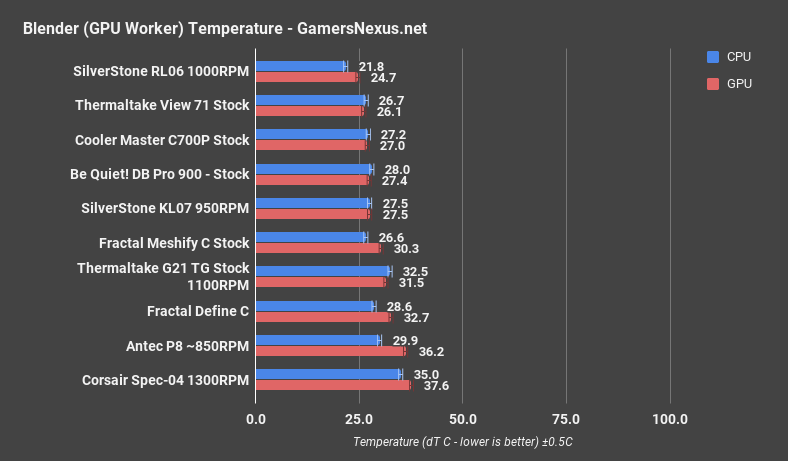 Rendering a blender test file on the CPU, CPU dT reached 38.3C, on par with the functional but forgettable SilverStone KL07. GPU cooling performance was also good to middling, with a dT of 27.2C when rendering on the GPU. This backs up the torture test's conclusions that the C700P has good (but not incredible) stock cooling, and that this extends to real-world scenarios.
Cooler Master Cosmos C700P Noise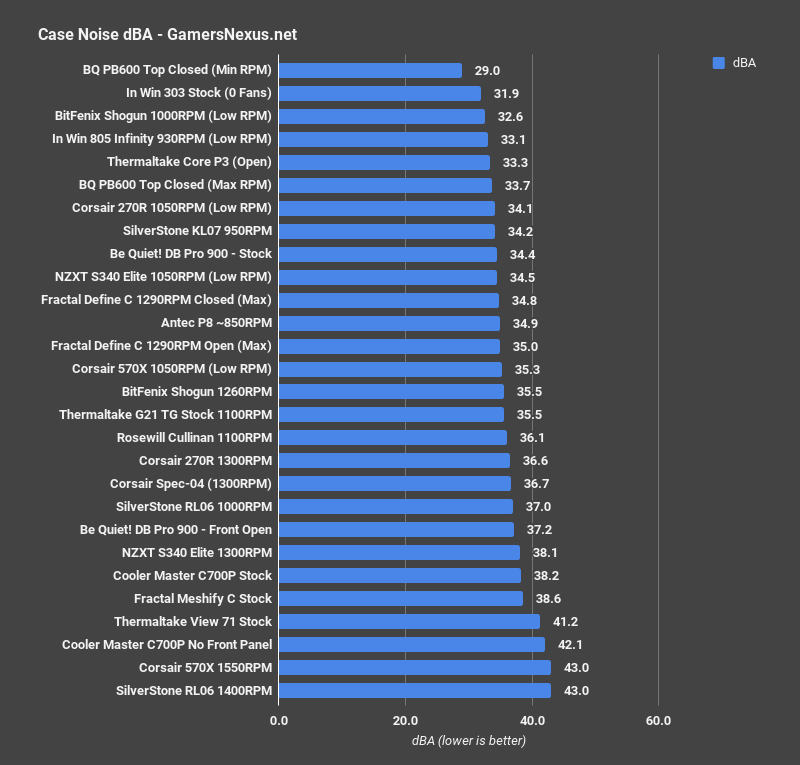 With the fans at full speed and in stock configuration, the C700P is on the noisy end of the scale at 38.2 dBA with the S340 Elite and Meshify C. This case does have an external fan control, though, so there's a convenient way to instantly drop that noise level when the system is idling. The front panel of the C700P contains a sheet of acoustic foam which apparently does a pretty good job, since removing it (but leaving the mesh filter in place) raises the noise level audibly to 42.1 dBA. The optimal balance of cooling and noise depends on user preference, but leaving the front panel off and the fans set to low until necessary would be a good compromise.
Conclusion: Cosmos C700P vs. Dark Base Pro 900, View 71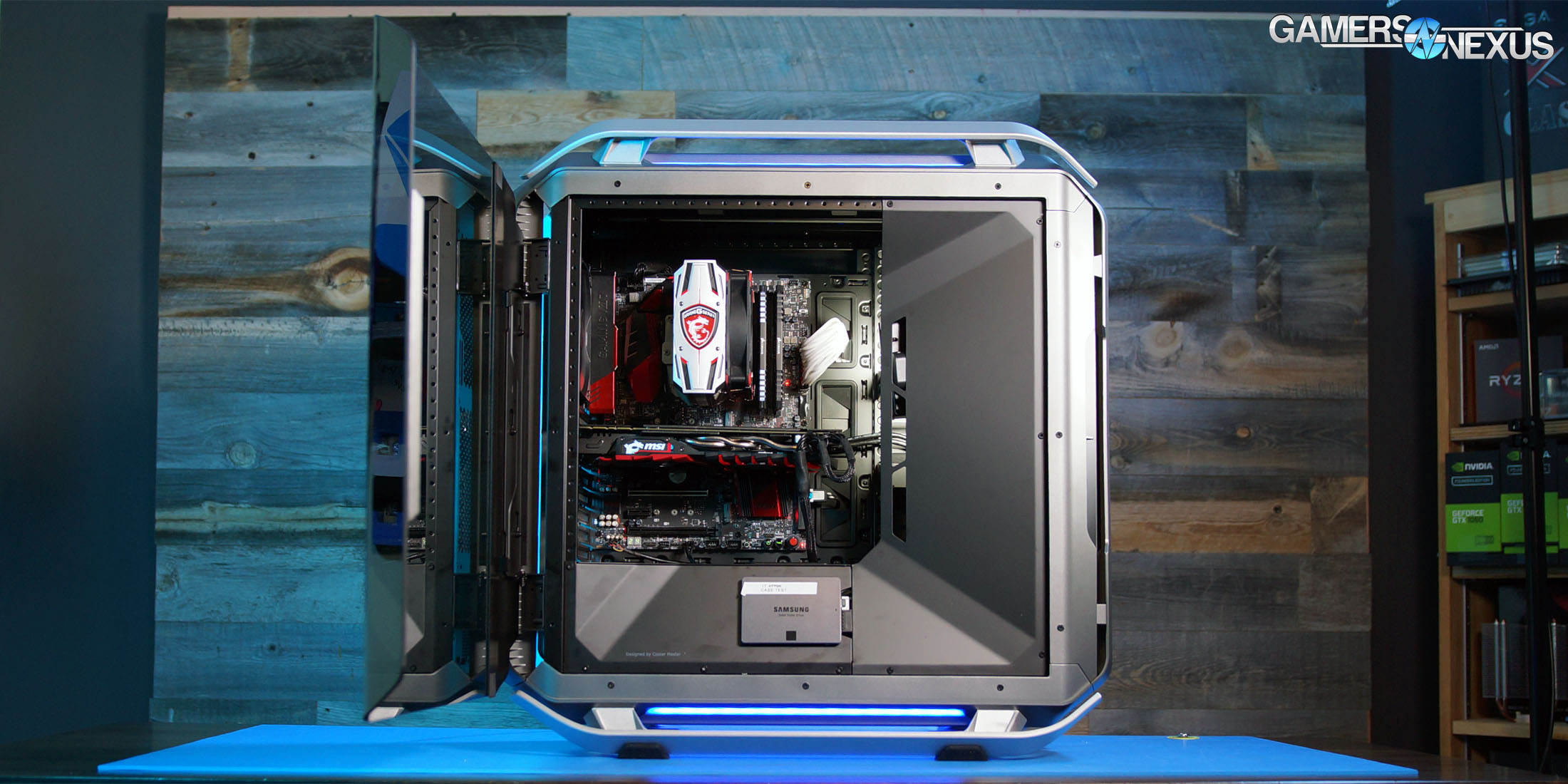 This is a good case, but $300 is a lot of money. It's clear that Cooler Master has poured a lot of resources into raw materials like curved glass panel and huge aluminum bars, not to mention the expense of designing and tooling such a complex case. It's reasonable from that perspective for Cooler Master to be charging $300, and that's actually the lower end of the $300-$350 range they told us they were considering back in June. Just because Cooler Master paid a lot to make it, though, doesn't necessarily make it desirable.
Dropping $300 (initial MSRP) on the C700P instead of another case gets a unique enclosure with tasteful (personal opinion) RGB lighting that can be configured in several different ways, but it's important to consider just how much use that latter feature will see. Most users will choose a single layout and stick with it for the entire lifespan of the system, which largely defeats the purpose of modularity and flexibility. Materials and construction are high quality and thermal performance is good even with stock fans and the front panel on--but on the other hand, going by the thermal metric alone, it's outperformed by a couple much cheaper cases like the RL06. The C700P differentiates itself from high-end cases $50-$100 cheaper than itself by its appearance and invertibility, and potential buyers should consider whether that's worth it.
Editorial, Testing: Patrick Lathan
Host, Test Lead: Steve Burke
Video: Andrew Coleman