Hardware
stub
Patriot Viper V770 Mechanical Keyboard Review
Posted on June 26, 2017
Whenever a new keyboard enters the lab, we always make an effort to ignore its price. Completely. Instead, we simply sit down and type. This helps to first see the flaws and strengths of the keyboard without subconsciously comparing them to some price point. We then get to decide what the keyboard should cost, how that compares to its real price, and how that compares to its competition.
After using the Patriot Viper V770, we were overall mildly impressed, but a bit disappointed. It's a decent keyboard with unique features, but those coupled with some flaws and a mediocre price of $120 result in it falling flat in comparison to competition below, at, and above its price point.
Viper V770 Specifications:
Kailh RGB Red switches
Phone stand
16.8 million color RGB Lighting
USB 2.0 & Audio In/Out passthrough
109-key rollover
Dedicated media keys & volume wheel
Removable LED wrist rest
2 year warranty
Typing, Gaming, Media Keys, & Passthrough
In the enthusiast keyboard community, some automatically dismiss Kailh switches in a keyboard. We've admittedly had more issues with Kailh switches than Cherry MX switches, but those issue have been mostly isolated to cheaper keyboards. The Kailh Red switches present on the V770 are smooth and consistent, quelling any worries over switch quality for this particular board.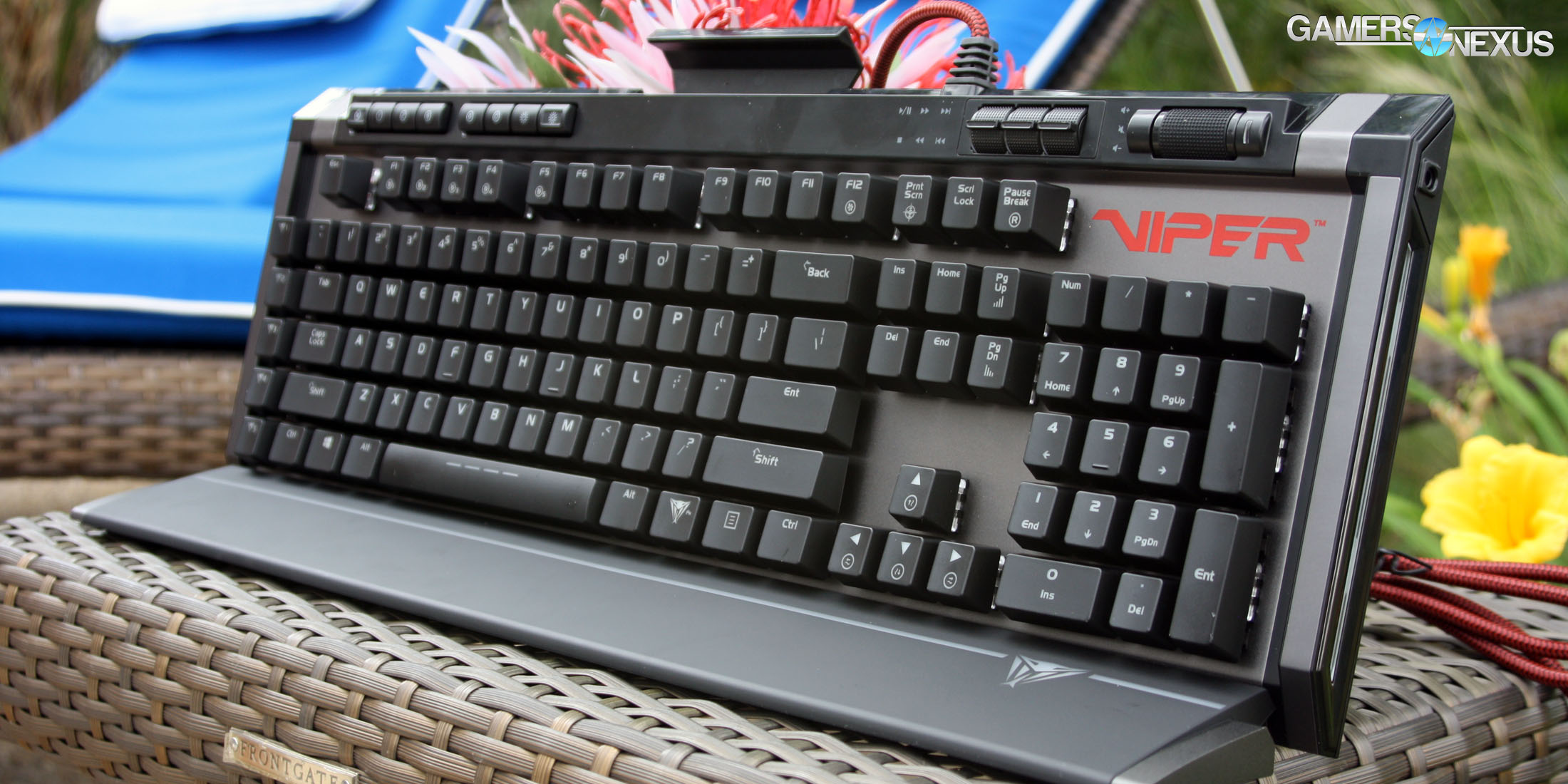 Typing is the usual fare for linear mechanical switches: smooth, light, and a small smattering of typos. Nonetheless, the switches show their intended audience when gaming since the lack of actuation response makes it easy to double-tap keys. The included wrist rest has a soft coating on it and is mildly supportive, so it makes typing fairly comfortable. We do think it would be improved if the rest were longer and higher up.
The V770 supports 1000Hz reporting rate and 2ms response time, so any input delay shouldn't be an issue. On the left side of the V770, there are five dedicated macro keys that communicate via the software Patriot provides (covered more extensively below), where key macros can be set for these macro keys and any other keys on the keyboard.
The media keys are by far one of the best-done features on the Viper V770. The volume wheel is smooth and easy to use while also not being too easy to drastically change the volume through an accidental hit. The skip, back, pause, play, rewind, and fast-forwards controls are up/down toggle switches, so there are only three of them, but there are still 6 functions. Additionally, they click satisfyingly – but quietly – when actuated. It is a little unfortunate that these media keys can't be reprogrammed via Patriot's software, although such functionality isn't normally present in other keyboards (even if they have macro capability and media keys).
Additionally, the V770 features USB 2.0 and audio in/out passthrough. The ports are on the left and right sides of the keyboard though, so some may have issues with hitting wires and USB drives depending on how close the mouse is to the keyboard.
Finally, the V770 has a phone stand that slides out from the top. It's adjustable, similar to the Logitech phone stand, and even heavier phones shouldn't move once put in place. The usefulness may vary a lot based on the user, but the stand is fairly inconspicuous so even users that don't utilize it likely won't notice it.
Keycaps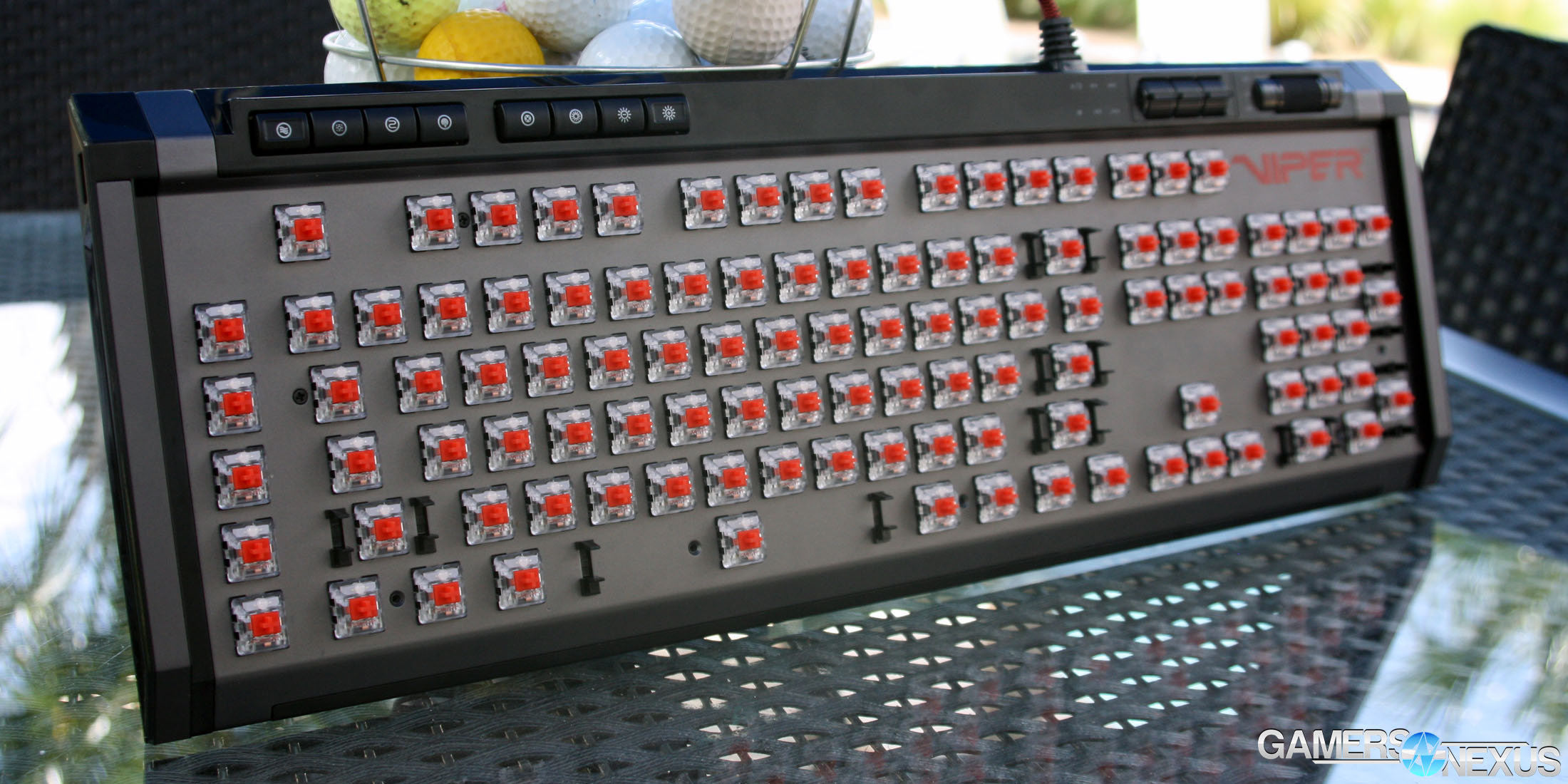 The V770 comes with the same keycaps that are standard of most RGB keyboards: thin, printed, ABS keycaps. The key legends are made from a lack of paint so the RGB light shines through.
It should be noted that the V770 features a standard keycap layout. This makes it much easier to replace keycaps with aftermarket sets – or artisan keycaps that vary from vintage to gold (looking) to egg.
Lighting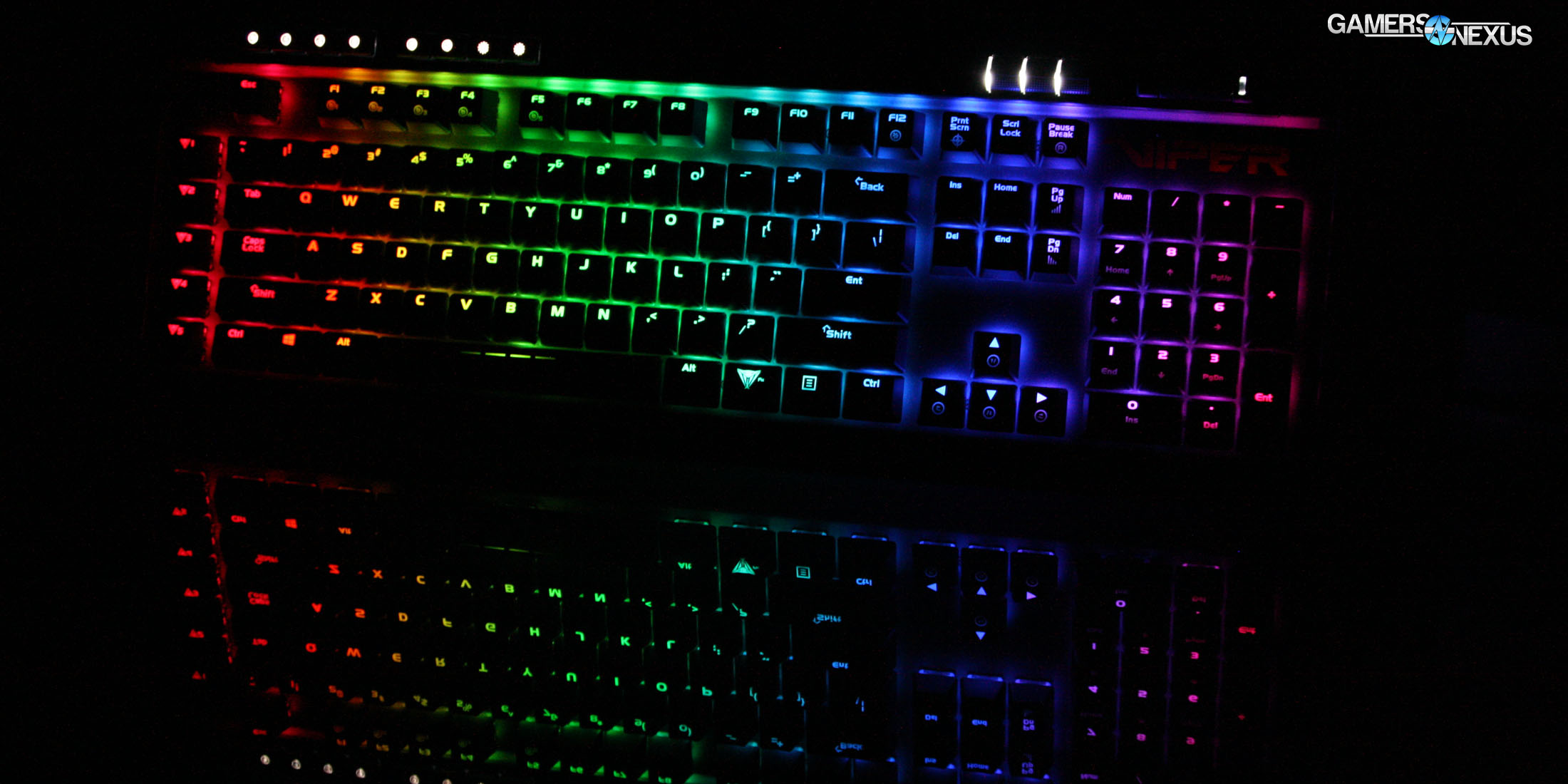 Most higher end gaming keyboard prominently feature RGB lighting, so the inclusion of customizable RGB lighting on the V770 is largely unsurprising after a brief glance at its price.
The lighting is fairly bright and features 16.8 million colors. White appears much closer to a pale teal than actual white, but most keyboards have off-color whites. The RGB Kailh switches do feature a clear body and opaque LED enclosure that allows the LED colors to both blend well and be illuminated better throughout the keycap; in fact, the color blending on the V770 is definitely better than most RGB keyboards we've used. The LED is still placed at the top of the switch – unlike Cherry's RGB switches, where they are under the switch – so the user-facing side of the switches isn't well illuminated.
One of the more unique and interesting features of the V770 is the light bar that goes across the removable wrist rest. This light bar is actually RGB capable and can be controlled via Patriot's software. Unfortunately, the magnets that connect the wrist rest aren't very strong and, as a result, the connection to the keyboard is finicky. When typing and gaming, the connection will come loose which causes the lightbar to flicker and even completely disconnect. It's a shame that one of the more interesting and unique features of the V770 is moderately flawed as a result of a mediocre lighting connection. The upshot is that this is easy to fix for the next generation.
There are also RGB light strips on sides of the keyboard that light up.
Lighting Control
Drivers for computer peripherals vary an immense amount. On one hand, there are drivers like Corsair Utility Engine that are so powerful there is an annoying learning curve associated with doing anything complicated. On the other hand, there are drivers that fail to apply settings, randomly crash, and seem to randomly hang for no explicable reason.
For that reason, we were pleasantly surprised with Patriot's Viper software for the V770. It doesn't have immense customization options and is fairly simple, but works well. Key lighting animations can be selected and made faster or slower without confusion. The RGB lighting features multiple settings such as static lighting, breathing, wave, reactive (lights up when typing), ripple (sends out ripple when typing), raindrop, and more. Unfortunately, the lighting is really only customizable in static mode. Other than this, the only settings to change are the lighting color and speed of the animations. The lighting bars on the sides of the keyboard don't seem to be customizable from Patriot's software, although they do change in lighting animations.
Changing key functions is also easily done (every key can be rebound or set as a macro). Macros also have the to add delay between key presses, which is potentially useful when known cooldowns are present. Patriot's software allows for response time and reporting rate to be changed down to 2ms and up to 1000Hz, respectively.
Overall, the software for the V770 isn't overwhelming in any ways, but it allows for moderate lighting customization, substantial key customization, is user-friendly, and works without issue.
Build Quality & Aesthetics
The Patriot Viper V770 is made primarily of aluminum and hard plastic that helps to provide a solid built quality that prevents flex when typing. The V770 is also a bezelless keyboard – meaning the switches are flush with the top aluminum plate – so cleaning it is fairly easy. The wrist rest attaches through the use of magnets, but these magnets are fairly weak, so it is easy to accidentally pop it out of place.
Internally, the V770 has no real issues, although there are a few messy touches. For instance, over most of the keyboard there is a mild amount of solder flux, and more annoyingly there is a moderate helping of hot glue on some switches. The hot glue helps to protect the internal USB cable from breaking on the sharp peaks formed by the solder on the switch leads.

We can also see that the V770 uses 4x HSAK021 LED drivers for the lighting.
Like most keyboards, the V770 only comes with a 2 year warranty.
Conclusion
Overall, the Viper V770 is a well-featured keyboard: it has customizable lighting with 16.8 million colors (although animations aren't really customizable), a sturdy aluminum and plastic body, macro and rebinding functionality, and a decent – but finicky – wrist rest.
Unfortunately for the Patriot Viper V770, its features doesn't match up to its price point. Currently, the V770 is priced at $120 on Amazon, putting it in direct competition with the Corsair Strafe RGB at $121 (review). In comparison, the Strafe RGB has better software, better lighting, a better wrist rest, Cherry MX switches, and a more reserved style. At $100, there is the Thermaltake Poseidon Z RGB (review) which has Kailh switches and RGB lighting (with a similar amount of customization). Just $10 above the V770 is the Corsair K70 RGB Lux which features an aluminum build, better software, media keys, better lighting, and a more reserved style. Even Patriot's own Viper V760 at $90 has similar features to the V770 (the main differences being media keys, macro keys, and a lighted wrist rest).
Above, at, and below the V770's pricepoint, it has competition that generally matches – or beats – its features, which makes it value somewhat tenuous. Ultimately, the V770 would be much better suited at a lower price point of around $100-110, where its decent features and moderate price would outway its current limitations.
Editorial: Michael Kerns