Hardware
stub
Be Quiet! Pure Base 600 Case Review: The Quietest On Our Bench
Posted on February 11, 2017
The Pure Base 600 is the newest, cheapest, and smallest of Be Quiet!'s silent enclosures, but it manages to hold its own in the current lineup. It's a stark contrast to previous Be Quiet! cases like the Silent Base 800, a chunky enclosure that we found pleasant to work with but fairly expensive at $140.
As a $90 mid tower, the Pure Base 600 fits into the same category as the S340 Elite (reviewed) and other high-end cases, although notably without tempered glass or indeed any side window at all. In fact, Be Quiet! also manages to dodge the entirety of the RGB LED craze, making the Pure Base 600 oddly unique in its "older" approach to case features. Granted, there will be a tempered glass variant in March for an extra $10.
Instead of all these extras, the 600 derives its value from Be Quiet!'s hallmark blend of acoustic foam, rubber grommets, and case fans intended to deaden noise as much as possible. We'll cover acoustic testing later on, but for now, our first impressions:
Be Quiet! Pure Base 600 Specs
Form Factor
ATX
Motherboard Support
ATX, M-ATX, mini ITX
Dimensions
492x220x470 L x W x H incl. stands
Weight
7.44kg
I/O
2 USB 3.0, 1 HD Audio
Expansion & Bays

7 x PCI expansion slots

2 x 5.25", 3 x 3.5", 8 x 2.5" bays

Cooling
7 fan mounts, 2 Pure Wings 2 included (1x120mm, 1x140mm)
Price
€89 (about $96 as of this writing)
Be Quiet! Pure Base 600 Build
(Above: Steve's take on the case)
The process of building in the Pure Base 600 was on par with most other mid-towers—not quite enough space to move around comfortably, but plenty to actually fit all the components. The metal grille that forms the top of the chassis isn't removable, which makes plugging any cables into the top of the motherboard (P8) a pain, but to some extent that comes with the territory of building in a smaller case.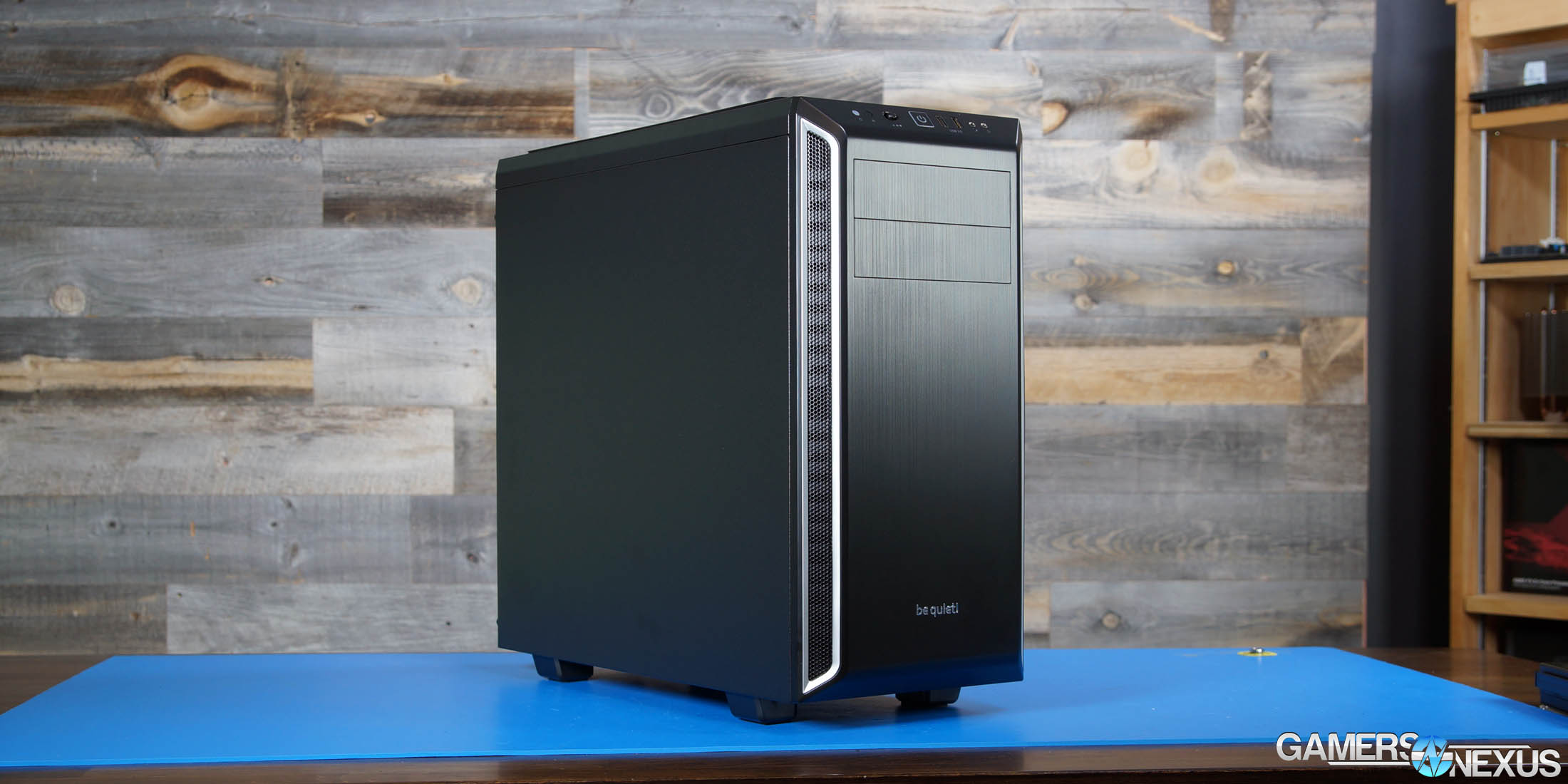 The real problem was the placement of the cable cutouts. When the case is empty, it might seem like there are plenty of holes to route cables through, but that impression changes as soon as an ATX board is installed. The majority of the cable cutouts are partially or completely obscured by a full-ATX board, leaving only two logical cable routes as seen, which would have been a real inconvenience had we been using a non-modular PSU. To be fair, though, there is currently no side window option available for the Pure Base 600, so cable management is mostly done in service of limiting dust and for our own satisfaction. In Be Quiet!'s own renders, they show cables and radiator tubes being routed through drive bays. This shouldn't be a problem at all with smaller form factor boards that don't block the cutouts.
Space was limited but sufficient for cables between the side panel and the chassis, with the exception of the SATA power connector for the fan controller. Because of the way it plugged into the PSU cable, the only real place we could stick it was into the (empty) bottom HDD cage. Again, mostly harmless with no side window, but not ideal. There were a generous number of cable tie points provided along with four Velcro straps, which did a great job of keeping the cables bundled together and out of the way.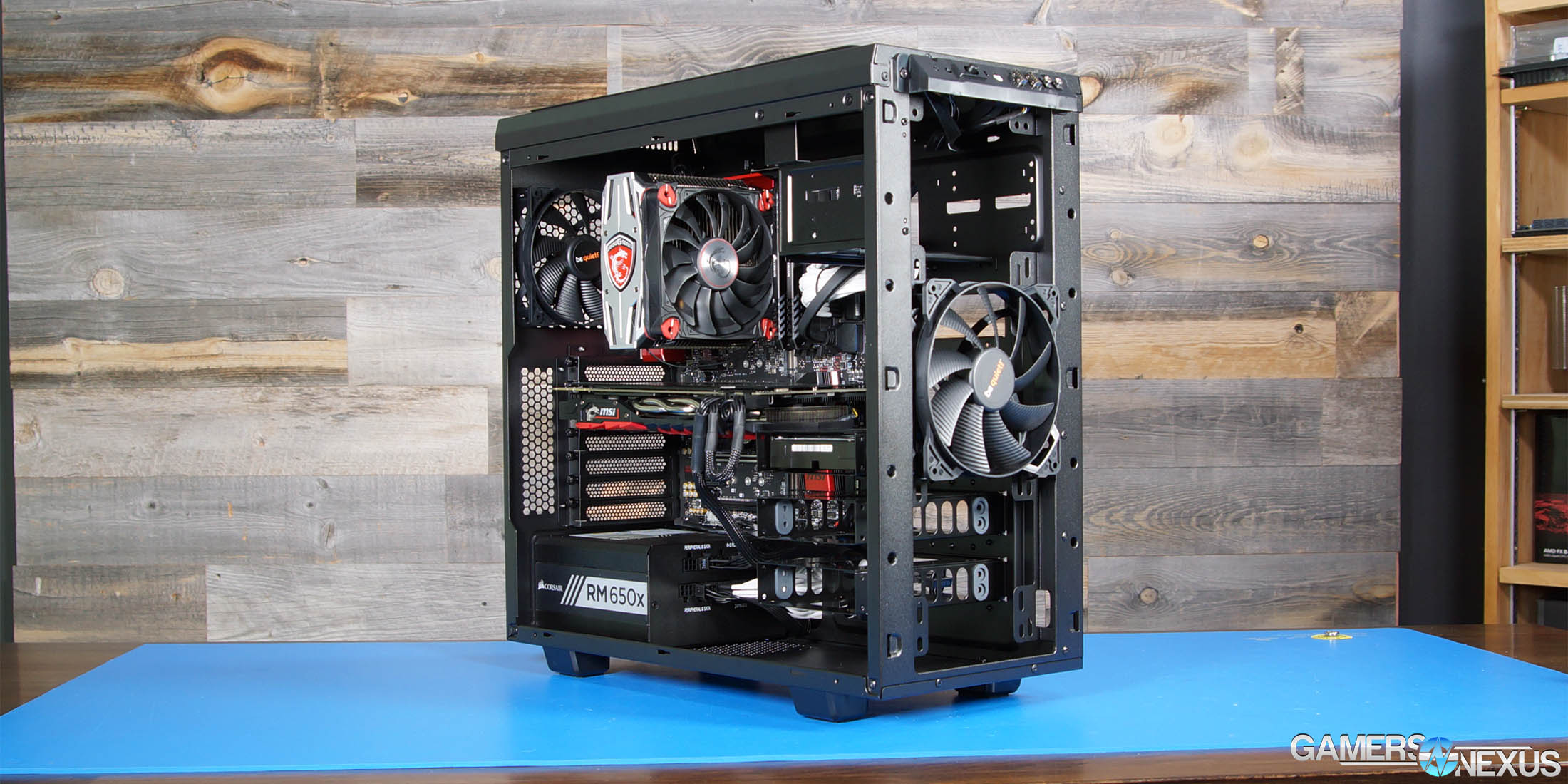 HDD mounts are probably the Silent Base 600's most distinguishing feature. The main advantage of the free-standing mounts is that they can be individually removed as needed, so there's no need for a big empty drive cage obstructing airflow just to mount one HDD. The main disadvantage is that each individual mount needs its own cable cutout in the chassis, so there's no way to avoid big potentially dust-trapping gaps right next to the front intake fan. Still, this is a clever change to Be Quiet!'s usual massive overkill in the 3.5" bay capacity department; shipping with three bays keeps the 600 competitive with other mid towers without wasting money and material (there are five possible positions for the three bays). The drive bays seem stable, despite their unique mounting.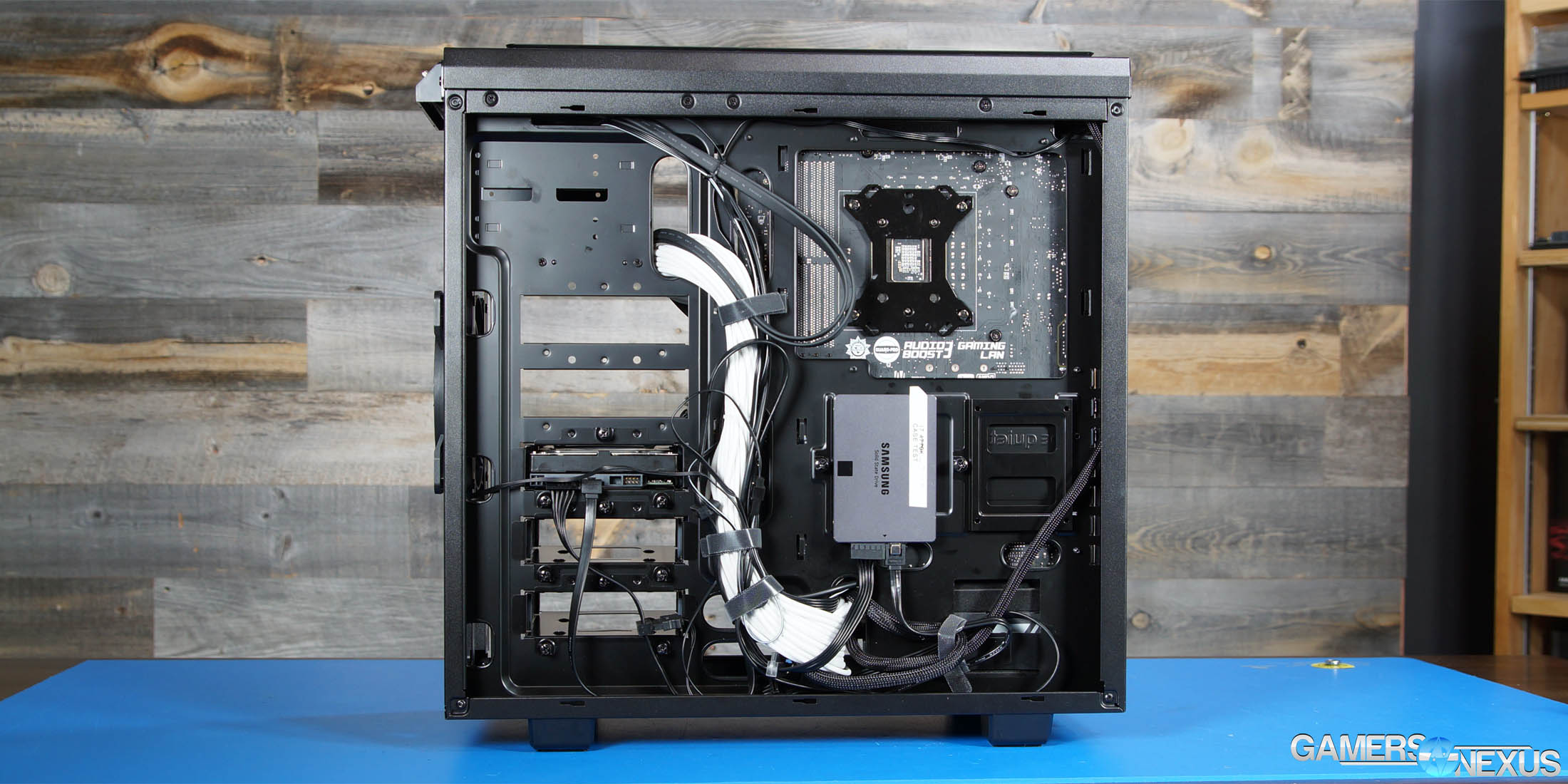 All parts of the case, both steel and plastic, are relatively rugged and durable, with the exception of the plastic top cover. The cover wasn't stable on our review sample when at its full height. Be Quiet! has impressed us in the past with the quality of their materials and machining, and the 600 lands more in the "expected for the price" positioning.
The top cover can either be pressed flush to the case or lifted one or two notches above it for airflow, but its stability at maximum height depends on whether all the plastic tabs are at the same angle—not a huge deal, since snapping the cover down one notch locked it in firmly. Both side panels must be removed to adjust the cover and it can't be done on the fly. You'll want to shut down for each adjustment to the top panel. This isn't like the Rosewill Throne (or similar), where a lever automatically opens and closes the panel – it's all user operated.
We were particularly pleased to see that the front I/O connectors and buttons are mounted directly to the chassis of the case, so there are no wires to untangle when removing the front panel (and less chance of pushing the connectors out of place). Front I/O only includes two USB 3.0 plugs and no 2.0 at all, an unusual choice, but possibly necessary given the size of the panel.
Case Test Methodology
We tested using our new Skylake case test bench, detailed in the table below. This particular configuration is brand new with the launch of the 570X & 270R. Results on this test platform cannot be compared to previous case benchmark results, as the platform has completely changed.
Conducting thermal tests requires careful measurement of temperatures in the surrounding environment. We control for ambient by constantly measuring temperatures with thermocouples and laser readers. We then produce charts using a Delta T(emperature) over Ambient value. This value subtracts the thermo-logged ambient value from the measured diode temperatures, producing a delta report of thermals. AIDA64 is used for logging thermals of silicon components, including the GPU diode.
All case fans are manually configured to their maximum throughput using BIOS, then we configure to an RPM closer to 1050 for a universal "quiet" testing. If a fan controller is present, we opt-in and test on multiple settings. This forces testing of case fan performance in addition to the case's air channeling and airstream design. This also ensures minimal variance when testing, as automatically controlled fan speeds can reduce reliability of benchmarking. The CPU fan is set to 1100RPM (constant) for consistency, and the CPU is overclocked to 4.4GHz with a vCore of 1.272V (constant). C-States and power saving states are disabled.
The video card is configured to run at 55% fan speed at all times.
Prior to load testing, we collect idle temperature results for ten minutes to determine the unloaded cooling performance of a case's fans and air channels. Thermal benchmarking is conducted for 1400 seconds (23 minutes), a period we've determined sufficient for achieving equilibrium. The over-time data is aggregated and will occasionally be compiled into charts, if interesting or relevant. The equilibrium performance is averaged to create the below charts.
Load testing is conducted using Prime95 LFFTs and Kombustor "FurMark" stress testing simultaneously. Testing is completely automated using in-house scripting, and executes with perfect accuracy on every run.
We recently validated our test methodology using a thermal chamber, finding our approach to be nearly perfectly accurate. Learn more here.
Be Quiet! Pure Base 600 Thermals
Something had to be sacrificed for silence on a budget, and number one on the list is airflow. Two Pure Wings 2 fans are included with the case when it ships, which would normally be sufficient, but ventilation is severely limited. Front intake is through two filtered slits on either side of the front panel, and that's it—bottom intake is reserved for the PSU. When fully closed, the top cover eliminates nearly all exhaust upwards, except through some very thin vents and a small grille at the back. Even with the cover open to the full extent, there's only a minor improvement to temperatures through passive cooling, and hardly any air can be felt pushing out through the top.
CPU Temperatures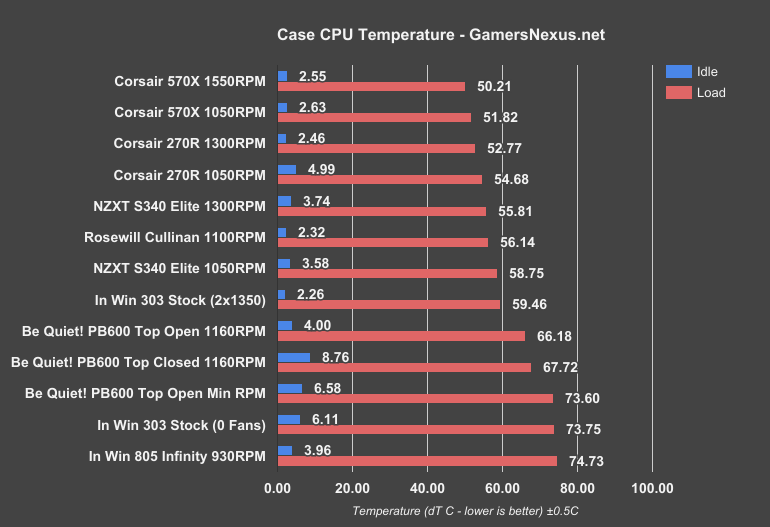 The cover is impractical to adjust while the system is running, so users will be forced to make a decision between silence and cooling—and will presumably choose silence, given that they've purchased a case from "Be Quiet!" Our testing revealed an increase of about 1-2C when the top cover was closed versus open, in load temperatures, and an increase of 4-5C in idle temperatures with the top closed. This is with the 3-speed fan controller set to its maximum setting (1160RPM). With the cover open and minimum RPM in place, we're at an unusable 73.6C delta T (90C+) with our stress testing. This is about as bad as In Win's fan-less 303.
The top cover could theoretically be completely removed, since there's still a metal mesh underneath, but this would completely defeat the purpose of buying a silent case.
This isn't the end of the world, though. Our "under load" numbers are gotten with an absolute worst-case 100% CPU and GPU load, designed to raise temperatures as much as possible and really display the cooling potential of an enclosure. The takeaway here is that anyone overclocking to a higher degree, e.g. CPUs that may hit 150W~170W, should avoid the Pure Base 600. The same is true for users who intend to place the system under long workloads, like steady-state IO with hot M.2 devices, or multi-hour render cycles on the CPU and/or GPU.
There is, technically, room for a variety of radiators, but no ideal place for them—the big mounts at the top of the case are the most obvious candidates, but they require the top cover to be removed or at least pushed up. Advertisements show a 120mm radiator mounted at the front of the case, heating the only incoming air with CPU exhaust. This case isn't an ideal candidate for liquid cooling anyway, given the price; anyone willing to spend $100 on an AIO cooler should probably be investing in a better enclosure.
GPU Temperatures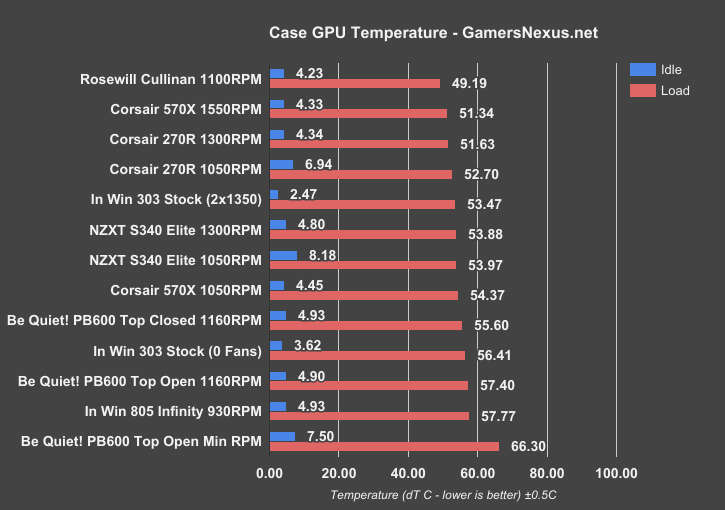 GPU cooling isn't much better, with the minimum RPM suffocating our GTX 1080 Gaming X (dual-axial cooler) for air, landing it at 66.3C delta T, well into thermal throttle range on the clock. With the fans re-configured to their max RPM and with the top open, the GPU is having trouble dumping heat out of the case, with hot air collecting around the back-side of the card. Max RPM and top closed seems best for this particular configuration, but keep in mind that the cooling design on each GPU and CPU cooler is different; your mileage will vary, depending on components used. The difference is small, anyway, and the only real take-away is "use max RPM if doing any sort of workload."
Pure Base 600 Noise Levels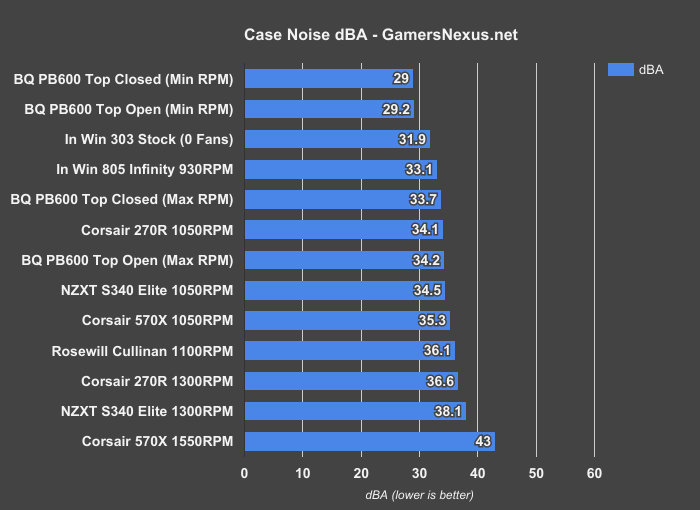 The Pure Base 600 really comes into its own in acoustic tests. In ideal conditions, with fans turned all the way down and the top cover closed, the 600 is the quietest case we've used in our current batch of tests. Thanks to its sound-damping foam and sealed paneling, it's also quieter than the stock In Win 303, which doesn't have any fans in it at all. With both 120mm fans at the maximum 1160 RPM and the top cover open, noise peaked at 34.2dBA, making it slightly quieter than the NZXT S340 Elite with its two 120mm fans running at 1050 RPM. We may do some future testing on how much Be Quiet!'s acoustic padding directly affects noise, but for now, it seems like it's really doing the job.
Be Quiet! Pure Base 600 Conclusion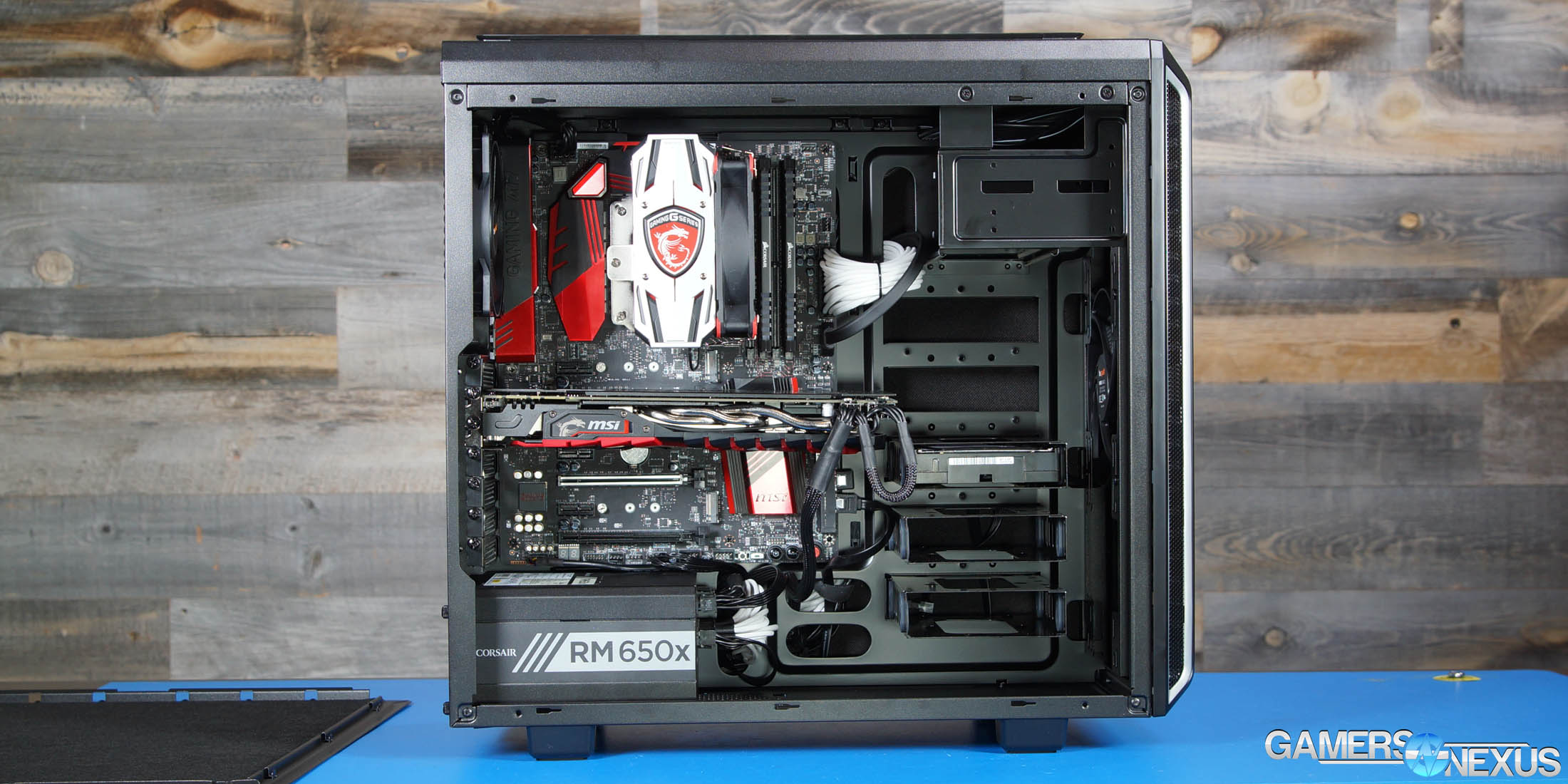 The Pure Base 600 uses the same high-quality materials to achieve silence that other, more expensive Be Quiet! cases do, and for that, it's a welcomed addition to the lineup. However, subpar cooling and so-so cable management make it a poor choice for hardcore overclocking or steady-state processing when compared to similarly priced mid-towers, like the well-cooled Corsair 400C or even the cheaper 270R. Really, the 600 seems more intended to compete with Fractal Design's small form factor silent cases in the HTPC/low intensity gaming category. With an M-ATX or mini ITX board in it, it would make an attractive and exceptionally quiet living room PC with much more room than typical tiny HTPC cases.  Be Quiet!'s advertisement of radiator compatibility just distracts from the strengths of the case, which definitely shouldn't be relied on to cool effectively, but is definitely a well-priced, high-quality item.
This is one of the only products in the last few months where we've felt the launch price is appropriate. We have, for once, no criticism of this $90 launch price; it seems fitting. If silence is your thing, and if you're not going to be running multi-hour renders or overclocking heavily, go for the Pure Base 600. If either of those are of interest, buy something else.
Editorial, Testing: Patrick Lathan
Test Lead, Host: Steve Burke
Video: Andrew Coleman