Hardware
stub
NZXT HUE+ RGB LED Controller & Case Lighting Review
Posted on October 27, 2015
The company that generated industry-wide attention for its H440 case, launched in 1Q14, has returned from relative product-silence with its HUE+ LED controller. The HUE+ is outfitted with a number of substantial improvements over its championed HUE analog controller.
NZXT's HUE+ is a dual-channel RGB LED controller, complete with four high-density, fully addressable LED strips and an SSD form factor hub. It's possible to expand to eight total LED strips (four per channel) for 80 LEDs, each addressable through NZXT's existing CAM software. CAM, already established for Kraken CLC control and live FPS monitoring, makes available eight preset display modes, a pair of custom display modes, four lighting modes, and allows for fully-digital control over the LEDs.
We built a system using the NZXT HUE+ RGB LED controller and spent some time with CAM. This review looks at the new NZXT HUE+ RGB LED system, its build quality, brightness, LED bleed, and overall value. You can find a video review below, worth watching if only for a more visual representation of the LED functionality.
NZXT HUE+ Video Review
NZXT HUE+ Specs
Ports: 1x DC 5v, 1x Micro-USB to USB2.0 FP, 2x Isolated channel output

Magnetic LED Strips (3M Tape Optional for Non-Magnetic Surfaces)

4 Lighting Modes (Smart, Audio, Custom, Preset)
8 Preset Display Modes (Fixed, Breathing, Fade, Marquee, Covering Marquee, Pulse, Spectrum, Alternating)
2 Custom Display Modes (Fixed, Breathing)
Full RGB Support for 16,777,216 Colors
4x ~13" long RGB strip (GN's measurement)
2x ~5.75" long extender/daisychain cable (GN's measurement)
2x ~18" long extender/daisychain cable (GN's measurement)
NZXT's HUE+ retails at $60 for the controller and its accompaniment of four LED strips, but an additional four LED strips can be purchased for $20. In general, from our testing, we've found that the base four are adequate for lighting most mid-tower cases.
Ultimately, that's all the HUE+ does – it's just LEDs. There's no performance-driven reason for its existence. If you're seeking LEDs to make a case more interesting, the longest-standing options have been cold cathodes – very bright, but clunky and thick – and self-cut LED strips. The latter has yielded mods like BS Mods' Throne Industrial, on the contingency of additional work required by the system builder.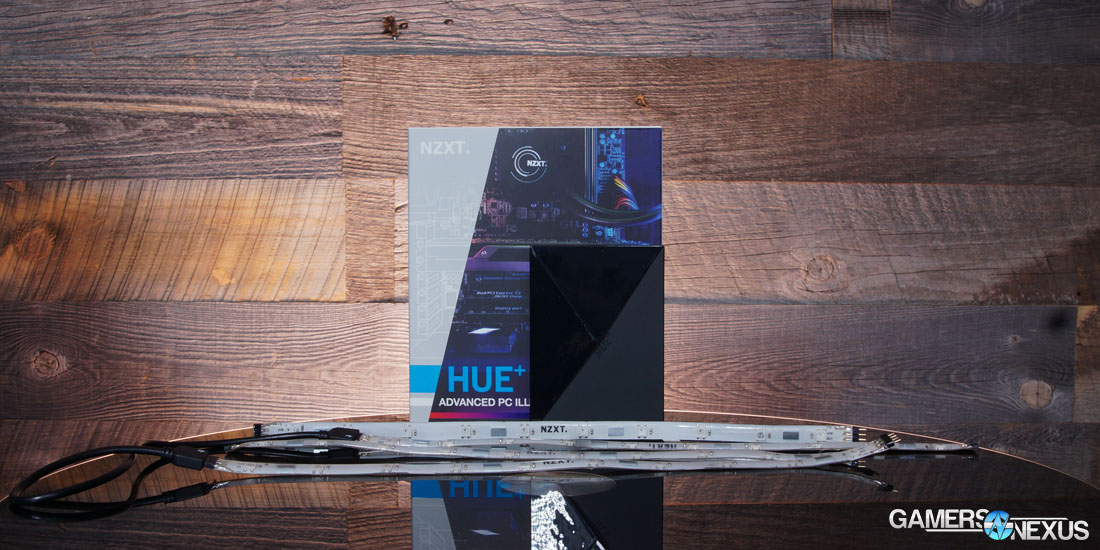 The HUE+ primarily sets itself apart with redoubled focus on ease-of-installation and minimized cable clutter, two aspects we found to be well-executed. It wants to be the non-modder's go-to for LED installation and underglow lighting effects. We've previously looked at similar kits, like iBUYPOWER's Smart Lighting, though haven't yet reviewed any that are independently available to DIY builders.
The HUE+ controller itself is contained within a 2.5" SSD form factor enclosure of plastic, which can readily be mounted in HDD/SSD cages or spacious SSD brackets. We built our HUE+ demo rig in an H440 V2 (availability pending) and installed the HUE+ controller atop the PSU shroud. Installation to the rear of a motherboard tray won't generally be realistic given the thickness of the unit, but slots within the main compartment or drive caging can work in most scenarios. Using the lowest PCI-e slot for a HyperX Predator SSD, we encountered thermal concerns (about 1mm of clearance between the SSD and HUE) that forced us to relocate to a normal drive cage. Bottom slotted PCI-e SSDs with heatsinks (like the Intel 750 SSD) will not fit if the HUE+ is located atop the PSU shroud in an NZXT case.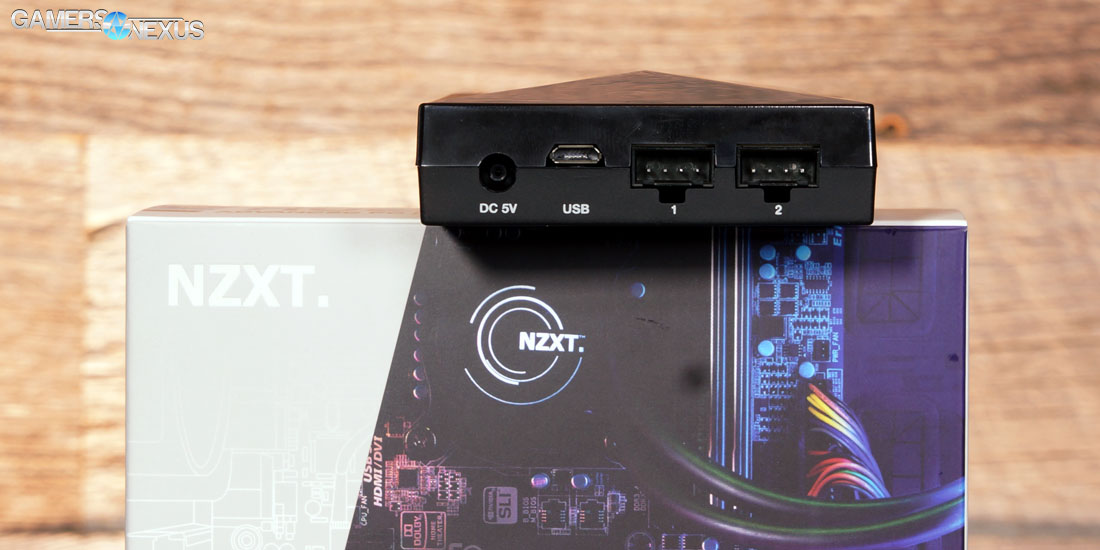 NZXT's provided strips offer two means of mounting: Adhesive tape or magnetic mounting. We used the magnets, given that our demo case's chassis is almost entirely steel, though the adhesive would work on less polarized interiors.
As for the minimized cable clutter, things are kept fairly clean by consolidating I/O to two channels, one power-in header, and one micro-USB-to-USB2.0 FP header (four total connections). LED strips are daisy chained end-to-end with male/female extensions, available in ~5.75" and ~18" lengths. The strip itself is approximately 13" long, plug-to-plug.
CAM Functionality & Potential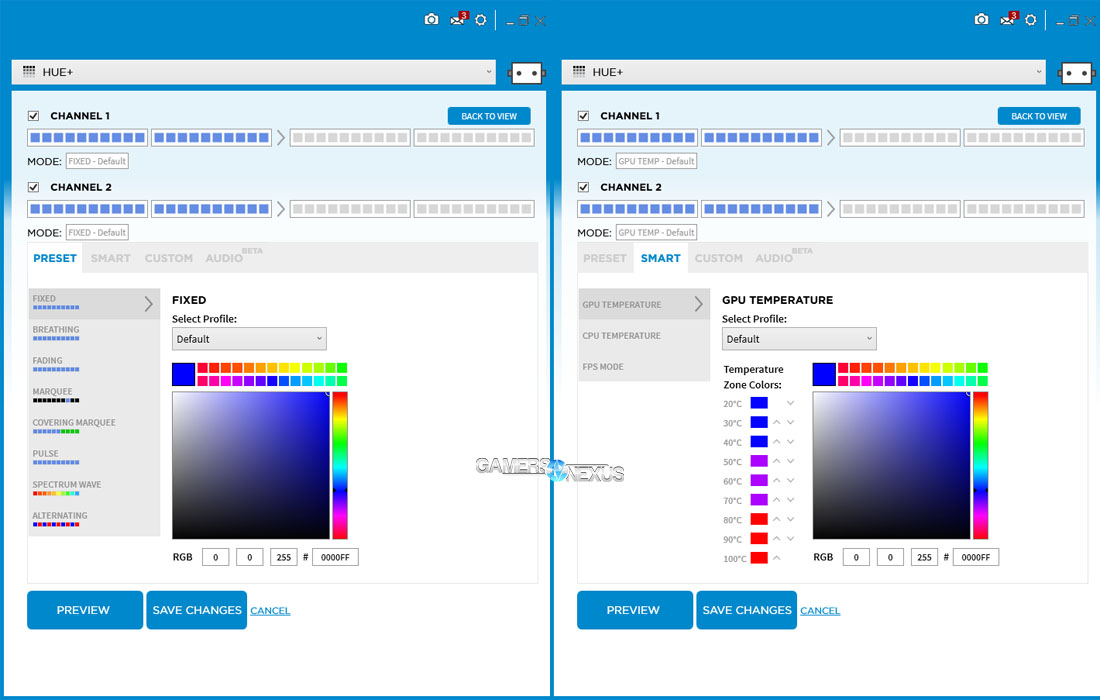 There's a lot of potential for LED lighting modes, as Logitech taught us with its G910+ keyboard. CAM presently simplifies things with the usual presets: breathing, fixed (single) color, color fading, marquee scrolling colors, covering marquee ("chased" colors), pulse, rainbow spectrum, and alternating colors. Coupled with the different modes (audio dBA levels, "Smart," custom, and preset), NZXT has pathways to bridge HUE+ functionality with hardware monitor or in-game functions, depending on how the company plays its partnerships.
We'd like to see Smart tie-ins with diode thermals across the hardware, with LEDs changing toward warmer colors as a system gains in heat (this is already partially do-able). The two channels could be used to split component thermals, providing visual cues as to which components generate more heat in a build. This could obviously be done with monitoring software or thermistors, but the visual aspect allows for more showmanship. NZXT also has an opportunity to partner with game developers, as Logitech did with its G910 to bring the red-and-blues to the F-key row upon initialization of a police chase.
Looking to the world of eSports and main event gaming, every peripherals company under the sun wants its RGB LEDs to communicate with CSGO or Call of Duty health levels. Corsair and Logitech have both told us that they'd like to see ear cup LEDs pulse red for dying or dead players, as a means to help aid new viewers in mapping the correct screen to the correct player. This could be furthered with case LEDs communicating player health or power to the audience; such an effect would do well in MOBA or 5v5 stage setups.
Because HUE+ uses an in-house firmware developer and its own custom software suite, CAM, these things are within the realm of reasonable possibility going forward. HUE+ is patchable hardware in the same way that modern keyboards and mice get functionality and profile patches.
CAM works fairly well to control everything as it currently stands. We encountered no major blocking or high severity issues. The pathways for Smart plugins are present and currently untapped but, for a day-one launch product, the HUE+ is fairly feature-complete for the vast majority of system builders.
Conclusion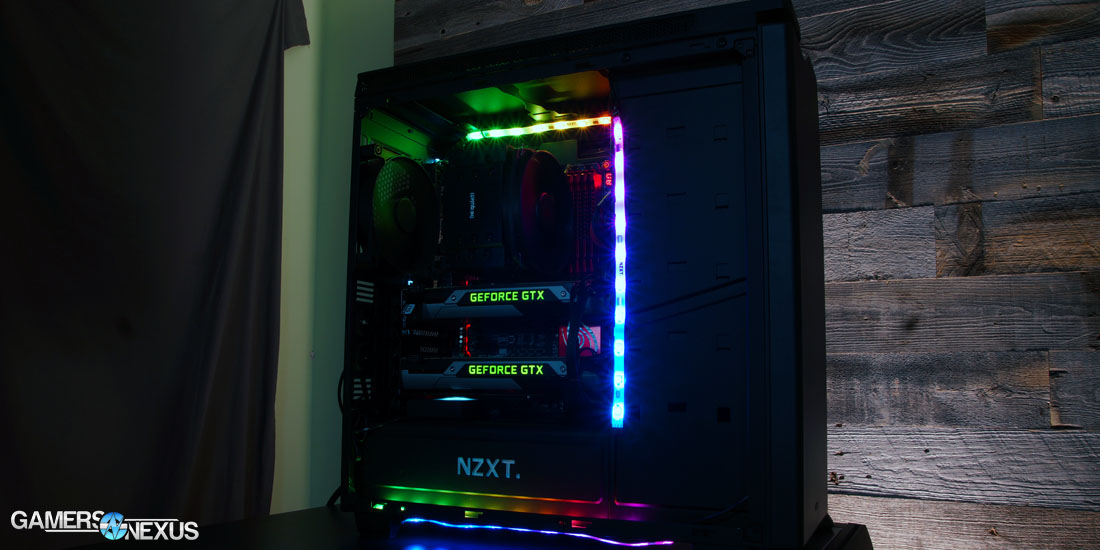 It's difficult to find points of complaint with the HUE+, which is ultimately just an aesthetic add-on for enthusiasts. Most of the things I'd like to see – like integration with games or more hardware monitoring – are added via firmware going forward and, frankly, aren't all that important as immediate features. They're shiny extras, in the same way that the HUE+ is a shiny extra. It's likely that competition will eventually make an appearance with expanded Smart functionality, granted, so this does seem like an area NZXT may want to focus efforts for the first patches.
The cabling is pretty easy to work with. Four primary cables converging upon a single hub makes for relatively easy management. The kit lacks an elbow connector for wall-to-wall, 90* daisy chains, which is something we see as a necessary accompaniment going forward – especially for those buying the $20 kit of four additional LED strips. Maybe NZXT could include something like this in their extra LED kits.
Installation is made trivial with SSD form factor compliance, few cables, and a two sizes of extension cables. Despite its SSD size, the HUE+ is slightly taller (shortest dimension) than SSDs, meaning it won't fit in the rear motherboard mount for most cases; the HUE will also present a thermal concern if mounted atop the NZXT PSU shrouds when the bottom PCI-e slot is occupied.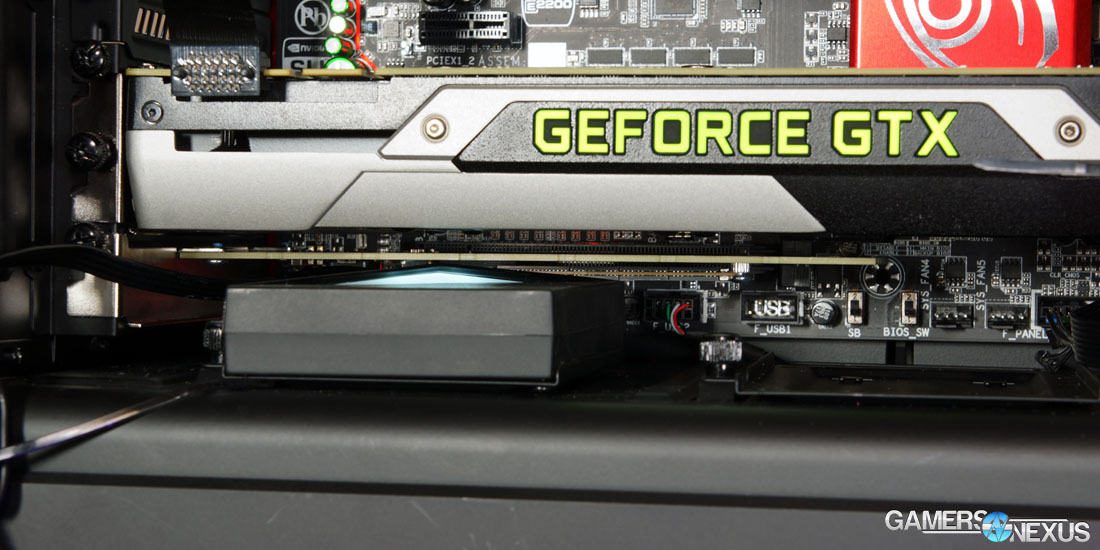 The vibrancy and color depth of the LEDs are superb, with limited lateral bleed (so the strip doesn't overly expose the metal immediately adjacent) and good lenses for component spotlighting. Depending on the enclosure, it'd be fairly easy to spotlight the faceplate of a GPU or the RAM heatsinks.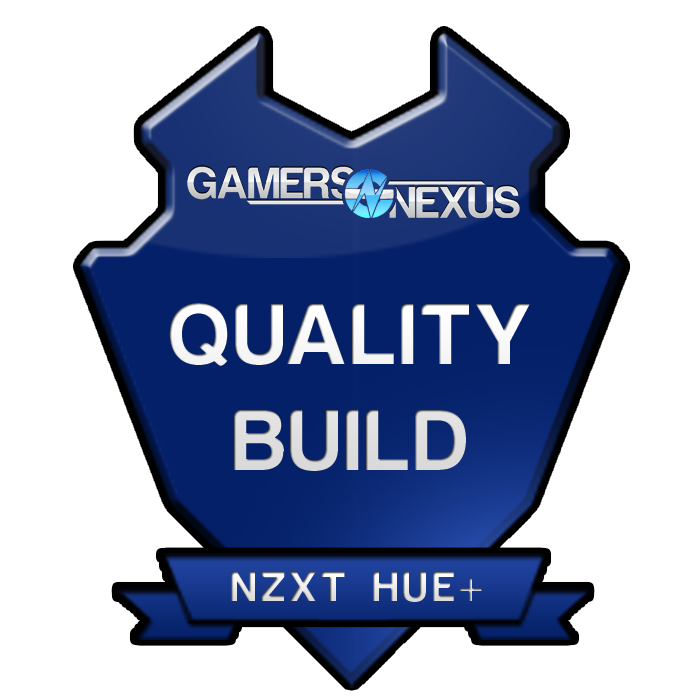 For excellent overall build quality, design, and hardware execution, we're awarding the HUE+ with our "Quality Build" award.
At $60, the NZXT HUE+ seems fairly priced and is a wishlist item for PC builders with bling on the mind. We'd like to see the price closer to $50, seeing as $60 is getting close to major core component setp-ups, but the price isn't unfair as it presently stands.
The HUE+ is expected for availability by mid-November at this link.
- Steve "Lelldorianx" Burke.