Hardware
stub
Be Quiet! Silent Base 800 Case Review: A Large, Quiet Enclosure
Posted on May 4, 2015
We reported on the Silent Base 800 back in November when Be Quiet! posted its specs, then later revisited the case at CES 2015. Over the past few weeks, we finally had the opportunity to try out the Silent Base 800 for ourselves. It's pretty clear what its purpose is (silent, "be quiet," etc.), but the question remains whether the case will fit the niche well enough to merit its price.
Be Quiet! Silent Base 800 Specs
Form Factor
ATX
Motherboard Support
ATX, Micro-ATX, mini-ITX
Dimensions
495 x 266 x 559mm w/ stands
495 x 230 x 542mm w/o stands
Weight
9.31 kg (20.5 lbs)
I/O
2xUSB2.0
2xUSB3.0
1xHD Audio
Expansion & Bays
7x Expansion slots
3x5.25" bays
4x2.5" bays
7x3.5" bays

2x modular HDD cages
1x relocatable HDD cage
Cooling
Included:
2x140mm front fans (18.8dBA; 1000RPM)
1x120mm rear fan (19.2dBA; 1500RPM)

Liquid Support:
120/140mm front radiator
120mm rear radiator
120/140/240/280mm top radiator

Clearances
Up to 170mm CPU cooler height
Up to 290mm VGA length (400mm w/o cage)
Up to 160mm max PSU w/ bottom fan
Up to 290mm max PSU w/o bottom fan
Price
$140
Be Quiet! Silent Base 800 Features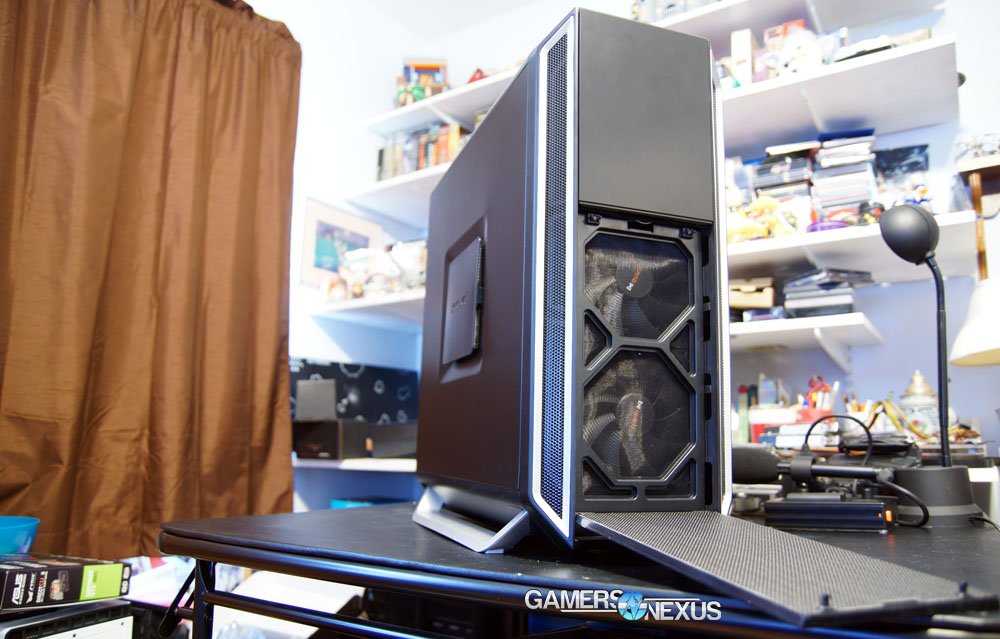 Be Quiet! takes its name very seriously: every part of the case is designed to minimize vibration and fan noise. The side panels are coated with a sheet of acoustic foam on the inside, rubber grommets are distributed generously, and the fans are decoupled. The front fans are obscured by a latching door, the top fans or radiator are hidden under a plastic roof, and the side fans are covered by adjustable plastic panels, leaving no fan directly visible (or audible, hopefully). Be Quiet!'s case fans do run very quietly indeed, and there are quite a few places to put them—in addition to the three fans which come with the case (two in front, one in back), there's a fan slot on the bottom, two on top, and one on the left side. There's one on the right side, technically, as the panels are mirrored; please don't try to jam a fan behind the motherboard. Radiators can be installed in the top, front, or rear.
The installed fans are all accompanied by removable filters, easily accessible behind a door in the front of the case and in a slot underneath. The bottom filter is especially handy, as it not only covers the bottom fan slot, but the PSU intake as well. Despite the sealed-off nature of the case, everything seems fairly well-ventilated.
3.5" drives are installed by attaching rubber rails to the sides, which allow them to slide into the HDD cages and lock into place. This eliminates drive vibration (Be Quiet! includes 28 thumbscrews for this purpose, which is great—more thumbscrews is always better) and assists with aging HDD noise. There are two HDD cages, one on top of the other, with space for an impressive (if of questionable usefulness) seven drives. Best of all, both HDD cages can be easily removed, and the smaller one can be inserted into the space meant for 5.25" drives, using space that would probably otherwise be wasted. If you do intend to install an optical drive, they lock-in with a simple screwless mechanism and are hidden by another hinged door, which can be altered to open in either direction. Installing SSDs is even better, as they can either be tucked into the bottom of the HDD cages (one space each) where they can potentially share a power cable with other drives, or completely out of the way behind the motherboard (two spaces).
The case comes in black, black/orange, and black/silver. It's certainly impressive to look at – partially because it's the size of a fridge – but also because the rail-legs and angled edges give it a nice streamlined look. Don't expect it to show off your LEDs, though, as there's no side window. There's no way to see the inside of the case at all, favoring foam padding and noise damping over visuals. The one light on the case is in the extra-large square power button on top, which is extremely satisfying to press.
Installation & Build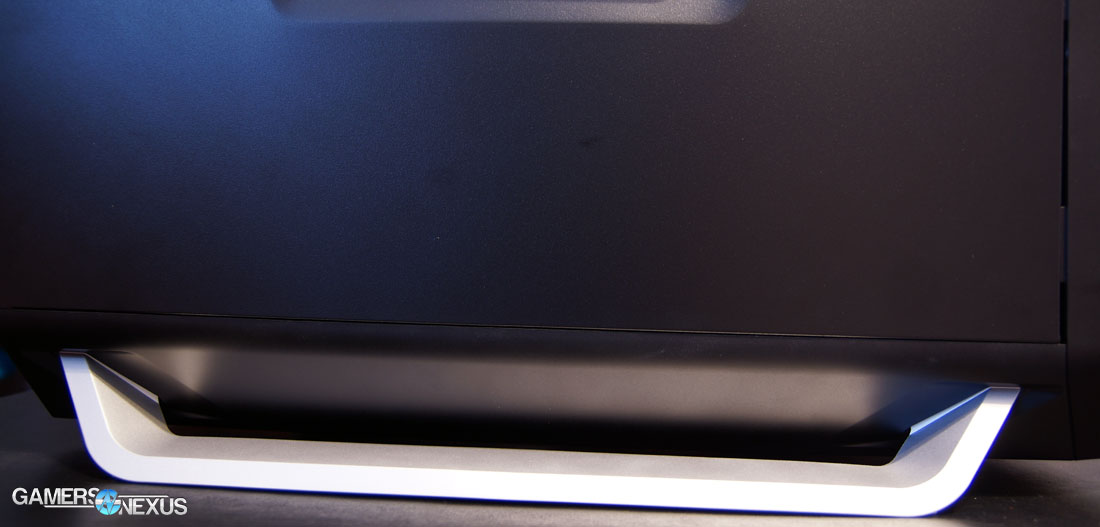 Installation was great. Given the size of the case, it was easy to get my hands wherever I needed them, including above the CPU cooler. Cable management would have been more difficult if I had needed to route additional cables over the motherboard but, as it was, everything was able to be routed around the side and through rubber grommets with plenty of room to spare. It was moderately more difficult since I had removed the HDD cages, so there wasn't any way to be lazy and stuff cables behind structure. Once I did get my SSDs and power cables settled behind the motherboard, it got a little more difficult to get the side panel back on, since the tabs from the (superfluous) side vent stick into that space—but not nearly as much as I had worried.
Silent Base 800 Downsides
The Base 800 is chunky. The last case I reviewed was the S340, which, despite being constructed of solid steel, manages to be more than two kilograms lighter. Be Quiet! didn't use steel paneling for their case – which is why it hasn't fallen through my floor yet – but I found myself wishing they had in a couple instances. The rail legs which stabilize the sides of the case are plastic, and are inserted into slots in the bottom – they aren't screwed in, or really firmly attached at all – and the manual specifically asks that you take them off before turning the case on its side, presumably because they'd snap.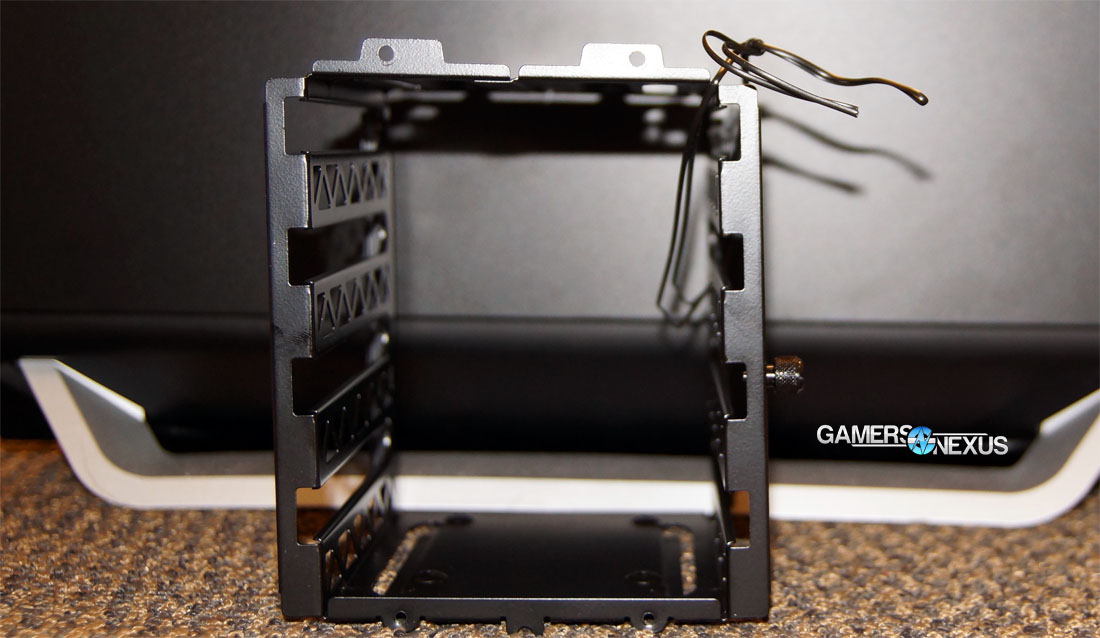 (Above: Taking on the shape of a parallelogram -- definitely not as intended).
There's metal mesh on the rear of the case that you need to push against to pop off the side panel, creating the uncomfortable sensation that you're warping the case when you open it. There's a gap on this particular case between the edge of the side panel and the front panel, as well as some very slight parallelogram-ing in one of the HDD cages. It's important to note that none of this affected performance, but there's a lot going on inside the Base 800. With the number of plastic and thin metal parts (the two-part HDD cage, the hinged doors over the fans/optical drives, the side-panel filter covers), it seems like an invitation to break something.
System Installation, Build, & 2015 Case Test Bench
A Note on Our Thermal, Noise, & Other Benchmarks
We are currently revising our entire test methodology for cases, ensuring loose ends are tied-up and case tests are as consistent and reliable as possible. Case thermal and acoustic testing has massive room for test error, and we're working hard at closing those gaps where possible. In the meantime, case reviews will not include thermal tests. We will revisit the SB800 in short order with thermal and acoustic testing, alongside several other cases.
Be Quiet! Silent Base 800 Conclusion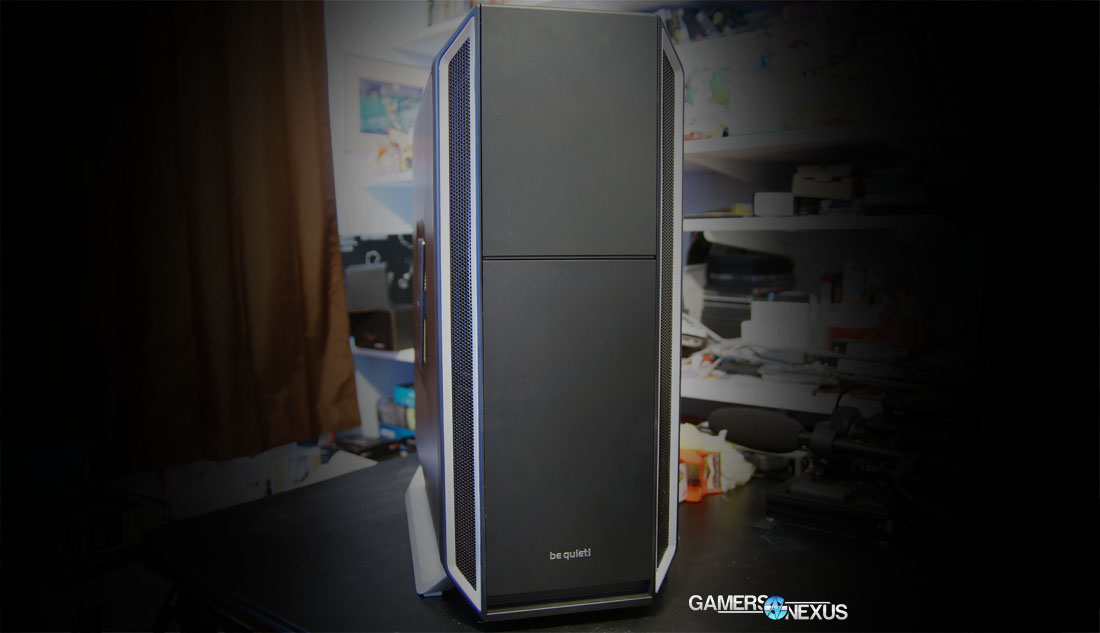 The real question with the Silent Base 800 is whether the features that it offers (namely: space for drives and sound damping) are actually needed. If you're spending more than $100 on a case, chances are slim that the rig is ultra noisy in the first place, a fact amplified by the obsession with low TDP, S0iX, idle fan cooling, and more aggressive spin-down times on modern cards. Anyone buying the Base 800 has probably already invested in a high-end air cooler or liquid cooling, leaving the PSU and graphics card to make noise (hopefully not the HDD). A thick layer of acoustic foam may be advantageous if using the system in a living room environment – somewhere that absolute silence is in demand – but then, in that scenario, it seems like an SFF rig is more fitting.
The Silent Base 800 certainly has the features you'd expect to find in a high-end case. The exterior is unoffensive and carries some grace, the interior is easy to build with, and it truly is damn quiet. That said, it might be better to find a case with features specifically demanded by the build, rather than a mix of everything.
Other silent cases include the Fractal Define R5 ($100), though it's much smaller. Non-silent solutions that compete at the same price-point would include the new NZXT N450 and Corsair 760T; neither of these offers the silence, but will offer alternatives for those who don't need the reduced noise output.
- Patrick "POL" Lathan.