Hardware
stub
Review: Logitech G910 Orion Spark Mechanical Keyboard & Romer G Switches
Posted on November 17, 2014
It's rare that we see innovation where suppliers already dominate a market. Keyboard switches are one such market: Cherry undoubtedly boasts the largest foothold with its colored MX switches, with Kailh grasping at part of that western stronghold. Most major keyboard manufacturers source switches from one of these two companies, including Thermaltake for its Poseidon Z (Kailh) and Rosewill for its Apollo (Cherry). Logitech decided to stray from these solutions, though it has made use of Cherry in the past.

We discussed Logitech's new "Romer G" switch solution in full detail at PAX Prime this year. The company invested in development of the new "Romer G" switch that debuted in the G910 mechanical keyboard we're reviewing today, primarily boasting greater endurance. Romer G switches have a shorter actuation depth (quicker key presses), a more damped feel, and a large, centrally-positioned gap for brighter LEDs that are magnified by a lens. Most switches host some sort of plastic or spring hardware centrally, constricting space for an LED (though Corsair came up with its own solution).
In this review of Logitech's G910 RGB mechanical keyboard, we'll look at the Romer G switch tech, specs, backlight programming, and overall quality.
Logitech G910 RGB Keyboard Software & Video Review
Logitech G910 RGB Keyboard Specs
Weight: 1.5KG.
Length: 243.5mm/210mm.
Width: 505mm.
Height: 35.5mm.
Key Switch Durability: 70 million.
Cable: 6ft.
Although the colors trigger the most impulsive response, switches and keycaps dictate the overall feel of the keyboard. The Romer G switches are brand new; for those with existing mechanical keyboard experience, the feel of Romer switches can be thought of as similar to Cherry MX Brown. Logitech's product managers noted that the G910 feels similar to the G710+, which uses rubber-damped MX Brown switches. In our own testing, that has shown to ring true.
Fans of MX Brown may like the Romer G switch. It's got a shallow, 1.5mm actuation depth, meaning the switch only needs to be depressed 1.5mm before triggering the input. Unlike MX Blue switches, the Romer G seems to be less fatiguing for long-term use and typing. That said, MX Blue switches offer a more audible, satisfying "clack" when actuated – though some users may replace "satisfying" with "anxiety-inducing" in that sentence. Romer G switches offer a quieter, responsive option for users who dislike the noise associated with certain mechanical keyboards. The Romer switches still make the famous "mechanical" sound, it's just a bit less noisy. Switches are all about preference, so it's pretty difficult to convey what various users would prefer without just putting a palette of test switches on the table.
The Romer G switches are fairly quiet – they're about the same noise output as rubber-damped Browns (approaching membrane noise with mechanical feel) – but still responsive. Keyboard users who host strong, positive feelings toward noisier keyboards will want to look elsewhere. Unlike Cherry's MX line and Kailh's mirrored offerings, Logitech's Romer switches are only available in a single switch type; there are no "Romer Blue" or "Romer Red" switches, for instance. The switches are presently only available in the G910 Orion Spark keyboard, currently priced at nearly $190.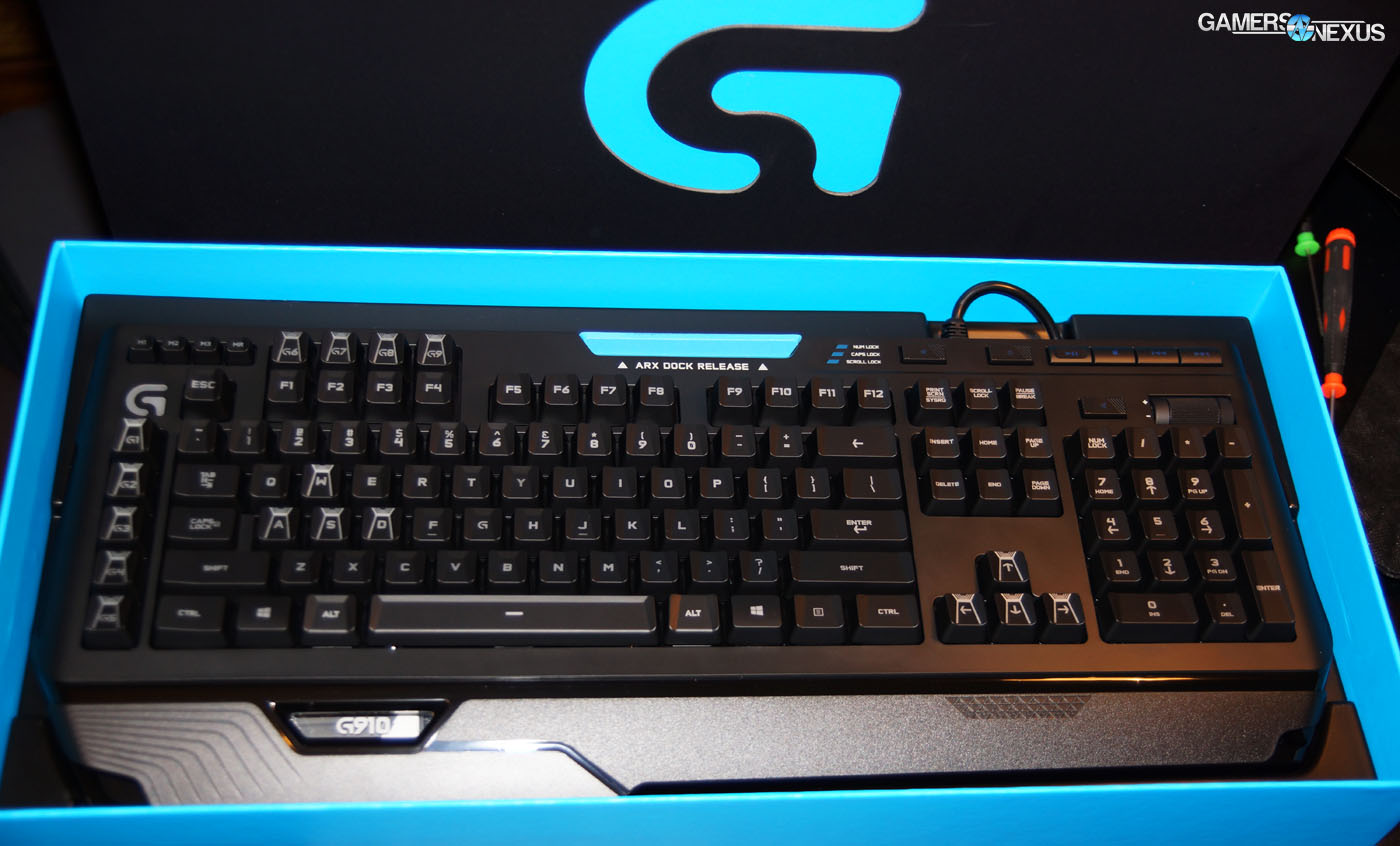 Competing RGB keyboards include Corsair's RGB board at $170, Rosewill's $120 RGB80 TKL board, and Razer's $170 RGB option. None of them have the depth of programming that Logitech boasts, though they've got the known switches.
Future Plans for Macro Programming
In our above video with Logitech, we discussed the possibility of cool-down based key macros that would cause ability mappings to change color based upon time until cool-down. Using Logitech's software – and with cooperation from game developers – an owner of the G910 could map a key ('E' on a MOBA hotbar) to breathe red when the ability is unavailable. Once available again, the key would turn green, blue, or whatever other color is desired. This ensures minimal downtime between ability use and pushes players to cycle through abilities more rapidly. Although it's not something that competitive or adept MMO/MOBA players would use, it's a fun feature that I could see gathering interest. It'd certainly make learning easier.
That's an expensive lesson, though.
Logitech Software: Heat Zones, Lighting Effects, & Custom Coloring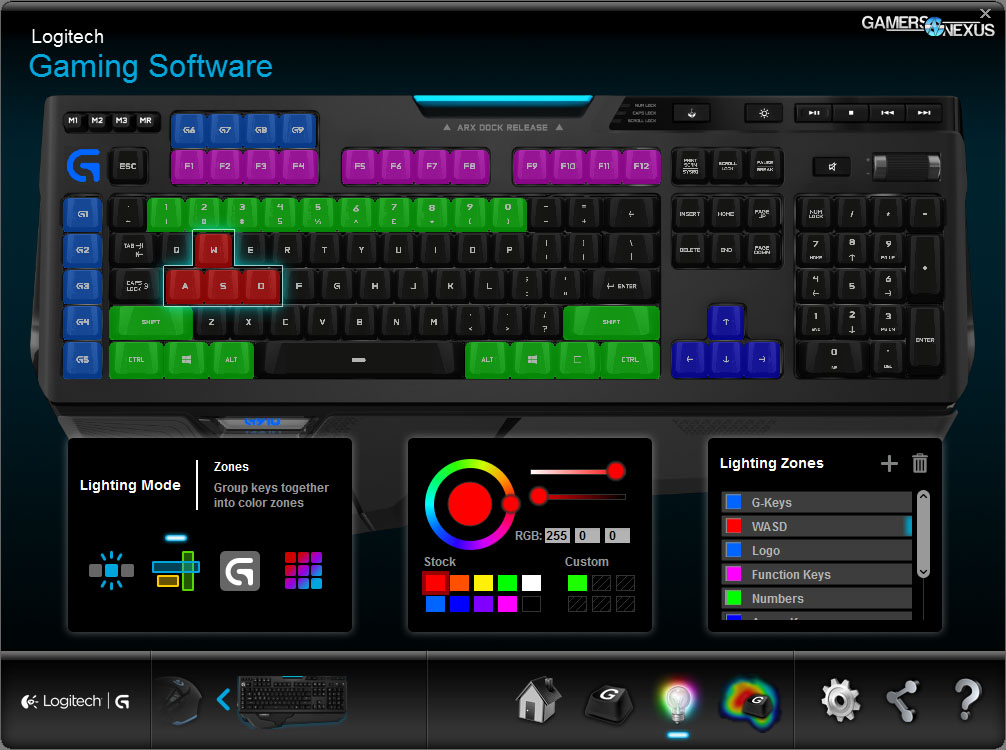 As a flourish of technology for the sake of technology, Logitech's updated gaming software now allows for key press tracking and corresponding heatmaps. Users can use this tool to analyze how frequently various keys are pressed based upon color; the utility even tracks duration of key presses (so WASD should be longer holds, while F/G/Space might be shorter). This doesn't really give us a massive functional advantage in any use case, but is a fun toy to play with. KPM is also logged, for those who care about that metric.
Here's a map I generated while performing our recent Assassin's Creed benchmarking: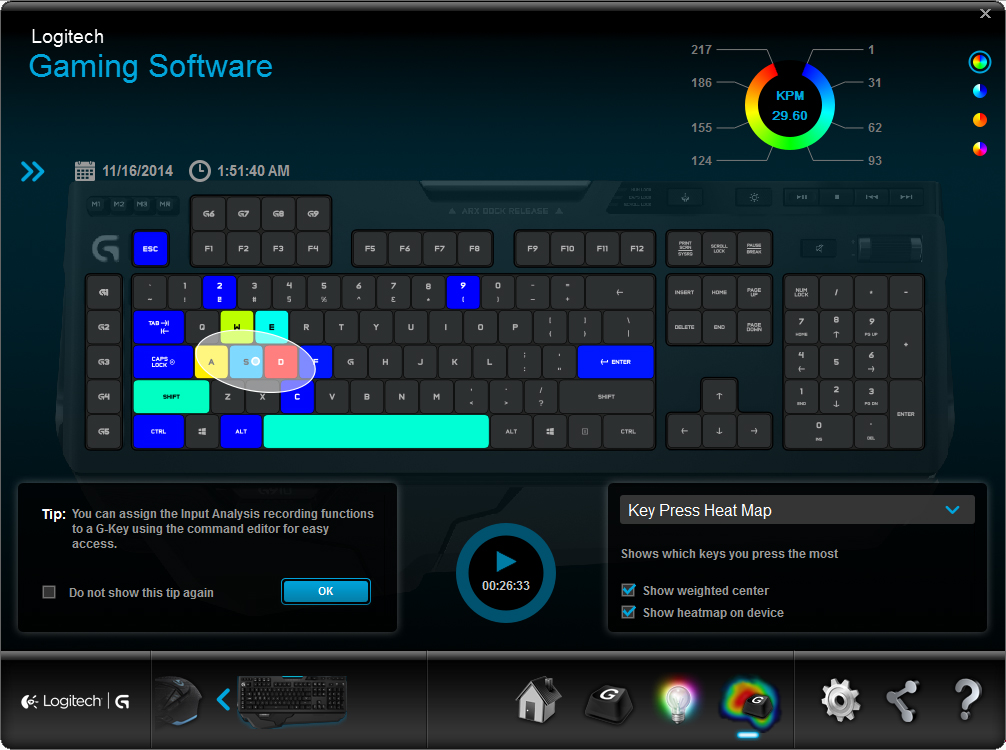 The map is also reflected on the physical keyboard.
The lighting effect options include breathing, key press trailing, and color rotation. All of these can be seen in action in our first video at the top of the page.
Logitech's software works well and we had no issue during testing. The keyboard's lighting is vibrant and versatile, with large thanks to the larger bleed-through space for the LED and amplifying lens. Lighting effects are cool and offer a 'bling' factor, though are probably not something you'd deploy in actual use.
Functionality, Look, & Feel – G910 Orion Spark
The core functionality of a keyboard remains the same as always. The Romer G switches feel fine – I've got no complaints – but you're most likely to enjoy the switches if favoring moderate/light noise and a damped actuation over the noisier options. Bezeled keycaps make for a unique texture when typing, but don't hinder finger movement too much. I found the bezeled caps on the numpad to be undesirable (you only want speed and precision on a numpad, ideally with no interference). I don't know that the bezel really adds anything useful for gamers; anyone who can't stick to WASD on their own is going to have more problems than a keyboard can resolve. The bezel is done in a way that's a bit tasteful and doesn't scream "gamer" too loudly, similar to what's found on Corsair's K70 alternative key caps.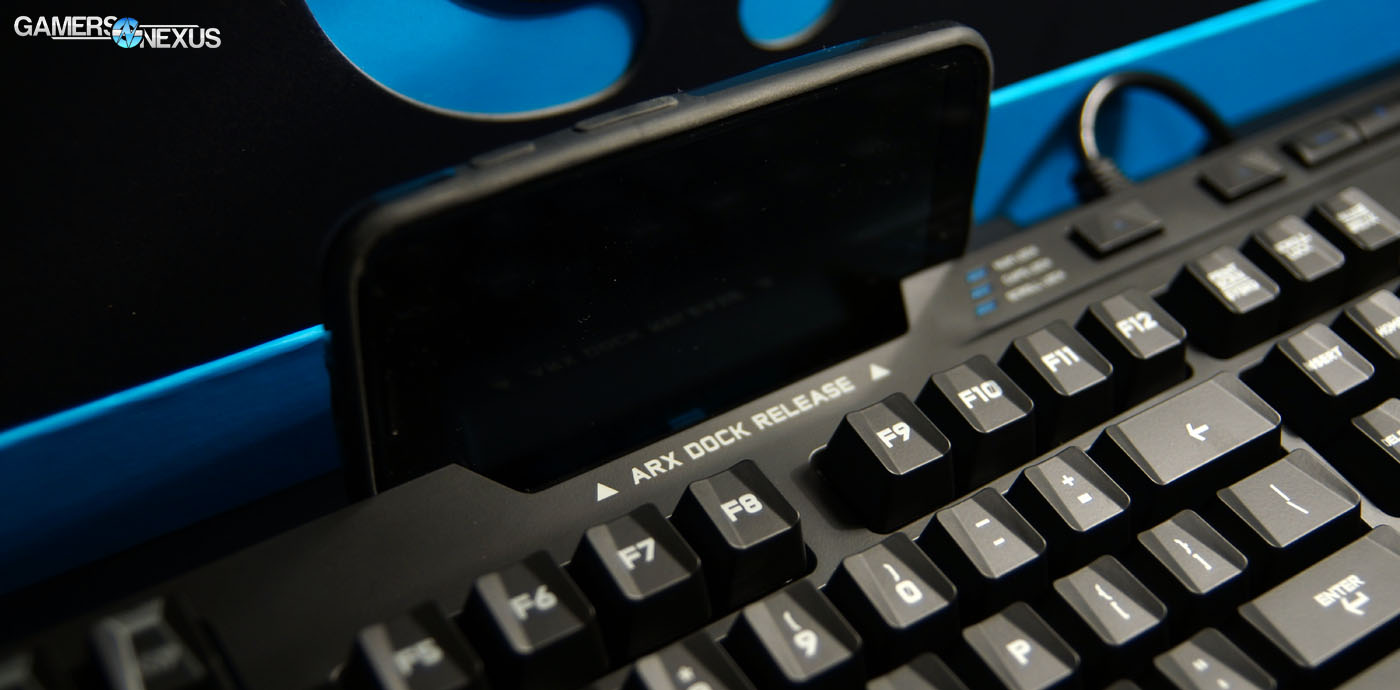 The "ARX Dock" included with the keyboard gives me ideas for the future, but the dock in its current state is entirely useless. It's a cold dock for phones – so it'll fit most phones, but doesn't really do anything other than hold the phone. It's just as useful as a table. Or pocket. You could run Logitech's application to monitor system resource usage on the phone (effectively replacing the G15 LCD), but then you've got a new problem: Battery life for a feature of questionable usefulness. Because the dock is a cold dock and because Logitech has abandoned the on-board powered USB port, we're really just killing the phone battery for no useful gains.
For future iterations, I'd love to see Logitech change the dock to a hot dock (in the very least) with micro-USB / USB compatibility.
The usual suite of media keys can be found in the top right of the G910, including play/stop functionality, track skipping, and volume control. I make heavy use of these given the regularity with which I'm playing music; it makes for quick accessibility when trying to mute or change volume of something during gaming.

Additional G-keys are a nice addition for MMO players who might make heavier use of macros, though I've almost never used macro keys in gameplay. They certainly have uses given the right environment.
The keyboard's build quality feels very high. A matte finish means fingerprints aren't as big of an issue as on other boards and the matte paint is visually-appealing. The paint job also helps tone-down the "gamer" look of the board. The keyboard, its switches, and its LEDs all feel like they're built with high-quality materials. Even the software is top-notch, loaded with functional options and completely stable.
Conclusion: Logitech's G910 Orion Spark is High-Tech Board Worthy of Consideration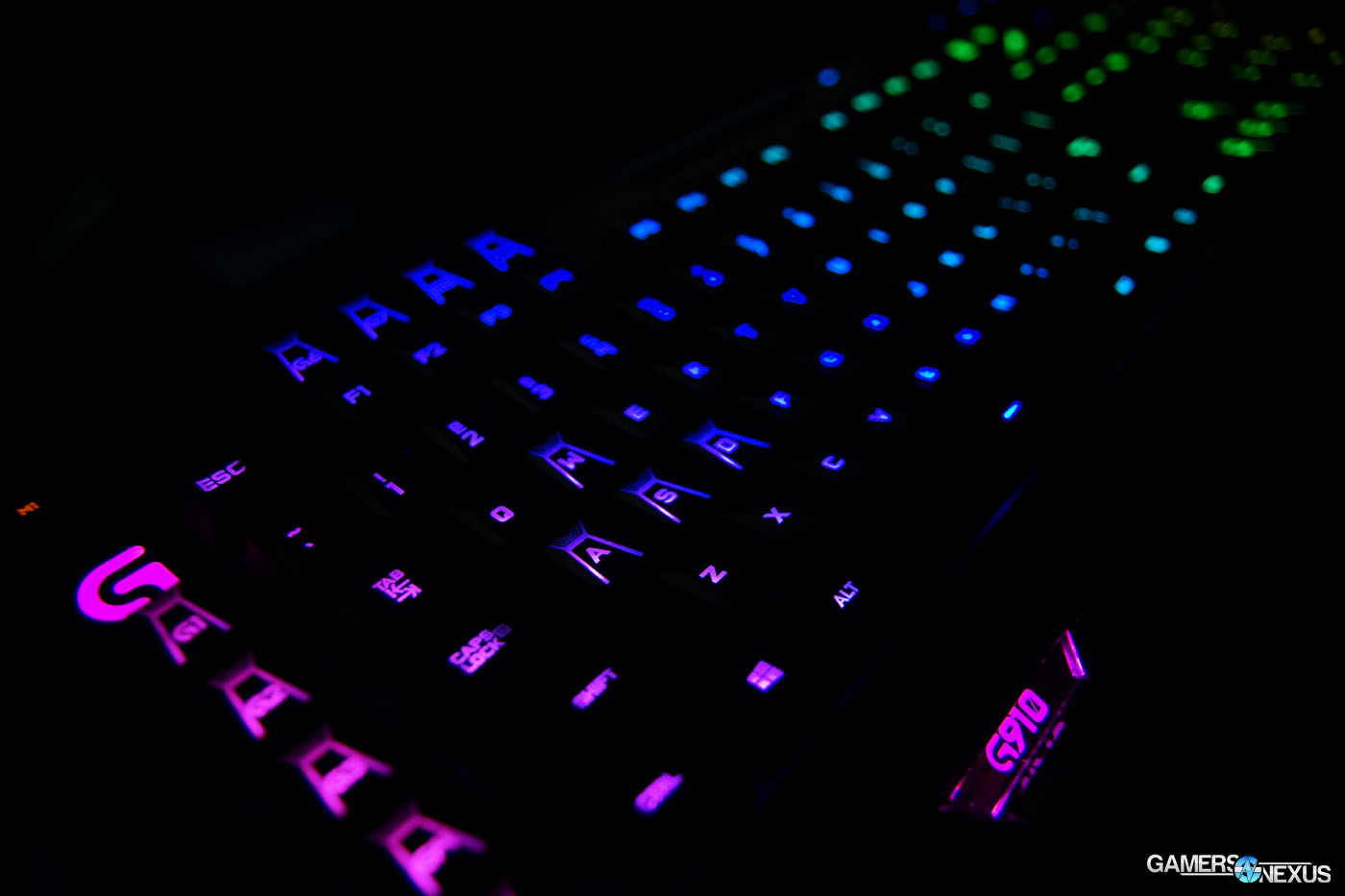 I've enjoyed my time with the G910. It's been tremendously fun to play with the lighting settings and learn about the new switches. Light programming has potential for more creative owners, especially when it comes to cool-down macro timings in the future.
Priced at around $180, it's a steep buy for something that ultimately sees the most use as a toy. The G910's keys feel damped and quiet; they don't have the same level of responsiveness as certain MX switch types and springs, but the Romer G switches still have that mechanical feel.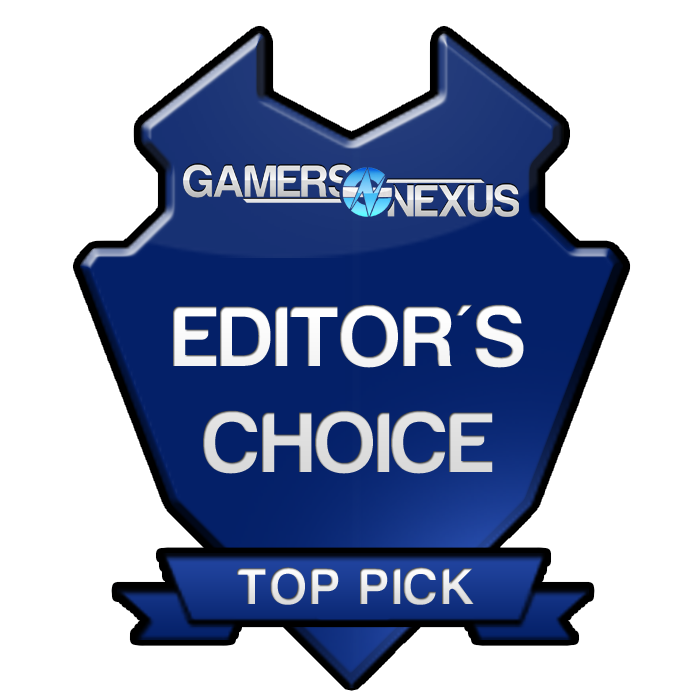 With the most comparable competition priced at around $170-$180, Logitech's G910 is priced fairly in the high-end RGB market. The lighting is impressive and fun, the switches feel solid for those familiar with damped browns (but could be undesirable to users of "harder" contact switches), and the presentation of the board isn't overly dramatic in "gamer" aesthetic. I have a hard time ever justifying a near-$200 keyboard purchase, though, and this is in-line with that. If I were in the market for a board, I'd rather spend $100 on a non-RGB board and invest the $80 into something else, like an MX100 SSD.
If the G910 drops to $150, I'd definitely be a buyer. Thanks to its high build quality, functionality, flawless software, tasteful presentation, and switch innovation, we're giving Logitech's G910 an Editor's Choice award; if the price dips, it's an easily recommended purchase. At the current price, though, the keyboard is prohibitive even to its target enthusiast market.
More here: http://gaming.logitech.com/en-us/product/rgb-gaming-keyboard-g910.
- Steve "Lelldorianx" Burke.