Hardware
stub
Plantronics RIG Gaming Headset + Mixer Review & Setup
Posted on December 30, 2013
After receiving an influx of peripherals to test (see: gaming mice reviews), we've finally worked our way toward gaming headsets. Headsets are slightly tougher to review than other, more objective components; the subjective nature of audio means that these reviews will be based more upon the user experience than hard numbers.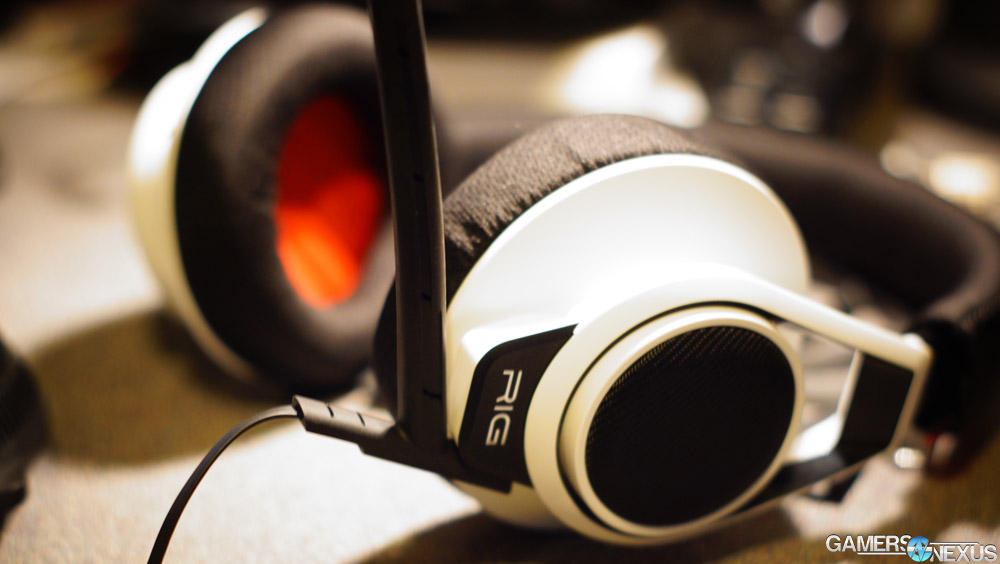 In this Plantronics RIG review, we look at the company's new gaming headset + mixer combo package, targeted toward cross-platform versatility and unique mixing use case scenarios.
(This review will be split between contributor Paige "DinoPillow" Spears, handling usability, quality, and performance, and Editor-in-Chief Steve Burke, handling technical analysis).
Plantronics RIG Video Review & Hands-On: Twitch Streaming & YouTube Production with the RIG
Plantronics RIG Specs: Frequency range, driver size, & impedance // Steve
Headphone Style
Over-the-ear
Sound Isolating
No
Frequency Response
20Hz - 20kHz
Sensitivity/SPL
109dB/mW
Harmonic Distortion
<0.7% @ 1kHz;
<1% @ 70Hz
Impedance
32 ohms
Magnet Type
Neodymium
Channels / Drivers
Stereo; 40mm
Dimensions
7.75" x 7.25" x 3.5"
8.8 oz.
Cushioning
Foam ear padding
Folding
Yes; folds at ears
Mixer & Connections
Mixes multiple devices
S/PIF, 3.5mm audio, controller jack
USB powered
Platform Compatibility
PC, Mobile, Xbox 360, PS3, PS4
Limited Xbox One support (no input)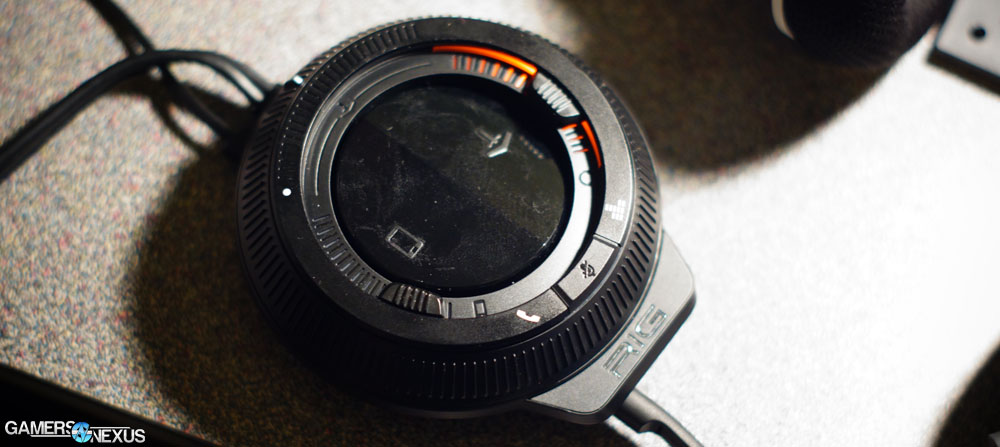 The mixer. Can switch between game voice/audio and external sources.
Looking at the specs – which are almost absurdly difficult to obtain – the RIG doesn't exactly stand-out as a headset. The mixer is its biggest draw, with the headphones being pretty standard. Its 20Hz-20kHz frequency range isn't anything to phone home about, the 40mm driver size is pretty typical (exception: SteelSeries Siberia headphones, which use 50mm drivers). Unlike the GameCom 780 that we've raved about, the RIG lacks similar Dolby Digital Headphone surround, meaning we end up with a "flatter" output from each of the dual channels in the headset; there's still directional / positional audio, but it's very limited in its efficacy.
The RIG is a closed-back pair of headphones, meaning a lot of the audio is bounced around within the earphones to amplify the bass frequencies, but our soundstage is a bit more limited than open back headphones.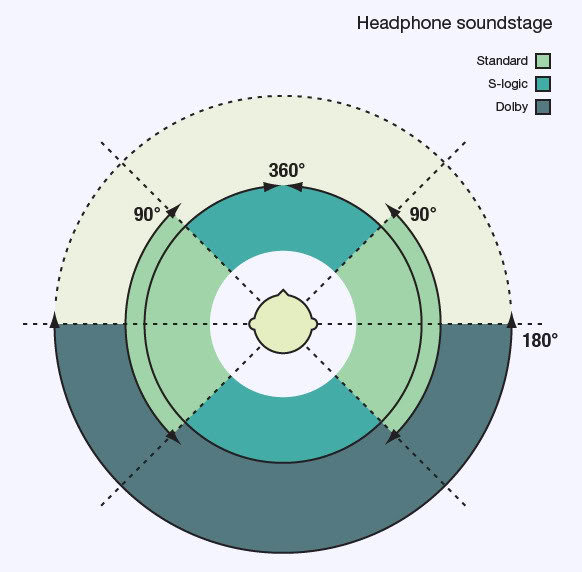 Source & further learning: head-fi.org.
Similarly-priced units without the mixer (just the headphones) tend to feature wider frequency ranges (~10Hz – 28kHz, for instance), but generally exhibit the same 32 Ohm impedance (crosstalk is effectively eliminated) and close dB sensitivity (~106-112dB SPL@1kHz).
Features Listing and Target Audience // Paige
The Rig is pretty versatile. It's compatible with PCs, the Xbox 360, PS3, PS4, and can technically be used as an output device on the Xbox One, but no word yet on input support.
The mixer that's included is partly responsible for making this possible, but also allows for sound customization. The mixer has game sound and voice (chat) sound sliders, joined by a master volume dial -- separate from the ones that control the balance between game sound and chat sound. The other big feature that the RIG boasts is its compatibility with mobile phones. The mixer has a built-in cable that enables cellphone connectivity, which then mixes-in phone calls while gaming. There is a separate volume lever for this feature, so theoretically, you're never overwhelmed with voice sources and can balance your game and your phone call.
Plantronics' new RIG is designed for someone who games on multiple platforms or for a gamer who wants to stream with mixing capabilities. With the added cellphone feature, it leans more towards a casual gamer as opposed to a competitive gamer, given the nature of competitive gaming.
Usability and Ergonomics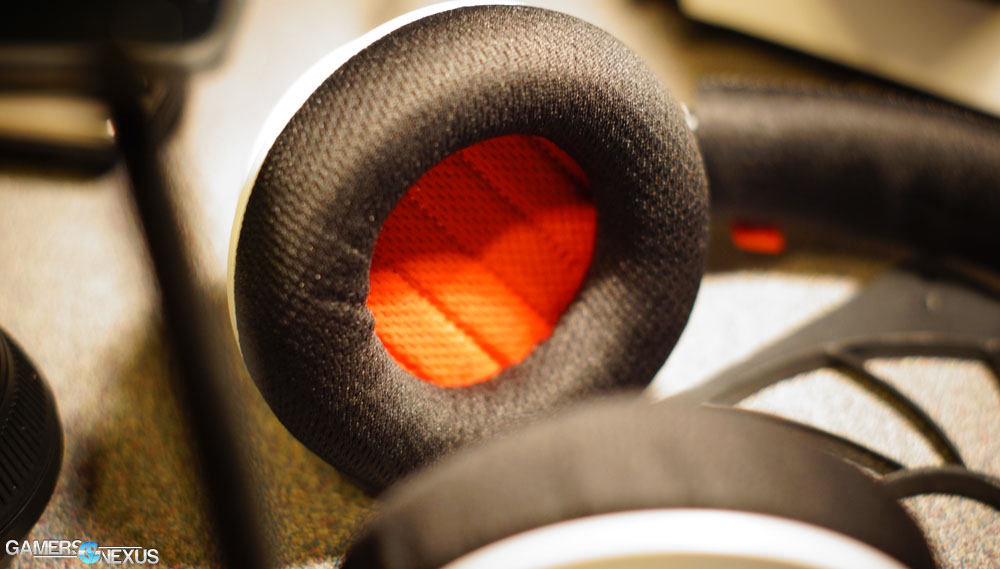 Memory foam padding.
Setting up the RIG is pretty simple and takes around 5 minutes. It comes with an illustrated instruction guide that is easy to follow and has steps for each specific system it can be used with. In testing, I powered the RIG through my PC and used it with my Xbox 360, mirroring my normal setup with a pair of Astro A40s. I used it for gaming, streaming, producing gameplay commentaries, and Skype calls. It's definitely a versatile headset, but was a step down from the Astro Gaming A40s I currently use. Before getting to audio quality, let's talk comfort.
One of my biggest problems with the RIG was comfort. I happen to have a very small head and have to wear all of my headsets pushed in as far as they can go. When wearing the RIG, most of the weight rested on the tops of my ears, not the top of my head, and applied pressure in uncomfortable areas. I'm the kind of gamer who tends to wear a headset 4+ hours at a time and this ended up being one of the biggest reasons I disliked the RIG. Now, if you're someone who doesn't have a small head, the RIG could be a headset that is comfortable for you.
The headset is fairly sturdy, but not something that is built to last. Headsets have a tendency to get beaten up in their lifespan – knocked down by cats, thrown in bags for conventions, or generally just relocated throughout the day.
The headphones rotate halfway about the axis of the frame, ideal for when wearing the headset around the neck (the speakers rest on the user's chest). This is a feature we're all largely familiar with and is something a lot of headsets boast these days (the 780 uses rubberized material to allow extreme flexibility; Siberia Elite uses a wireframe band), but it's also the part of a headset that is most likely to break. Headsets will last if you take care of them, but I'm not convinced that RIG is built for a lot of wear-and-tear – even under the guidance of a careful user.
Audio Quality and Performance
The mixer allows for customization of sound levels, but doesn't have noteworthy range. There exists no extreme highs and lows; even at full chat sound, I still got a lot of game sound mixed-in and vice versa. I normally play games with high chat sound and low game sound (competitive FPS), but was unable to get the balance that I wanted out of the RIG. Being able to hear my teammates is important to me as a competitive gamer and having them constantly drowned-out by game sound was frustrating.
The RIG did have reasonable sound quality on the whole. Even without getting the balance I personally wanted out of the headset, the treble and vocals were clear in music and the bass was respectable; as we mention in the video review, the audio almost sounds "fake" or otherwise unnatural when gaming – almost like the explosions are taken from a Hollywood soundboard – so there is a bit of a drawback to the design.
The sound cancellation on the RIG is minimal. It was able to block out the ambient house sounds easily, but with my live tournament (MLG) experience, I know the RIG couldn't withstand that level of external noise.
The mic on the RIG does not adjust whatsoever, so when people online found it difficult to hear me, I was unable to move it any closer to my mouth. There is an in-line mic add-on (ideal for phone use, if you disconnect from the console/PC), but the stock mic is generally preferable in a competitive environment. Generally, microphone quality on headsets is sacrificed as a sort of "dump stat" of audio equipment; the Plantronics GameCom 780 is what we currently use for YouTube casting (sample), which replaced the Razer Carcharias before it (sample). The 780 stands out for that reason, but the RIG doesn't follow in its predecessor's footsteps – the RIG's mic quality almost makes the wearer sound nasally and pitchy, making it sub-optimal for any sort of casting or streaming production.
Final Thoughts & Verdict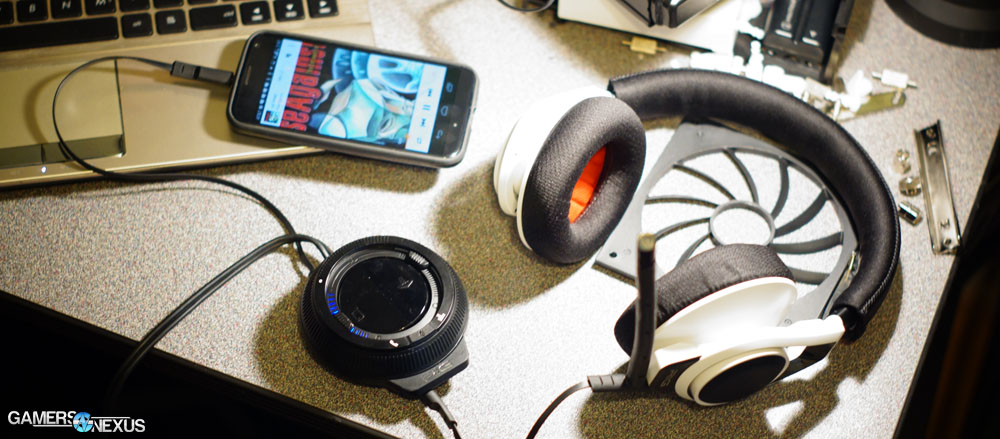 The RIG in use - injecting mobile audio/music.
I used the RIG for a week like I would use my normal headset – the A40 – and found it lacking overall. The RIG was tested in streaming and YouTube content production, where it didn't do a very good job picking-up my voice and it had a tendency to pick-up more outside sounds (typing/mouse clicking, ambient noise). For a PC gamer who chose to stream a game like StarCraft 2, the keyboard noise pick-up would almost be too much for viewers – more voice-isolating mics are preferable for streaming. The videos I made for YouTube sounded very nasally and as if I'd been sitting about 5 feet back from my microphone, which is different: I generally have the issue of being too loud (clipping), and for once experienced what it's like to be too soft. I wouldn't recommend the RIG to create content or livestream, given these points.
It's clear that most of the $130 price-tag is paying for the mixer. It's a solid design, small, and easy to use. While the cellphone feature didn't appeal to me, I did use the cable to inject music from my MP3 player while I gamed, where it performed well. This is something I do regularly with my Astro mixamp (and can be done with any other basic multi-input mixer), though, so it's not a unique feature.
The RIG is designed to be versatile and is trying to appeal to different levels of gamers – both casual and competitive – but at a $130 price-point, there are better options on the market. If you're a PC gamer, SteelSeries has headsets available between the $70-$130 range that have superior sound quality (like the Siberia V2). I own a pair of Siberia V2s that are a little tight, but the sound cancellation makes it worth the slight discomfort. Without a mixer, the V2s aren't compatible with the Xbox 360 or the PS3, so you lose in versatility what you gain in quality. SteelSeries does sell mixers for $40 to make that possible, though.
Another option is Plantronics' own GameCom 780 (~$50), which we regularly vouch for as one of the best values for PC gaming headsets. The input and output qualities are excellent, and our test unit has endured nearly two years of constant use – a rare feat for a gaming headset.
Logitech's G930 (~$110) is another solid option, for those who want a wider featureset.
The point is, there are a lot of higher-quality options (even made by Plantronics) for a lower price, you're just sacrificing the phone injection of the RIG. Worth it.
If the RIG were a cheaper headset, it would be worth buying for someone who's just starting gaming or is a casual gamer. At the current price-point, I just don't see it worth the investment with so many better options available from other companies (and even from Plantronics, if you're a PC gamer). 
- Paige "DinoPillow" Spears; find her YouTube channel here.
- Additional research & video editing: Steve "Lelldorianx" Burke.