Hardware
stub
Antec GX700 Budget Gaming PC Case Review & Benchmark
Posted on October 28, 2013
It's easy to get excited about ultra high-end computer hardware (like the HAF Stacker), but realistically, the largest percentage of our system building audience looks for cost efficiency. We've previously reviewed RAIDMAX's Cobra and Rosewill's R5 in the entry-level ~$50-$60 budget range, and in an effort to fill out our bench, we're adding Antec's new GX700.
We first looked at the GX700 at CES 2013, where Antec representative Justin Chou demonstrated the case's main features. At the time, Antec noted that its objective was to fit a $50-$60 price-point and maximize case fan count without inflating cost. The case also hopes to fit a 'gamer' aesthetic that a lot of modern enclosures attempt, almost vaguely mirroring Corsair's higher-end C70 with its military styling and flair.
This Antec GX700 gaming case review aims to benchmark performance, optimal case fan placement, build quality, and best cable management practices. We tested multiple aftermarket fan configurations, so if you've got extra money to add fans, our below benchmark will help with  airflow optimization. We'd also recommend that you take a look at our case fan placement guide.
Let's get to it.
Antec GX700 Case Specs
Specifications
Model
GX700
Case Type
Mid-Tower
Color(s)
Black and military green
Cooling System
- Includes 2 x 140 mm top fans
Capable of mounting 240 mm radiator for water cooling
- Includes 1 x 120 mm rear fan
- Optional 2 x 120 mm front intake fans
- Optional 120 mm side fan mount to cool graphic cards
Maximum CPU cooler height
up to 172 mm
Water cooling support
Rear water cooling grommets
Drive Bays
- 3 + 1 x 5.25" tool-less drive bays
Click-on 5.25" drive bay clasps
Top bay designed for controls
-5 x 3.5" tool-less HDD tray each with 2.5" SSD/HDD mount
Front Ports
- 2 x USB 3.0
- 2 x USB 2.0
- Audio In/Out
- Fan controller 
Expansion Slots / video card size
- 7 x PCI-E with thumbscrew access / up to 293 mm (11.5")
PSU
None
Motherboard Support
Standard ATX, microATX, Mini-ITX
CPU Cutout
Enlarged CPU Cutout
Cable Management
- 13 mm of cable routing space behind motherboard tray
- Cable routing holes
Side panel features
- Side Panel Window (Right side)
- Two 120 mm fan mounts (Right side - Optional)
- One 120 mm fan mount behind motherboard (Left side – Optional)
Dimensions

- 19.7" (H) x 7.9 " (W) x 17.7"(D) /
- 500 mm (H) x200 mm (W) x 450 mm (D)

Weight
- Net Weight: 13.8 lb / 6.26 kg
- Gross Weight: 17.2 lb / 7.82 kg
UPC
0-761345-15700-1
Antec GX700 Video Review, Hands-On, Benchmark, & Cable Management Guide
The GX700's Features & Specs Analysis
Cases like the GX700 might not come with custom HUE lighting systems, but still have a few small flourishes to appeal to their target audience. I'll go over the basic specs in an objective manner before moving on to opinions and performance expectations (and, ultimately, benchmarks).
Starting with the basics, the GX700 includes 2x140mm top exhaust fans and 1x120mm rear exhaust fan. There are no intake fans in the stock configuration. Additional room is available for 2x120mm front fans and 1x120mm side panel fan, or a max config would feature 6 total fans (2x140mm, 4x120mm).
Sticking to cooling, the case supports CPU coolers up to 172mm in height from the board and video cards up to 293mm in length. Liquid cooling grommets are positioned in the rear of the case, in the event you've got an externally-mounted radiator.
The rest is pretty standard: ATX/mATX/mini-ITX board support, 7xPCI-e expansion slots, standard 5.25" / 3.5" support and scaffolding, and 13mm of cable space behind the tray. Routing holes are also present, of course.
Externally, the case is outfitted with military-like flair and a green/black paintjob, adorned with an Antec dog tag on the front. A large switch cover hides a fan speed controller (high, low, off settings) and the front panel I/O rests atop a raised, bunker-like metal panel.
Visually, the GX700 isn't overly offensive or intrusive in its attempts to shed the 'sleeper' look, but does stand out from the usual low-end black cases. The extruded red power button (made of cheap plastic) is a bit silly for my taste, but that's entirely subjective, so I'll leave it up to you to decide if it's acceptable. It alone certainly wouldn't stop me from buying the case.
Finally, easily-removed dust filters are present in the front and bottom (PSU) of the case, making preventative maintenance quicker.
Here's where we can get into some of the more opinion-driven analysis.
Antec GX700 Build Quality, Cable Management, & System Installation
First of all, and I noted this in my original hands-on with the case, I think a 3xExhaust configuration is a sub-optimal airflow configuration. Negative pressure airflow works well on some very specific cases with very specific internal hardware configurations, and I've never thought the GX700 to be one of those. In testing, I moved the rear exhaust fan to the front panel (intake) to validate my thoughts -- you'll see results below.
The fans aren't really all that great, either. The 120mm fan is pretty basic in design -- standard sleeve bearings with low-quality blades (and the plastic doesn't scream quality), but it gets the job done. When you're dealing with a $50-$60 case like the GX700, it's important to remember that the manufacturer is going to be forced to cut corners in order to meet that price-point (within reason, anyway). I think Antec is within reason here, and if you were to look at the fans on the R5 or Cobra, you'd find the same base components used (sleeve bearings, standard/inefficient blade design, cheap plastic). Given direct competition and the case's price, the fans seem fair for the unit.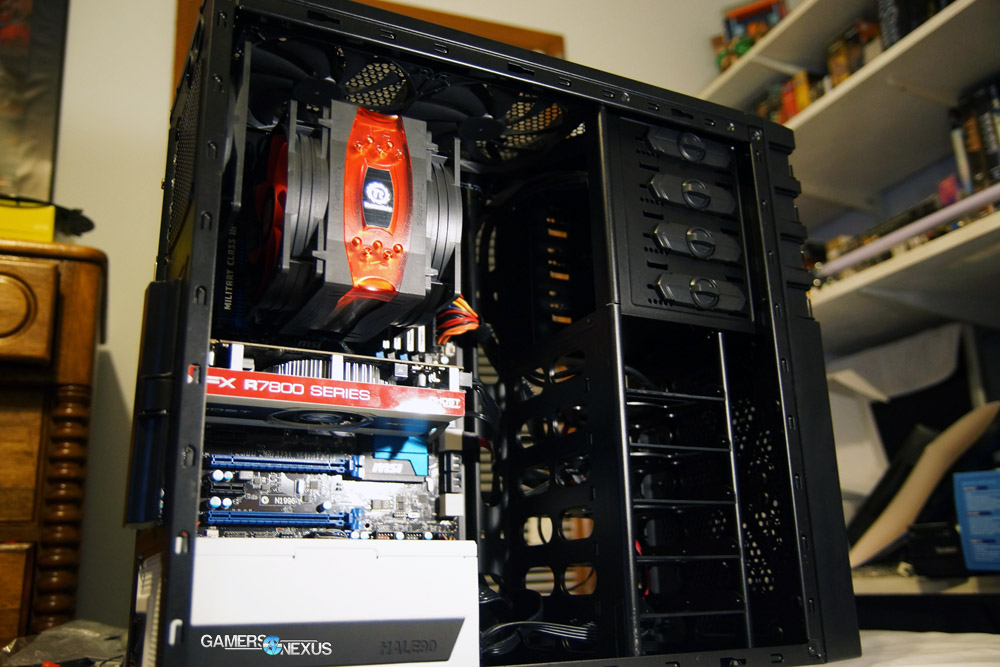 Overall build quality is about what you'd expect for a $60 enclosure. Everything is held together surprisingly well, though, and I found the plastic front panel to be significantly sturdier than other budget cases I've worked with. In case tear-down, I also noted that all the panels were (unlike Rosewill's dreaded Armor Evolution) very easy to remove and re-apply, without any odd warping or other undesirable behavior. Sadly, many of the cases we've worked with in this budget are built with pretty flimsy materials, so the GX700 really shines in its relative assembly quality. Its best immediate competition would be Corsair's 200R, and I still think the 200R has the best build quality in the sub-$60 range.
The plastic toggles and switches might seem a bit silly at times with the USSR red color scheme, but they work well enough and get the job done. Besides, I think that was sort of Antec's point: To stand out in some way—any way—from the standard lineup of black cases, and they decided this was different enough to warrant more attention.
The fan speed controller isn't a linear dial, just a simple voltage toggle that regulates either high or low voltage to the fan, effectively throttling RPMs in favor of dBA levels when desirable. A third setting toggles the case fans off, which is useful if you've already got a well-cooled CPU and aren't playing any games (read: the GPU is largely idle and the CPU's heatsink keeps it plenty cooled). I've used this setting while recording audio, for instance, when I need complete background silence. It wasn't many years ago when fan speed controllers were absolutely unheard of on low-end cases; even though it's a pretty simple three-setting switch, I'm happy with the industry's transgression toward adopting higher-end practices in low-end gear.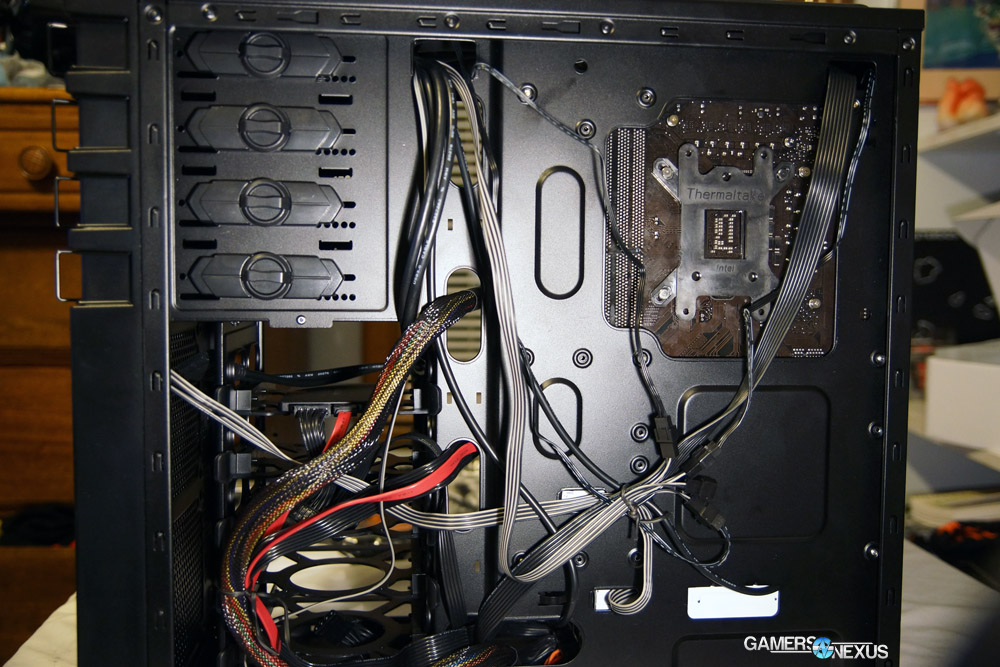 Cable management was a pretty straight-forward affair, which is (again) high praise for a case at this price-point. Shockingly, I had no difficulty fitting the right side panel on, even after layering the fat 24-pin cable and PCI-e cable atop each other. Antec says the rear side has 13mm of cable management space, but something about the contours on the board tray allows cables to fit with relative ease.
That said, I did have some frustrations with the cut-outs for the front panel and audio connectors (MSI boards place these on the far left, above the PSU). If you buy a GX700, it is my recommendation that you route all the front panel connectors prior to mounting the PSU, as the header width will prohibit the cables from being routed once the PSU is mounted. I removed the PSU and re-routed the wires to achieve a much cleaner look - easily worth the added 40 seconds required to do so.
I do wish Antec made their HD Audio cable about 1" longer, though, because it won't reach an ATX board pin-out without routing it through a specific cut-out or reaching across the case; you won't be able to go through that cut-out without running the wire before mounting the PSU. Not a complaint that hurts the overall product, but something worth noting for system builders.
System installation as a whole was easy. There's nothing fancy here -- mount your standoffs, mount the board, and get all the components in place. Follow my cable management notices above and you'll be in good shape.
Overall cleanliness of the post-build system is pretty impressive -- the GX700 really shines on internal neatness for its compact size.
Continue to page 2 for the thermals.
---
Testing Methodology  
We have a brand new test bench that we assembled for the 2013-2014 period! Having moved away from our trusty i7-930 and GTX 580, the new bench includes the below components: 
All of our testing is conducted in a temperature-controlled environment. Ambient is between 21C and 22C for all case airflow tests. The graphs measure temperature in Delta T over Ambient (C) - so the ambient temperature is subtracted from the component temperature.
Each test is initiated with a cold boot, where the system will sit idle for 15 minutes and collect thermal data. We use CPUID's HWMonitorPro for thermal logging and tracking. After this idle time, the system will launch a Prime95 instance running four torture threads on Large FFTs for maximum heat generation and power utilization. This is run for 15 minutes, throughout which the logging utility will collect the data we used in the below charts. Another 15 minute cool-down time (idle) is allowed after the Prime95 instance is completed, at which time an instance of FurMark launches and tortures the GPU with its 15-minute burn-in test (1080p). A final round of idle time is allowed to ensure data consistency.
All CPU thermal results are computed using Core 1 (not Core 0) due to its higher thermal reliability on our IB chip. 
Antec GX700 Optimal Case Fan Configuration Guide & Benchmark 
Before jumping to the benchmark against other cases, we'll turn toward the GX700's performance with various fan configurations.
I tested the following fan configurations for both CPU and GPU thermals (all tests were done on the 'high' setting):
Stock: 2x140mm top (exhaust), 1x120mm rear (exhaust), 0 front, 0 side.
Aftermarket 1: 1x120mm front (intake), 2x140mm top (exhaust), 0 rear, 0 side.
Aftermarket 2: 1x120mm front (intake), 1x120mm side (intake), 1x140mm top (exhaust), 0 rear.
Aftermarket 3: 1x120mm front (intake), 1x120mm side (intake), 2x140mm top (exhaust), 0 rear.
Expectations: I went into these tests expecting the stock configuration to be the worst, but also knew that the deltas between each configuration would be largely unnoticeable (and often within margin of error). To prove a point, I decided to remove one of the more expensive 140mm top exhaust fans and replace it with a 120mm side intake fan (equivalent to the stock one); this was in an effort to highlight my belief that dual intake (even with two cheaper, smaller 120mm fans) + single exhaust would outperform triple exhaust.
Results: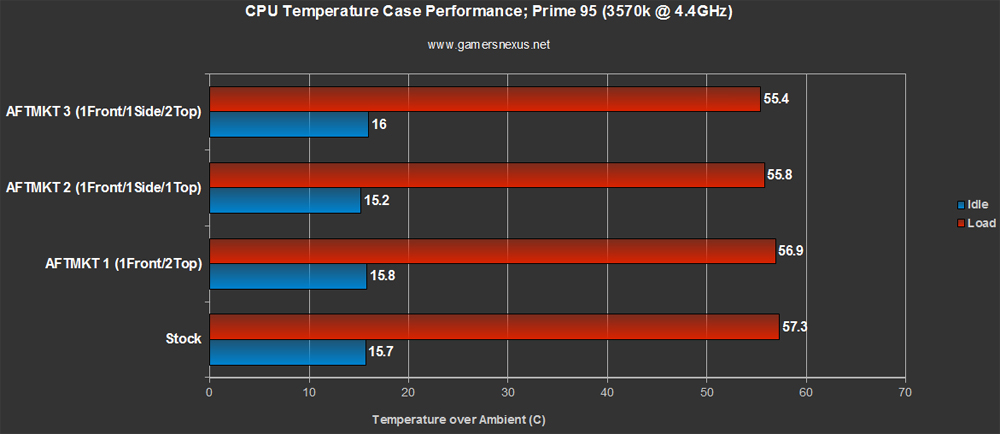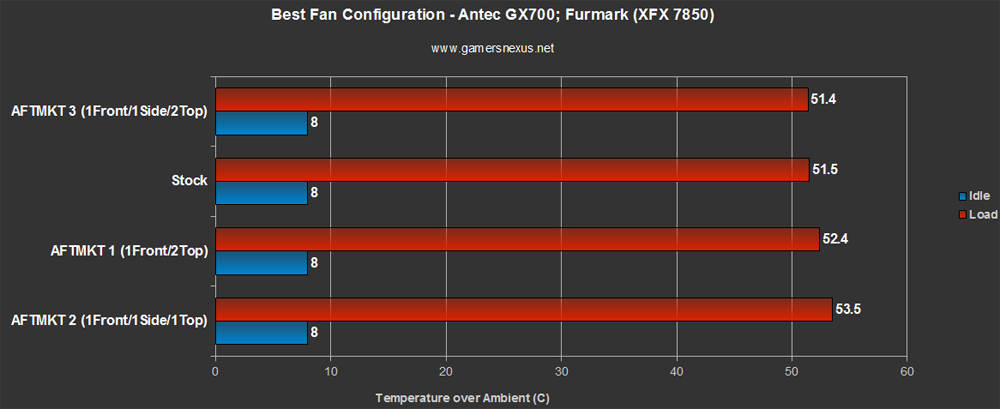 After running the tests, I found that there was a maximum delta of ~2C between the stock config and AFTMKT 3 (which uses 4 total fans, so more than what ships with the case). I saw a 1.5C delta between stock and my favored AFTMKT 2 configuration, which used dual 120mm intake fans and a single 140mm exhaust fan.
The lesson here? If you buy this case and care about a 1-2C swing in CPU thermals, move the stock exhaust fan to the front and set it up as intake, then consider buying / re-using a 120mm fan for the side vent.
I think the triple exhaust configuration would probably be most immediately beneficial when benchmarking with the stock AMD or Intel CPU cooler. Both CPU manufacturers' stock coolers intake in a vertical column (down onto the CPU) rather than horizontally (out the back of the case). For this reason, it might make sense to use rear exhaust to optimize the airstream for the stock cooling fan.
As for the GPU, the stock configuration is actually the best (short of adding another fan). If you've got a reliable CPU cooler and are having trouble keeping the video card cooled, stick with the stock config.
Antec GX700 vs. Rosewill R5, RAIDMAX Cobra, SilverStone KL-04, etc. 
Let's cut right to the charts: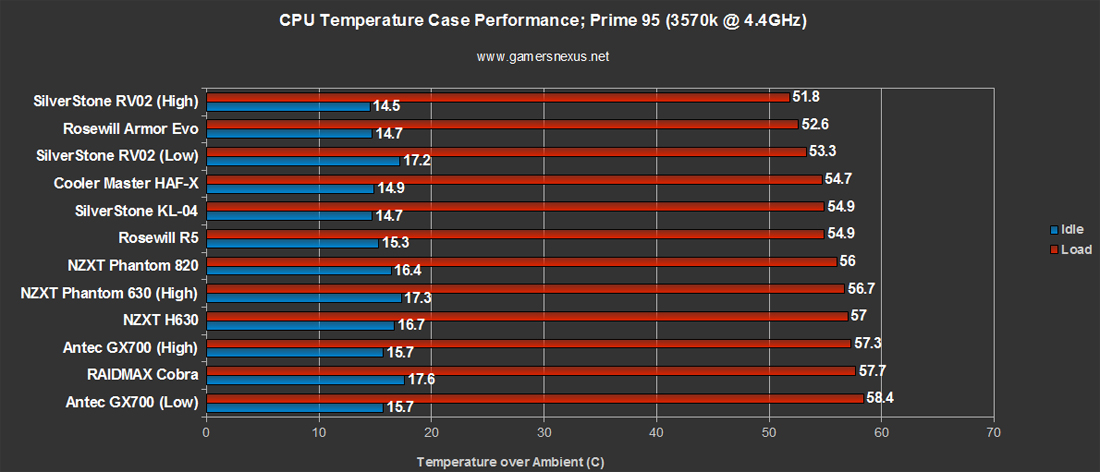 The GX700 falls between Rosewill's R5 and RAIDMAX's Cobra when tested on high settings. This is about what we'd expect, so nothing stellar nor disappointing. If Antec were to follow my example and modify their stock fan array to utilize 2x120mm intake and 1x140mm exhaust, they'd find the GX700 resting between the Phantom 820 and Rosewill R5.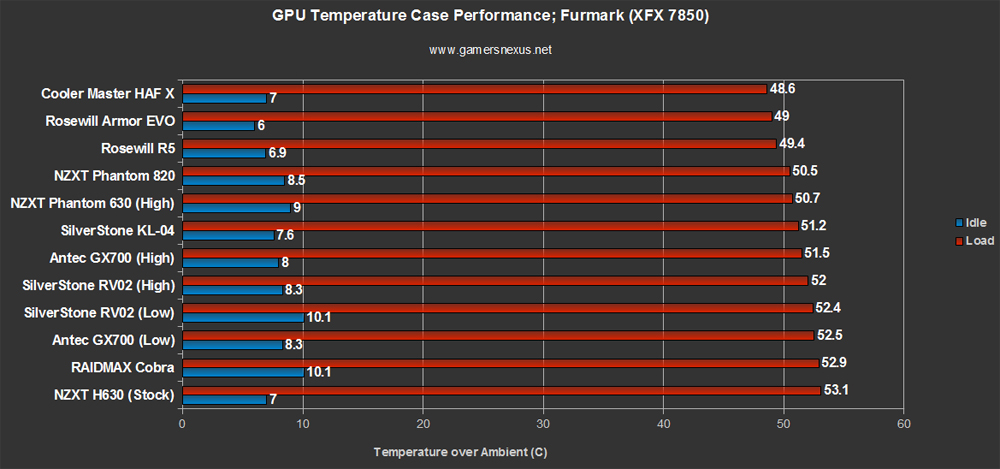 Again, we find the R5 at the top between our three budget competitors. It's important to note that our video card thermal bench only has a 5C total swing, so the differences are honestly insignificant.
Final Thoughts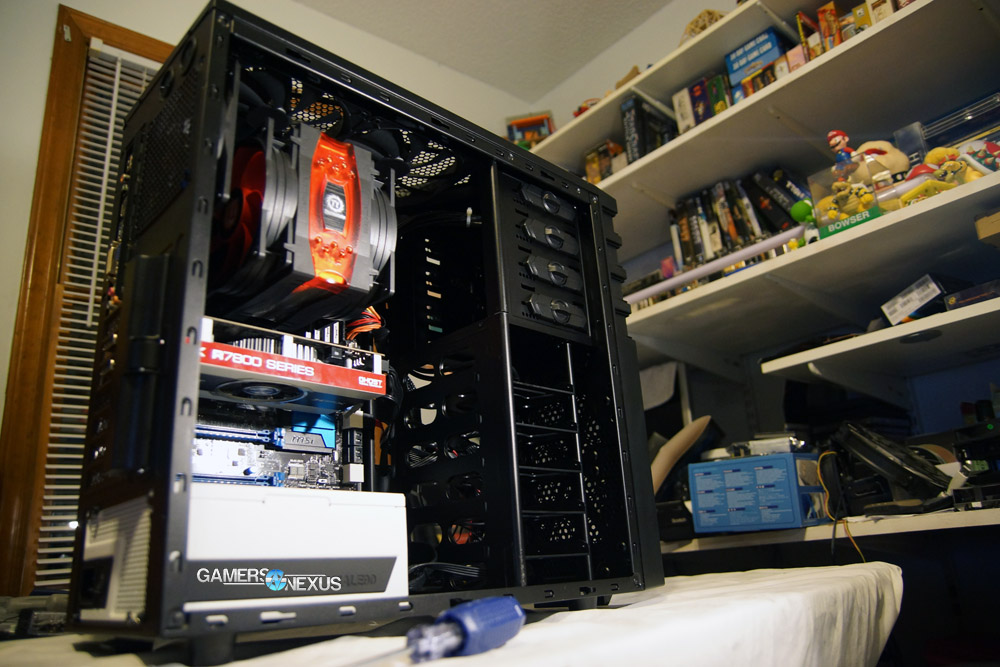 The GX700 is largely evaluated as an "above average" case. It's not something that should send you flying to Newegg's doors come Black Friday, but it's not bad, either. Realistically, the thermal differences between these cases is so minimal that decision making will primarily rest upon aesthetic preferences. If you're doing budget overclocking with a hot processor, then the thermals should be more seriously considered; if you're building a basic budget gaming PC and don't really plan to put the CPU through much abuse, then any of the cases on our bench will perform just fine.
I maintain that the build quality of the GX700—like the R5/200R—is pretty remarkable given its relative affordability. When matched against the more expensive Armor Evo? It looks like a damn masterpiece. Cable management is pretty excellent, installation is standard and easy, cooling is average to above average (depending), and the full unit is compact and tidy.
We can resolutely recommend the GX700 for anyone building a budget gaming PC.
I'd suggest looking into Corsair's 200R and Rosewill's R5 for other excellent budget options. Between these two cases and the GX700, your choice will come down to appearances.
- Steve "Lelldorianx" Burke.