Hardware
stub
NZXT H630 Silent PC Case Review & Benchmark
Posted on May 29, 2013
Its knee-high, monolithic stature almost resembles what you'd find in a server farm: Wide, imposing, and externally simple. NZXT's H630 was slowly leaked via a drawn-out, week-long marketing campaign, towing behind it a website revamp and the Sentry Mix 2; with all the fanfare reinforcing the H630's launch, NZXT puts itself in the vulnerable position of living up to hype. Let's see if they do.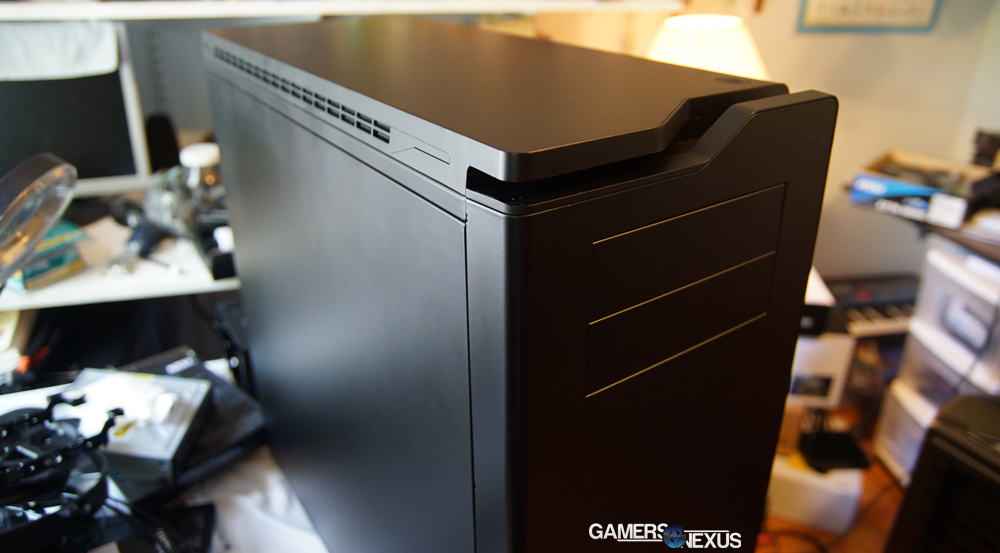 This NZXT H630 silent gaming / PC case review looks at its benchmark performance, additional fans, specs, build quality, and briefly skims over noise level. We also tested multiple add-on fan configurations within the case, ideally helping interested buyers to determine the optimal fan configuration.
NZXT H630 Case Specs
Size
Ultra Tower
Model Number
CA-H630F-W1 Glossy White
CA-H630F-M1 Matte Black
Drive Bays
External 5.25" x 2 (Tooless)
Internal 3.5"/2.5": 8(2 x 2.5" behind MB) 2 x 3HDD cage, 1 x 2HDD cage (Fully Modular)
Cooling System
Front 2 x 200 or 2 x 140 or 3 x 120mm ( 1 x 200mm included )
Top 2 x 200 or 2 x 140 or 3 x 120mm
Rear 1 x 140/120mm ( 1 x 140mm included )
Bottom 2 x 140/120mm
HDD Pivot 2 x 140/120mm
Filters
Front Side(Included)
Bottom Front (Included)
Bottom Rear(Included)
Radiator Support
Front 2 x 140 or 3 x 120mm
Top 2 x 140 or 3 x 120mm
Bottom 2 x 140/120
Rear 1 x 140/120mm
Clearance
CPU Cooler 190mm
VGA Card 354mm
Cable Management 27mm
Dimensions
245mm(W) x 547mm(H) x 567mm(D)
Material
SECC Steel, ABS Plastic
Motherboard Support
ATX, Micro-ATX, XL-ATX, EATX (347mm x 272mm)
Expansion Slots
9
External Electronics
1 x Audio/Mic 2 x USB 2.0, 2 x USB 3.0
SD Card Reader With SDHC & SDXC Support
I/O Panel LED On/Off
Product Weight
14 kg
Warranty
2 years
NZXT H630 Video Review, Hands-on, and Cable Management Guide
Exploring Sound Dampening Techniques in PC Enclosures
First off, the H630's trailing number is indicative of its underlying chassis/frame -- it uses the same chassis as the Phantom 630, previously reviewed here. For this reason, this review will be less in-depth than previous case reviews, seeing as the chassis was covered in great detail when we looked at the P630.
It has the same (or similar) cut-outs, grommets, angularity, split-level board layout, modular drive bays, fan placement and orientation, rear SSD bays, board tray, and everything else internally. It's not particularly exciting as reviewers, but it's an efficient and common strategy to reuse successful chassis designs (like the P630's) in a new line of products.
Because the H-designated NZXT products are meant for quiet cooling performance, it's far from a "630 rebrand." The H630 loses the mesh side panels, the side fan, the top mesh, the aging Phantom aesthetic, and replaces them with very thick paneling (steel) that's padded with foam.
There are a few approaches to controlling acoustic emissions, with various companies taking various philosophical and scientific approaches to achieve the same goals. Fractal, for instance, subscribes to sound blocking, where they try to contain the noise within the case by combining various other techniques; SilverStone employs sound deflection and redirection in its cases, opting instead to channel meshes and acoustic escape points away from the end-user (pointed backwards); NZXT favors sound absorption, specifically resonant absorption, which places foam material between the acoustics and the noise source.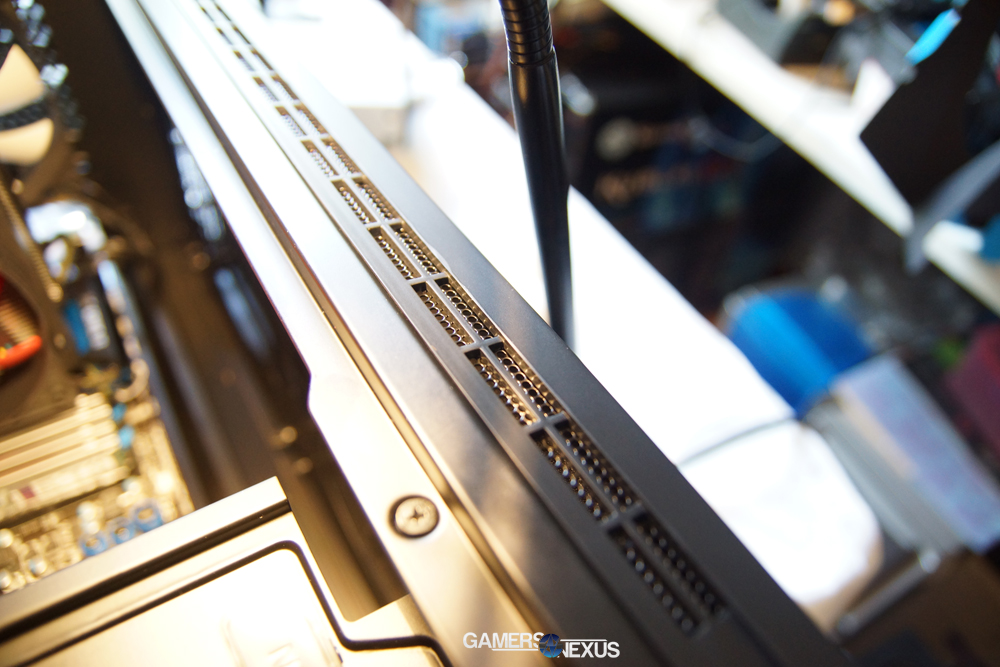 The only grills on the case - intake and exhaust on the front/top.
There are two primary types of sound absorption foams used in the computing world: Resonant and Porous. Resonant damping foam excels at diminishing acoustic emissions in the low-to-mid and sub-bass frequency ranges (this is what Fractal couples with their sound blocking techniques). Resonant damping materials can also help to reduce the "whirring" oscillation noise that's emitted from some poorly-designed fans or speed-inconsistent liquid coolers. All of this is done by combining wave reflection with wave damping, a process wherein the sound wave loses increasingly more of its "power" with each bounce (or reflection). Some of this power is also lost in heat, generated when the wave connects with the material and part of the sound energy is converted into heat energy, via friction.
Then there's Porous sound-damping foam, as seen in NZXT's H630 today. Porous sound absorption foam is theoretically more capable of dealing with mid-to-high frequency noises, like the higher-pitched whine produced by high-RPM sleeve and ball bearing fans. As the name suggests, porous absorbers are riddled with tiny holes—pores—that help generate friction between the sound energy (the colliding wave) and the porous foam's cell structure, again converting some portion of the sound energy into heat energy.
Is there a best material? We're really not qualified to answer that, and I'm sure some degree of the answer depends on the material application and overall design of the enclosure, along with internals. Preliminary research seems to indicate that, all other factors equivalent, porous absorbers will be significantly more effective for medium-high frequencies, but aren't quite as capable with mid-low frequencies as resonant absorbers. NZXT insists that, for this reason, porous materials are preferable for their ability to better handle the higher-pitched frequencies we find irritating in system cooling.
As far as PC cases, it's something I'd love to objectively test with decibel meters in a proper silent room, but that's not something we currently have access to -- though it is something we're working toward.
Back to Specs: The H630's Features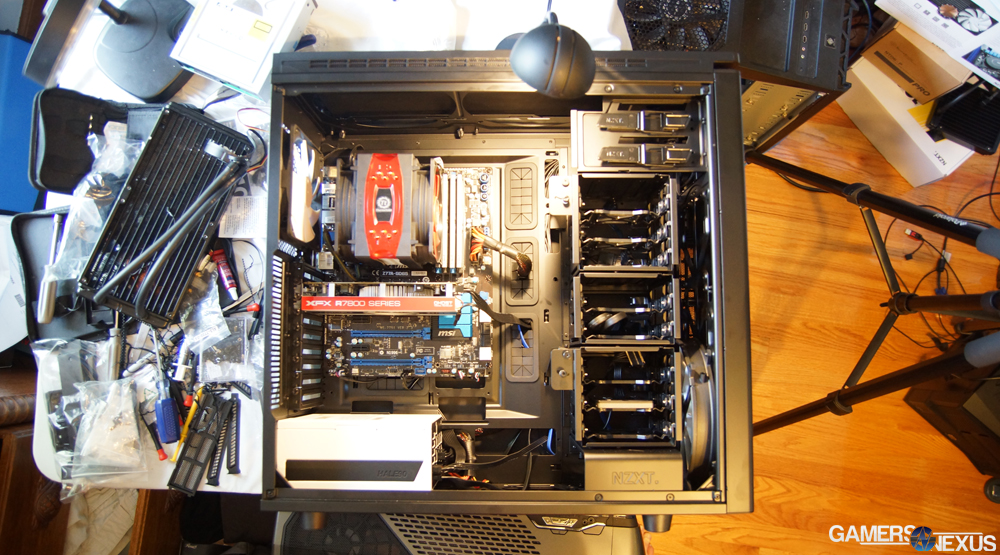 With the case soundproofing topics summarized, let's move back to objective specs and some of the features.
As for cooling options, the H630 can fit large radiators (240mm, 280mm, and 360mm) in the top and front positions. The drive cages are completely modular, so if front-radiator mounting is desired, they can be removed in favor of larger rads; the two rear SSD bays (behind the motherboard) can then be used for storage needs. Theoretically, you could also convert the 5.25" bays to hold normal 3.5" drives, if you wanted.
The case ships stock with 1x200mm front intake fan and 1x140mm rear fan (push-pull). An additional 1x200mm fan can be added to the front, 2x200mm can be added to the top, 2x140mm can be added to the bottom, and 2x120/140 can be added to HDD pivots. We tested a few of these additional configurations below, though didn't enumerate every possibility. The results were sufficiently mind-boggling and stumped both our staff and one of NZXT's product managers -- more on that below.
As with the P630, the H630 has an unbelievable amount of cable management space and routing options. The split-level motherboard means that cabling for the CPU/EPS power can be routed in a way that almost entirely conceals the housing; cut-outs are scattered through the entire interior, so every motherboard form factor should have nearby pass-throughs that can be utilized. The rear-side of the enclosure has something like 27mm of cable management space, making it very easy to conceal multiple fat cables behind the board -- including stacked 24-pin and PCI-e connectors.
Each of the panels is covered in a thick piece of porous damping foam -- that includes the top, sides, and front panels. The thick steel also helps contain noise, and is evidenced by the sheer weight of each panel.
Other than that, things are largely the same as the P630 internally. It's big (it makes ATX boards look like Micro-ATX), imposing, and easy to work with. As SilverStone says, though, it's not all about ease-of-installation.
NZXT H630 Build Quality, Cable Management, Installation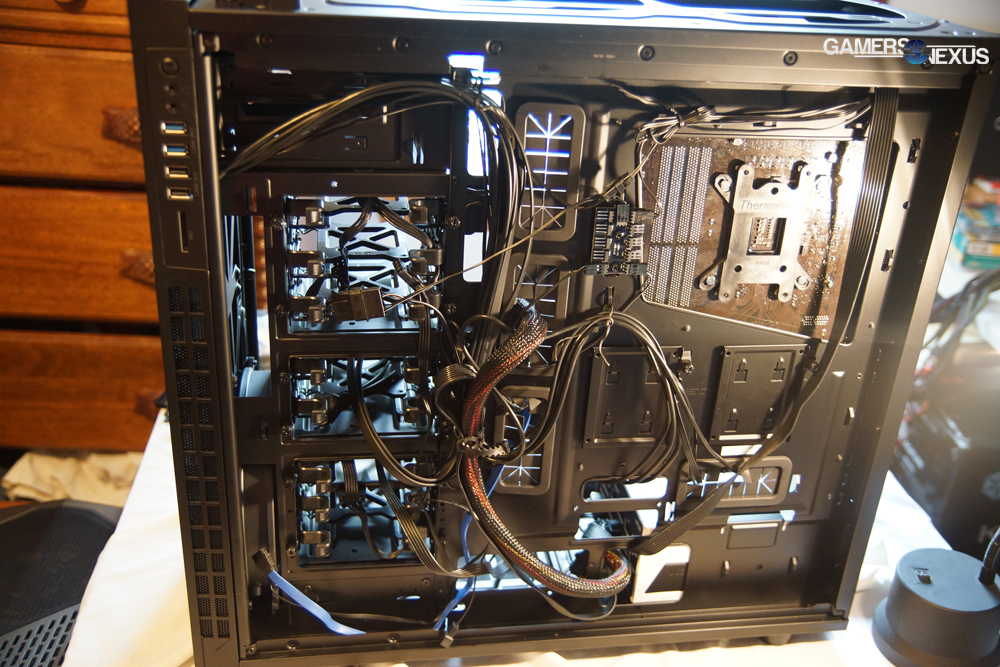 Simply put, build quality is solid. The paneling is sturdy, durable, and composed of quality components with a sleek exterior; if you're looking for a "gaming" case that has that "gamer" look, then you should probably look elsewhere. My feeling is that the H630 is designed for professional computing and performance environments, where noise and discretion reign over flashiness and LEDs.
The chassis itself is sturdy as ever, as with the P630, and fits all manner of radiators and cooling add-ons (with caveats - below). The only place where build quality was suspect was with the front panel, which was excruciatingly difficult to remove (and NZXT admits to this flaw, but states that it's an issue only existent in pre-production/press models). When I say difficult to remove, I really mean it: A concerning amount of force (causing bowing/flexing of the paneling) was required to remove the panel, but I'm going to trust NZXT's statement that they've addressed this issue in the production cases.
Other than that, I'm still going to complain about the drive mounts. I've complained about NZXT's shoddy, bendy, plastic-y drive sleds since back when we reviewed the Phantom 820, and they're still using the same ones. Should that alone affect your purchasing decision? Absolutely not. I'll admit that this is a petty complaint, but I'll keep writing about it until it's addressed.
Let's talk about something less petty: Cable management.
Cable routing in the H630 is pretty straight-forward. You've got cut-outs everywhere, so most of them will go unused. Assuming a standard ATX board, you'll end up routing your IO wiring through the highest cut-out in the row of cut-outs that parallels the board. 24-pin and PCI-e route in a standard fashion. SATA power can be routed either through a cut-out or below the drives, where a small fan cover is present, then pulled through on the far-side of the drive cages.
Fans can (and should) all be routed to the rear-side of the board mount, where a fan hub is present for easy consolidation of cables. 4-pin PWM fans should be plugged into the board.
One flaw I found with this fan hub: NZXT's new FZ-200 fans (their new 200mm replacement that sells as an aftermarket unit) has a thick cable header that prevents the pins from aligning properly with the hub pin-out. The fan connector is elevated too high for the hub, so if you're using the new fans, you might be stuck with using the motherboard or making small modifications to the hub -- like cutting out some of the plastic.
Continue to page 2 for the benchmark performance & conclusion.
---
Testing Methodology 
We have a brand new test bench that we assembled for the 2013-2014 period! Having moved away from our trusty i7-930 and GTX 580, the new bench includes the below components: 
All of our testing is conducted in a temperature-controlled environment. Ambient is between 21C and 22C for all case airflow tests. The graphs measure temperature in Delta T over Ambient (C) - so the ambient temperature is subtracted from the component temperature.
Each test is initiated with a cold boot, where the system will sit idle for 15 minutes and collect thermal data. We use CPUID's HWMonitorPro for thermal logging and tracking. After this idle time, the system will launch a Prime95 instance running four torture threads on Large FFTs for maximum heat generation and power utilization. This is run for 15 minutes, throughout which the logging utility will collect the data we used in the below charts. Another 15 minute cool-down time (idle) is allowed after the Prime95 instance is completed, at which time an instance of FurMark launches and tortures the GPU with its 15-minute burn-in test (1080p). A final round of idle time is allowed to ensure data consistency.
All CPU thermal results are computed using Core 1 (not Core 0) due to its higher thermal reliability on our IB chip.
NZXT H630 Optimal Fan Configuration Benchmark 
We try to test multiple aftermarket fan configurations in these cases when possible. When an enclosure states that it has room for "7 extra fans," or something similar, we expect that a lot of potential purchasers would be interested in which additional fan position nets the most gain.
For this test, we used NZXT's FZ-200 fans for the top/front positions and an NZXT 140mm fan for the bottom position. Here's what we tested:
Stock configuration (compared against other cases below). 1x200mm front intake, 1x140mm rear exhaust.
2x200mm front intake, 1x140mm rear exhaust.
1x200mm front intake, 1x140mm rear exhaust, 1x200mm top-rear exhaust.
2x200mm front intake, 1x140mm rear exhaust, 1x200mm top-rear exhaust.
For reasons explained below, we also tested all of these configurations without the top and front panels.
I think I'll break the ice with the charts: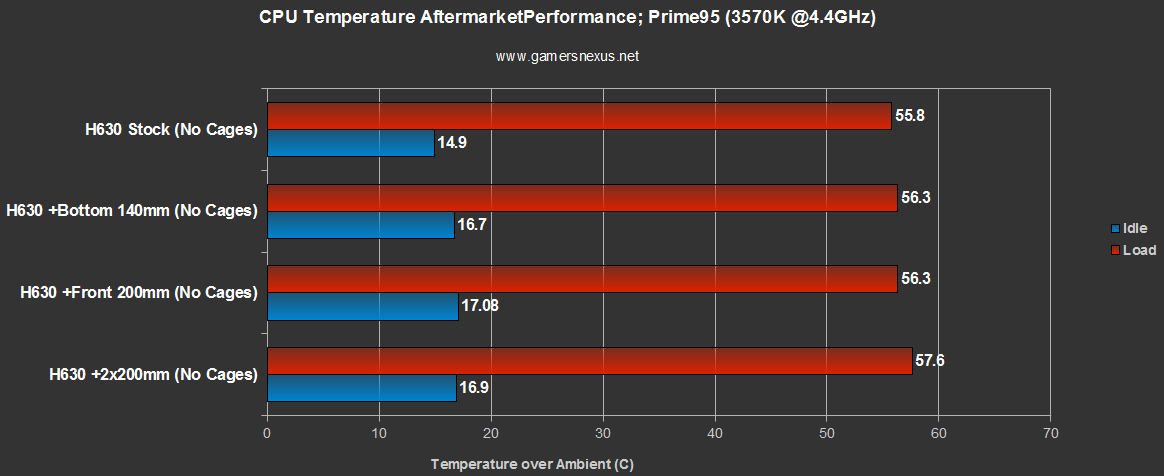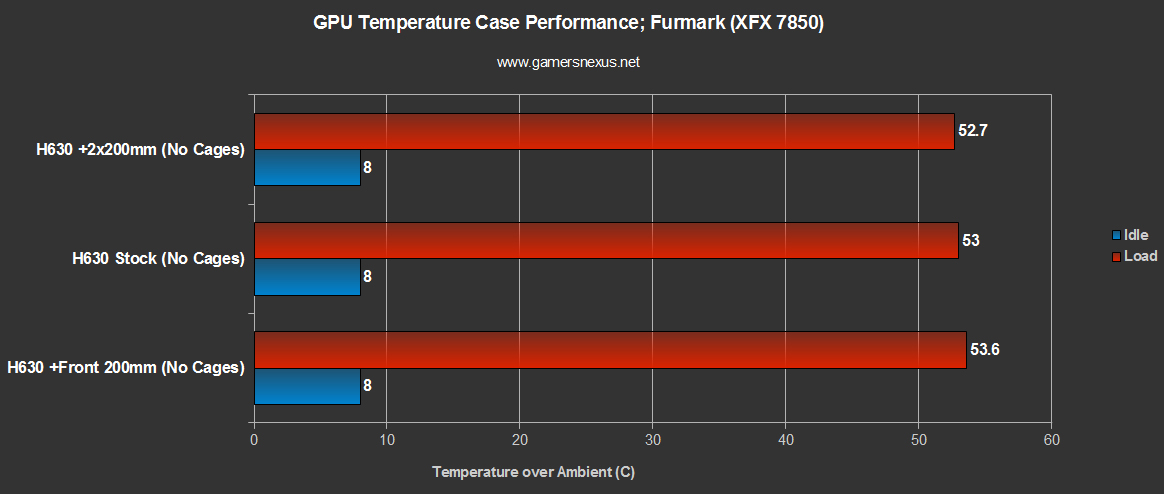 Look closely at that. There's almost no advantage in either GPU or CPU cooling to install extra fans -- and that doesn't make any sense. All the results are within our 5% scientific margin of error, so for all intents and purposes, the stock config was effectively equivalent to the aftermarket configs. But why?
Ambient temperature is always controlled in our tests, so that was out. The fans were all manually set to 100% speed via BIOS, so auto-control was out. The CPU thermals tested fine in our recent SilverStone RV02 review, and we haven't remounted the cooler since that test; CPU voltage and OC settings were perfect, and when I ran regression tests of the system (without removing the cooler) in the Phantom 820 and RV02, I saw nearly identical results to what's on our bench... so test error as it pertains to CPU mounting and thermalpaste were both ruled out.
I reran all the tests. The results were the same. After looking back through some of my Phantom 630 review notes and benchmarking data, I saw that the 630 had a 6C improvement to thermals when I'd mounted additional 200mm fans in the same positions. This is noteworthy because, as stated sufficiently, the H630 uses the same chassis -- if the Phantom 630 cooled significantly better than the H630, and both use the same chassis, then that leaves us with paneling issues.
After talking with NZXT's Rob Teller (Case Accessory Product Manager), who helped rule-out test error and component issues, I reran all the tests a third time - this time without the top or front panels. Obviously the thermals were cooler across the board, but the differential between stock and aftermarket configurations was still so insignificant that it was within error. Just like the paneled tests.
Strange.
The only possible factor I've overlooked is the aforementioned FZ-200 fans. We haven't used them on the bench before, and being that NZXT is rolling these out to replace their old 200mm fans, it made sense to give them a shot on the H630. I didn't use these on the P630, so it's possible that the heart of the issue is here... but if I'm honest, I sincerely doubt that. A fan is a fan. And at 100+ CFM @ 100% RPM, these should be producing results.
Because I've ruled-out test error (by testing the system within the Phantom 630, 820, and RV02 -- which all showed an improvement when extra fans were added), I'm inclined to say that there's something odd going on with the airstream inside of the case. The fans are still a possibility, though I consider that unlikely.
It's an actual mystery, and due to deadlines (I've already spent 3 days too long trying to figure this out), I won't be able to do further testing until the next 2 weeks. If other reviewers (or NZXT testers) reading this would like to help out, here's what I want to do -- feel free to test this yourselves:
Remove the top and front panels from the P630. Run the stock configuration with the original 200mm fans (before the new ones were issued). Add 1x200mm exhaust to the top-rear, 1x140mm in the bottom (intake).
Replicate this test on the H630, compare the differentials.
I originally debated whether I'd even write this entire section -- it doesn't exactly show differences, and that's what you all want to see. It also doesn't seem to coincide with reality or physics, which makes it seem like either the test or the product is bad, and I'm not sure I think that either of those is true. I think it's important to report findings, though, even if they're not showing the expected results (cooler performance) and seem to be conflicting with what experience dictates. As GN integrates more of the scientific method in its testing, hopefully producing objective data for analysis, it's crucial to share what we learn.
Let's move on to the actual case v. case benchmarks. The more immediately useful ones.
NZXT H630 vs. Phantom 630, 820, RV02, HAF X, etc. 
I'll just jump right into it: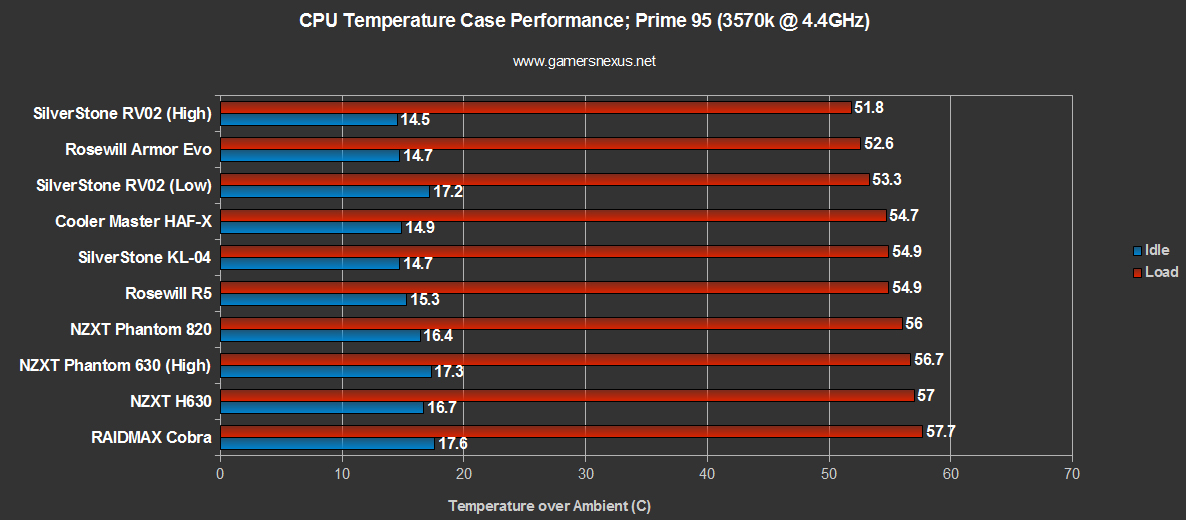 As shown in the CPU cooling chart above, we see that the stock configuration of the H630 isn't exactly impressive. It hovers around the same level of performance as the 630 and 820 (just below them), as expected, and doesn't really produce anywhere close to the mind-blowing results of the RV02.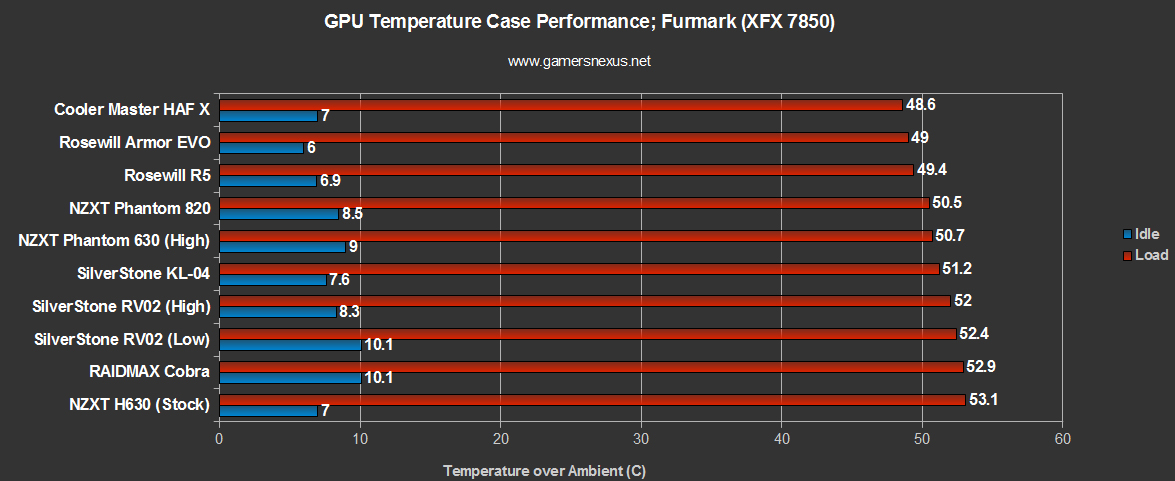 Similar findings here. The H630 clocks in at the bottom of our bench, somewhat disappointingly. The idle temps were actually pretty darn good, but at 53.1C Delta T for load testing, it's certainly a far cry from the likes of the HAF X or Armor Evo.
Problems With the H630 & Final Thoughts 
Now to voice some opinions. The H630 has particularly solid build quality, even when compared against other NZXT cases we've tested; its thick, padded steel paneling is resilient and sturdy, it has excellent ease-of-installation options, and has good radiator and fan add-on options.
The only point I was decidedly unhappy with build quality was the oddly difficult front panel, though we've been told that was a pre-production defect.
As for actual silence and cooling, well, there's a lot to be desired. A whole lot. There's no disillusionment by any experienced builder that "silence" often equates a detriment to performance. You can't have high-performance and total silence, so that's not news to anyone; you don't buy an H630 or one of Fractal's Silent Series cases and expect SilverStone performance -- that's just not how it works.
That said, there should be a trade-off: If I'm cutting fan count, RPMs, and increasing fan size, I should be receiving a very low dBA emission in return. The thing with the H630, though, is that it doesn't cut RPMs (no integrated fan control and a high-RPM 140mm stock fan), and despite all the foam-adorned paneling, it isn't all that silent. It's a step in the right direction, but it's not there yet; however, as a user, you can take it to that next level. Adding a fan controller would be a good first step.
At the end of the day, the H630 is neither a performance case nor a silent case. It's somewhere in-between, running quieter than the P630, for instance, but still louder than Nanoxia's Deep Silence series and Fractal's Silent Series cases (Define XL, Define R4). Performance is disappointing (and confusing) across the board, performing just below the P630 and P820.
The quality is good and its intentions are there, but it just doesn't perform. My recommendation? Weigh your needs. Do you demand true silence? Look into Nanoxia, Fractal, and aftermarket solutions (like quieter fans in general). Need performance? The RV02 is the winner, and it's not too loud, either.
- Steve "Lelldorianx" Burke.