Hardware
stub
RAIDMAX Cobra Gaming Case Benchmark-Review
Posted on February 2, 2013
After the thorough lashing we gave Rosewill's Armor Evolution case—even with its claim to the best cooling performance we've ever seen—we immediately benched the next two cases in our queue. Normally I'd impose a delay between case reviews for better (and more interesting) spread of coverage, but this time, we were all eager to see what the stuff we previewed at CES could offer.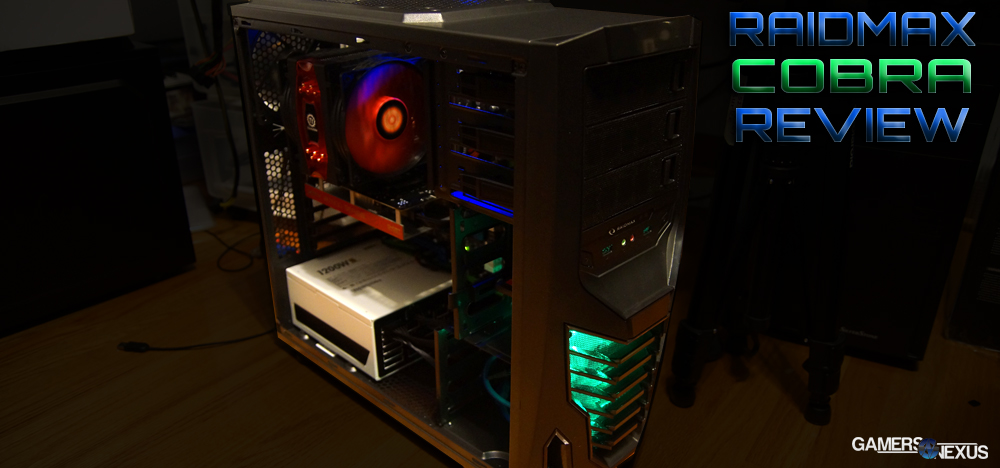 From the middle through the end of January each year, it is common for us to get slammed with cases and cooling products to review; SSDs and motherboards often get announced at the tradeshows and Q4 rallies, but tend to be held back until a March launch frame, followed closely by new GPU announcements in April/May. This means that, somewhat advantageously, we're given time to get all the cooling products figured out first, revise our testing methodology for the impending "hi-tech" products, and provide excellent research content in-between (like our SSD Lifecycle post). It's a cumbersome cycle, but it's been working out well so far.
RAIDMAX is a contributor to that cycle. Just before CES, RAIDMAX sent us their new Cobra ATX-502WB case for review, and from its $70 price-point, it's potentially in a position to be recommended in our budget gaming PC builds. Even with the surge toward enthusiast cases this year, we're still seeing as many cheap enclosures as ever: Rosewill's R5 is our long-standing sub-$90 choice, Corsair's 200R brings mid-range quality to the low-end market, and In-Win, Xion, and Zalman are all trying to make a splash in that sector as well. There's always room for good competition, though.
As always, let's hit the specs and video review first:
RAIDMAX Cobra (ATX-502WB) Case Specs
Form Factor
ATX / m-ATX / mini-ITX
Dimensions
525mm x 240mm x 460mm (LWH)
Front IO
1xUSB3.0; 1xUSB2.0; 2x3.5mm
Expansions & Bays
7 Expo Slots
3x5.25" External
3x3.5" Internal
4x2.5" Internal 
Included Cooling
1x120mm front intake (LED)
1x120mm rear exhaust 
Optional Cooling
2x120mm top OR
2x140mm top OR
1x180mm top.
1x120mm bottom. 
MSRP
$70
RAIDMAX Cobra Case Video Review
RAIDMAX Cobra Special Features & Case Walkthrough 
Wide Body Design: RAIDMAX seems to boast quite proudly that their wider case body is somehow "exclusive" or otherwise special/patented, and while the body is quite wide, it's really not that impressive; however, you do get a very accommodating176mm clearance for CPU coolers and 25mm for cable management on the dark side of the board.
The spacious bezel on the right panel removes the muscular requirements of a superhuman when sealing the case—cables fit cleanly and mostly without effort, meaning less cramming and jamming involved with the sealing process.
Ease-of-installation features: A couple of cable cut-outs (no grommets), cable tie anchors, and tool-less drive installation.
4xSSD-specific mounts.
Room for an additional 2x140mm top fans (or 2x120mm / 1x180mm) and a bottom-mounted 120mm fan.
Dust filters.
Green. That's a feature, right? I suppose if you consider matching LEDs with the unique design risk taken to paint the motherboard mounting wall green, then it is. The case has a sort of interesting "cool" thing going, and to steal (once again) George Makris of Corsair's quote (when discussing generic competing designs), it looks sort of like "a 1980s cartoon robot." Honestly, though, the design isn't that bad if that's the kind of thing you like. Idiosyncracies, et al.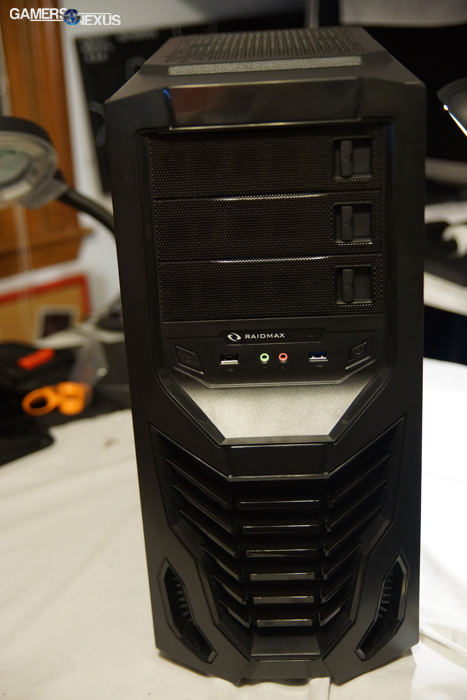 The new iteration of the Cobra certainly is focused on the budget builder; it's got the "gamer" look that so many companies try (often too hard) to achieve, and in terms of performance, ships fairly barebones. The stock fans aren't impressive -- just normal sleeve-bearing units at medium acoustic levels -- but they're enough for the basics, as you'll see in our performance benchmarks below. Room for expansion in the cooling department is promising, but of course, you do have to factor in the extra cost of doing so (if an extra fan pushes the cost up to $80, is it suddenly better to buy an $80 case instead?).
RAIDMAX's boasted cable management options are certainly an eye-catcher for those interested in a clutter-free system, and with three primary routing cut-outs and a potential* EPS 12V routing cut-out, there's theoretically enough of that to go around for a basic system. Usability, of course, is an entirely different manner; we'll discuss our experiences with the Cobra's cable management further below.
* For the EPS 12V cut-out, make sure you route the cable prior to mounting the board.
Sticking with the ease-of-installation theme, the Cobra also features tool-less drive installation and optical drive mounting clamps, both easily deployed and mostly stable. Regular readers of our case reviews will be familiar with my complaints about horridly-designed, "tool-less" HDD cages from other enclosures, but the rails included with the Cobra case were refreshingly easy and reliable to work with. The inclusion of an entire cage dedicated to SSDs is an interesting choice, especially given that the type of builder purchasing this case is not the same type who'd be running four SSDs in RAID, but interesting nonetheless. I did enjoy the simplicity in mounting our test SSD, and the normal HDD cages are still aplenty for 3.5" drives.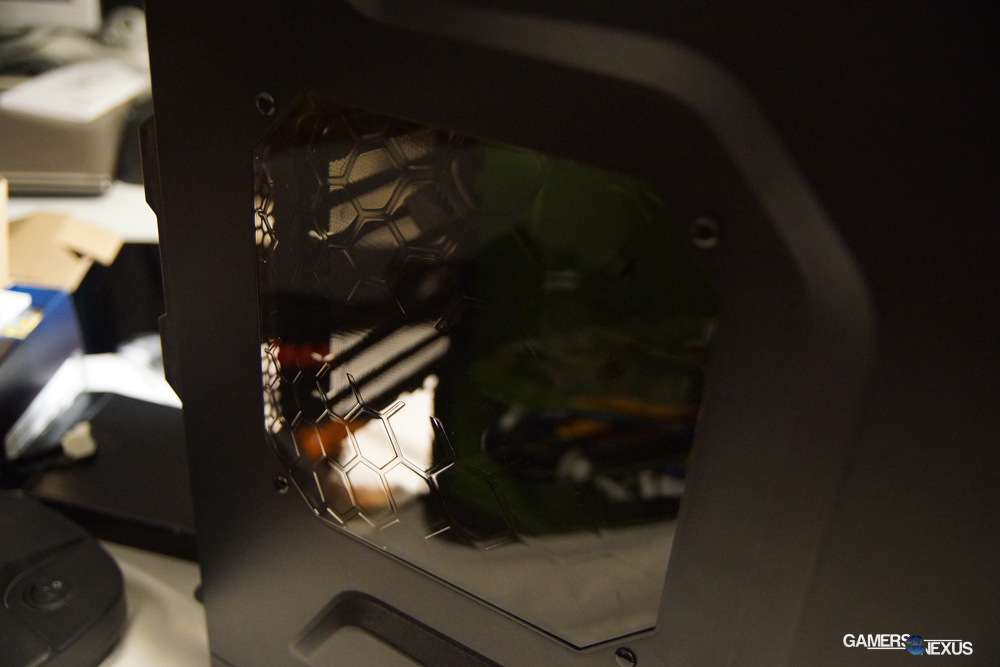 Speaking strictly to the aesthetics of the case, it's one of those hit-or-miss designs, methinks. It's certainly not the sleeper style of enclosure popularized by Fractal and Corsair, but isn't encased in cheap plastic, either. Well, at least, not entirely encased in it. Just the front. That said, I personally quite like the front and think it's not overly intrusive with its angularity and jutting edges, but certainly not boring and boxy, either. The "dragonscale" windowed side panel is nice enough, though the window is small-ish and seems to be looking at the wrong spot of the internals: It catches the back-side of the VGA and bottom-left quadrant of our aftermarket CPU cooler, and while I'm happy that they've elected not to reveal the often-ugly drive cage scaffolding, I'd like to see more of the cooler or passive motherboard heatsinks. That's just an aesthetic preference, though.
Enough of the hard specs, let's talk opinions on quality, performance, and other features.
Build Quality, Construction, & Cable Management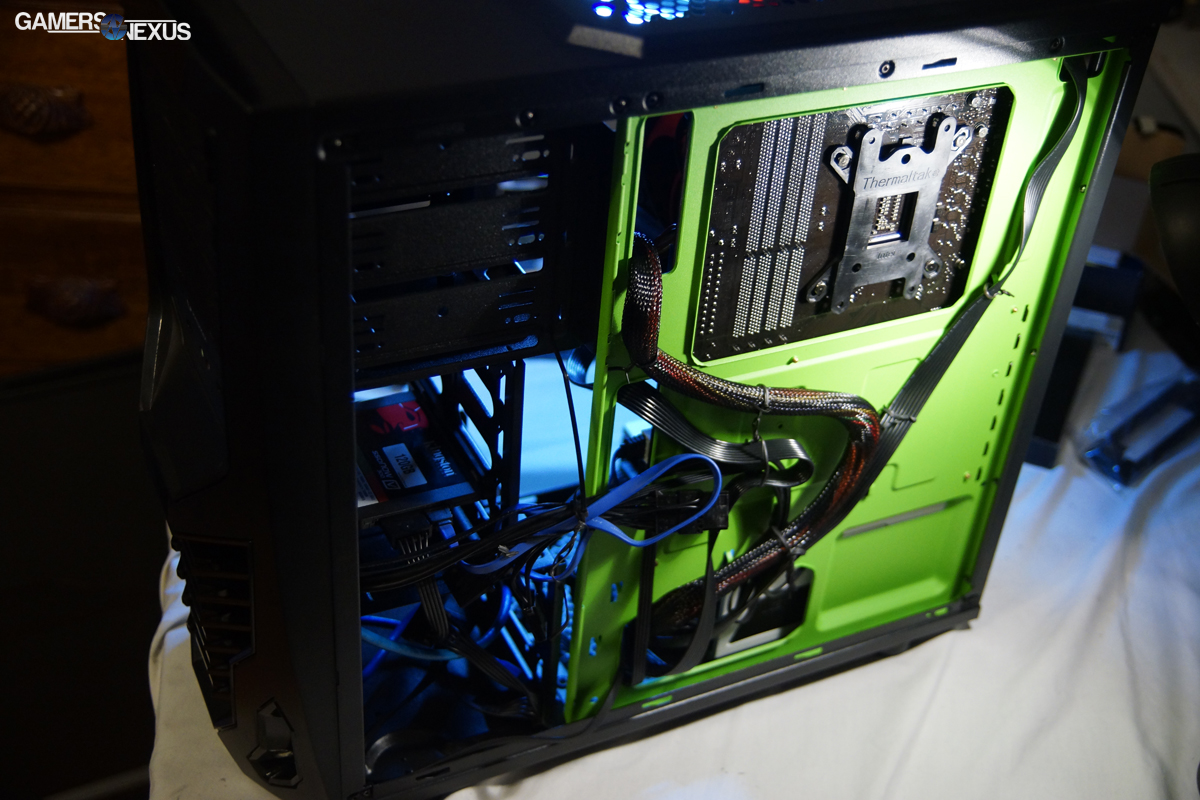 Quality of materials and construction often reflects a company's attitude toward its consumers; with the obvious acknowledgement that better quality costs more money, there's a certain level of respect we retain for manufacturers who simply refuse to release a product unless it meets a bottom-line for QA. Corsair and SilverStone are examples of this, with Corsair having stayed completely out of the low-end market before their 200R. Even upon the launch of the 200R, the company's representatives openly told us that the case wasn't "the best out there," but maintained that it adheres to higher quality standards than other similarly-priced products.
And this is the same perspective I take with case reviews: If an enclosure is going to fall apart on you while you're building with it, we won't readily recommend it.
With the RAIDMAX Cobra case, to be quite honest, I didn't expect a whole lot going into it. We just came out of bad experiences with quality in the Armor Evo—a case marked at roughly $100—so I certainly wasn't expecting better from a $70 case. I was wrong.
The Cobra's panels feel sturdy and mount cleanly, which is a nice start, but also use a mix of the preferred hinge design and the known clip-in mounts in fusion with a guiding handle toward the back. Opening the case reveals the lime green coloring on the motherboard mounting wall (and the paint is surprisingly resilient to dings), which is cut in key locations for cable management passthroughs. Upon initial inspection, the routing holes appeared to be ever-so-slightly off-kilter, and this was later confirmed during the build process: The 24-pin cut-out is slightly out-of-place (it should be about a quarter-inch lower), so it's not perfect, but a hole is a hole; there's really not much technology that goes into it. Still, the cables would look a bit tidier if RAIDMAX shifts this hole downward in the future. There are no rubber grommets to conceal the cables, but their presence is not missed much.
Immediately to the right of the mounting board is, of course, the drive cage scaffolding, which RAIDMAX has done well to conceal. I'd be curious to test what percentage of airflow actually makes it through the front mesh and plastic grill, through the fan bay, through the thick hard drive cages, and into the case (it can't be much more than 60% of the total airflow, I'd think). There's a lot in the way to obstruct that intake, and loading up those cages would be a further detriment to already intake-limited airflow channels. We'll discuss that further in the airflow sections, though.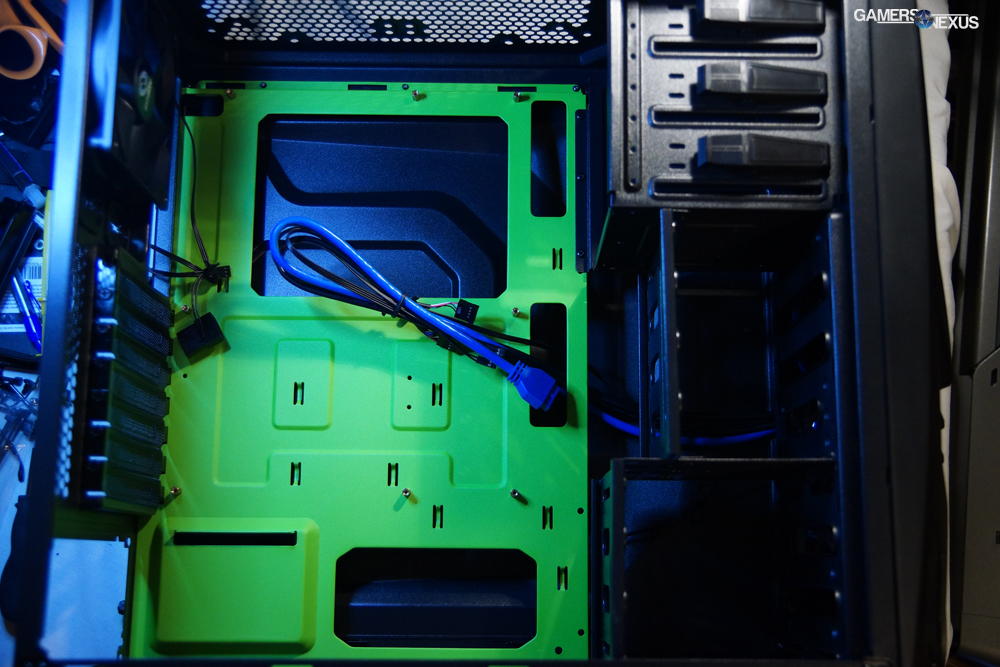 The right side of the case has a couple of cable pathways (as dictated by the contours in the side panel) that are easily utilized and cable tie anchors are prevalent, making it easy to secure thick cable clusters. Like I said, it would have been preferable if the 24-pin cut-out were slightly lower, but sometimes you just take what you can get. There's a somewhat hard-to-spot 12V EPS cut-out toward the top, but given the case's limited vertical height, this ends up covered by the motherboard. I didn't realize this until after I had mounted the board, but I'll save you the time: Route that 8pin/4pin EPS connector before mounting the board and try to pull as much through as is reasonable. This is actually a sort of interesting design that we've seen before -- it is functional, compact (doesn't require additional vertical height), and helps to hide the cabling, but it's also somewhat inconvenient, so there's a trade-off. Nothing that makes or breaks the case.
However, the dust filters are a little bit disappointing. As with the Armor EVO, there's a point at which one has to question the actual viability of a feature as opposed to its perceived marketing value; the Cobra's dust filters feel last-minute and cheap, not to mention obstructive to airflow with their dense pattern. They're more of the throw-away filter than the clean-under-water filter, so don't expect much life out of them. Personally, were I to add an additional bottom-mounted fan permanently, I'd remove the filter and just routinely perform preventative maintenance.
On the whole, the case feels relatively sturdy and is primarily made up of steel internally, with a noted lack of cheap plastic (other than, perhaps, the optical bay clamps and the front panel's plastic, but that's about it).
There is one thing I've been meaning to mention: During testing, I found an annoying, whiny, vibrational acoustic/resonant noise to be emitted from the case fans. My hypothesis is that this noise was generated as a result of turbulent air between the fan blades and the metal mesh in the front or rear of the case (we do not have tools on-hand to pinpoint the source of the noise, and the resonance made it difficult to do so by-ear). If you're sensitive to such background noise and are going through pains to ensure silent components, it'd probably be best to consider another option (perhaps a Fractal Design or Corsair case?).
Quality only goes so far -- especially on a case like this one, where only two fans are present (one of which is largely impeded). Let's check out the cooling:
RAIDMAX Cobra Benchmark & Performance 
The following section will be entirely dedicated to objective performance data. You'll find our testing methodology immediately below, followed closely by a case vs. case benchmark / airflow analysis.
Case Testing Methodology 
We have a brand new test bench that we assembled for the 2013-2014 period! Having moved away from our trusty i7-930 and GTX 580, the new bench includes the below components: 
All of our testing is conducted in a temperature-controlled environment. Ambient is between 21C and 22C for all case airflow tests. The graphs measure temperature in Delta T over Ambient (C) - so the ambient temperature is subtracted from the component temperature.
Each test is initiated with a cold boot, where the system will sit idle for 15 minutes and collect thermal data. We use CPUID's HWMonitorPro for thermal logging and tracking. After this idle time, the system will launch a Prime95 instance running four torture threads on Large FFTs for maximum heat generation and power utilization. This is run for 15 minutes, throughout which the logging utility will collect the data we used in the below charts. Another 15 minute cool-down time (idle) is allowed after the Prime95 instance is completed, at which time an instance of FurMark launches and tortures the GPU with its 15-minute burn-in test (1080p). A final round of idle time is allowed to ensure data consistency.
All CPU thermal results are computed using Core 1 (not Core 0) due to its higher thermal reliability on our IB chip.
RAIDMAX Cobra vs. R5, Armor EVO, KL-04, and more 
As we've done in previous reviews, in addition to testing the stock configuration, I also tested the case with one additional fan added to various slots. The point of this test is to answer the "if I were to buy one more case fan, where should it go?" question, and the answer to that will vary based upon case; for instance, adding more top exhaust fans to the Phantom 820 actually hinders its cooling performance with our setup (cooler impacts this heavily), but adding a bottom intake fan to it was a huge complement to thermal dissipation.
For this case, it was pretty cut-and-dry: There are two top slots and there's one bottom slot, so I tested the case with stock + bottom intake, stock + top exhaust, and stock + top intake. We used a single 120mm SilverStone AP123 fan for all of these tests. Frankly, the findings are not worth generating an entire chart for, but I'll break it down simply: If you were to add an additional fan to the case, our findings suggest that—with our CPU cooler, anyway—the optimal location is top exhaust. The benefit to the CPU temperature is about a 2~2.5C decrease under load; the GPU temperature is mostly unchanged. Adding a bottom 120mm fan showed decreased GPU thermals, rating it about 3C cooler than the stock configuration.
And speaking of the stock configuration, let's jump to the first chart: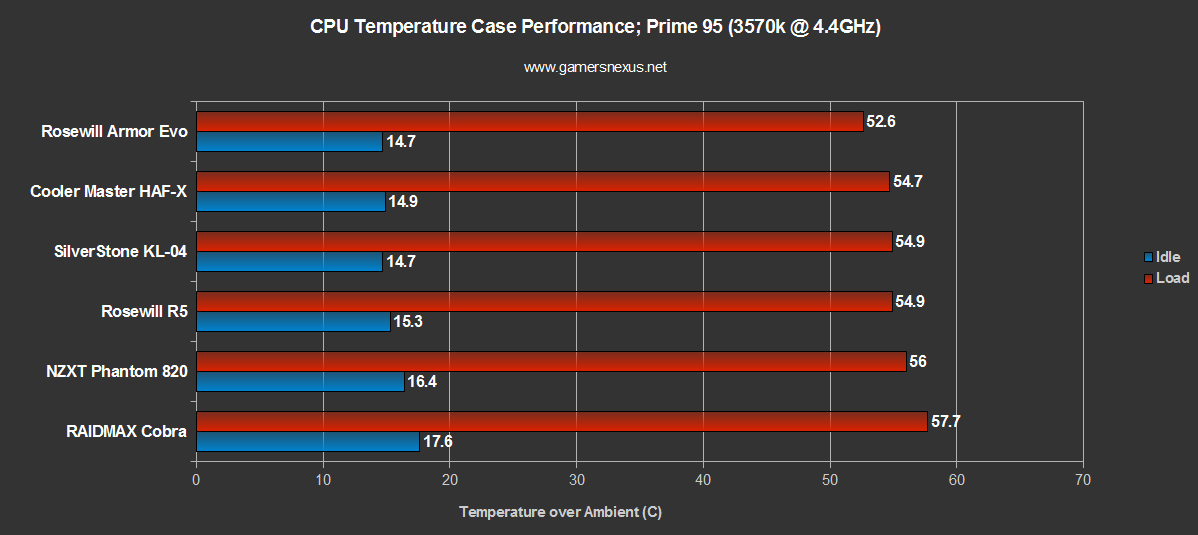 Seen above is the CPU benchmark for the RAIDMAX Cobra. It's, ah, nothing amazing. Delta T over ambient (21C) for the Cobra was 57.7C under 100% load and 17.6C at idle, and that's with a pretty killer CPU cooler and careful voltage control when overclocking. Rosewill's R5 beats out the Cobra by nearly 3C under load, and while that sounds small, the R5 is the same price when you account for shipping costs, has better dust filters, and more customizable fan expansion options. That said, a couple of degrees won't make a difference for most rigs, so there's a point at which your selection will hinge upon whatever you deem to look "best." Refer to our "pick a gaming case" guide for help on that; but the real-world outcome of the relatively poor cooling on the Cobra is that you won't be overclocking crazy high, though really, anyone sticking a 3570k in there with the intention of high overclocks will likely be using a better case.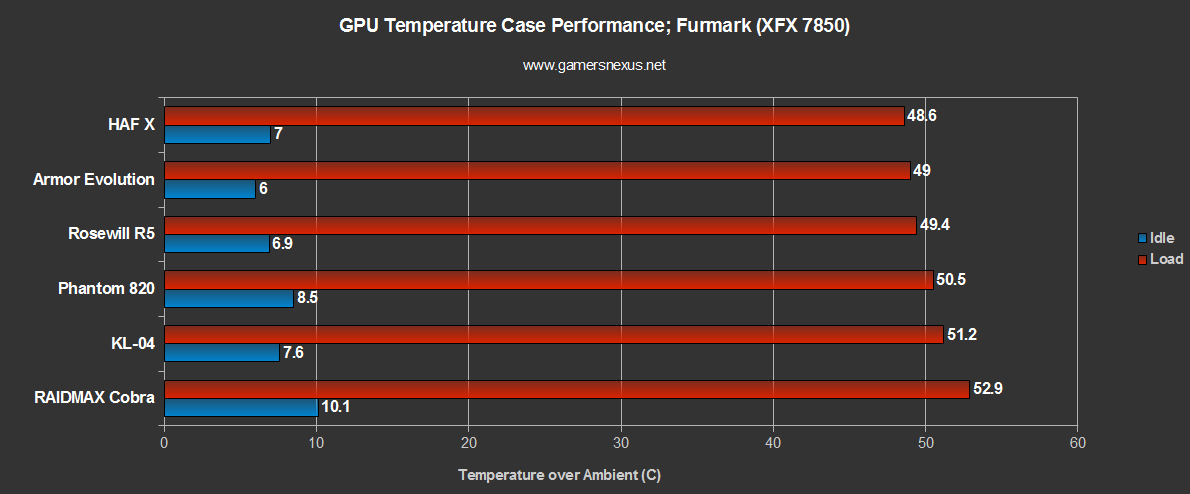 The GPU temperatures are equally unimpressive, with our 7850 operating at 52.9C under 100% load (adjusted for ambient). The 7850 is a very power-efficient chip, though, so sticking anything of much higher power-draw in there would be cause for concern. Remember, prolonged exposure to high temperatures will harm the lifespan of the semiconductors found in ICs and CPUs/GPUs; with our exact build at these temperatures, I wouldn't feel too bad about leaving the components in the Cobra, but step the CPU cooler down or the GPU power consumption up and I'd feel very uncomfortable with the stock fan configuration.
This is the direct opposite to our experience with the Armor Evolution: Rosewill's new case has the best performance we've ever benchmarked, but at the same time, easily the most irritating quality flaws. RAIDMAX's Cobra has pretty unimpressive / borderline-poor cooling performance, but ease-of-installation features that are effortlessly more impressive than the Armor EVO's.
So what does it all mean?
RAIDMAX Cobra Case Value & Conclusion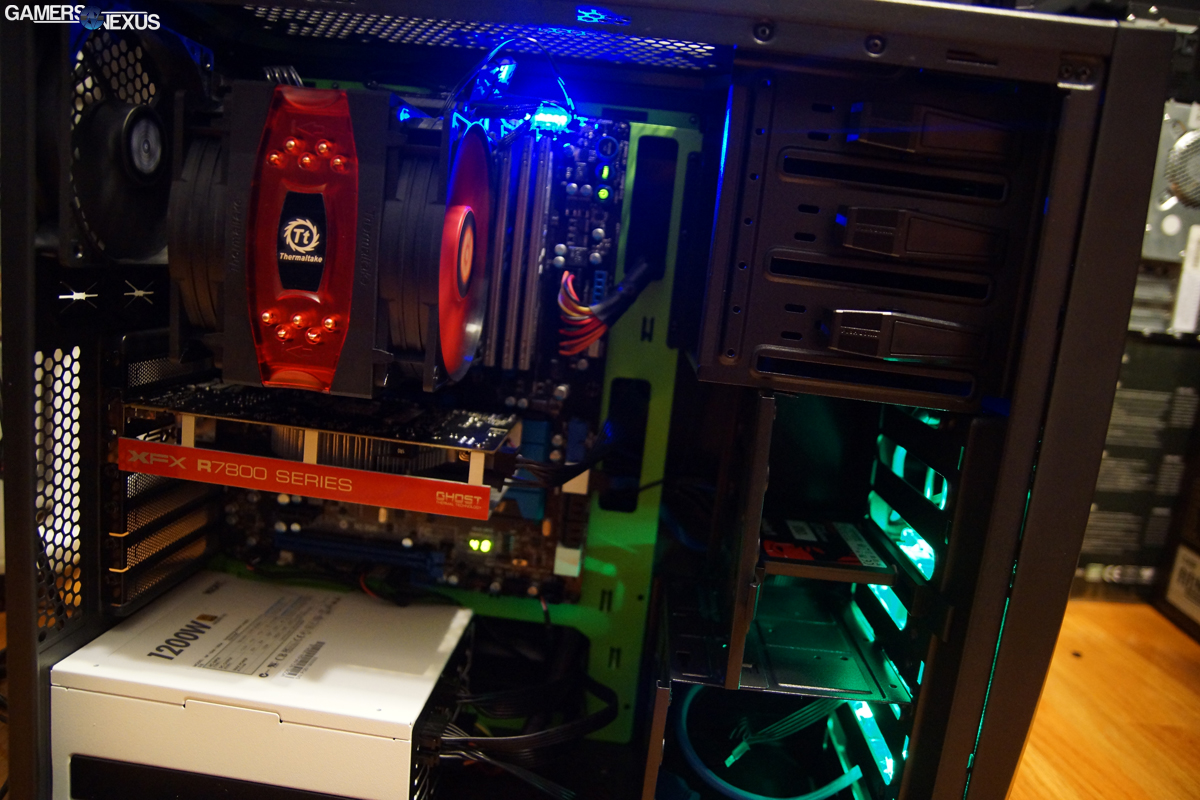 There's a surprising amount of detail that sets one enclosure apart from another, considering their relative simplicity when compared against more complex components of a system. All the subsets of ease-of-installation alone can be enough for some builders, or if you're more like myself, a fully-customizable airflow system can make all the difference (let's face it: it's fun to be in control and tweak for performance). 
With that noted, the budget market for cases is significantly more simplified; it's often a difference between one fan and rubber-vs-no-rubber cable passthroughs, and really, how big of a difference will that make? In the case of the Cobra vs. R5, given their proximity in price, it's potentially a couple of degrees Celsius, and that's really not going to be noticeable in a non-overclocked, true budget/mid-range build. However, if you are the type who's prone to filling several of those 3.5" HDD bays, I'd suggest considering a less suffocating case. There's just too much obstructing the only intake fan as-is, loading the intake channel with what are effectively solid bricks would not be beneficial to cooling.
I am mostly satisfied with the build quality overall, though a few features felt haphazard: Dust filters were suspect, fans aren't anything spectacular, and the resonant acoustics generated by (theoretically) turbulence between fan blades and metal meshes may be enough to drive some builders away. I do feel like the Cobra is a good case on the whole, but I also am aware of the fierce competition provided by nearby competitors, like the R5, Xion's XON-980 (presently $60 after MIR), and Zalman's Z11.
But hey, if you really like the green/black combo and the overall aesthetic and you're not planning to do any crazy OCing, I'd say go for it.
- Steve "Lelldorianx" Burke.